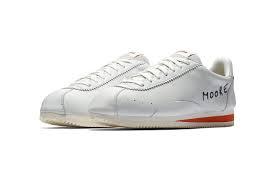 Nike Unveils Kenny Moore Collection
Nike unveils the newest heritage Cortez shoes in honor of the Kenny Moore collection, which is available on Aug 25 […]

By RaymondM

Aug. 1 2017, Published 5:40 p.m. ET
Nike unveils the newest heritage Cortez shoes in honor of the Kenny Moore collection, which is available on Aug 25 at select retailers.
Back in 1965, Moore went on a long training run and felt pain in his right foot, which forced him to cut that run short. He had an X-ray and it revealed a break through his third metatarsal. Moore shoes were high-jump shoes and his track coach, Bill Bowerman, decide to make custom running shoes. Moore wore so many pairs of prototype shoes and it made him a better runner.
"Every shoe was custom made for me," he says. "I had the privilege of becoming a better runner every time I put a new prototype on." He recalls a particularly memorable rainy day in 1969 when he ran on an updated spike on a hard urethane track with a few Oregon athletes (including Steve Prefontane). "Each mile was faster — my last two being 4:24 and 4:18," he says. "It was so clear that we were making progress."
When the collection hits stores in August people will see and understand how these shoes were not only meant to solve Moore problems, but open the door to Nike doing the same for other athletes.