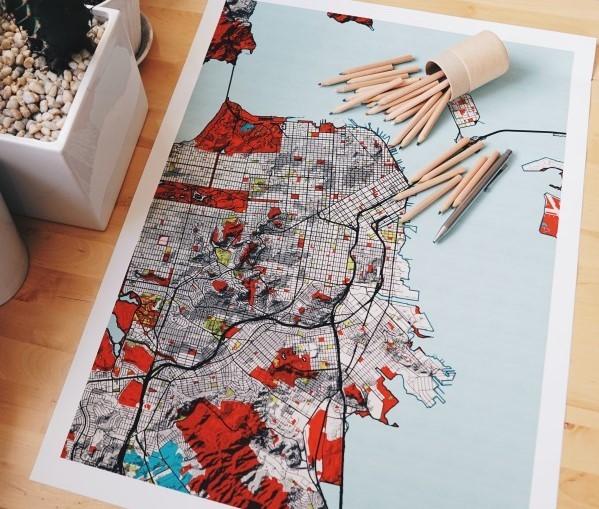 Travel-Friendly Solutions That'll Enhance Your Experience
As one who is exposed to new product innovations as a regular course of business, I've seen my fair share […]

By Merilee Kern

Aug. 14 2017, Published 10:58 a.m. ET
As one who is exposed to new product innovations as a regular course of business, I've seen my fair share cool gear and smart solutions that'll make the rigors of travel, well, that much less rigorous. From leading-edge technology to killer fashion and keepsakes to helpful health and wellness resources to things that just make jaunting more fun, here's an awesome assortment of things I'm absolutely loving right now.
Nothing beats a picnic or beach outing, or a killer backyard soiree, like your favorite tunes playing in the background. Now that's super easy with the Remix Premium Bluetooth Speaker from V-MODA—the company's first Bluetooth portable speaker boasting a built-in amplifier and hi-fi sound quality. As the world's first 3D-printed custom speaker, all six sides of REMIX can be personalized (patent-pending). Using V-MODA's renowned jewelry-grade 3D-printing expertise, owners can add new sides, change the front grill or even replace the main "C-shell" housing for the ultimate in bespoke appearance. Built on the foundation of V-MODA's multi-award-winning audio technology, Remix projects precise and vibrant sound at all listening levels. Available in two finishes–minimal CNC aluminum and luxurious vegan leather–this premium speaker exemplifies the work of V-MODA's Milano-based design studio. It's classically styled, beautifully proportioned and completely customizable on all six sides to reflect the personality of its owner. Led by Chief Visionary Officer and professional musician Val Kolton, V-MODA blends analog renaissance age inspiration, Italian design and precise Japanese engineering. V-MODA products have reportedly won 40-plus editors' choice awards and have become essential gear for the world's top professional DJs.
Article continues below advertisement
Whether touring with family and friends or knocking around town, a great way to keep cool and comfortable, while still being fashionable, is with Cotton Junkies. This company's super comfy tees are great year-round! They offer a nice range of tees and tank tops for both him and her in the softest of cotton–and the standout designs are super cool. Centered around an ethos of natural style, sex appeal and comfort, this brand new label combines cotton, the most comfortable of materials, with modern designs in eye-catching colors from charcoal greys and electric blues, to volcano reds and sage greens. From V-necks to crew necks, their secret is in the way the cotton is treated. All of their merchandise is handpicked, and uses a blend of organic cottons with other natural materials that are U.S. made and pre-washed for a true-to-you fit and style. This means they don't shrink in the wash! What's more the brand has a unisex feel, so a lot of the tees for him can be worn by her!
Article continues below advertisement
For any travel itinerary, keeping time is of the essence. And, the 'Radiance' Collection from Grayton Automatic Watches is a way to do this in fab form. They feature a classy design and advanced quality reflecting the company's exceptional experience of crafting automatic watches—and offering them at a reasonable price. Like the prayer flags that sway eternally in the breeze, the colors of the Radiance collection watch dials are said to be inspired by the unique color palette of Shangri-La: green alpine pastures, white-silver mountain snows or brown wooden Tibetan chalets in the old city itself. The elegance of the Radiance collection makes it the perfect combination between traditional and modern. Grayton choose top-quality materials for watch cases, straps and bracelets, and integrates a Japanese movement by Seiko—a respected standard in the watch industry and a token of quality. One of its finest features is its transparent backside design that allows you to see the detailed mechanical movements operating within the watch. Its super luminous colored hands will also tell you the time no matter how dark it is. Whether for style, quality or utility, This and other Grayton Automatic Watch designs can be handed down from one generation to another as valued family treasures.
Article continues below advertisement
Here's something great-looking and fashionable for your walls! Remind yourself of the place you grew up, went to college, your honeymoon location, or that unforgettable vacation spot with a beautifully designed custom map poster from Grafo Maps. These posters are an artful decor piece designed by you. The company's easy-to-use online poster editing tool lets you design anyplace you love—you can even search by address. Once you have found the perfect spot you want to map, simply choose a color scheme that will add even more personality to your piece. Within days you will receive your unique one of a kind poster printed on acid-free 180g matte paper made to not only to look great, but also last a lifetime. You can order it framed or unframed. Place it in a special location as a reminder of that place you love or a special event. It's sure to spark conversations with family and friends.
Article continues below advertisement
It's imperative to keep that iPhone safe while out and about. Clear protection meets urban design with the Impact Clear Urban Edition Case from tech21. Inspired by minimalistic streetwear, The Urban Edition offers a unique geometric pattern with sleek and clean lines, fit for the fashion-conscious smartphone user looking to coordinate their case with their outfit in a subtle manner. tech21 products feature a highly advanced impact protection material called FlexShock, which is an ultra-thin and lightweight material that absorbs and dissipates force and can withstand drops up to 6.6 feet. With enhanced UV yellowing resistance and a durable, scratch resistant finish, your phone, and your case, will look better for a longer period of time. It's available in two different styles and two colors (Brushed Black or Clear White) for the iPhone 7 and 7 Plus. Combining urban design with clear materials and advanced drop protection, the Urban Edition can keep your phone as beautiful as the day you took it out of the box.
Article continues below advertisement
Here's a way to stay heart healthy all year through and no matter where you are (however near or far from your doctor): the Kardia Mobile personal EKG. Sadly, more people die from heart disease and stroke each year than any other disease- but did you know that 80% of strokes are preventable? Kardia Mobile is a consumer EKG monitoring device that allows you to quickly access, track and analyze your heart health. Taking a clinical-grade heart rhythm reading in just 30 seconds, results are delivered right to your smartphone! Now you can know anytime, anywhere if your heart rhythm is normal, or if atrial fibrillation is detected—helpful data that can reduce your risk of stroke. Smaller than a credit card, it provides a way for people to easily take their health into their own hands. Kardia Mobile gives you peace of mind right from your pocket.
International Hyperhidrosis Society 'Fan Faves' Products (www.SweatHelp.org) – Prices vary
Article continues below advertisement
Excessive sweating, or hyperhidrosis, is a serious medical condition that affects approximately 5% of the population. This means that nearly 367 million people worldwide—including throngs of travelers—struggle with extreme, uncontrollable sweating…be it on their hands, feet, face, underarms, torso, lower extremities, or any combination of these—which greatly impacts their quality of life. From stress and embarrassment to depression and isolation, hyperhidrosis takes its toll; but there's help! Since 2003, The International Hyperhidrosis Society has been providing information, resources, expert perspective, and support to those struggling with this condition. It's is the only global non-profit organization dedicated entirely to improving the lives of those affected by hyperhidrosis while also supporting healthcare providers and researchers to improve hyperhidrosis treatments and understanding. From the International Hyperhidrosis Society's website, SweatHelp.org, you'll find up-to-date information on treatment options, U.S. insurance codes, clinical trials, a physician finder, an award-winning, useful blog, and much more. IHhS also maintains a useful product guide called "Fan Faves" where you can receive special discounts and discover ingenious, cutting-edge products to help handle even the sweatiest situations.
For some crafty portable fun for kids I love the Compound Kings Makin' Station from WeCool! This activity set lets kids make their own slimy mixture in just two quick-and-easy steps – and get it perfect every time. There's no mess or long list of ingredients that need precise measuring. All they have to do is add water to the special powder mix in the activity center and the stretchy compound is ready within minutes! It yields more than one pound. Compound Kings offers a range of slimy mixes from single packs to activity sets, including glittery, fluffy, and crunchy slimes in addition to make-your-own varieties. Also awesome is WeCool's Bobble Bitz Creation Station, an activity set featuring an irresistibly squishy, squeezy and crunchy medium that doubles as a molding compound. It's a textured product kids have called "oddly satisfying" – like playing with bubble wrap. The set includes molds, tools and accessories so kids can make their own unique designs that air-harden overnight for cool 3D creations they can wear, share and display.