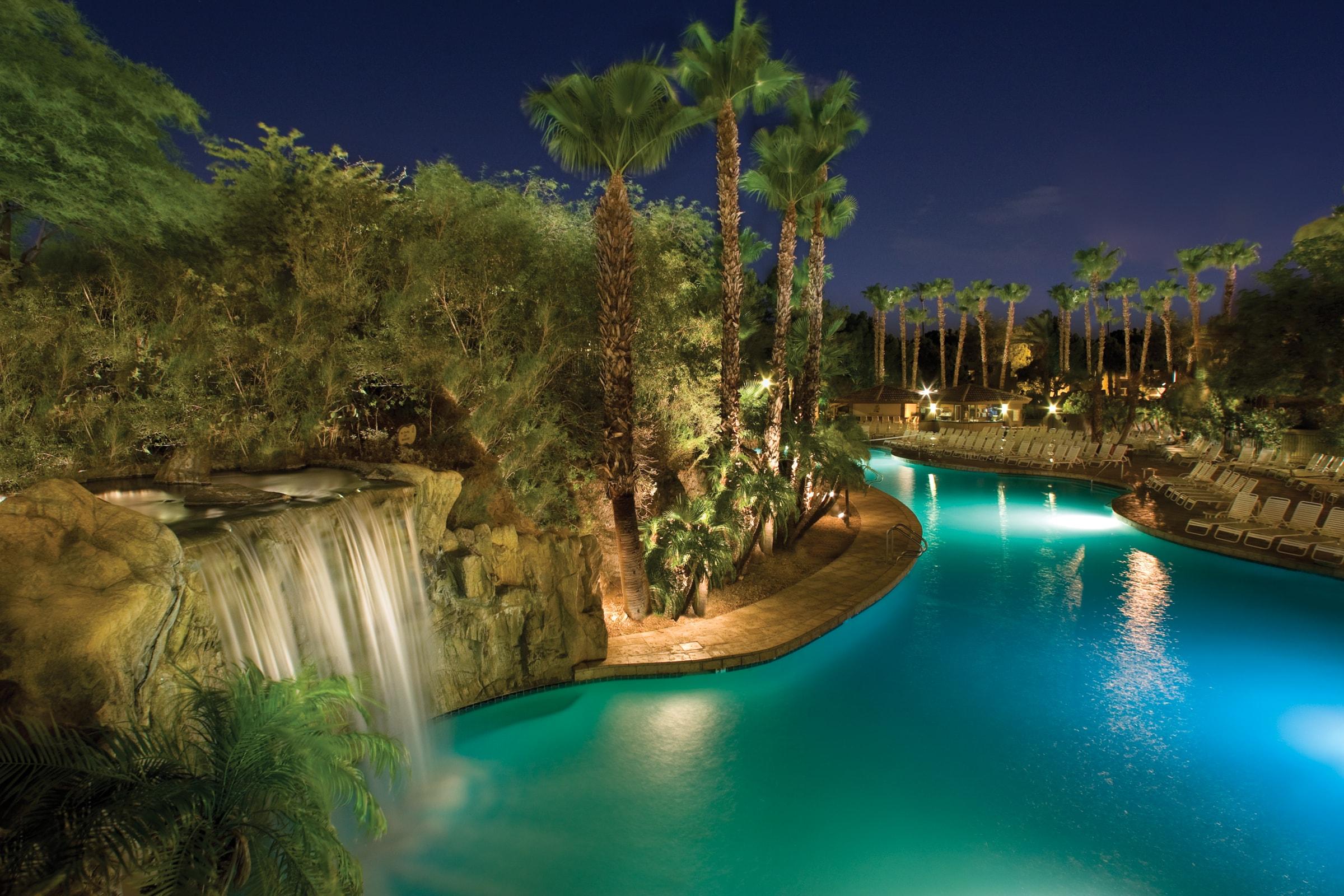 8 Reasons Families Flock To Pointe Hilton Squaw Peak Resort Phoenix
The city of Phoenix, Arizona's capital, is located in the south-central part of the state at the midway point between […]

By Merilee Kern

Nov. 6 2017, Published 12:24 p.m. ET
The city of Phoenix, Arizona's capital, is located in the south-central part of the state at the midway point between Tucson in the southeast and Flagstaff to the north. With one of the largest populations in the American Southwest and famously warm weather amid year-round sunshine, the myriad of things attracting families to the area is nothing short of impressive.
As one of the most densely populated cities in the American Southwest, accommodation and entertainment options abound for tourists of all types. Shopping, fine dining, nightlife and family-friendly recreational activities keep folks engaged city-side, while the plethora of accessible mountains and hiking and biking trails draw outdoor enthusiasts in droves.
In close proximity to Phoenix's 300-acre Mountain Preserve and only a 15-minute drive from downtown, you'll find the Pointe Hilton Squaw Peak Resort. This Spanish-Mediterranean-inspired resort has held a firm reputation in Arizona for decades. In fact, the resort just celebrated its 40th anniversary with an $8.5 million renovation. The locale continues to be highly regarded as a prime property in Arizona—especially among traveling groups.
The expansive 563-suite resort spans 27 acres in north Phoenix, and is a perfect respite for families in particular. For parents and kids seeking ample accommodations, adventure and a way to build lasting memories, there are many reasons multi-generational families will love the Pointe Hilton Squaw Peak Resort. Here are my top eight:
Every room is a suite. The resort features 563 suites and about 80 casitas. All guests can expect premium services and amenities along with their spacious accommodations. There won't be any fighting over the television in your suite as each room features 2 televisions with an extensive cable selection. Duvet covers, a Hilton Serenity bed, granite countertops, a refrigerator and sink, spacious dining and seating areas, and a balcony are some of the many creature comforts and amenities families can look forward to.
Article continues below advertisement
Teens and others craving connectivity love the free Internet. Have teens or other device devotees in your group? Part of the recent property updates included state of the art technology, including DS3 high-speed Internet access. Connection speeds are reportedly faster than that found at many other hotels.
Four-acre water park. This is a feature that Mom, Dad and the kids will love. The River Ranch water park is a veritable Sonoran Desert oasis that features a lazy river, 130-foot waterslide, three different swimming pools, and even an 18-hole miniature golf course. Your brood could spend the entire day at the resort and never grow bored. Your group can also take a break with a quick bite and refreshing beverage at Slim Picken's. Order tasty appetizers for the kids and maybe a frozen cocktail for yourself at this poolside hotspot.
Article continues below advertisement
Built-in camp for the kids. The resort also features an award-winning "Coyote Camp" for kids . Children learn about Arizona's Western folklore as well as the culture and geography of Arizona. Each day offers a specific theme and kids may find themselves panning for gold, building a teepee, or hunting for arrowheads.
Article continues below advertisement
Relaxing spa services. While the kids are at Coyote Camp, Mom and Dad might want to slip over to the 10,000 square foot Tocasierra Spa & Salon that's on-site. They'll have the opportunity to swim in the private lap pool, relax in the whirlpool or spend some time in the steam and sauna. You can also indulge in an array of spa treatments, massages, and skin rejuvenation services, or stay on track with your fitness regimen at the fitness facility. A visit here can help assure a more relaxed vacation for everyone.
Article continues below advertisement
Fab family friendly fare. If you want something quick and simple for lunch, the on-site Rico's American Grille offers outdoor seating in a beautiful urban garden setting and a menu boasting locally sourced ingredients. Come dinnertime, take your crew to the resort's timeless Hole-in-the-Wall Restaurant to catch up on all the activities everyone enjoyed throughout the day. The menu features many southwestern staples. While you eat, you'll have a serene view of cascading waterfalls and the mountains. Hole-in-the-Wall is open for breakfast and lunch as well.
Cactus Rock Creamery. When you need a reprieve from the Sonoran Desert sun, check out the resident store, "Rodeo Drive," where you'll find the Cactus Rock Creamery. At this old-fashioned ice cream parlor, the entire family can delight in a sweet treat to cool down and re-energize. And you can pick up a souvenir or two at the gift shop.
Article continues below advertisement
Nearby outdoor adventures. There is much for families to do in Phoenix, from indoor skydiving to go carts to the super-fun Top Golf facility. Or, when families get their fill of the Children's Museum of Phoenix, the Wildlife World Zoo, Aquarium and Safari Park, and the myriad of museums, they can make their way to the Phoenix Mountain Preserve for scenic hiking and biking trails amid the beauty of outdoor Arizona.
All things considered, the Pointe Hilton Squaw Peak Resort is a fantastic family vacation spot with something fun for everyone. Since every room is a suite, you'll feel right at home during your stay, while enjoying all of the amenities and activities the resort—and Phoenix at large—has to offer. The recent multi-million dollar renovations will undoubtedly help ensure that families continue to flock to this iconic location in the Valley of the Sun for years to come.