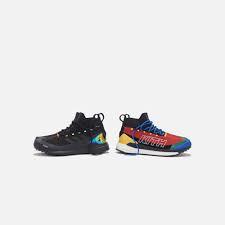 Kith x Adidas Terrex Collection
A collection with adidas and Kith has officially disclosed. The collection is called the Adidas Terrex EEA footwear collaboration.

By Tsering Youdon

Mar. 26 2018, Published 6:40 p.m. ET
Ronnie Fieg's collection with adidas and Kith was officially disclosed. This collection is called the adidas Terrex EEA footwear collaboration.
The Kith X adidas Terrex collection includes unique sneakers such as The Avric, Response Trail BOOST, and ClimaCool Jawpaw. The teasers of these sneakers, showed by Fieg through media, shows how detailed the sneakers were made. The Avric includes the famous three-stripes symbol along with a bright color theme of yellow, orange, blue and teal. Along the sides, the words KITH and TERREX is laid out for the collaboration to be known. However, the Response Trail BOOST has a darker tone to it while maintaining great detail. Lastly, the ClimaCool Jaw paw is really out of the box for Adidas. This footwear is a slip-on with the label Terrex.
This collection has been compared to climbing shoes due to its durability and grip on the outsole. In KITH's EEA journal, the collection is being presented in a mountain climbing environment.
Although pictures have been released, the official release date is yet to be determined.