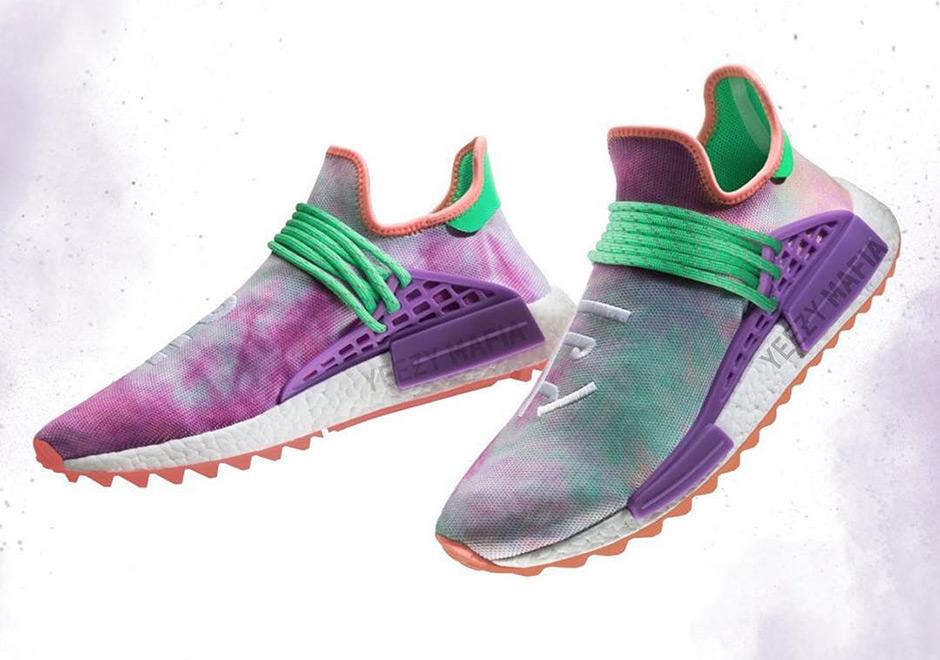 Pharrell Finishes The Summer With More Sneakers
Pharrell Williams has made a great number of sneakers with Adidas. He has blessed Adidas with his Human Race collection, […]

By Cedric Small

Aug. 8 2018, Published 6:10 p.m. ET
Pharrell Williams has made a great number of sneakers with Adidas. He has blessed Adidas with his Human Race collection, followed by his Tennis Hu collection. Although he has accomplished great sales with these sneakers, more is coming our way. The newest colorway of the Human Races sneakers are…. different. Based on their extreme designs, they may deal with a lot of hate. However, people may pull it off really well. Introducing the Pharrell Williams x Adidas Hu 'Solar Pack'!
Out of all of the Human Race sneakers Pharrell has put out, these are perhaps the most bizarre out of them all. The Human Race NMD is a altered NMD silhouette with laces wrapped around the top of the sneakers, with words places on each side of the sneaker. Each pair of sneakers would have a pair of words to compliment it with such as "breathe" and "walk." What's really cool about the human race sneakers are that each of them are unique. However, one might say that these new sneakers are perhaps too unique. They are unique in a very bizarre way. Each sneaker has a eccentric design with four primary colors on each sneaker, including a bulky bottom sole.
Makes you wonder what really inspired Pharrell to even design these Human Races to make them like this in the first place. Based on their exterior look, it's pretty obvious that many fashionistas will give mixed views on them. Viewing them as great or atrocious will be something talked about in the fashion world.
The sneakers will sell for $250 and be exclusively at Adidas stores. They are exclusive and only given through reservations. Think they are worth it? Even though they may get some criticism, I'm sure you can pull it off.