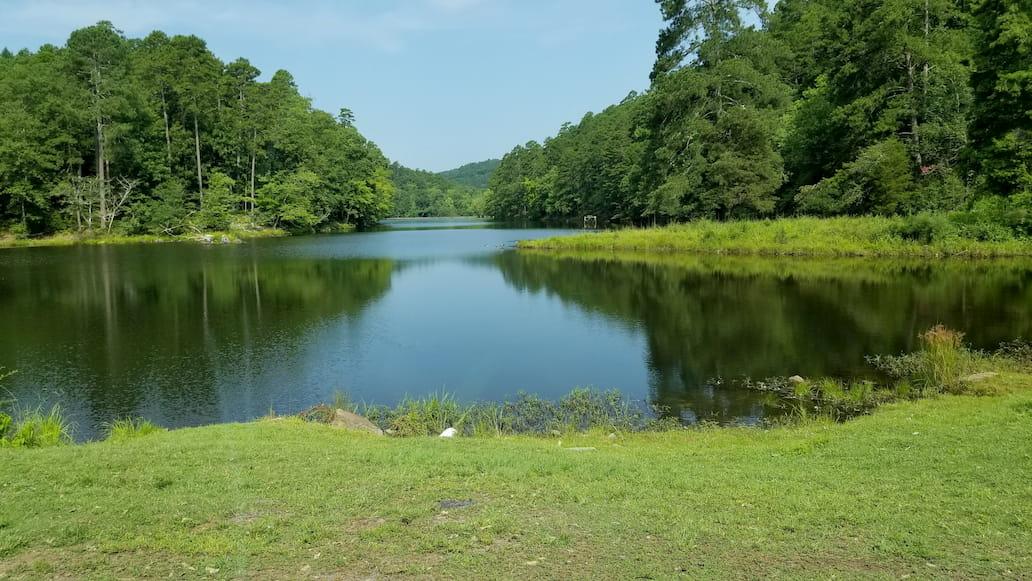 Hot Time
Hot Springs, Arkansas is more than a pitstop to another destination. It is a relaxing and expansive vacay destination for […]

By George Kevin

Oct. 18 2018, Published 1:16 p.m. ET
Hot Springs, Arkansas is more than a pitstop to another destination. It is a relaxing and expansive vacay destination for anyone traveling south.
Small cities get such a bum rap. They are usually saddled with unflattering adjectives like sleepy, quaint, or cozy. But some cities may be small in stature but overflowing with character and culture.
Take Hot Springs, Arkansas, a city that curves around the Hot Springs National Park. With a population of only 36,915 people, according to a 2017 census report, it could be so easy to dismiss this vibrant city, but you shouldn't.
We recently got a chance to visit this beautiful green oasis. We arrived at Lookout Point Lakeside Inn and were taken on a boat cruise of the gorgeous Lake Hamilton. We sipped wine as we coasted on placid waters and gawked at mansions bordering the lake. It is hard to be envious of the rich when you're sipping on properly aged wines and lounging on leather couches.
The following day we arrived at the entrance to the Hot Springs National Park, and learned what gives this city its international reputation — the water.
The H2O is world renowned.
Article continues below advertisement
The Hot Springs, which is over 4,000 years old, pumps out over 700,000 gallons of water to drinking fountains and bathhouses. It is all available for use by the public. The bathhouses are legendary for pulling celebrities, politicians, and everyday people from all over the States and the world for healing, bathing, and drinking.
In the past, people with syphilis have been known to dip in the ancient waters when there was no other recourse. Several bathhouses were erected on the strip in Hot Springs to accommodate all races, income levels, and ailments. Though most bathhouses have closed, the reputation of the city still lingers around the world.
The actual Hot Springs are scattered around the park, with a few man-made structures for tourists, but most are natural openings in the rock. The water is warm to the touch, averaging about 143 degrees Fahrenheit. It's also crystal clear with a clean taste.
The park itself is a walker's dream with over 8,400 miles of nearly untouched land to explore, hike, run, and ride through.
Article continues below advertisement
A tour of the Fordyce Bathhouse is a trip down memory lane. The building has been restored to its former glory. As you walk past the ancient steam rooms and gymnasiums, you see this space was all about restoration. As one of the oldest bathhouses, the Fordyce maintains its elegance and stately presence.
We rounded the day off by sipping beers at the Superior Bathhouse Brewery, a spot that pulls from the spring to offer delicious craft beers.
I stayed at the Waters Hotel, a modern and luxurious hotel that somehow managed to pull aesthetics from the past while keeping amenities modern. I woke up to a salty sun that threatened to overheat my entire room. But the hotel's chic blinds and chilled AC kept the room temperature cool.
Downstairs was the Avenue, a world class restaurant tucked into the belly of the hotel. The bartenders know how to make a cocktail. They provided a cool spirit each night I went to my room. The restaurant offered high-caliber meals and ambience without the pretentious feel of a New York eatery. Casey Copeland, the award-winning chef, offers Asian-style cuisine that fills you up, and highlights his flair for tabling, making you feel pampered and fed at the same time.
Article continues below advertisement
If you're looking to take a load off, step into the Ohio Club, a bar which highlights talented local artists who perform everything from country to old school R&B. The drink selection is traditional but the cocktails are good and stiff. And the waitstaff is friendly. The crowd comes to party and you will feel welcome the moment you arrive.
I couldn't leave Hot Springs without partaking in a little bit of that spa treatment. I headed to the Arlington Hotel, where Al Capone once stayed when he ran his casino.
After signing up for a spa treatment, I was escorted into a back room. It was humongous. The machines were vintage and reminded me of the same equipment displayed at the museum shops of the closed bathhouses. A friendly attendant took me to a whirlpool where water swirled from the jets below and drained my tension. Then, I was swaddled in a blanket until my body could cool down properly. After a 30-minute steam, I cooled down some more, and then it was time for a vigorous yet healing and relaxing massage. It felt like being in a 1960s bathhouse.
Hot Springs is known for its bathhouses and water. But you can't forget the hospitality, cuisine, and beautiful landscapes. All these perks make you feel right at home in a city offering too much to be considered little.