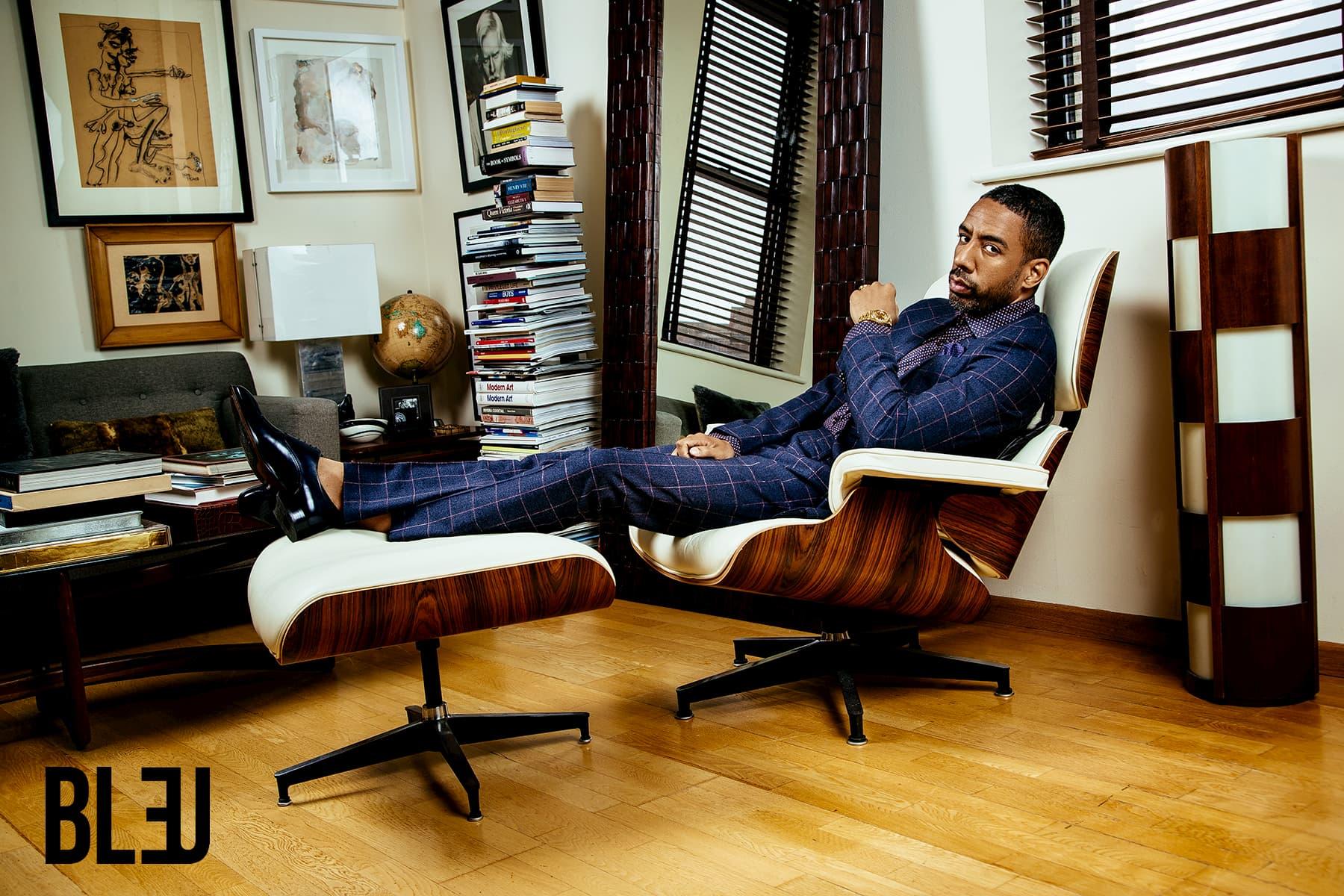 The Gospel According to Ryan Leslie
Bleu Magazine's cover star Ryan Leslie talks about his career, love life, creativity and so much more. Orginally from Issue 56.

By Keyaira Kelly

Oct. 23 2018, Published 1:55 p.m. ET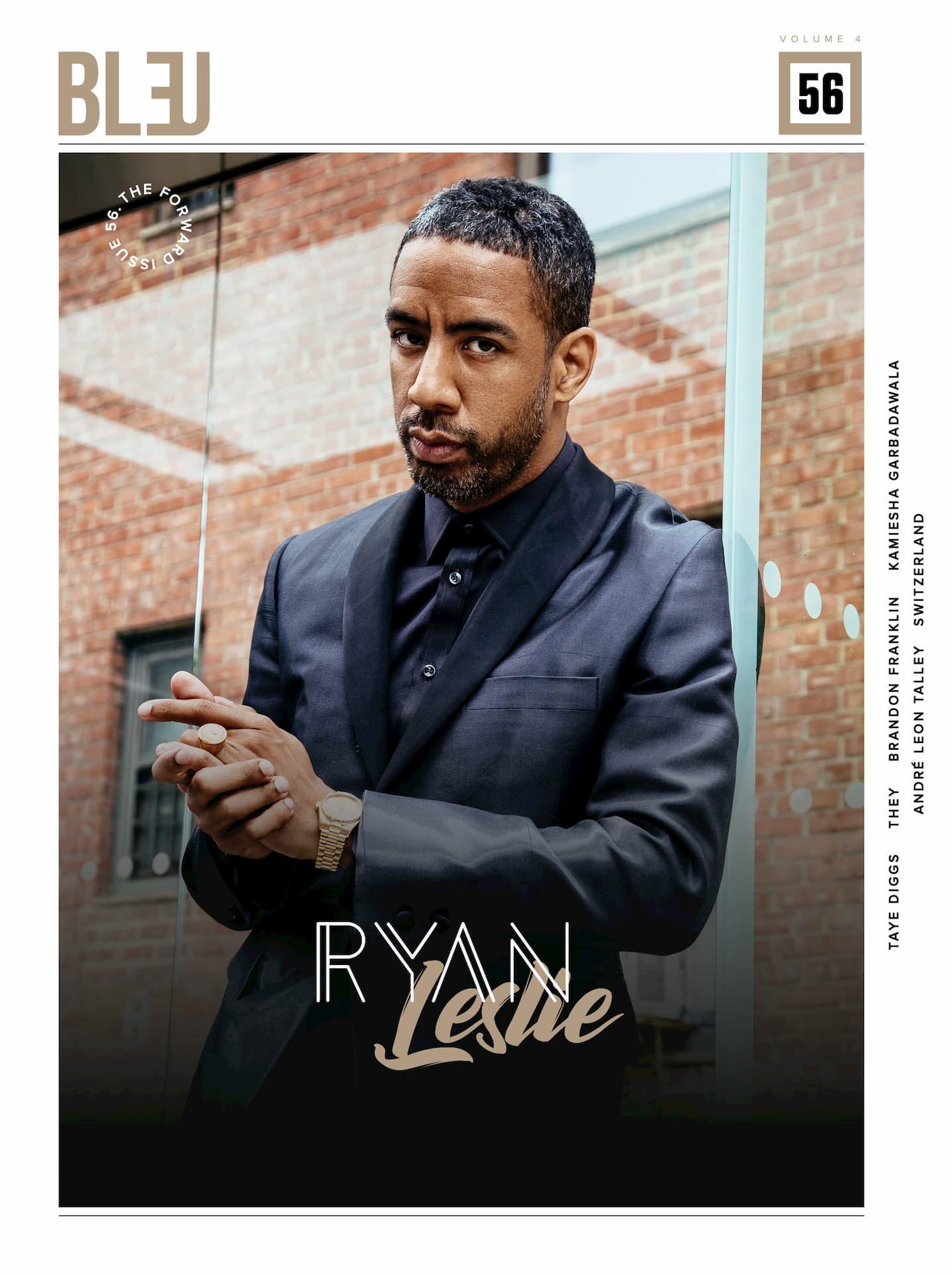 The air outside the William Vale hotel in Brooklyn is hot and dense with humidity. The foliaged patio area of the restaurant provides the scenic backdrop for my Saturday brunch with mega music producer, Ryan Leslie. In the thick of the heat, Leslie arrives on location like a light breeze, dressed in a white and black Hawaiian shirt, denim shorts, vintage frames, and a smile flossed out with gold bottom fronts. He introduces himself and his video assistant and asks for my number, a request that initially catches me off guard. But Leslie's ask was prompted by his SuperPhone technology venture, an ultra-connected smartphone that bridges the gap between the artist and their fan community. Yes, anyone can text Ryan—his phone number is literally the cover photo of his Twitter account.
Leslie's foray into tech comes as no surprise, considering he was one of the pioneers of web music virality. Leslie's breakout artist, Cassie Ventura, struck gold with her Myspace-made hit, "Me & You" in 2006. In the early 2000s, social media platforms were burgeoning influencer platforms ripe with possibility. Leslie caught the YouTube wave early, using the Internet to showcase his talent worldwide. This foresight has enabled Leslie to maintain relevancy in a fickle entertainment industry.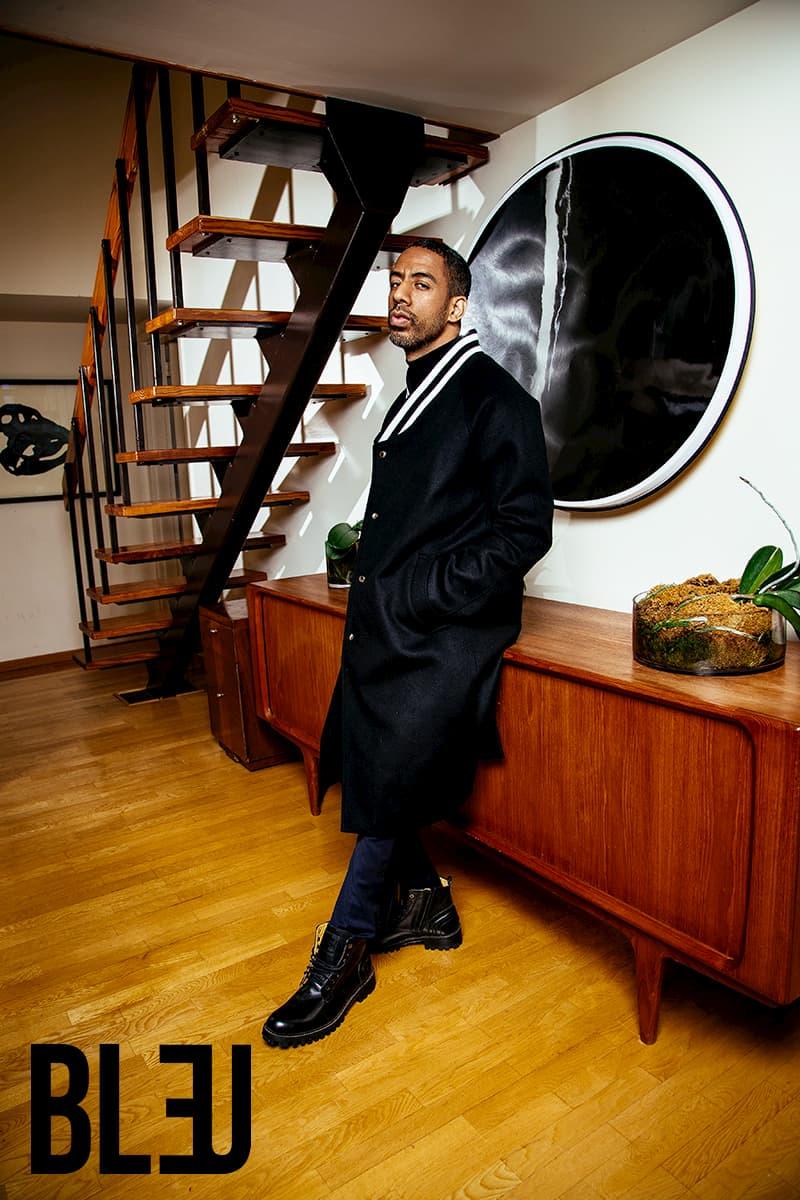 Article continues below advertisement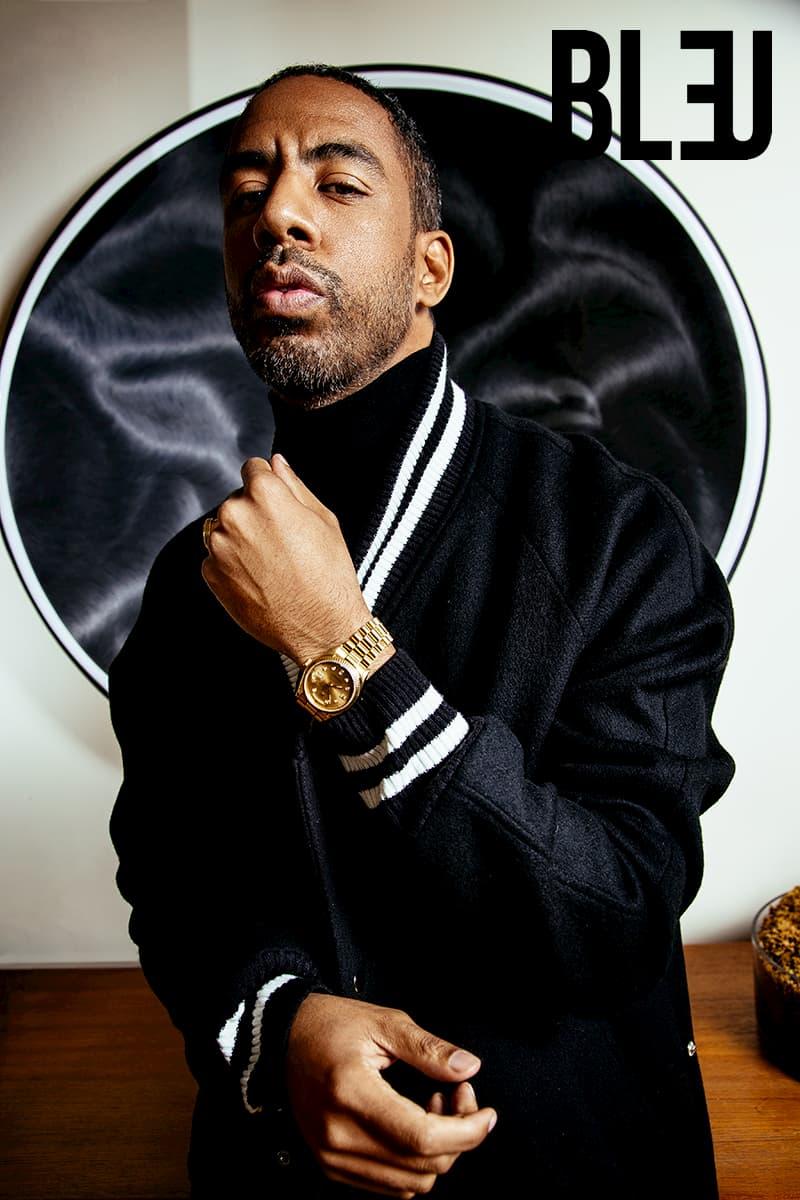 "The dream I'm pursuing is the dream to unlock the value of more efficient communication," Ryan explains to me as we wait for our croissants and pancakes. "I believe success happens at the speed of communication. How quickly you can communicate your idea, how quickly you can get the right idea to the right person with the right resources at the right time."
A world where followers have direct access to the stars at all times would probably make other celebrities feel over-exposed, but for Leslie, access and information are intertwined. Almost positioning those in the success cloud as demigods, the idea is to give and receive inspiration and opportunityeffortlessly in partnership with the people.
Article continues below advertisement
"I believe ideas should be given freely to the world, and they should be used in such a way that people can actually advance human civilization and society as easily and efficiently as possible because we have some major challenges which are facing us. I believe that information and music and art should be disseminated as quickly as possible. I believe the economics around the intellectual property will eventually change. Especially given the fact that eventually all information will be accessible and used and built upon."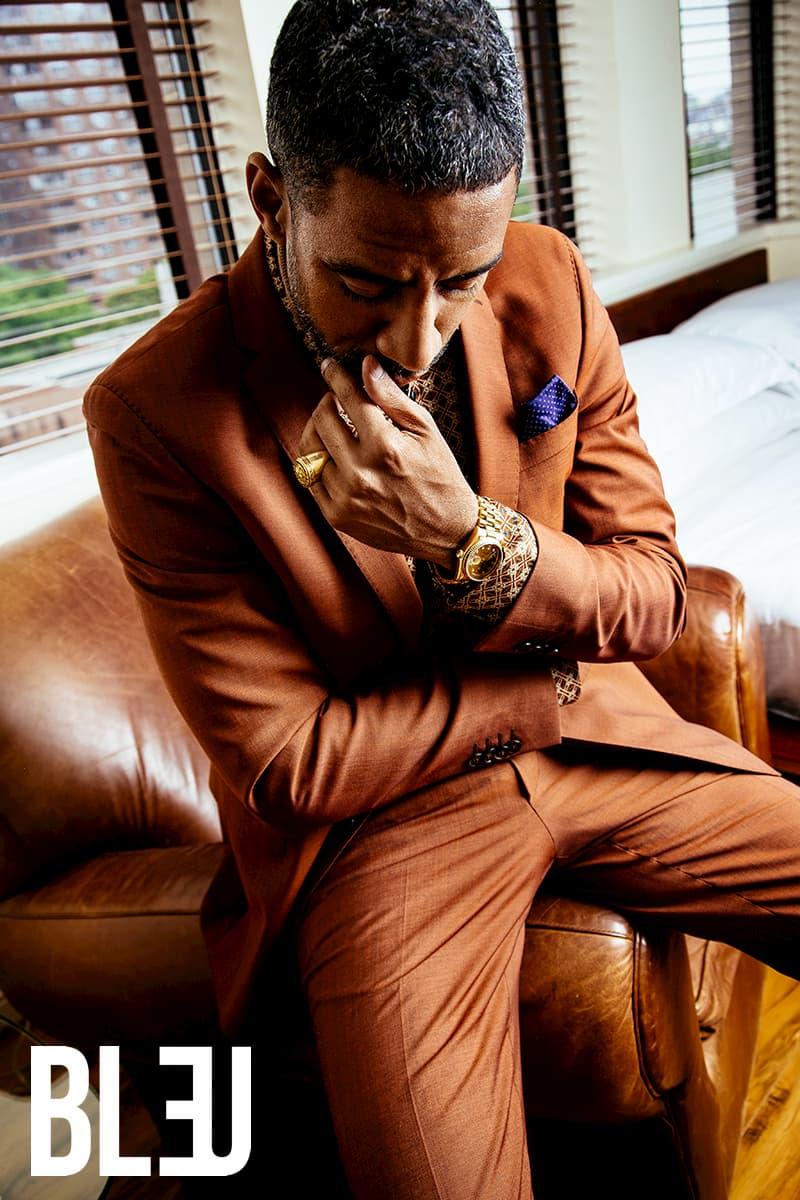 Article continues below advertisement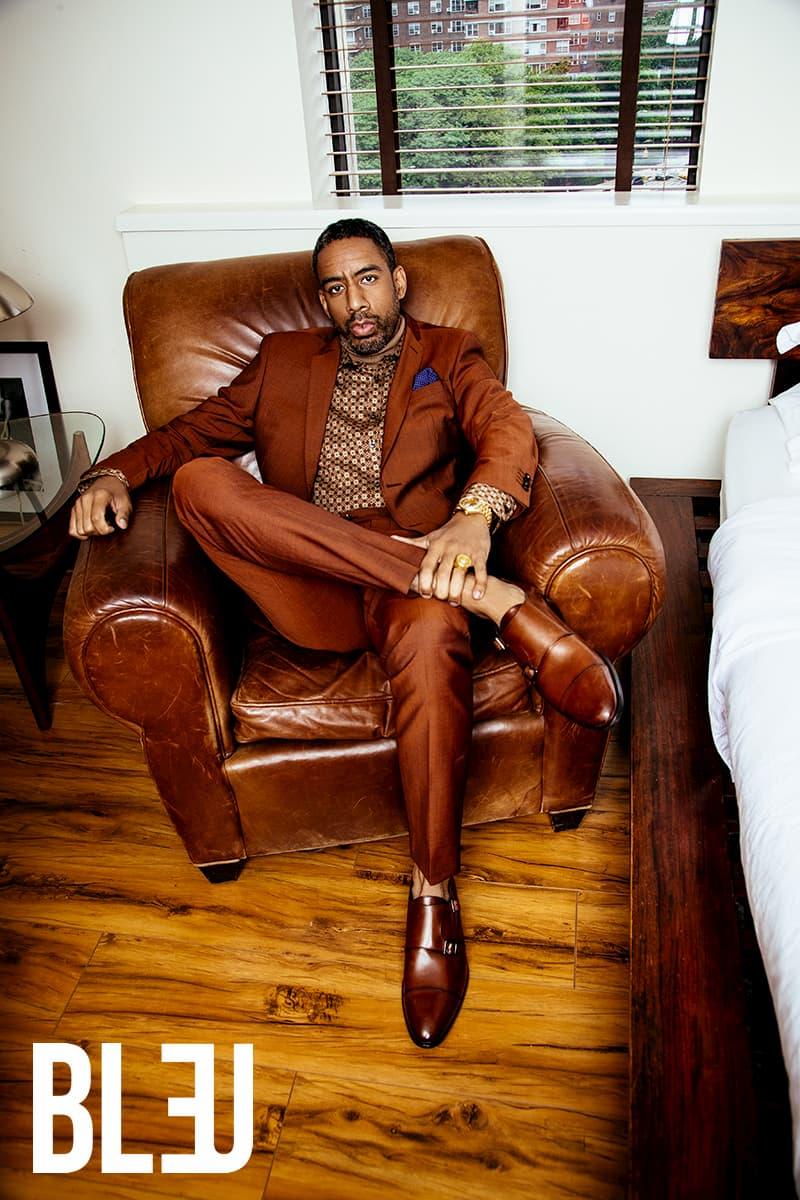 Leslie envisions a future where individualism takes a backseat to collaborative efforts. I had to ask him if he had this same energy towards property and creative theft when his laptop was stolen in Germany back in 2010.
"I believe that, what I was supposed to learn out of that situation and what value I was supposed to receive from that situation, and the experience and life I was supposed to live during those times, that was the true value of that entire experience," Ryan says. "So I feel great about what happened. I feel it's the reason I'm sitting here now, talking about the plans and goals and the ways I'm going to impact the world from this day forward."
Article continues below advertisement
Leslie's undeterred optimism almost reads as out of touch. I questioned if his cheerful outlook was some sort of shield to protect the vulnerable soul inside of the guise of fame. In pursuit of raw emotion, I dove into what makes him feel sad, since he could look at one of his 'lows' so auspiciously.
"Last time I was sad…sadness, sadness, real sadness," he repeats, searching for the emotion like a foreign object.
Article continues below advertisement
"I've had several conversations where I feel sadness when [people] feel the optimism I subscribe to is out of their reach for whatever reason. I can empathize and feel sadness for their challenge of seeing what's beyond their current circumstance. I got 80,0000 people in my phone, so there's many different scenarios and requests that come through my phone, and I genuinely feel empathy for the people who don't ascribe to the same optimism I have."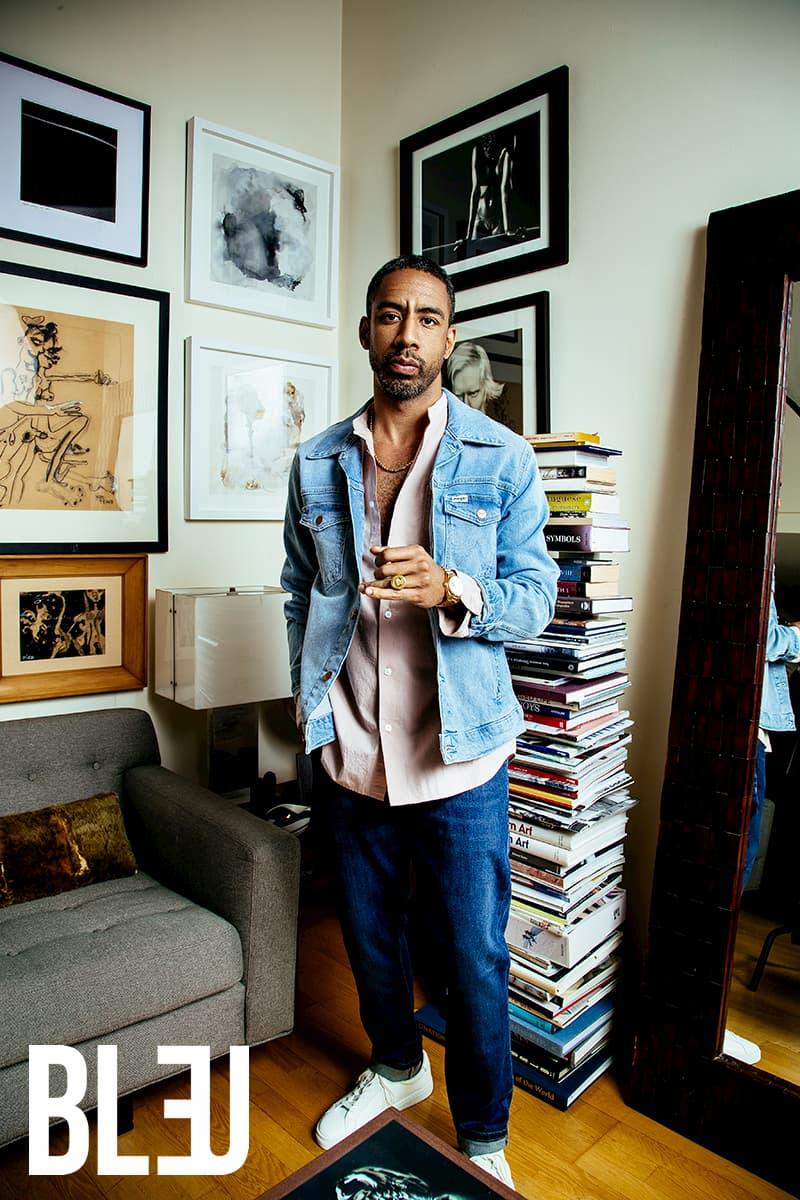 Article continues below advertisement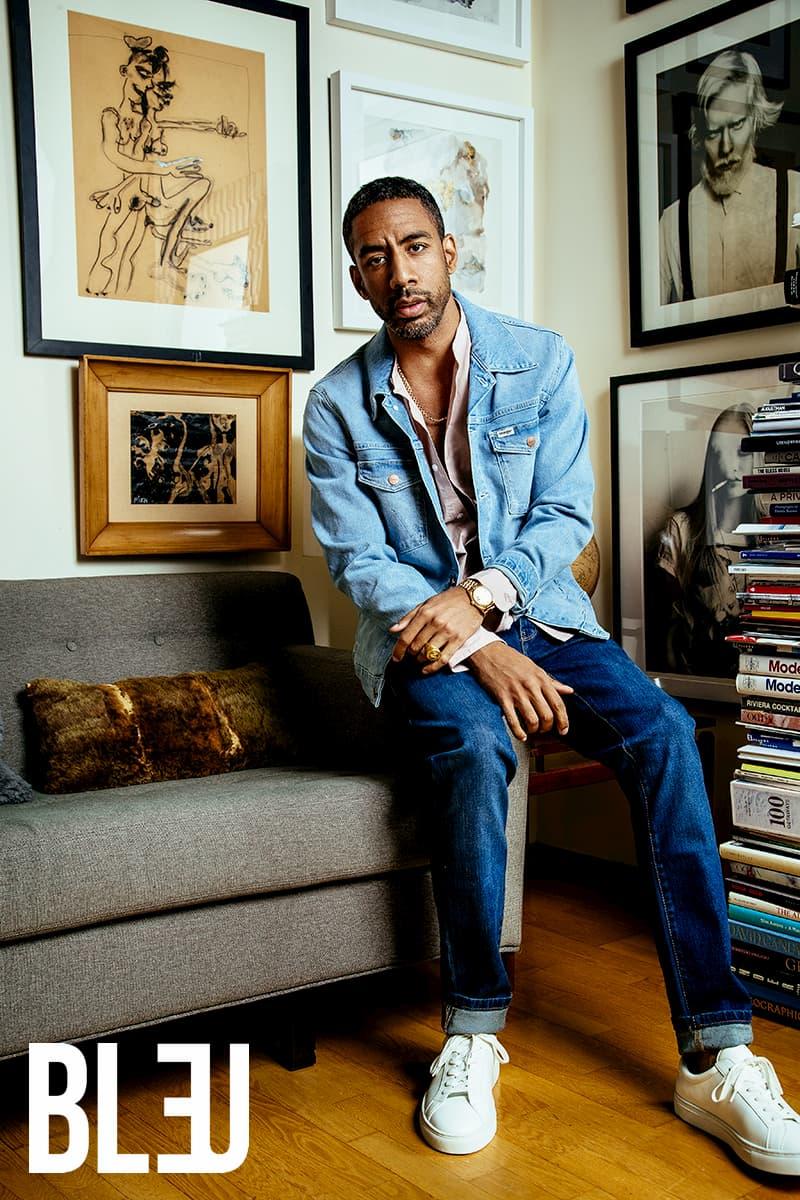 I became curious about his religious background, as I observed him dance around human devastation with an almost zen-like wisdom.
"I was raised as a Christian boy. I'm down with Jesus," Ryan says. "I'm down with religion for the peace it brings us and the peace of mind it brings us. So we can be thinking about how to give without being burdened down with trying to unravel mysteries that can potentially distract us from giving the most."
"So, how does it feel to be a genius?" I ask, already taken aback by his grasp on both tech and music and dare I say, spirituality? He looks behind me and off into the distance when answering my questions as if he visibly sees the answer in the atmosphere and is trying to interpret the vision into words to relay back to me.
Article continues below advertisement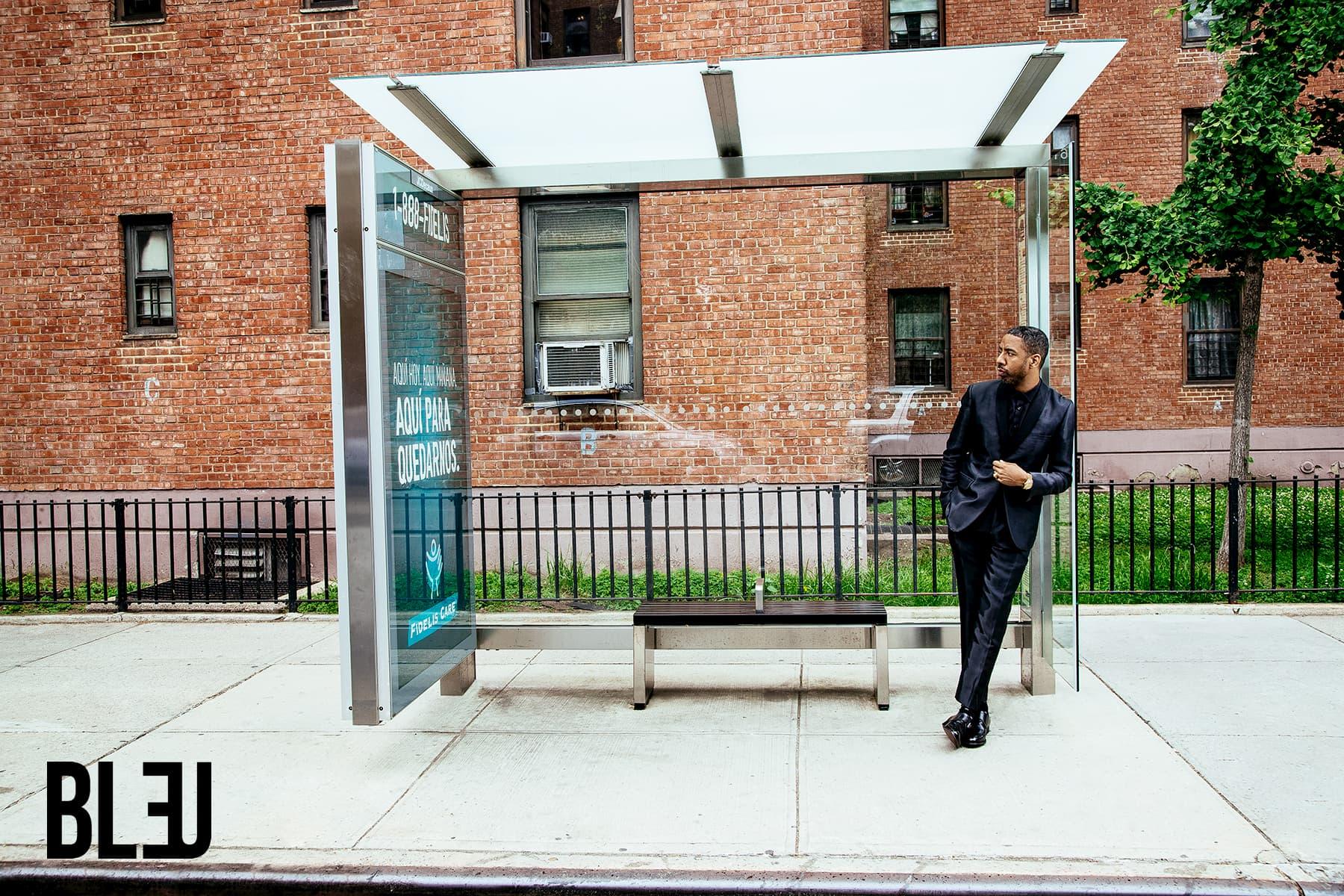 He laughed off my assertion, explaining, "I assume other people have realized it more than I have. Was it Edison who potentially said genius is one percent inspiration and 99 percent perspiration? So once I realized I was willing to work that full 99 percent on whatever little one percent idea I had, then according to Edison's definition, I assume I would fall into that."
Ryan adds, "Anyone who puts in the time can become great."
Anyone well versed in Ryan's resume could dismiss his answer as performative humility. As a Harvard grad at 19, a master of several instruments, and a sought-after hit-maker, there is nothing ordinary about Ryan's story. But Ryan credits the discipline of his Salvation Army officer parents and his own relentless self-drive for his success.
Article continues below advertisement
"[My parents] always felt the education system in America was much more different than the education system in the Caribbean islands, which really came from the United Kingdom. They really felt like our kids coming from our genetic lineage should be able to breeze through this. So once they said 'hey this should be easy" then that was what I was programmed to believe."
The narrative of "easy" is a rare story in the Black experience. Descriptions of our existence are often riddled with the heavy words of struggle, pain, and burden. But Ryan prefers to "live limit free." When I challenged his mindset as privileged (vis a vis the whole Kanye 'free thinkers' rhetoric), he explains that the sweat and grit one puts into the work is what separates the ordinary from the extraordinary.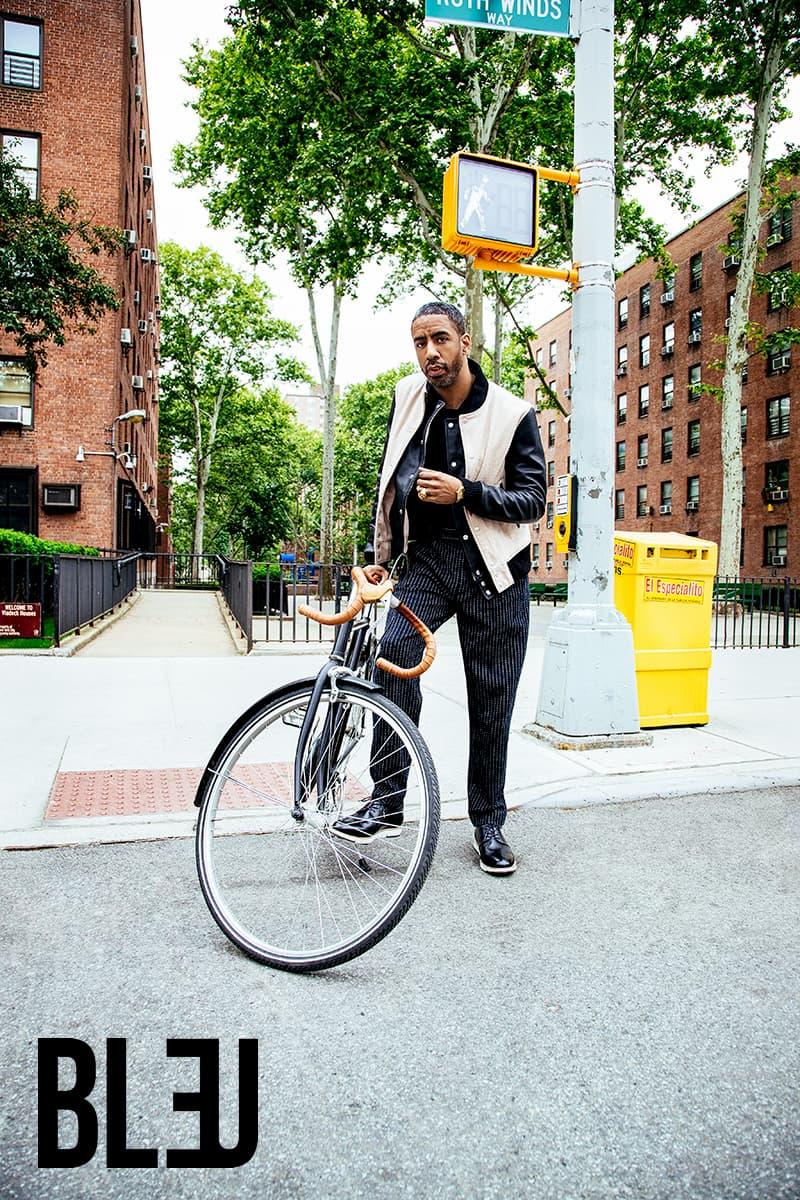 Article continues below advertisement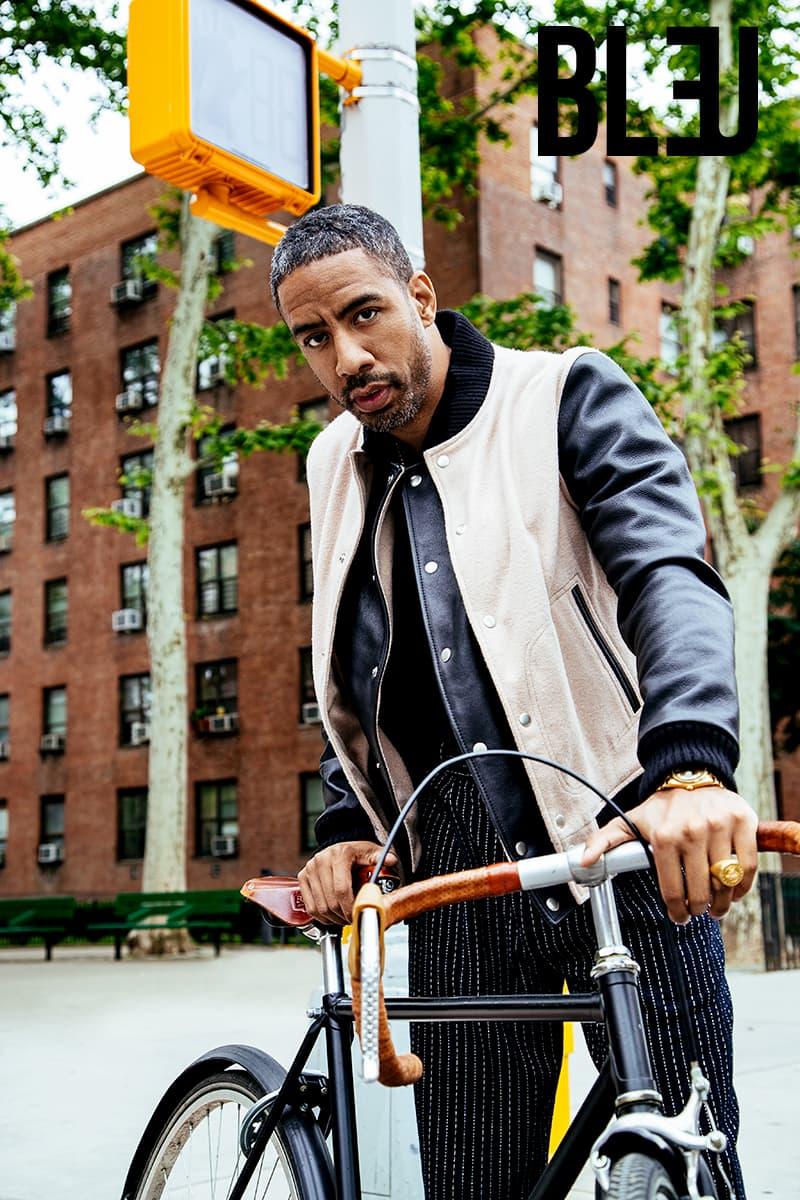 "There are plenty of people who have gone to all the same private schools and [still] live a totally different existence and life than I do. I find most folks are putting a great deal of perspiration and lack the inspiration."
Ryan draws inspiration from his well of life, particularly his love life. Like all great musicians, he transforms his pain into poignant melodies. And, if you only read the headlines to his life stories (which many do), one could draw a dotted line across Leslie's visible career missteps: his fallout with Diddy, his subsequent breakup from Cassie, and his untimely split from Universal Records. But one of the markers of genius is mental agility; Leslie doesn't look upon these moments of his life as "low moments," but instead regards their lessons as beautiful.
Article continues below advertisement
"I still get questions about 'Yo you had such a good run with Cassie, and then boom it all fell apart. Was that a low moment for you?' And that's beautiful as well because that actually correlates more to this idea that the people in your life, are really what gives your life that kind of value."
"There I was a young, multi-millionaire music producer quote-unquote 'self-made,' and had used my ingenuity to break an international pop star through a nontraditional distribution and discovery method over the internet. And people, no matter if their bank account had the same number of zeros in them as mine, could relate to this idea of heartbreak, betrayal, and just a break in the cycle. Because everything in life is a cycle, you fall in love, the cycle breaks, for whatever reason people relate to it. And that's no matter what walk of life they're in."
Leslie harnessed the energy from his relationship heartache and translated the hurt into catchy hooks.
Article continues below advertisement
"I just wrote about, 'I wonder if we'll ever find out how it was supposed to be?''What would you do, if I left you out in the blue.' 'I know you're not my girlfriend but I swear that I love you. Those records are so clear."
I inquired if his catalog of sonic love graveyards were hard to visit present day.
"No that's so beautiful. What do you mean? Those songs are so beautiful and what they mean and the memorialization of human emotion, being able to feel at that level, is beautiful to me."
For die-hard Leslie fans, one of his most unique and powerful musical talents is his ability to convey feelings without words. Leslie's 2009 single "Gibberish," will go down in history as a beautiful accident.
"Really, that song is an unfinished record that we just released unfinished. That's the same process I use for writing any song, which is, somewhat intelligible syllables that we put a melody to."
Continuing, "I remember playing that record for John Legend in the studio, and he said it would be great when it's finished. And my manager, Ed Woods, God rest his soul, said 'Ryan you should just put it out like this, it sounds great like this,' so that's what I did."
Since there are no words, I pried into what feelings and emotions were coursing through his mind as he recorded.
Article continues below advertisement
"The intent is in the music, so however that music made you feel, is likely how that music made me feel when I was creating it. I feel like there is a lot of confusion around what feeling great means to people. So I'm going to leave that up to interpretation, I mean I'm always in love."
When asked about his current love life, Leslie smiles while spelling out his girlfriend's name J-E-N-A-Y-E loudly in my recorder.
"I feel like I've been with her forever. What's beautiful is the concept of meeting the right person. There's a construct I've had in my mind from the time I was very young, the concept of the 'proverbial Camelot.' Who is the princess? What are their characteristics? What are the values they have? I've been with THAT person my whole life. And I feel like that changes as you try to find that person in the people you are dating, and I finally found her."
It's clear Leslie's 'happily ever after' depends on his deep acceptance of life's messy stories and the freedom to change how he remembers them. With the discipline of a mental alchemist, at 39 years old, Leslie's positive perceptions really create his reality.
"Live hard, love hard. Work hard. Fail hard," is his advice for those grappling with the weight of "failure" in their lives."That's what makes your life interesting, it gives you tent poles of life so you really can feel where you come from and where you're going."
Photography By: Othello Banaci
Photography Asst: Bryan Sona & Ravon Wright