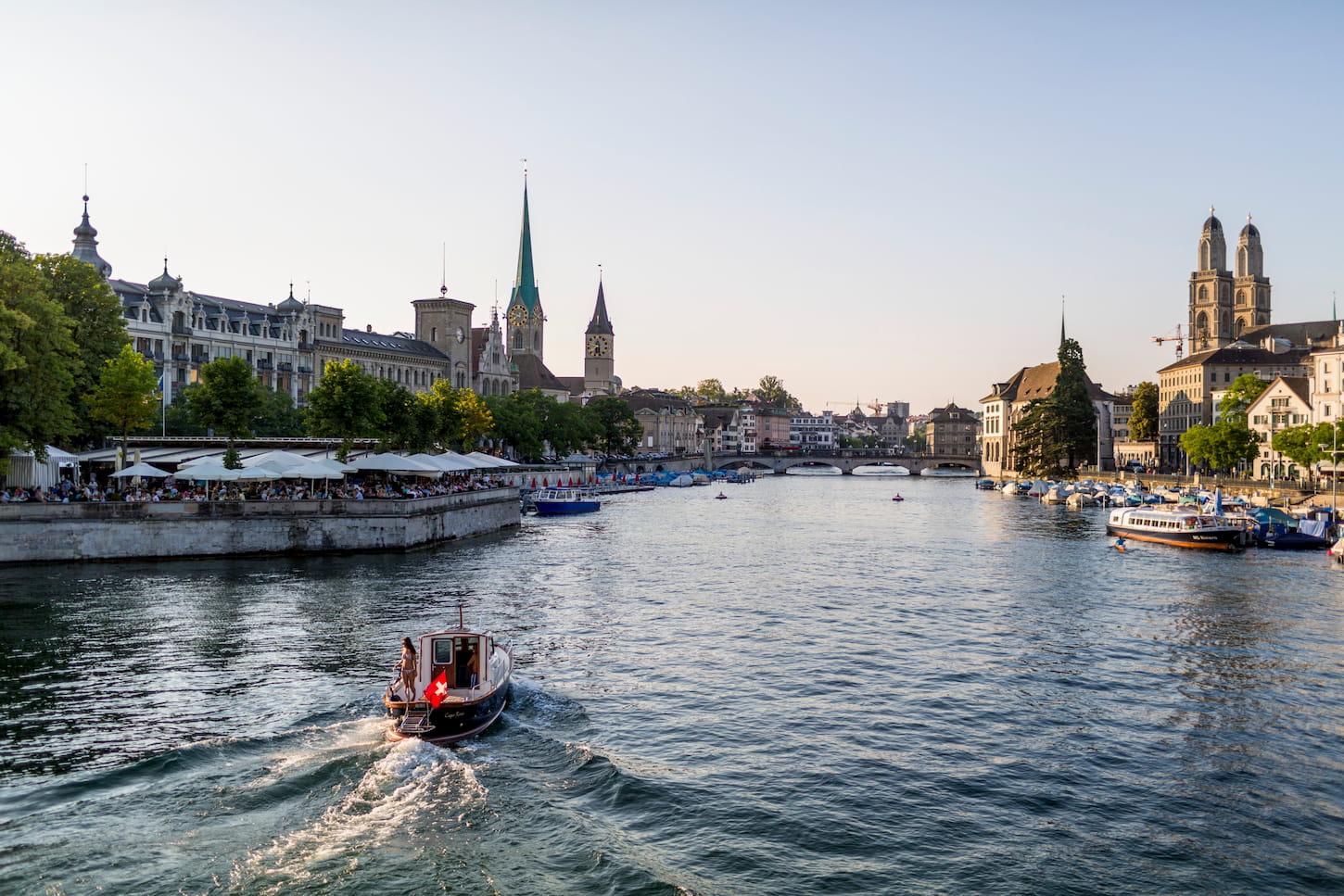 Zurich: Luxe by the Lake
Switzerland's cantons are cut by the Alps, and the majority of the population live in Zurich a hub of thriving arts, and LGBTQ scenes.

By Jamie Siebrase

Nov. 5 2018, Published 4:59 p.m. ET
It's funny listening to the Swiss promote their country. In preparation for my recent flight to Zurich, a representative from Switzerland Tourism spent the better part of an hour doing a hard sell on things like pristine lakes – "Switzerland is so clean you can jump in any lake in any village!" – and legendary hiking – "We have 30,000 miles of well-marked and maintained trails!" – and five-star, celebrity hotels: "Audrey Hepburn was married in a chapel at the Bürgenstock Resort!"
He had me at "Switzerland," of course, but I walked away from the conversation with lots of leads, and a surprising new perspective on the country's cultural diversity, too. At 15,950 square miles, Switzerland's a small nation — not quite the size of Vermont and New Hampshire combined. Luckily size doesn't matter, right?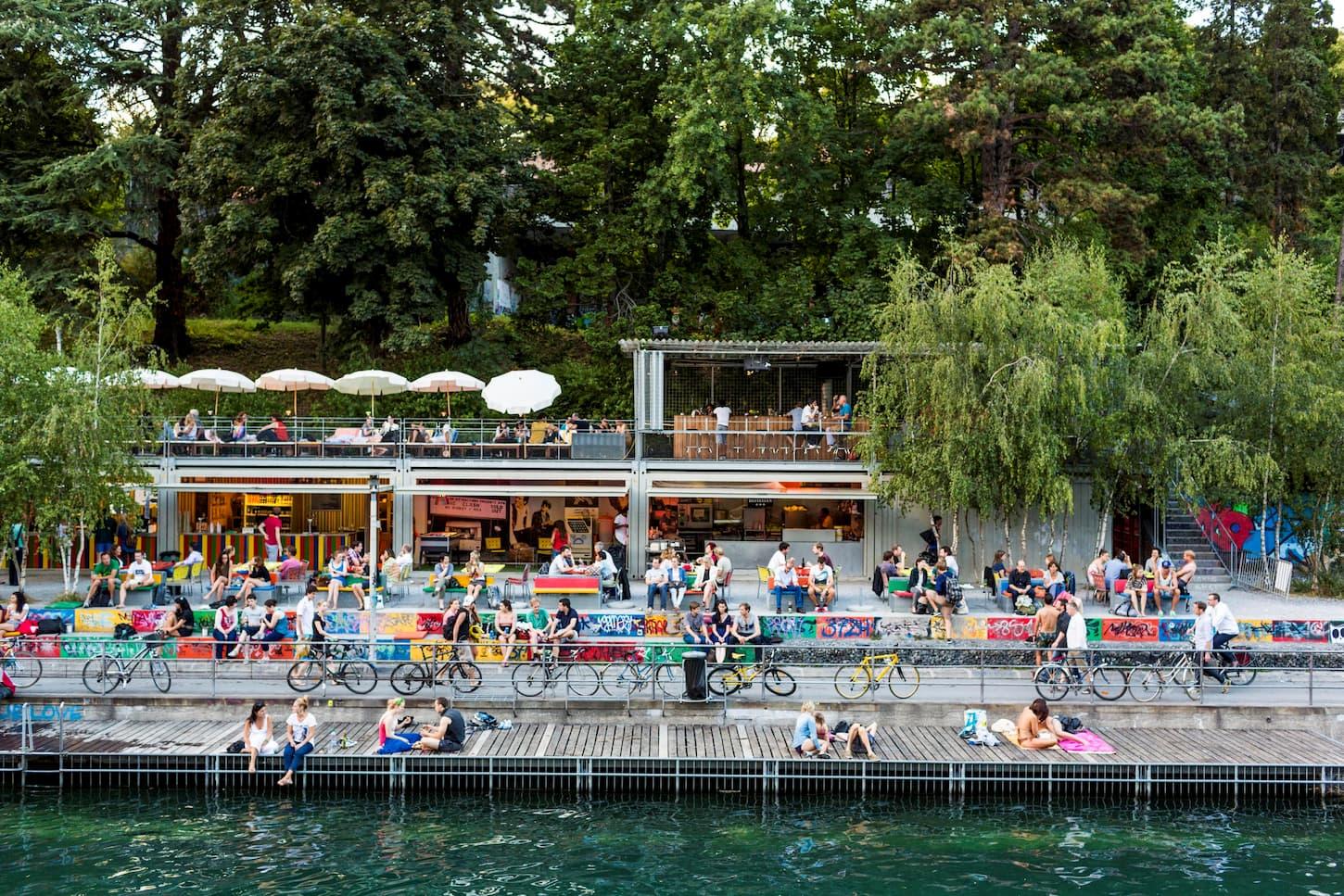 Article continues below advertisement
Through its centralized location, Switzerland has absorbed the best parts of its surrounding countries – Italy, France, Germany, Austria, and Liechtenstein – becoming a vast mosaic of people, food, and languages. Switzerland's 26 cantons (similar to states) are cut by the Alps, and the majority of the country's 8.4 million residents live on the Central Plateau, in Geneva and Zurich, the latter a bustling banking hub claiming thriving arts and LGBTQ scenes, in addition to the county's top nightlife.
But the water city isn't your typicalmetropolis. Zurich was built on Lake Zurich; the Limmat River forms at its outfall, moving through the city center. Urbanites, then, find natural wonders at every turn, whether they're enjoying watersports, wellness facilities, or simply gawking at Rhine Falls, Europe's mightiest waterfall.
Article continues below advertisement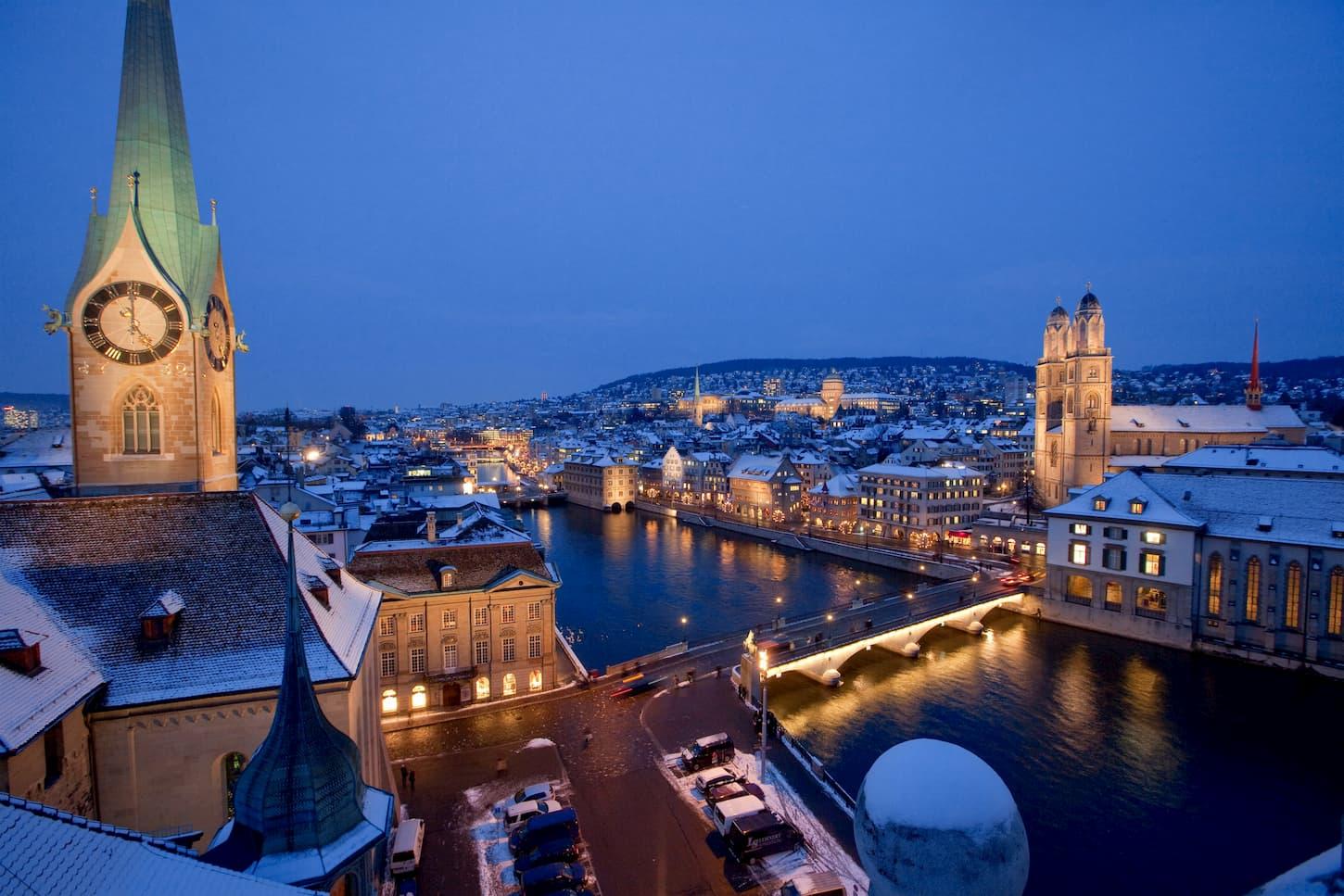 With 5,000 years of history under its belt, Zurich's skyline is dominated by churches. The twin towers of the Grossmünster, the stained glass windows of the Fraumünster, the clock tower of St. Peter — these architectural wonders remind travelers that, sometimes, man's inventions actually embellish nature.
Article continues below advertisement
It would be easy to linger in Zurich, but don't forget about the Alps. Eventually the stone buildings of Zurich's old town give way to rolling countryside. You'll get a feel for Switzerland's topography riding the Glacier Express from Zurich to St. Moritz, a chic resort town in the Engadin valley drawing billionaires and celebrities during ski season. In the summer, when hotel rates are within reach, the landscape looks exactly like what you're expecting from the Heidi VHS box: Snow-capped alpine peaks cradle sparkling lakes and meadows inhabited by roaming goats and cows with bells dangling from their necks.
Eats and Treats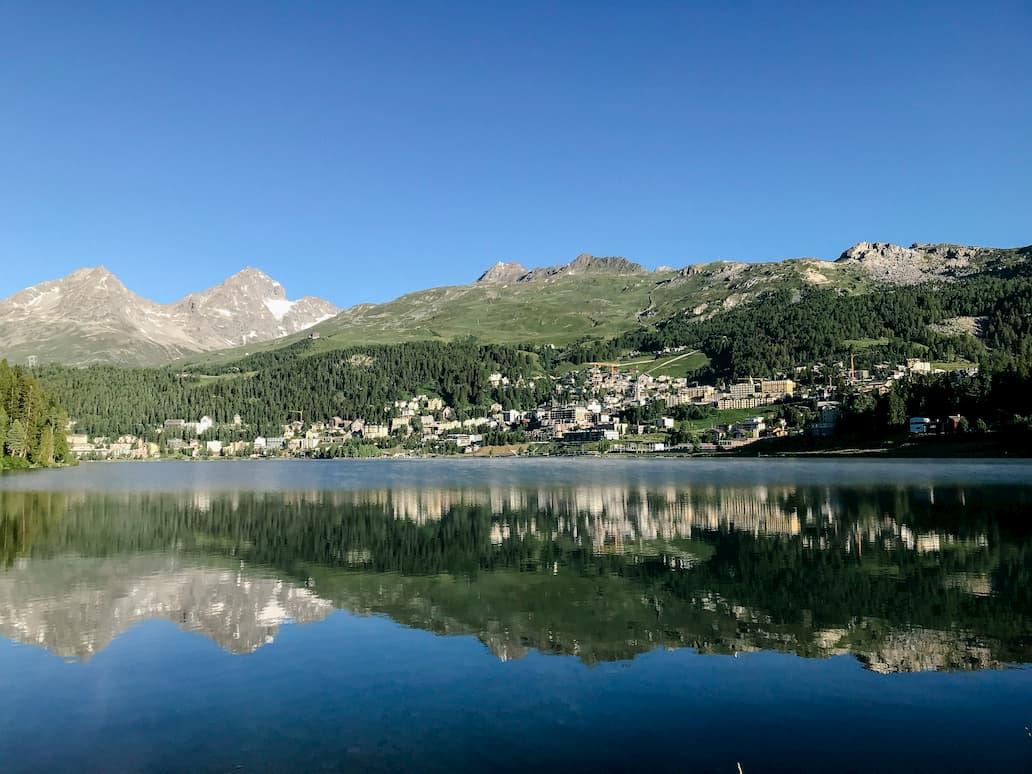 The Swiss cuisine is incredibly varied — but no matter what you eat, you can usually count on a delicious and photogenic charcuterie board. The best place to sample Switzerland's eclectic culinary scene is at Markthalle, serving Tokyo tacos, shepherd's pie, and everything in between.
Article continues below advertisement
If you're only going to try one regional dish, it should be Züri Gschnätzlets at the Swiss Chuchi in Zürich's Niederdorf quarter. Here, typical Swiss fare (fondue included) is served in a simple chalet-style restaurant. In St. Moritz, the vegetable capuns (Swiss dumplings) are perfection at Chesa Veglia, a quaint farmhouse eatery filled with good smells and old world charm.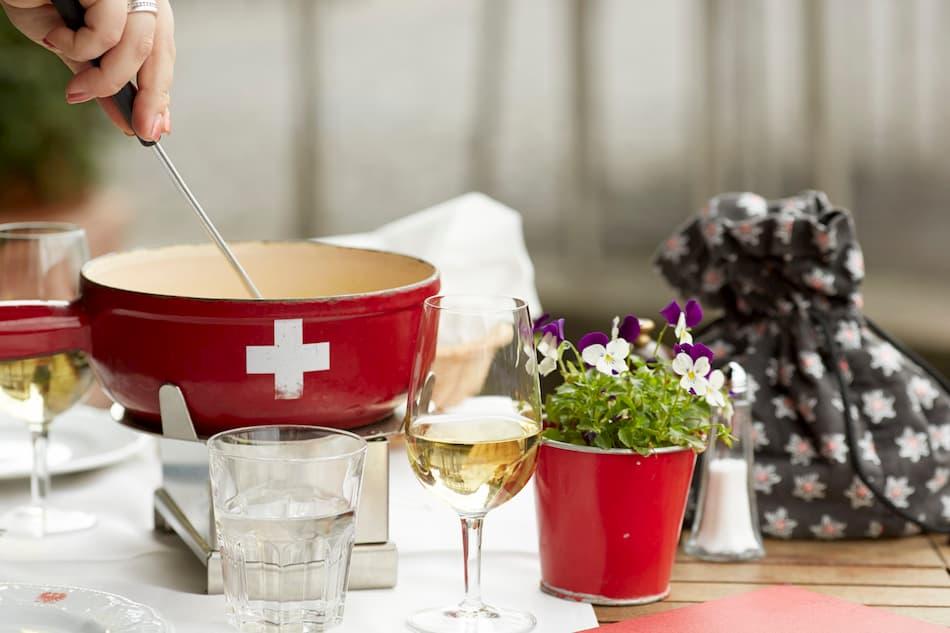 Article continues below advertisement
Zurich is home to the oldest vegetarian restaurant in the world, the Haus Hiltl, a casual joint with an impressive line-up of scratch-made veggie burgers and innovative Indian and Asian items, including a fabulous Sri Lanka jackfruit curry. At the butcher's counter, vegetarians can order meat-free Züri Gschnätzlets.
Bircher muesli was invented in Zurich. While many local breakfast joints do muesli, the crème de la crèmeis served at Zum Guten Glück, a stylish café also specializes in sweet waffles and handmade ice cream.
Explore
The best way to explore Zurich is by water. While I don't self-identify as a "group tour person," SUP City Tours puts an adventurous spin on sightseeing, as certified instructors point out historical tidbits while guiding groups across Lake Zurich (contact Zurich Tourism for details). Alternatively, the Lake Zurich Navigation Company operates fabulous River Limmat cruises passing old town's most stunning sights.
Article continues below advertisement
With 30 lake and riverside bathing facilities ("badis" to locals), and almost 20 swimming holes, Zurich has the highest concentration of bathing facilities per capita in Europe. The premiere men's badi is Freibad am Schanzengraben, a timber box bathhouse built in a 17th century moat. Entry is free, and at night the badi becomes the trendy Rimini Bar. The Oberer Letten river bathing facility is another hip place to get wet.
On the northeast side of Lake Zurich, the Allianz Cinema is an outdoor movie theater drawing 50,000 spectators annually with a mix of blockbusters and art films. Plan to grab dinner during the show; the food at the Allianz Cinema is as appealing as the ambiance.
Located south of Zurich, in the canton of Zug, the Höllgrotten "hell grottoes" are worth the 18-mile drive — just make sure to bring a jacket because temperatures inside never break 50 degrees. It takes 45 minutes to tour these ancient limestone caves.
Article continues below advertisement
Stay
On the less-frequented end of Lake Zurich, Hotel Marina Lachen is where the cool kids bunk, checking all boxes with modern rooms, four-star amenities, and scenic views.
The Villa Schönegg in Rüschlikon is a cozy and affordable three-star guesthouse with a homey vibe, not to mention an ideal lakeside address. For those who relish local flavor, Villa Schönegg is a fabulous place to shack-up.
For something out of the ordinary, consider camping at the Fischers Fritz campsite. In addition to being the only camping ground in Zurich, Fischers Fritz is the epitome of glamping, with furnished safari shelters that are a far cry from your typical nylon tent.
Luxury was born in Switzerland, possibly at Badrutt's Palace Hotel in St. Moritz, an opulent five-star property with stunning architecture, breathtaking views, and an unforgettable spa. Rooms go for $2,000 dollars a night during ski season; summer rates, though, start in the mid-300s, when savvy guests get five-star amenities at a fraction of the cost.
Article continues below advertisement
Where To Stay
Hotel Marina Lachen
Hafenstrasse 4, 8853 Lachen, Switzerland | +41 55 451 73 73 | Reservations
Article continues below advertisement
Villa Schönegg
Seestrasse 116, 8803 Rüschlikon, Switzerland | +41 43 388 05 15 | Reservations
Camping Zürich
Seestrasse 559, 8038 Zürich, Switzerland | +41 0 44 482 16 12 | Reservations
Article continues below advertisement
Badrutt's Palace Hotel
Via Serlas 27, 7500 St. Moritz, Switzerland | +41 81 837 10 00 | Reservations
What To Do
Article continues below advertisement
SUP City Tours
Bachstrasse 7, 8038 Zürich, Switzerland | +41 44 215 40 00 | Website
River Limmat Cruises/ Lake Zurich Navigation Company
Zürichsee Schifffahrtsgesellschaft Mythenquai 333, CH-8038 Zürich | +41 44 487 13 33 | Website
Article continues below advertisement
Oberer Letten
Lettensteg 10, 8037 Zürich, Switzerland | +41 44 413 58 80 | Website
Allianz Cinema
8008 Zürich, Switzerland | +41 43 499 51 41 | Website
Article continues below advertisement
What To Eat
Markthalle
8005 Zürich, Switzerland | +41 43 322 14 14 | Menu
Article continues below advertisement
Swiss Chuchi
Rosengasse 10, 8001 Zürich, Switzerland | +41 44 266 96 66 | Menu
Chesa Veglia
Via Veglia 2, 7500 St. Moritz, Switzerland | +41 81 837 28 00 | Website
Haus Hiltl
Sihlstrasse 28, 8001 Zürich, Switzerland | +41 44 227 7000 | Menu