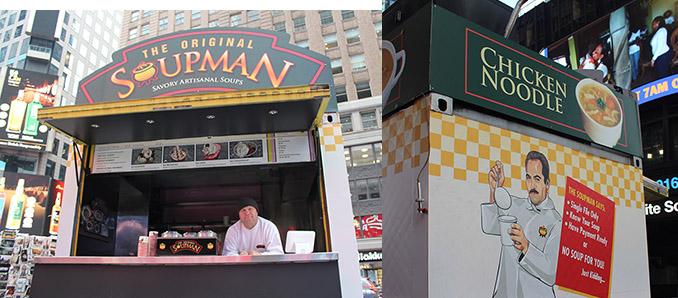 The Original Soupman Reinforces NYC Roots
Ever since the phrase "No Soup For You!" was coined on the NBC sitcom "Seinfeld", The Original Soupman has been a cultural icon.

By Merilee Kern

Dec. 19 2018, Published 1:31 a.m. ET
Ever since the phrase "No Soup For You!" was coined on the NBC sitcom "Seinfeld" back in the mid 90's, The Original Soupman has endured not only as a cultural icon, but a culinary one as well. Over two decades later, this New York City-born food brand has again turned its attentions to capturing the hearts, minds and palates of soup aficionados in the Big Apple and beyond—reviving the legendary brand by realizing several notable milestones.
First, this December The Original Soupman debuted an exclusive, seasonal 44th Street Kiosk allowing its fresh, authentic, local, artisanal soups to "return with a vengeance back to their rightful place as a heritage-driven NYC brand" as the company emphatically asserts. This is the first of other such kiosks the company plans to roll out, and is additional to The Original Soupman's other retail foodservice endeavors—four franchise locations, one each in Albany (NY), Astoria (NY), Atlantic City (NJ) and Uncasville (CT) (noting the original 55th street location is no longer Original Soupman).
In a clear-cut strategic effort to proliferate The Original Soupman food service in NYC and bolster their overarching national franchise business, the new kiosk will operate in the heart of the Times Square hub through April 2019. It will avail four varieties of the company's internationally-celebrated savory, artisanal soups to the throngs of passersby—to the delight of both locals and tourists alike. Reportedly delivered fresh from the Bronx every morning, the soups are crafted with locally-sourced ingredients from Hunts Point, ostensibly the largest produce market in the world.
Article continues below advertisement
"We have one story, the NYC story," said Emmy-nominated Larry Thomas, the Original Soupman who brought this soup to life on Seinfeld in 1995. "What would make you stand in line, even risk ridicule? The best damn soup in the world. We are SOUP. Premium, fresh, and redefining our NYC roots."
As if the Times Square kiosk was not exciting enough, The Original Soupman has further entrenched itself within the NYC community by helping school children eat healthier. Pursuant to a successful pilot partnership with NYC Public Schools on their K-12 menu initiative (designed to promote healthfulness by switching Mondays to an all-vegetarian menu), The Original Soupman has created a specialty bean recipe now featured as the main ingredient in a popular "veggie taco" lunch program menu item for select schools in the region. Company materials report The Original Soupman implemented its special Mexicali Bean and Stewed Pinto bean recipes, which are authentic, fresh, preservative-free and also locally produced, making them a great addition to the offerings at the public institutions. It seems there may be a larger school cafeteria effort brewing beyond New York's borders, with Thomas declaring, "The kids love it and parents approve! We look forward to expanding this initiative to improve the health and taste profile of school menus for students nationwide."
Article continues below advertisement
Speaking of national endeavors, you notably don't have to step foot in NYC to partake in The Original Soupman's divine artisanal offerings. In another key company development, those hungering to savor the brand for themselves can now find a selection of Original Soupman varieties in Tetra Pak cartons (helping preserve the soup's nutritional value and taste) both in supermarkets across the country and online at www.originalsoupman.com. This includes its Legendary Lobster Bisque and Chicken Noodle, as well as the soon-to-be-announced special edition flavors like Chicken Tortilla.
Those opting to visit the web site will find soup club memberships, innovative recipes and seasonal flash sales, and can buy socially-minded soups whereby a portion of each sale supports veterans via the "Soups for Troops" nonprofit organization.
It's heartwarming to see The Original Soupman not only reviving itself in the city where it all started, but also embarking on a national retail renaissance. Amid the tremendous opportunity knocking on The Original Soupman's door, the sentiment has seemingly fortuitously shifted from "No Soup For You," to "Soup For Everyone!"
Article continues below advertisement
As the Executive Editor and Producer of "The Luxe List," Merilee Kern is an internationally-regarded consumer product trends expert and hospitality industry voice of authority—a travel, dining, leisure and lifestyle expert who spotlights noteworthy marketplace innovations, change makers, movers and shakers. She reports on exemplary travel destinations and experiences, extraordinary events and newsworthy products and services across all categories. Reach her online at www.TheLuxeList.com, on Twitter at www.Twitter.com/LuxeListEditor, on Facebook at www.Facebook.com/TheLuxeList and on Instagram at www.Instagram.com/LuxeListReviews.
***Some or all of the accommodations(s), experience(s), item(s) and/or service(s) detailed above may have been provided or sponsored at no cost to accommodate this review, but all opinions expressed are entirely those of Merilee Kern and have not been influenced in any way.***