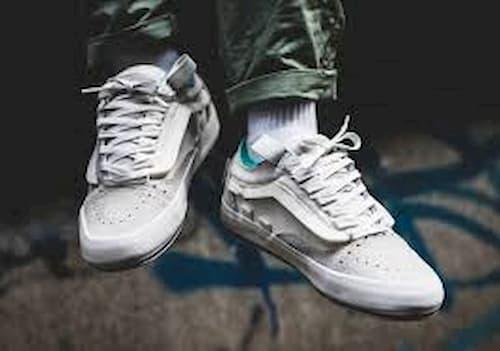 Vans To Deconstruct Old Skool Design
They say it's easier to create than to destroy, and this is true for just about anything. Vans must have heard this and decided to take apart their classic

By Johana Lopez

Feb. 7 2019, Published 3:14 p.m. ET
They say it's easier to create than to destroy, and this is true for just about anything. Vans must have heard this and decided to take apart their classic designs to come out with Frankenstein's monster-esque renditions of the shoes.
Whose genius idea this one belongs to? It isn't Virgil Abloh, although that's what many people believed last year.
Previously deconstructed and reconstructed Vans designs inlude the Sk8-Hi and Slip-On shoes which sold out quickly.
The colors are described by sneakernews.com as:
"a tonal combination of marshmallow, white, and tan, the shoe's colored accents are few and far between — just teal around the collar, a blue stripe on the midsole, and an upside-down red heel badge. The jazz stripe is raised up and out from the upper due to the absence of a bottom seam, and is held in place by a small overlay. An extremely faint white checkerboard pattern then covers the midfoot, while a piece of elastic bounds up the throat, and a large heel tab features a 'Please Tear Here' graphic. The shoe is then finally completed by a waffle outsole that features a quintet of different gum tones."
The sneakers will release March 1st at $100 USD.