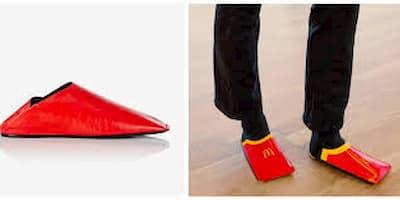 Who Got Next? McDonald's Trolls Balenciaga Over $740 Shoes
If you thought the Wendy's vs IHOP beef was real then you are not ready for a McDonald's vs Balenciaga knockdown over shoes.

By Tyrus Townsend

Feb. 15 2019, Published 6:25 p.m. ET
If you thought the Wendy's vs IHOP beef was real then you are not ready for a McDonald's vs Balenciaga knockdown.
In an IG post, McDonald's Swedish extension pokes fun the French design house, somewhat insinuating blatant plagiarism, over a pair of shoes that resemble, of all things, french fry cartons. Though they were released last August, social media is just getting a whiff of the rip offs and over 113k people have sided with the king of "Golden Arches."
But this is not the first time designer Demma Gvasalia has "remixed" an iconic brand and boosted interested of a product in a modern way. Remember the IKEA shopping bag and platform Crocs drops? Not his best style moments. His ability to poke fun at popular culture in a fashionable and profitable manner has paid off tremendously and culturally cemented Balenciaga as a go-to brand for all things cool and hip. While many see this as an homage and perhaps a boost for Gen Z, Mickey D's is having no parts of it.
In a petty but comical move the Swedish based-department recently posted a picture with a caption that translates to, "If we get 103042 likes we will release these for real."
Let's hope, for our and Balenciaga's sake, the other 84,192 likes are not reached.