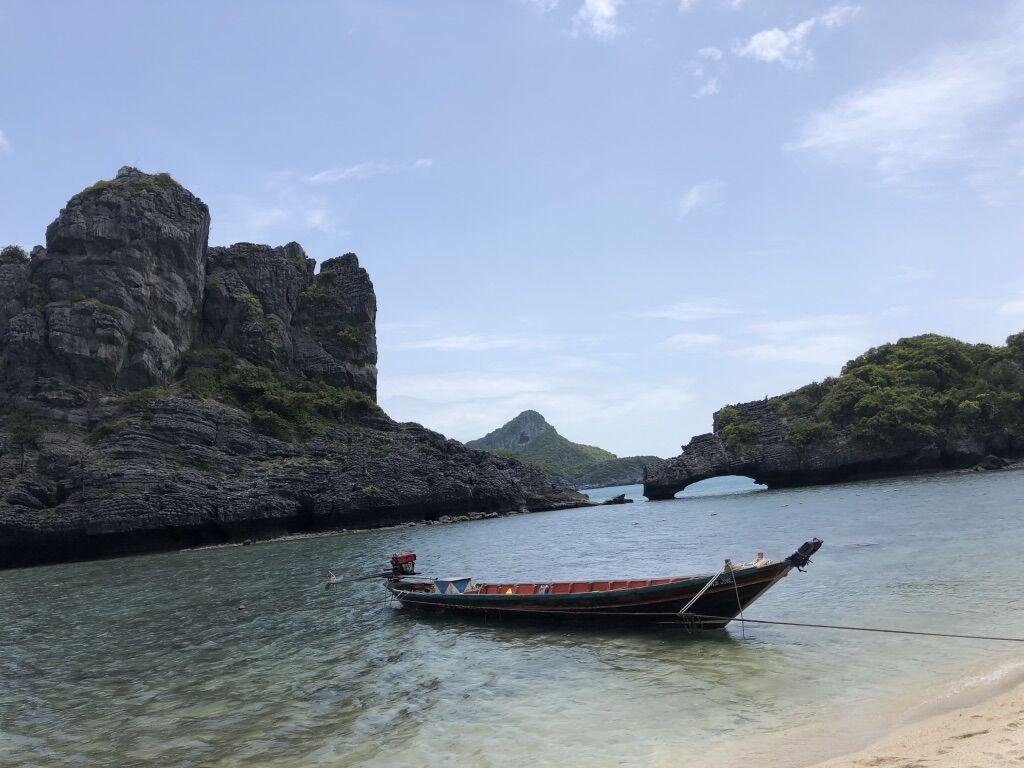 Soaking up the Sun in Koh Samui, Thailand
By Lavanya Sunkara

Mar. 21 2019, Published 3:50 p.m. ET
Sun on your skin, sand between your toes, sizzling spicy food, and exclusive spa treatments: these are just a few indulgences Koh Samui offers.
Images courtesy of Tourism Board of Thailand and Lavanya Sunkara
Known as the island of coconuts, Koh Samui off the east coast of Thailand is always sunny, avoiding the rains that drench Phuket in the monsoon season. With idyllic beaches and a rainforest interior, this gem is a perfect getaway after spending a few days in the country's bustling capital. Getting to the island is a breeze. Hourly flights take off from Bangkok's Suvarnabhumi Airport to a private Bangkok Airways Airport on Koh Samui. For a more budget-friendly option, fly to Surat Thani Airport or Chumphon Airport and take a ferry.
Located in the Surat Thani province, Koh Samui is suited for both budget minded travelers and luxury seekers, offering a wide range of beachfront accommodations and activities. The stunning Wat Phra Buddhist temple, with a striking 60 foot Buddha statue, is hard to miss as you make your way through the island. Enjoy shopping, delicious cuisine, and nightlife in Bophut's Fisherman's Village. Go to the lush rainforest for spa treatments and hikes. Take a short speed boat to the Ang Thong National Marine Park, an archipelago of 42 pristine islands, boasting limestone pinnacles, jungles, and serene beaches.
No matter the length of your stay, there are numerous things to do in Koh Samui, unless you are relaxing on a beach hammock. But if you can get yourself away from lounging, take a ride to the rich rainforest and indulge in a four hour relaxation ritual. At the Tamarind Springs Forest Day Spa, you can detox in steam and sauna rooms built into caves, relax in natural hot springs, and delight in a two-and-a-half hour herbal compress massage. In the open air massage tents, the soothing waterfalls, birdsong, and the serene fragrance of lemongrass and frangipani are sure to bring a state of nirvana.
After you've pampered yourself, make your way to the Fisherman's Village in Bophut, which comes to life on Friday nights. At the outdoor market, browse through hundreds of stalls selling traditional clothing, beachwear, handbags, and souvenirs. If all that shopping gets you hungry, there are plenty of seaside restaurants on Bophut Beach Road that serve authentic Thai cuisine, from simple dishes to scorching curries. The most authentic meals come from roadside shacks that serve Kôw Gaang (choice of curry ladled over rice) alongside a round tray set with vegetables, eggs, and chilis. Afterwards, try the Lod Chong Tang Thai (flour jelly with Thai melon in coconut milk), a refreshing Thai dessert to battle the heat.
Article continues below advertisement
End the night with a performance of fire dancers that light up the beach. With their awe-inspiring acrobatic moves set to energetic beats, the group puts on a lively show of twirling and juggling objects on fire. Sip cocktails as you sit on the comfy bean bags provided by Coco Tam's bar and restaurant, as the waves lap under the light of the moon.
For those seeking a more active vacation, Koh Samui is ideally situated near Ang Thong National Marine Park, a string of gorgeous islands accessible only by boat. Here, you will find quintessential Thailand vistas– sheer cliffs surrounded by turquoise waters, long tail fishermen's boats, and secluded beaches. Snorkel with colorful fish around Koh Wow, hike up Koh Mae for an incredible view of Emerald Lagoon–known as Talay Nai, a salt water lake surrounded by cliffs– and kayak around Sam Sao's rock formations and natural rock archway. Make sure to stop by the only inhabited island in Ang Thong, Koh Phalauy, to dine at Phalauy Sea Food Restaurant, serving delicious meals with fresh fish and vegetables. The island's Koh Phaluai Eco Resort has affordable sea-view bungalows for overnight stays.
Back on Koh Samui, you can also find eco-friendly resorts. Among them is the elegant Santiburi Resort on the northern shore. Although Santiburi is over 20 years old, a recent renovation and addition of 19 new Grand Reserve Pool villas introduced modern features such as motion sensing lights that reduce electricity. In this luxury resort built by the Singha Beer estate, you won't see plastic bottles anywhere, and the onsite restaurant serves drinks with bamboo straws and dishes cooked up with locally sourced ingredients and herbs from the garden.
Whether you want to experience a jungle spa, go island hopping, feast on authentic food, or party under the stars, Thailand has it all.
Article continues below advertisement
WHERE TO STAY
Article continues below advertisement