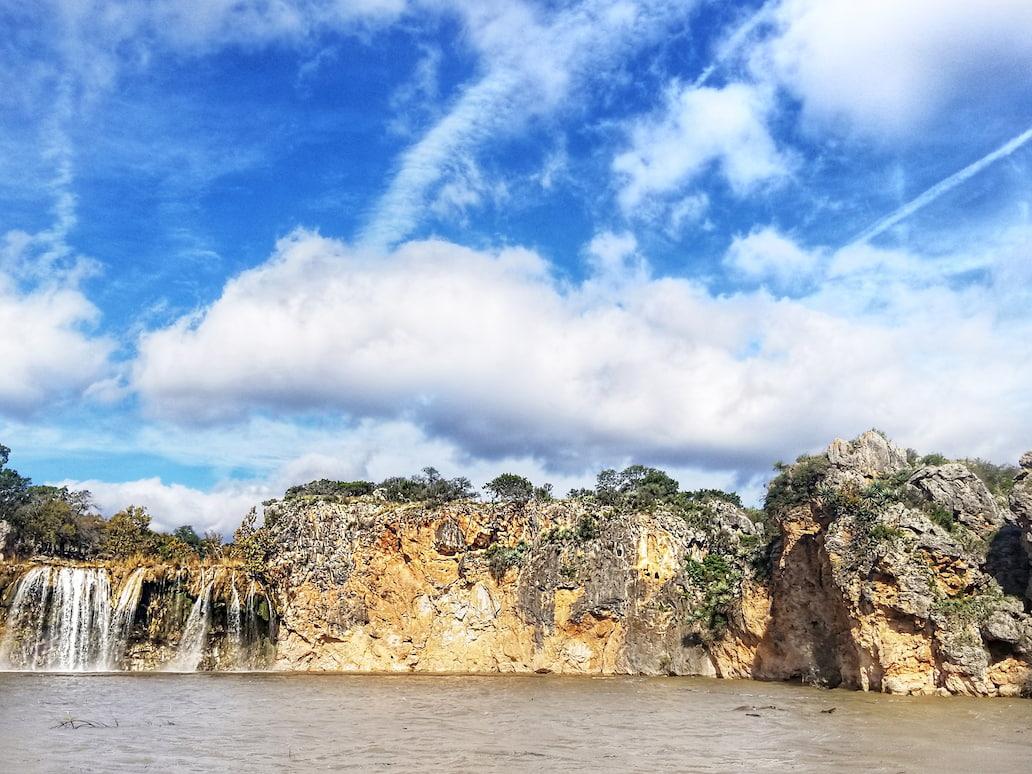 The Highland Lakes Of Texas
The landscape was primarily tan, sporadically punctuated by a building or two. It was a palette I was soon to associate vividly with the Highland Lakes

By Brandon Schultz

Mar. 23 2019, Published 6:00 a.m. ET
Sometimes the serenity of nature is all you need to recharge.
For most of the 90-minute drive from Austin-Bergstrom International Airport to Canyon of the Eagles, I didn't see much. Once Austin was behind me, the landscape was primarily tan, sporadically punctuated by a building or two. Sometimes there was even a shopping center alongside the highway teeming with glaringly white license plates decorated with nothing but black lettering. It was a palette I was soon to associate vividly with the Highland Lakes region of Texas—tan and white—however unvivid those colors may be. I almost fell out of my seat when I spotted an armadillo; there hadn't been anything as interesting in miles.
And then the scenery changed. Suddenly I was riding up and down hills, twisting and turning through blackened woods that seem to have been intentionally burned, and crossing through steep valleys with warning signs that I should turn back if the water level was high, or I'd face a fate of drowning. Woods, hills, and fast-rising waters weren't things I associated with Texas, even though I did know in advance I was headed to "Hill Country," and my attention was piqued.
Article continues below advertisement
Arriving at Canyon of the Eagles in Burnet (that's pronounced burn-it, like what I imagine someone said of the woods I saw earlier) momentarily disoriented me somewhat. I immediately felt a sense of sprawling space, it's a 940-acre property of protected land and wildlife, and the sheer size felt very Texas, where everything is promised to be bigger. Yet I still couldn't help but feel bewildered by the intimacy of being surrounded by so many trees and hills leading to the edge of Lake Buchanan. In my defense, the lakes are not actually naturally occurring; the Highland Lakes region consists of six lakes formed by six dams of the Colorado River (not the Grand Canyon Colorado River—there are two), so my surprise wasn't completely unwarranted.
Article continues below advertisement
My room was on the side of a small waterfront cabin, but it took me awhile to get in. The rocking chairs on my front porch were too inviting to pass by, especially with the uninterrupted lake view and abundant butterflies flitting about. Canyon of the Eagles is an official Monarch Waystation, and plenty of other species visit, too. When I finally did venture inside, I was relieved to find that my entire lakeside wall was windowed and the view from bed was nothing but water, trees, and endless sky. The simple, clean layout of the room coupled with its nature-immersive vistas was a recipe for instant serenity.
The next morning, after an ancient grains bowl with fresh berries at the The Overlook, the property's full-service restaurant (a local award winner) with panoramic views of the region, I joined a 2-hour Vanishing Texas River Cruise for an 18-mile journey across the lake to the mouth of the Colorado River. The area is home to bald eagles, pelicans, cormorants, egrets, and all manner of majestic birds, but it's the cliffs and waterfalls that steal the show on Scenic Wilderness Cruise. My visit came on the heels of heavy flooding in the region and, though it muddied the waters and littered the route with floating trunks and other natural detritus, it provided waterfalls even more numerous and powerful than usual. From smaller boats, the water is swimmable, and the waterfall basins are hugely popular in summertime.
Article continues below advertisement
The Highlander House of Buffet and Steakhouse provides more than just a mouthful to say; there's enough fried food to supply all of Burnet County, and everyone seems to know it. Shortly after I arrived, for lunch the restaurant was packed with patrons intent on packing their stomachs with every possible iteration of fried meats and fried vegetables. There was a salad bar next to the good stuff, but it seemed nearly as full when I left as it was when I arrived. The plates of Texas Hill Country have generally the same palette as the scenery, stacked high with the tan breading of fried foods swimming in creamy, white gravies. With cobblers and puddings dominating the dessert table, tan and white continued to rule the day.
Any fried meal calls for a beer, and probably more than one, so I spent the afternoon checking out two local breweries. I stopped first at the Double Horn Brewing Company in Marble Falls and sampled a beer flight ranging from light to dark beers, but heavily skewed to the lighter side. Logan Hoff, the brewer at Double Horn, said that lighter beers tend to sell best in Hill Country climate, and I have to admit the Electric Watermelon did seem to go down easier than the chocolatey brown ale that afternoon. Double Horn has an attached restaurant, but I'd had enough fried food for the afternoon and moved on for the next set of drinks.
Article continues below advertisement
At Save the World Brewing Co., also in Marble Falls, which turns out to be the town to be in for beer in Burnet County, I drank more than my fair share of Belgian ales in the infectiously enthusiastic company of co-owner Quynh Rathkamp (husband, David, is the brewer), who explained how their careers as physicians came to a halt when they decided to brew beer professionally and donate all profits to charity. I can't recall exactly how many beers I tasted at Save the World, and that's a compliment. Don't worry: I wasn't driving.
Article continues below advertisement
For the wine lover, Hill Country has yet more surprises. There are more than 400 wineries in the Lone Star State, but the first was Fall Creek Winery. For ages, no one believed wine could be made in the state, but the conditions in Hill Country are ripe for good wines, as Ed and Susan Auler proved over the past 43 years. Like Europe, home to many of the world's favorite wines, Hill Country terrain was once ocean floor, and the climate of the region is remarkably similar to that of the Middle East, where it's believed that all vines originated. Tasting the selections at Fall Creek, it seems obvious now that world-class wines should be produced there, but it took visionaries like Ed and Susan to pave the way.
Article continues below advertisement
Back at Canyon of the Eagles, before turning in for the night, I took advantage of the property's observatory. A short ride in a golf cart brought me up a hill to a dark expanse with nothing in sight. Until I spotted some small red lights leading to a dark structure. Inside, I discovered the building had no roof (it's retractable), and the red lights served to avoid light pollution. Astronomer Jim Sheets wouldn't even let me use my cell phone, lest my eyes lose adjustment to the darkness. But there was no need to look at a screen here, because Jim had incredibly powerful telescopes trained at the vast sky above, and inside them I witnessed spectacular stars and planets closer than I'd ever experienced. And I saw Saturn, complete with rings, for the first time. I spent almost two hours with Jim, asking anything I wanted and learning about stardust, how planets are formed, and that there's no such thing as a "shooting star," (and, incidentally, spotting a few meteors, which is what you should be calling "shooting stars.") Jim opens the observatory five nights a week from nightfall until the last curious observer departs. It's an invaluable resource, stunningly entertaining, and I couldn't believe it was free to all guests of Canyon of the Eagles.
But that's the way most of the Highland Lakes region was. The most enchanting, humbling, and inspiring attractions came from nature, free and invaluable.