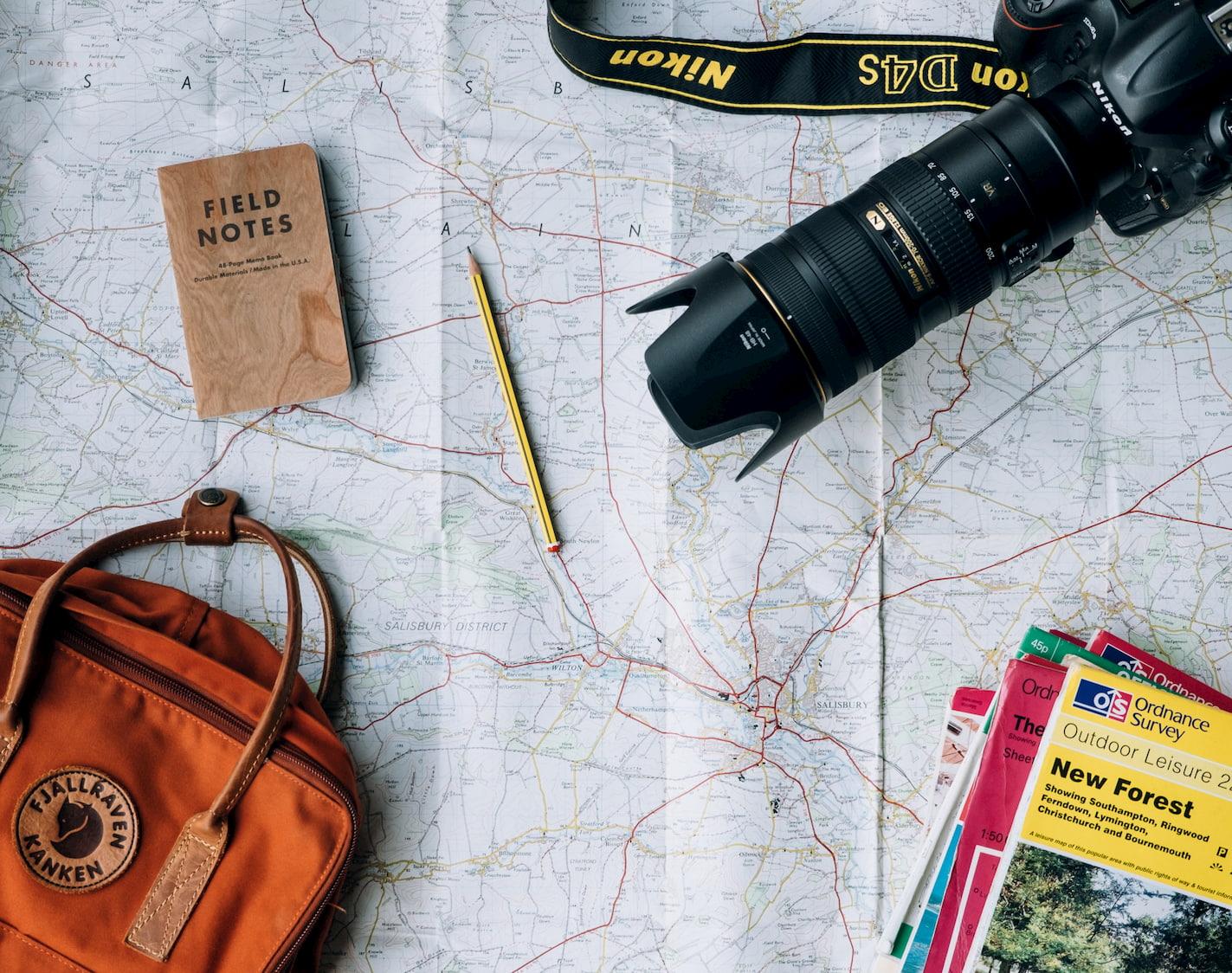 6 Savvy Summer Travel Solutions
I get so much joy in helping fellow travel-lovers solve annoying problems and otherwise make their travels easier and more enjoyable. Toward this end, I'm

By Merilee Kern

Jun. 23 2019, Published 6:00 a.m. ET
I get so much joy in helping fellow travel-lovers solve annoying problems and otherwise make their travels easier and more enjoyable. Toward this end, I'm indelibly on the lookout for noteworthy innovations that can resolve common annoyances and foster fun and functionality while getting from point A to point B. And, of course, I'm ever on alert for fabulous destinations that'll proffer a pleasurable experience. Here are a few of my finds that fit the bill this summer season and beyond.
First is a truly amazing travel option for those traversing through Southern California this year. SoCal Hilton guests now have coveted access to the iconic Magic Castle in Los Angeles! This unique Hilton partnership allows hotels guests the privilege to experience one of the most extraordinary and exclusive clubs in the world, plus a highly sought-after fine-dining destination in LA.
Article continues below advertisement
While access to The Magic Castle is typically available only to members and invited guests, for the first time through the 2019 calendar year guests staying at participating Hilton hotels will be able to dine and see world-class illusion at the regal, Edwardian-era mansion in historic Hollywood. In addition to dining and viewing a variety of magical styles in multiple theaters, guests can also explore the property and enjoy drinks at one of five bars, including the Owl Bar or the Hat and the Hare Pub.
Magic Castle is the most-recent, elite Southern California partner secured by Hilton to curate unique local experiences for hotel guests. As part of the Hilton and Magic Castle partnership, patrons must book at least six weeks in advance of their preferred visit date through Travel.Hilton.com/MagicCastle. From there, participating Hilton representatives will secure guests' requested reservations at Magic Castle based on availability.
Article continues below advertisement
As Las Vegas is also a prime vacation destination to get your entertainment-game on point this summer, be sure to check out The Hunger Games: The Exhibition at The MGM Grand. The attraction celebrates the epic journey of the famed book series' main character Katniss Everdeen from her humble beginnings in District 12 to her rise as the Mockingjay throughout the trilogy.
The brand-new attraction features inspirational galleries straight from the scenes outlined in the novels like the Hall of Justice, President Snow's Office, the Tribute Train, District 13 and a 60-foot wide interactive archery training experience, the first of its kind on the Las Vegas Strip. Showcasing original costumes, genuine props and set recreations from Lionsgate's record-breaking cinematic series, the exhibition includes hands-on interactives inviting visitors to engage with the behind-the-scenes content that brought the books by Suzanne Collins to life.
Article continues below advertisement
The cutting-edge Nokia 4.2 has been designed to offer the latest in smartphone technological innovations at a truly accessible price. Complete with a sculpted-glass design, new display technology, an amazing dual depth-sensing rear camera and biometric face unlock system, this new device truly has it all compacted into one sleek design.
Premiering the Google Assistant feature, the Nokia 4.2 will revolutionize the way you engage with your smartphone. Simply press the button once for instant access to all that Google Assistant has to offer, allowing for unfettered capability when you need it most. Whether it's directions, making calls, listening to music or getting answers to some of life's hardest questions, the Google Assistant can help get it done and find information faster than ever before. The Nokia 4.2 is an Android One device, meaning it just keeps getting better with time and ships with Android Pie out of the box. It is also available in two colors, Black or Pink Sand, so you can capitalize on your preference to make it your own.
Aipower, an innovative smart device developer, has launched a Kickstarter pre-order campaign for Wearbuds—the world's first wristband-housed true wireless earbuds designed for ultra-portability, compelling sound and with fitness tracker features. Wearbuds are the world's first true wireless HiFi earbuds that are actually stored inside a fitness band. Both earbuds can be placed perfectly in the fitness tracking wristband which can also charge them with no need for carrying a charging case. The earbuds also feature flawless audio streaming with an advanced Qualcomm chipset and Bluetooth 5.0 technology, reproducing booming bass and crisp highs through fine-tuned, graphene-augmented drivers.
Article continues below advertisement
Wearbuds are lightweight and ergonomic, providing a barely-there fit for unbeatable noise isolation performance with premium silicone ear tips. The band strap is made of silicone to enhance comfort while wearing and is able to maintain all-day dryness and cleanliness throughout various activities. Most true wireless earbuds don't allow users to call freely using only one earbud due to the limitation of the connection technology. Wearbuds support Mono Mode, a feature that comes from the latest Bluetooth 5.0 technology, allowing fast and easy, hands-free phone calls with one or both earbuds.
The fitness band can automatically count your steps and calories burned and monitor heart rate and sleep pattern as well. A built-in touchscreen on the band allows for instant access to all fitness data and notifications (including sedentary reminder) on the wrist. All fitness reports will be saved in the Aipower app. The band features on-wrist smartphone notifications which are customizable for calls, texts, Facebook, Twitter, WhatsApp and Instagram.
Amber Wave Wearable Towel (www.AmberWaveFashions.com)
Article continues below advertisement
Next I want to tell you about an ingenious item perfect for your summer vacations and adventures. It's the Amber Towel, which is actually much more than just a towel because it converts from a towel to a blanket to a robe. It's perfect for the beach, pool or bathroom.
With the Amber Towel, instead of carrying one or multiple towels to and from your outing, plus a bag for personal belongings, you simply wear it and put your precious items in the pockets, keeping your hands free. So rather than having to carry a bag with a change of clothes, a towel and your essentials, you can just wear your swimsuit under the Amber Towel and be DONE. And it's great to use as a blanket, because it spreads out to be a full 49" by 53"! I also love that it's lightweight and 100 percent cotton. The Amber Towel has terry loops on one side for absorbency and on the other side loops have been sheared off for velour-like smoothness. So, it's designed to be soft but also keep you dry and warm.
And, the Amber Towel is definitely comfy. The armholes are long so it's easy to just slip on, and it has a very soft fabric that's hand-stitched all around, including the pockets. When laid fully open it could actually fit two people. The hoodie also makes it easy to hang and helps your head dry off fast. The Amber Towel comes in one size and fits everyone from Small to Large and is available in four colors: white, navy blue, teal and sunset orange. Plus, it's washer and dryer safe, too.
Article continues below advertisement
When seeking a chic carrying solution for more city-bound occasions, you can soirée and jet set in style all summer long with The Parker Tote from Solo New York. This is a hybrid backpack and tote designed for the working woman driven by her passions. The sophisticated, sleek gold and black style of the Parker Tote is inspired by the heart and soul of New York–creating a chic look that goes with everything.
The bag itself is embezzled with gold hardware and interlaced through the zipper with golden undertones. It includes a fully padded, 15.6″ laptop sleeve compartment, interior organizer section and padded hideaway backpack straps. The back panel of the tote also slides over the luggage handle for efficient transformation and all-around easy access to whatever compartment you need at any time.
Article continues below advertisement
As the Executive Editor and Producer of "The Luxe List," Merilee Kern is an internationally-regarded consumer trends expert and hospitality industry voice of authority—a travel, dining, leisure and lifestyle expert who spotlights noteworthy marketplace innovations, change makers, movers and shakers. She reports on exemplary travel destinations and experiences, extraordinary events and newsworthy products and services across all categories. Reach her online at www.TheLuxeList.com, on Twitter at www.Twitter.com/LuxeListEditor, on Facebook at www.Facebook.com/TheLuxeList and on Instagram at www.Instagram.com/LuxeListReviews.
***Some or all of the accommodations(s), experience(s), item(s) and/or service(s) detailed above may have been provided or arranged at no cost to accommodate this review, but all opinions expressed are entirely those of Merilee Kern and have not been influenced in any way.***