Porsche Enters the Electric Game with the 2021 Taycan Turbo S
First unveiled as a concept car named Mission E at the 2015 Frankfurt Motor Show, the Taycan is Porsche's first ever series production electric vehicle.

By Shalisa Alba

Mar. 9 2020, Published 3:44 p.m. ET
Introducing the 2021 Taycan Turbo S, Porsche's first all-electric sports saloon and the future of automotive fun.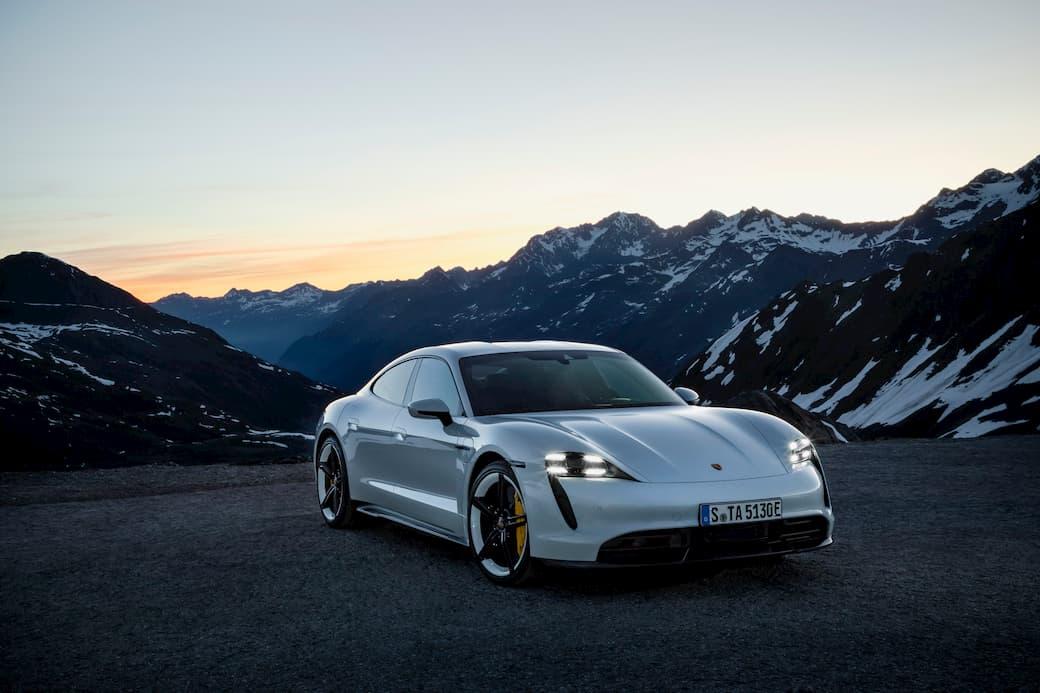 First unveiled as a concept car named Mission E at the 2015 Frankfurt Motor Show, the Taycan is Porsche's first ever series production electric vehicle (EV) and quite possibly the most anticipated model in modern history. Rivaling the likes of the Tesla Model S, Porsche is hoping to remind consumers that there's room in the electric car market for more than one premium sedan.
Models introduced at launch include the high-performance Turbo and Turbo S with a mid-range model called the Taycan 4S added to the lineup shortly after. The Turbo S sports the highest specs and most expensive price tag starting at $185,000, but even those enthusiasts who admittedly despise electric cars have tested this one and found it to be most impressive.
Article continues below advertisement
With its 800V architecture giving way to remarkable steering precision and unparalleled brake and throttle response, this all-wheel drive EV gives the kind of thrust characteristic of a traditional engine and a driving experience no human has previously had.
Sporting two permanently excited synchronous motors, one on each axle, the Turbo S is capable of going from 0 to 60 in 2.6 seconds with 774 pound-feet of torque and 616 brake horsepower available at all times, while a max of 750 can be achieved using the Overboost Power with Launch Control mode. Augmented with a two-speed transmission at the rear and a skateboard chassis, the Taycan's 5,000 pound frame laps seamlessly around tracks allowing it to set the record-breaking Nürburgring lap time of 7 minutes and 42 seconds. Designed for repeat performance and extended use, the car can be launched many times without overpowering or overheating, which can be translated to greater torque on the highway, an area where many other EV's struggle.
Article continues below advertisement
Outfitted with a 100 kilowatt-hour battery, 93.4 kwh of which is usable, the Taycan Turbo S can reach a top speed of 161 mph and a total range of 280 miles. And although Tesla has somewhat set the benchmark for range at 300 miles, Porsche makes up for this upset with its peak charging power of 270 kw – even greater than Tesla Model 3's peak rate of 250 kw – lending an 80 percent charge from nearly 0 percent in just 20 minutes.
Touting 21-inch wheels with body-matching color, quad LED daytime running lights, and a shape similar to the Panamera or 911, the Turbo S sports a clean design you would expect from a Porsche. The interior includes up to four digital screens and Porsche's classic analog clock on the dash in the front. The back houses distinct "foot garages" in the floor allowing even the tallest of passengers to join in on the fun.
Handling just the way a Porsche should, every meter driven is a nod to decades of dynamic sports racing technology and masterful German engineering. So much of the know-how we have come to appreciate about Porsche over the last 50 years can be found in this car, and the Taycan will definitely set new standards.
Porsche Taycan Turbo S Specs:
Acceleration: 2.6 sec. (0-60 mph)
Battery: 100 kwh; 270 kw peak charging
Transmission: 2 speed automatic