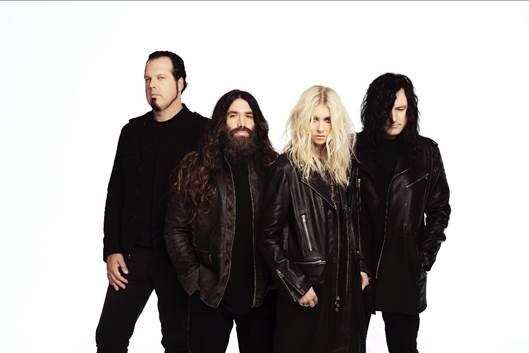 The Pretty Reckless drop Their First Single Since 2017
After a three year hiatus, the Pretty Reckless is back with their newest single, "Death by Rock and Roll." The boisterous anthem dropped May 15.

By Jamie Rollo

May 15 2020, Published 2:27 p.m. ET
After a three year hiatus, the Pretty Reckless is back with their newest single, "Death by Rock and Roll." The boisterous anthem dropped May 15 and is just one track off of their forthcoming debut project under Fearless Records. "This record feels like a rebirth," lead singer Taylor Momsen said in a Q&A. "The weirdest thing is not being able to go play it."
After having emotionally trying tribulations over the past couple of years, The Pretty Reckless have been quiet on the music front. Their past releases saw astronomical success which earned them a gig to tour with Soundgarden back in 2017. Sadly, as the tour was coming to a close, Soundgarden's famed front man Chris Cornell took his own life. "That hit me so hard, losing an idol like that," said Momsen. "I wasn't in the right space to be in the public eye." The following year, the band lost their longtime producer and friend, Kato, which enormously added to the group's sorrow. "I was very lost and depressed," added Momsen.
Article continues below advertisement
Soon she found solace in writing music and "Death by Rock and Roll" was one of the first songs to come to mind. "In hard times, rock and roll is a salvation," said Momsen, who explains the track to be an uplifting "battle cry for living your own life" and going out how you want to go out. In these uncertain times, the single provides solace and empowerment simultaneously.
As for the entirety of the upcoming album, we can expect that authentic, late 70s sound that's definitive of The Pretty Reckless, legendary features, and visionary lyricism from both Momsen and lead guitarist Ben Phillips. Thus far, the album has collected the help of Rage Against The Machine and Audioslave guitarist Tom Morello, and Soundgarden's drummer Matt Cameron and lead guitarist Kim Thayil.
"I live through my music," Momsen said of the new album. "It's as honest and blatant as it can be while still being poetic." For years, she and Phillips put their minds together to write the band's songs. "It's a rare thing to find someone you connect with on multiple levels."
The Pretty Reckless's latest single "Death by Rock and Roll" is out now! Make sure to keep an eye out for their upcoming album.