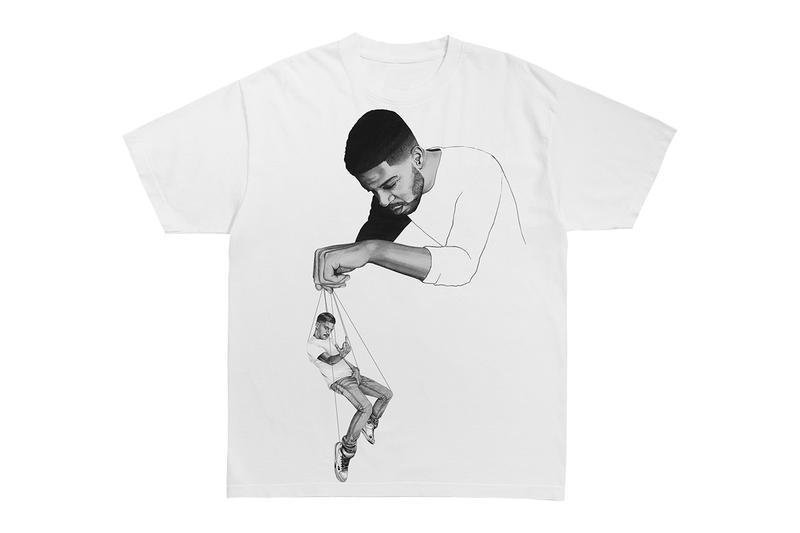 Kid Cudi Announces "Leader Of The Delinquents" Merch
Kid Cudi has partnered with Virgil Abloh to bring fans an exclusive "Leader Of The Delinquents" t-shirt, 7" vinyl, 12" picture disc, and cassette.

By Tommy Rodriguez

May 20 2020, Published 3:20 a.m. ET
Grammy-award winning musician Kid Cudi made a couple huge announcements today, following the release of "Leader Of The Delinquents" over a month ago.
Cudder has partnered withVirgil Abloh, Off-Whitefounder and Louis Vuitton Men's Artistic Director, to bring fans an exclusive "Leader Of The Delinquents" t-shirt. Kid Cudi will also be releasing a limited edition pressing of the track on 7" vinyl, 12" picture disc, and cassette. These limited edition items can be purchased on the artist's official online store.
The design on the black and white "PULLING STRINGS" t-shirt features Kid Cudi puppeteering a smaller version of himself, hence the name of the t-shirt release. The art is meant to reference the artist's infamous TMZ moment back in 2012, in which he posed like the puppet on the shirt. "Leader Of The Delinquents" is written across the back of the t-shirt in text reminiscent of Jean-Michel Basquiat's handwriting.
The 7" vinyl, 12" picture disc, and cassette also feature Virgil Abloh's "PULLING STRINGS" artwork.
The "Leader Of The Delinquents" track took Kid Cudi fans by surprise as it was his first solo release since December2016. The track has run up millions of streams in just over a month and received positive feedback from listeners. The track's colorful lyric video was released a few days ago and is now available on YouTube.
Kid Cudi has made a lot of noise this year, and he continues to do so. The artist is coming off his very first #1BillboardHot100 record for "THE SCOTTS" with Travis Scott, and is currently working on his upcoming album and animated Netflix series, both titled Entergalactic. Whatever it is that Kid Cudi is cooking up, we can't wait to see it.