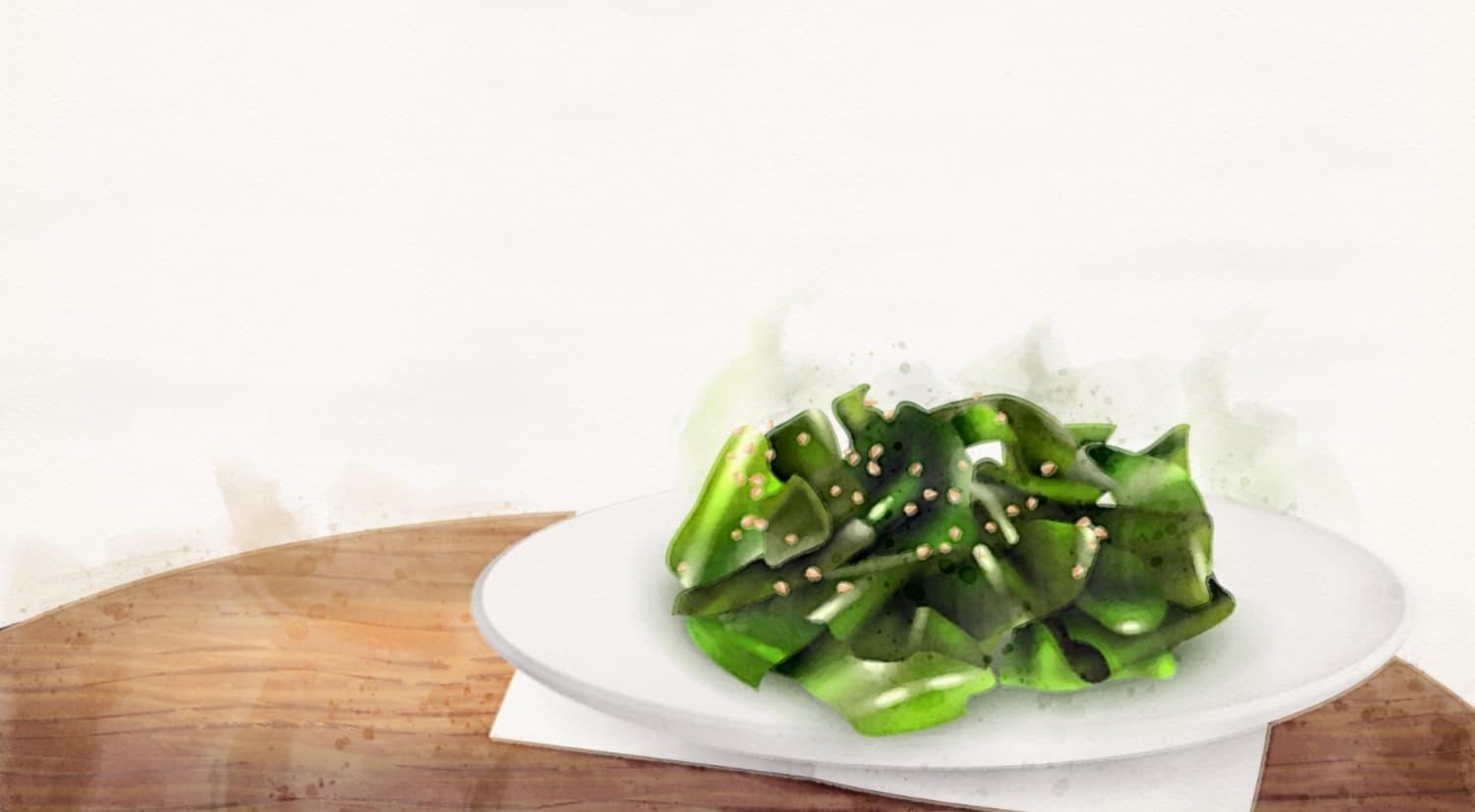 Kelp: The Beginners Guide
It turns out people are eating kelp now. If your initial reaction to that news is confusion, have no fear, all the intel you need is right here.

By Elysia Tanswell

Jun. 8 2020, Published 11:27 a.m. ET
It turns out people are eating kelp now. If your initial reaction to that news is confusion, have no fear, all the intel you need is right here.
When did food get so complicated? It seems like every few months there's a new food product that everyone is talking about. Every cycle a new leaf, carb, or herb is presented as being so extraordinarily healthy that you may as well never eat anything else again. Then just as you finally decide to give it a try, it's forgotten. Sure we still eat kale, quinoa, and chickpea flour but it doesn't feel as special.
Well this time, we may be able to get out ahead of it. The word on the street, and by street I mean the internet, is that America's Next Top Healthy Food Item is shaking up to be kelp. In light of this revelation, here is all the information you need to prepare for the forthcoming kelp craze.
First Things First: What Is Kelp?
Kelp could be said to fall into the leaf category of food crazes. Except that unlike kale, which grows in the soil, kelp grows in the sea.
America's Next Top Healthy Food Item is a species of seaweed. Eating seaweed isn't a new concept in the U.S. The Nori variety has been eaten in sushi dishes forever, so already we have a better grasp of the situation. To make kelp even less scary, you may have eaten it already, as it is sometimes processed in everyday foods like ice cream and chocolate milk.
Kelp is unique among other kinds of seaweed in that it fixes itself to a single spot and groups together. These groups form what are known as kelp forests. These forests form fully functioning ecosystems.
Second Things Second: Is It So Extraordinarily Healthy That You May As Well Never Eat Anything Else Again?
Well no. But it is packed with an impressive array of vitamins and nutrients, which is why it has been used medicinally for thousands of years. Kelp is rich in magnesium, iron, potassium calcium and iodine.
The iodine is of particular note. Sea kelp is the richest natural source of the mineral. If you're not excited about that yet, you're about to be. Iodine is great for weight loss and has anti-aging properties. It plays an important role in the operation of the thyroid gland, which is responsible for your metabolism. Researchers have also discovered that iodine eliminates free-radicals. However, that does not mean you should eat kelp until you burst. As great as the mineral sounds, too much iodine can cause serious health problems.
Article continues below advertisement
Also, avoid kelp supplements. Avoid supplements in general. That industry is messier than a stressed-out 20-something after bottomless brunch.
Third Things Third (And Also Final): How Do You Eat It?
Now at this point, you may be imagining sushi dishes with a twist. Or picturing yourself picking up crispy kelp with chopsticks. But restaurateurs are seemingly determined to use this ingredient in every way except the ones you would expect.
Take Bastible in Dublin for instance. Kelp is probably one of the last things you would expect to see on the menu in a Dublin eatery. Especially one that proudly proclaims to serve their take on Irish food. Nonetheless, when food critic Jay Rayner visited in March of this year, he was served the algae in two courses. First, dried as a seasoning on ox tongue. Then in the form of jelly cubes in a sophisticated Swede dish.
Article continues below advertisement
Whereas Bastible uses kelp as a supporting act, Ras Plant is different. Here, you can experience kelp as the main event. Ras Plant is a vegan restaurant in Crown Heights, Brooklyn, New York with a focus on Ethiopian cuisine. A combination of fried kelp and mushrooms replaces the fish in fish-n-grits.
But the most surprising of all the serving styles is the one found at Uncooked. This Chicago plant-based grab-and-go serves "cacio e pepe" with uncooked kelp forming the noodle base.
These dishes might be a little too advanced for some home cooks. But it's reassuring to know that the next healthy food craze isn't eaten exclusively in depressing salads. Or dried as a pitiful replacement for chips. You may actually enjoy it for the few months before it's replaced, possibly with plankton.
Originally published in Bleu Magazine Issue 66.