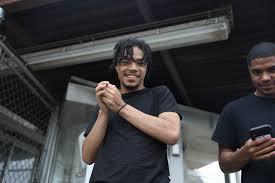 StaySolidRocky Drops Official Video for 'Toxic'
StaySolidRocky released his music video for "Toxic". The video is only his second ever and comes over 5 months after the release of the "Party Girl" video.

By Tommy Rodriguez

Jun. 17 2020, Published 6:49 p.m. ET
A couple of days ago, rapper StaySolidRocky released his official music video for "Toxic." The video is only his second ever and comes over five months after the release of the video for "PartyGirl".
The video, directed by Rock and Egg, accompanies a track that Rocky first released months ago. "Toxic" is a chill, mellow vibe about toxic romance. StaySolidRocky effortlessly melodizes and flows on the track, which has already racked up hundreds of thousands of streams and over 150,000views on its official video.
The official video draws inspiration from MaryShelley'sFrankenstein novel, and features Rocky as a mad scientist. He comes up with a way to revive his dead lover, but the experiment goes wrong and she overpowers him. The video caps off with him strapped onto a laboratory table in a room up in flames, helpless as he watches his creation walk away.
StaySolidRocky's "PartyGirl" was recently certified gold and continues to climb on the charts, currently sitting at #21 on Billboard'sHot100 chart. The track was a massive hit on TikTok and put the artist on the map. Fans seeking more of his unique voice have gravitated to his other records, including "Toxic" and "SoftAggression." In a recent interview, Rocky assured his fans that there is much more on the way, including a project before the end of 2020.
He's keeping his word to capitalize off the track, as well as his promise to show that "PartyGirl" is only a snippet of what's to come. Don't be surprised if this track goes viral on TikTok, too.