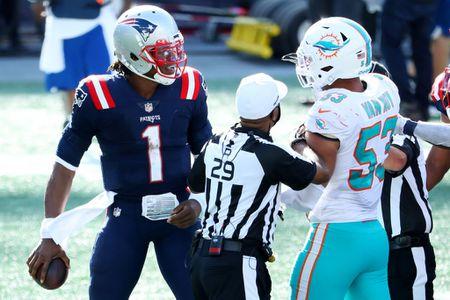 Why Did The Patriots Low-Ball Cam Newton?
It's safe to say Cam Newton has received another chance to be the star quarterback for the New England Patriots, but the pay is jarring.

By Justin Wallace

Jun. 30 2020, Published 1:14 p.m. ET
It's safe to say Cam Newton has received another chance to be the star quarterback for the New England Patriots. After suffering a foot injury, Newton missed 16 regular-season games over the last two years. In due time, the Carolina Panthers decided to move on to quarterback Teddy Bridgewater for the new season.
The Panthers releasing Newton came as a surprise to many. Newton, the former number one pick, led the Carolina Panthers to three straight NFC South titles from 2013 to 2015, and a Super Bowl appearance during the 2015 season. Out of nine seasons, the quarterback went to three Pro Bowls and was awarded league MVP in 2015.
Earlier in the offseason, the New England Patriots lost Hall of Fame quarterback Tom Brady to the Tampa Bay Buccaneers. With the Patriots being in search of a new quarterback. Newton and the Patriots agreed to a one-year deal, which will pay him one million dollars. According to the NFL Network, he reportedly could earn up to $7.5 million in incentives.
After news came out about Newton's contract, many players came out and added their two cents on the former MVP contract. In a league where back-up quarterbacks have a salary of 3 to 5 million dollars, maybe even less. Newton is put in a position where he's going to be the starting quarterback and is making less than a back-up quarterback.
49ers cornerback Richard Sherman went to Twitter in Newton's defense saying, "How many former League MVP's have had to sign for the min? (Asking for a friend.) just ridiculous. A transcendent talent and less talented QBs are getting 15/16m a year Disgusting."
There are quarterbacks in league with fewer accolades than Newton making way more money than him. When the Indianapolis Colts released Peyton Manning after having neck surgery, the Denver Broncos claimed him and signed a five-year, 96 million dollar contract with 58 million guaranteed.
Article continues below advertisement
Newton is more than likely to come back stronger than ever. With an excellent coaching staff and solid offensive line. Cam is going to prove all doubters wrong this upcoming season.