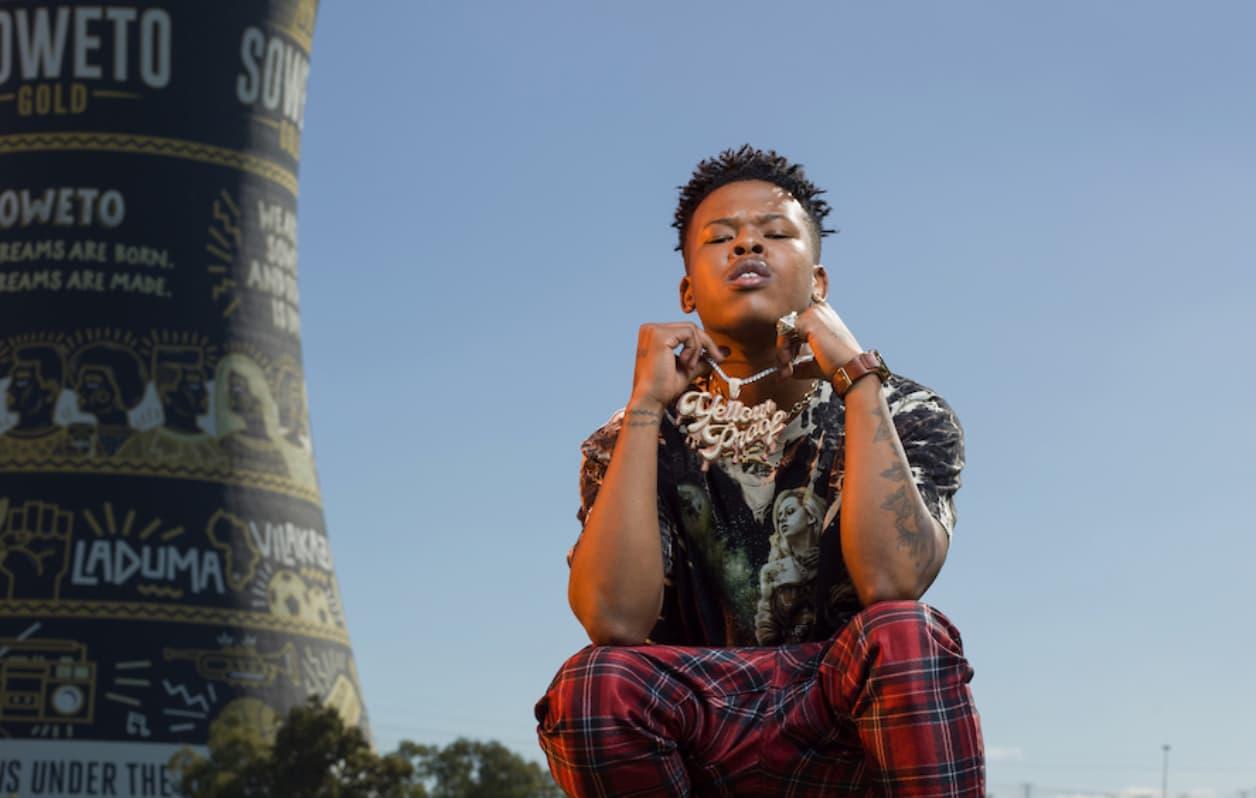 South African Rapper Nasty C is a Global Icon in the Making
Nasty C is well on his path to global stardom, and fans are waking up. The South African artist is one of the hottest rappers coming out of Africa today.

By Tommy Rodriguez

Jul. 3 2020, Published 2:10 p.m. ET
Nasty C is well on his path to global stardom and fans are waking up. For good reason, the South African artist is one of the hottest rappers coming out of Africa right now, and definitely one of the most talented. His most recent project, Strings and Bling, earned multiple platinum plaques thanks to it's 120 million streams and multi-platinum singles like "King", "Jungle", and the title track.
Originally from Durban, NastyC is on the brink of blowing up across the United States. We're late to the party, while artists like French Montana, A$AP Ferg, and Major Lazer have already caught on. Recently, the rapper/songwriter teamed up with hip-hop legendT.I. for "They Don't," in which he talks about the civil unrest in our country. The two have more work together on the way, including a track off of his highly anticipated album, Zulu Man With Some Power. "There They Go," the first single off the album and the artist's U.S. debut, is out now.
Article continues below advertisement
On June 26th, Nasty C gave us a little taste of what to expect from the forthcoming album with the release of his mixtape, Zulu. The mixtape is a collaborative project with the prolific DJ Whoo Kid, best known for his work with 50 Cent and G-Unit.
He also released "Eazy" this past June, a mesmerizing track accompanied by an equally mesmerizing visual. The record puts his versatility on display and shows us how easily he can switch it up. From melodizing to murdering a 16-bar verse, he can truly do it all.
At some point, the talent and hard work simply becomes too much to ignore. A NastyC takeover is on the horizon.
Bleu: How did you begin making music?
Nasty C: "I was so fortunate that I had a computer at home, well my big brother had a computer at home. We taught ourselves how to use the programs and went on YouTube tutorials and stuff like that. I started making beats, and a couple months down the line I started rapping on my own beats, and I just kept going. I was 9, 10 years old."
Article continues below advertisement
Bleu: Did you always know that this is what you wanted to do?
Nasty C: "I was pretty good at drawing, I've always been very good at sketching. That's always been one of my other releases, [but] when I found music, it was like I put everything else second. I was always sure that this is what I wanted to do."
Bleu:Knowing how hard it is to make it from where you're from, how does it feel to be one of the biggest rappers coming out of Africa?
Nasty C: "It feels amazing, man. It feels amazing. It further proves the power of God, the power of the universe, and just dedication. I'm only aiming for bigger things. I'm not even celebrating anything that I've done… I'm still tryna get to the top."
Article continues below advertisement
Bleu: As an African artist in a predominantly American industry, were you afraid of not getting the respect you deserved?
Nasty C: "It's bound to happen. I think off the bat, once you know I'm from South Africa, you already look at me as an outsider, so I'm expecting that to happen… But I don't care about it. If it happens, it happens."
Bleu: What sparked the idea for "They Don't," your track with T.I.?
Nasty C: "Remember that series, When They See Us? That's really what sparked the idea. I always knew that something was going on in the states regarding racial issues, but I didn't know it was that crazy. I didn't know it was that unfair and that fucking blatant, like in your face. When I watched it, I was disgusted. I'm not a person who's ever experienced that, so I was just feeling sorry for other parents that had to go through that shit [and] lost their kids."
Article continues below advertisement
Bleu: Do you think that South Africa, given the nation's history, has similar problems? Even if they're not as blatant?
Nasty C: "Nah. Nah, it is not that bad, bro. It is not that bad. It's not even half as bad."
Bleu: What was the inspiration behind "Eazy" and its stunning visual?
Nasty C: "I came up with the basic idea of [the visual]… I was tryna go for a black, Zulu superhero, futuristic [feel]. A little kid that discovers his power and misuses it at first, but then finds a way to use it for good. You'll see a thread of that story as the videos come out, so that's just the first hint of it. The more I put out videos, especially the album artwork, it'll make the whole thing make sense."
Article continues below advertisement
Bleu: What do you want listeners to take away from your upcoming album, Zulu Man With Some Power?
Nasty C: "It's a lot of stuff in there. I'm constantly changing and growing as I get to travel more, I get to work with different people, I get different types of challenges and hurdles thrown at me. As I overcome these things, I discover new parts of myself that I didn't even know were there. My values shift and change, my priorities shift and change, [and] it shows in my music… The overall message is taking charge of your own life and really finding your true potential, finding your superpowers, and just going hard."
Bleu: Any dream collabs?
Nasty C: "Rihanna, Adele, Young Thug, Future, Travis Scott. There's so many [from] different types of genres… I put all my shit out there in the universe and it always comes back."
Bleu: Where do you think Nasty C currently stands in rap history, and where do you see yourself in years to come?
Nasty C: "I have a long way to go, but I'm prepared for it. I'm ready for it, I'm excited for it. But I definitely have a long way to go. I have a lot to prove, but I'm confident that I can prove it and take over."