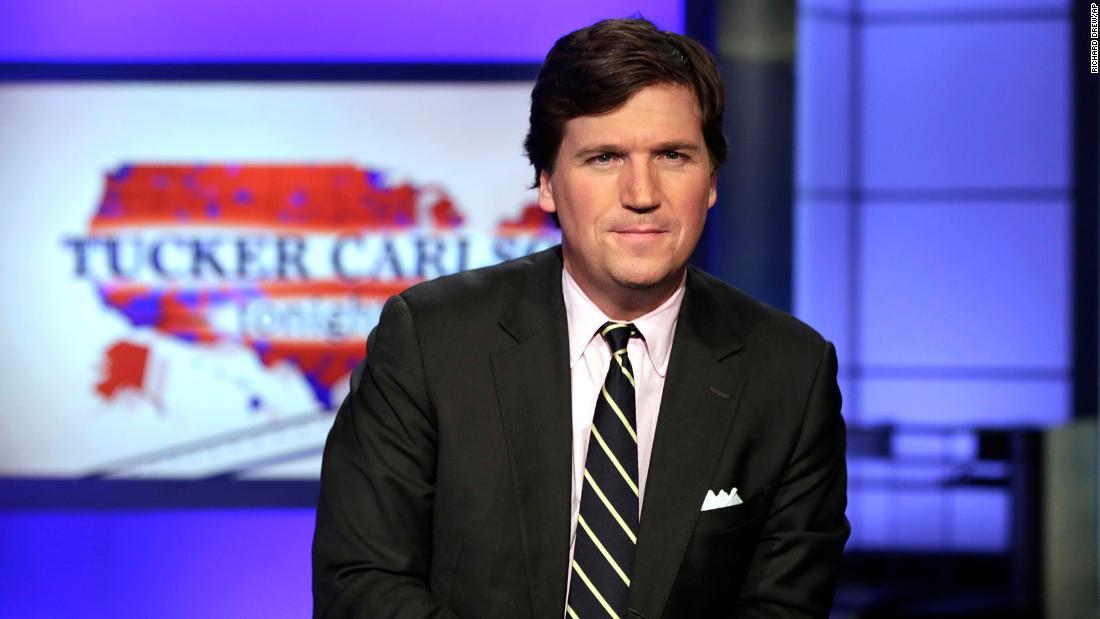 Tucker Carlson Crossed a Line, it's Time he goes Off-Air
Tucker Carleson is known for notable sound bites including a rant about Sesame Street, and as of last night, an astonishing conversation in support of Kyle Rittenhouse.

By Jamie Rollo

Sep. 15 2020, Published 2:13 a.m. ET
For roughly four years, Fox News's Tucker Carlson has been spewing right-wing talking points on his primetime political commentary program, Tucker Carlson Tonight. Some of his notable sound bites include a rant about Sesame Street, and as of last night, an astonishing conversation in support of Kyle Rittenhouse, the 17-year-old vigilante who shot two people and injured one in Kenosha, Wisconsin. While Carlson has been spewing hatred in the form of nuanced, academic monologues for years, I think we can all agree that this draws a line.
On Tuesday night, protestors gathered in Kenosha, Wisconsin to protest the attempted murder of Jacob Blake. Rittenhouse, along with a group of other self-proclaimed militia-men, drove across state lines from Illinois with an AR-15 to "protect property." According to CBS reports, Rittenhouse shot someone in the crowd and as the protesters went to approach him, he shot twice into the crowd. The police have identified the two victims as a 26-year-old from Silver Lake, Wisconsin and a 36-year-old from Kenosha.
Article continues below advertisement
Shockingly enough, his bit starts out pretty good. He accurately explains that a reporter with the Daily Caller, a news site founded by Carlson, witnessed the first shooting. The reporter, Richard McGinnis, even took his t-shirt off to help clot the wound. Carlson still manages to double-down and blame the entirety of the tragedy on the protests themselves.
"We do know why it all happened though," Carlson explains, "Kenosha has devolved into anarchy because the authorities in charge of the city abandon it. People in charge from the Governor of Wisconsin on down refused to enforce the law. They stood back and they watched Kenosha burn. So are we really surprised that looting and arson accelerated to murder?"
It surprisingly gets worse. Carlson asks, "How shocked are we that 17 year olds with riffles decided they had to maintain order when no one else would? Everyone can see what was happening in Kenosha, it was getting crazier by the hour."
He then plays clips of a protestor saying "Kill the f*cking police! Kill them back" and "death to America." Somehow, it was the same exact voice at two different locations that Carlson managed to get clips of. That same voice and those same sayings somehow were a way higher volume than other protesters who were right next to the camera. I'm not an expert, and I cannot confirm for sure, but it seems to be heavily edited. I wouldn't be surprised if a Fox News intern yelled those sentiments into a mic.
Article continues below advertisement
Regardless, protesters gathering and expressing their discontent towards this country does not warrant execution by an adolescent "militia" member; even if they say things like "death to America." It's completely warranted for people to be upset and angry. The officers who murdered Breonna Taylor's have yet to be convicted, as with the killers of Elijah McClain. Kenosha, as a city, is still coming to grips with the fact that the city's police department shot an unarmed man seven times in front of his children while his back was turned. Meanwhile, Rittenhouse walked past the police line and went home later, unscathed.
Carlson not only came to the defense of the instigator, he outwardly showed his support. Therein lies the problem with the country right now. Older generations cannot get enough of Fox News. My parents watch it nightly, which means this is the type of content they are consuming. Because of people like Tucker Carlson, they think that Fox is news and everything else is "fake news," even though Carlson uses the cheapest, tabloid-like bits to get his story across. The cities that he says are "on fire" rarely have as much violence as he insinuates. His b-roll tapes grasp at straws to prove that there was at least a little bit of chaos.
Article continues below advertisement
No wonder the "boomers" cannot come to grips with what is happening in this country. They're told a completely different narrative and while that is normally harmless, supporting a vigilante will likely result in more instances like Kenosha. Innocent people exercising their first amendment right to gather will be shot in cold blood because some plucky 17-year-old wants to "protect" a city he's not even from.
Carlson has said some harmful things in the past, but this bit took the cake. Fox News needs to get this man off the air before he inspires or justifies another murder. If Fox is going to have "News" attached to its name, they ought to start informing their audiences in an unbiased, truthful manner, which Carlson is unable to do. This network not only allowed but aired a tangent that excused the murderer of two innocent people just a day after their untimely deaths. Carlson and Fox News should be utterly ashamed of themselves.