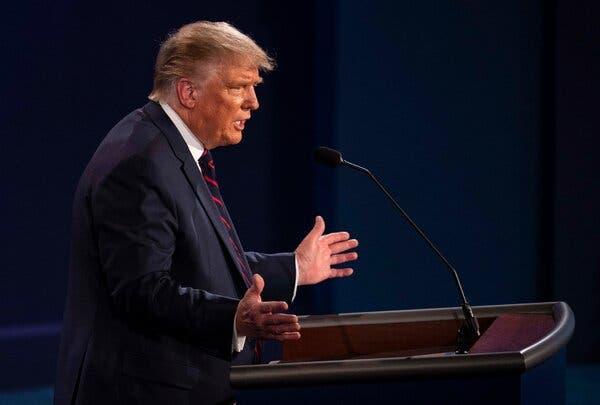 Trump Refuses To Denounce White Supremacy At Debate
During the first presidential debate, Trump was asked to condem white  supremacy and right-wing militias. He failed to do so.

By Elysia Tanswell

Sep. 30 2020, Published 5:39 p.m. ET
President Donald Trump has made it clear yet again that he is comfortable with white supremacy.
Below is a transcript of his response to the question and follow-ups.
WALLACE: You have repeatedly criticized the vice president for not specifically calling out Antifa and other left-wing extremist groups. But are you willing, tonight, to condemn white supremacists and militia groups and to say that they need to stand down and not add to the violence in a number of these cities as we saw in Kenosha and as we've seen in Portland? Are you prepared to specifically do that? TRUMP: Sure, I'm prepared to do that. But I would say almost everything I see is from the left-wing, not from the right-wing. If you look, I'm willing to do anything. I want to see peace. WALLACE: Then do it, sir. BIDEN: Do it. Say it. TRUMP: You want to call them? What do you want to call them? Give me a name, give me a name, go ahead — who would you like me to condemn? WALLACE: White supremacists, white supremacists and, right-wing militia. TRUMP: Proud Boys, stand back, and stand by. But I'll tell you what: Somebody's got to do something about Antifa and the left. Because this is not a right-wing problem — this is a left-wing problem.
Note that he did not do what was asked and condemn white supremacy and militias. The one group he mentioned was the Proud Boys. The Proud Boys are a racist hate group that is well known for violence. The group did not by any means interpret Trump's comment as commendation. Instead, they have been seen celebrating what they see as validation from the president on social media.
Article continues below advertisement
This is not the first time the president has made headlines for failing to condemn hate groups. Nor is it the first time his comments on them have pleased their leaders.
Back during his first presidential run former Grand Wizard of the KKK, David Duke endorsed him. In an interview on CNN Jake Tapper asked him to disavow David Duke and his endorsement. But Trump did not, claiming to not know about the group, and complaining about his earpiece instead.
After the Charlottesville rally in 2017 Trump condemned the driver who killed Heather Heyer. But also said that there were "very fine people" on "both sides" and seemed angry that equal condemnation was not being given to both sides. Bear in mind, one side was Nazis and the KKK and had murdered someone, and the other side was counter-protesting Nazis and the KKK. This response delighted David Duke.
When it comes to right-wing extremism, Trump will typically default to "what about the left?"
He often implies that there is more violence from the left than the right. This is untrue. A study by The Center For Strategic And International Studies published this year found quite the opposite. "Far-right terrorism has significantly outpaced terrorism from other types of perpetrators, including from far-left networks and individuals inspired by the Islamic State and al-Qaeda. Right-wing attacks and plots account for the majority of all terrorist incidents in the United States since 1994."
Antifa literally means Anti-Fascist. The fact that Trump presents this notion as a threat to America, and the fact that he often blames BLM protests on Antifa, should tell you everything you need to know about his views on white supremacy.