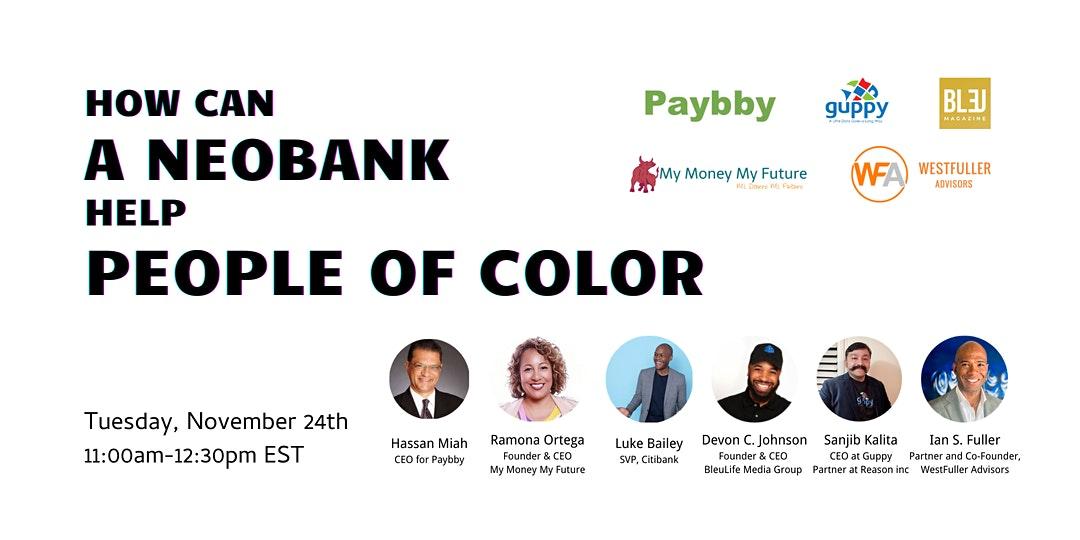 Join Bleu's Founder for a Panel Discussion on Neobanks and Unbanked Households
'How Can a Neobank Help People of Color' will be focusing on issues like unbanked households and the potential benefits of a "neobank."

By Jamie Rollo

Nov. 18 2020, Published 11:47 a.m. ET
Next Tuesday, November 24 leaders in banking and media are coming together for a panel discussion on the relationship between communities of color and banking. Bleu Life Media's Founder and CEO DeVon Johnson is one of the featured panelists alongside representatives from Paybby, Citibank and more. Titled How Can a Neobank Help People of Color, the panelists will be focusing on issues like unbanked households, financial unfairness and the potential benefits of a"neobank," also known as an internet-only bank. Tickets are available now on Eventbrite, completely free of charge.
Did you know that over 25 percent of U.S households are unbanked or underbanked? Or that of that percentage, 86 percent are households of color? Banking can be heavily nuanced and using their services can be financially detrimental to the most vulnerable. According to an FDIC survey that polled unbanked individuals, 53 percent of respondents said they do not have enough money to keep in an account. Most banks require a minimum account balance of $100 or more to avoid monthly service charges.
29 percent of respondents agreed that bank account fees are much too high for the service to be worth it for them. 13 percent said that banks don't offer products or services that they need. 30 percent of unbanked respondents said they also don't trust banks and 28 percent said they have privacy concerns. 14 percent of the respondents said they have ID, credit or former bank account issues that prevent them from using a bank.
Article continues below advertisement
Because of these reasons, unbanked households opt for higher cost services such as money orders, check cashing, international remittances and predatory lending, which costs a staggering $100 billion. So how exactly can we fix this huge financial disparity to make banking truly fair? Hassan Miah, CEO of Paybby and a featured panelist at the November 24 event, believes neobanking – or online-only banking – could be a viable solution.
Miah has an extensive background in tech, AI, media, Blockchain and finance. He is the former director of investments at Intel Capital and a former management consulting partner at KPMG. Paybby is a new, 100 percent free digital banking service made to serve Black and Brown communities. Through this company, Miah and his team are hoping to lower the percentage of unbanked individuals and households by allowing them to pay less for banking, build wealth, and overall "reduce dependence on the existing banking system."
Miah will be discussing Paybby and the benefits of online-only banking at the panel discussion. He will be joined by Founder and CEO of My Money My Future Ramona Ortega, SVP of Digital Transformation at Citibank Luke Bailey, Guppy CEO, Reason Inc Partner and EIC of Money 20/20 Sanjib Kalita, Partner and Co-Founder of Westfuller Advisors Ian S. Fuller, and of course Bleu Life's own DeVon Johnson.
Introductions begin at 11:00 a.m est and the panel discussion begins at 11:15. To learn more about the panelists, Paybby and the event, head over to their Eventbrite page.