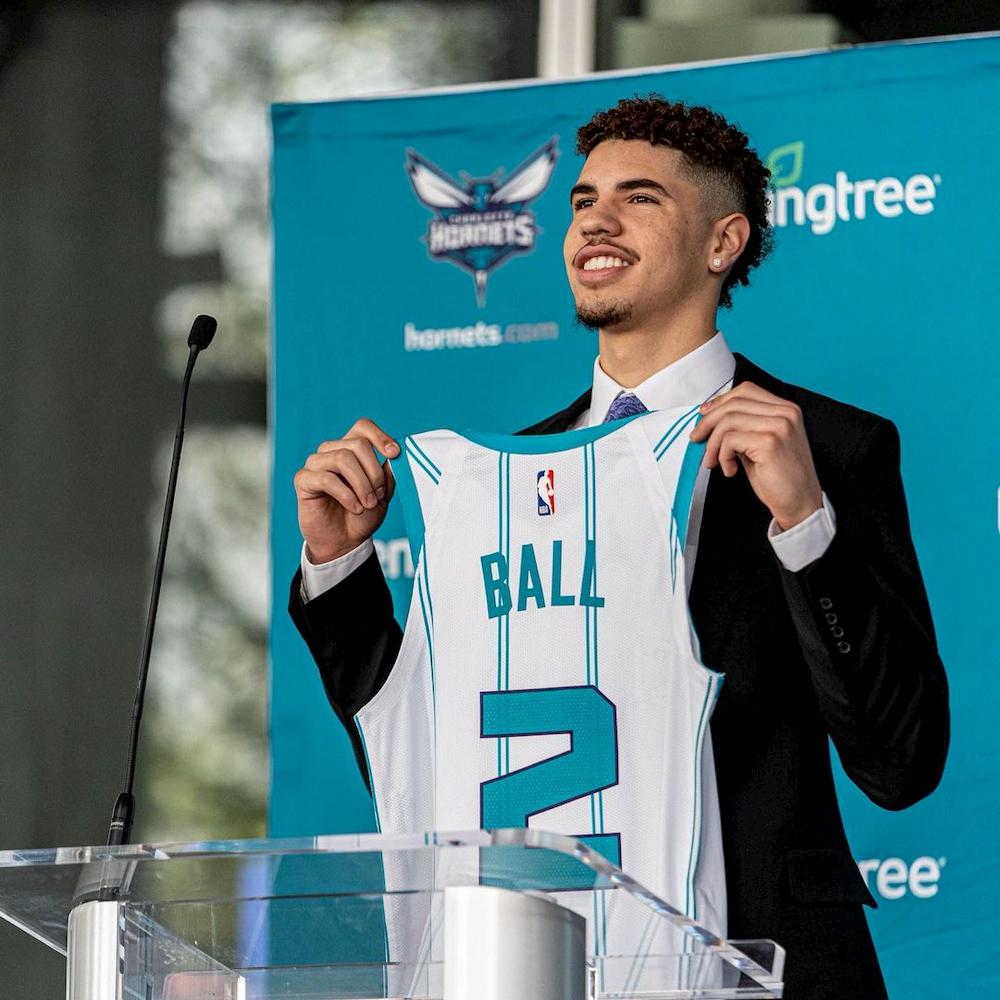 LaMelo Ball Lands in Charlotte: Will he be the new Face of the Franchise?
Basketball Phenomena, LaMelo Ball, was recently selected by the Charlotte Hornets with the 3rd pick the in 2020 NBA Draft.

By Stacey Edward

Nov. 25 2020, Published 1:28 p.m. ET
A lot comes to mind when assessing the talent of LaMelo Ball. Selected third in the 2020 NBA draft by the Charlotte Hornets, the point guard brings an interesting skillset to the floor. Arguably the best talent in the draft, LaMelo's journey has been quite unique.
The Life of Lamelo Ball
The youngest of the Ball brothers, he witnessed Lonzo Ball get selected as the second pick in the 2017 draft, bringing further attention to his family's magnetic media presence. Soon after their father, Lavar, launched Big Baller Brand and also created his own basketball league. LaMelo was just a teenager while all this was taking place, gaining quite a presence on social media.
Within the last few years, LaMelo de-committed from UCLA to pursue a professional basketball career in Lithuania. After a short stint, LaMelo returned to the states to play in his father's league, the Junior Basketball Association. Following the fold of the JBA, LaMelo finished his senior year with SPIRE Academy in Ohio. He went on to play a season professionally in Australia. While playing in Australia, Ball won rookie of the year and soon after declared for the NBA draft.
Article continues below advertisement
What LaMelo Brings to the Team
Standing at 6'7″, LaMelo is one of the taller point guards in the league. His combined skillset and length have garnered comparisons to NBA greats such as Jason Kidd and Penny Hardaway. The high ceiling for Ball is also met with a mesmerizing social media presence. Boasting nearly 6 million Instagram followers, Ball brings an immense fan base to Charlotte, who currently has 1.3 million followers on Instagram.
The Charlotte Hornets are known among NBA fans for their mediocrity and overpaying of average players. With the addition of General Manager Mitch Kupchak, the Hornets look to rebrand their previous image and LaMelo helps their case tremendously.
Is Charlotte's Backcourt Overcrowded?
The addition of Terry Rozier last season hoped to cure their need for a franchise point guard. That assumption was false after Rozier began to split time with young point guard, Devonte Graham. The addition of veteran wing Gordon Hayward shows improvement roster-wise from a season ago. Though, lack of surety at the point guard shows the team may not necessarily be oilseed for primetime.
Michael Jordan and the Charlotte Hornets may have picked up a potential star in LaMelo Ball. Questions pose as to how Ball will compliment his teammates on the floor, but with the NBA season around the corner well will soon have answers. Stay tuned with Bleu for more updates on the hottest NBA news.