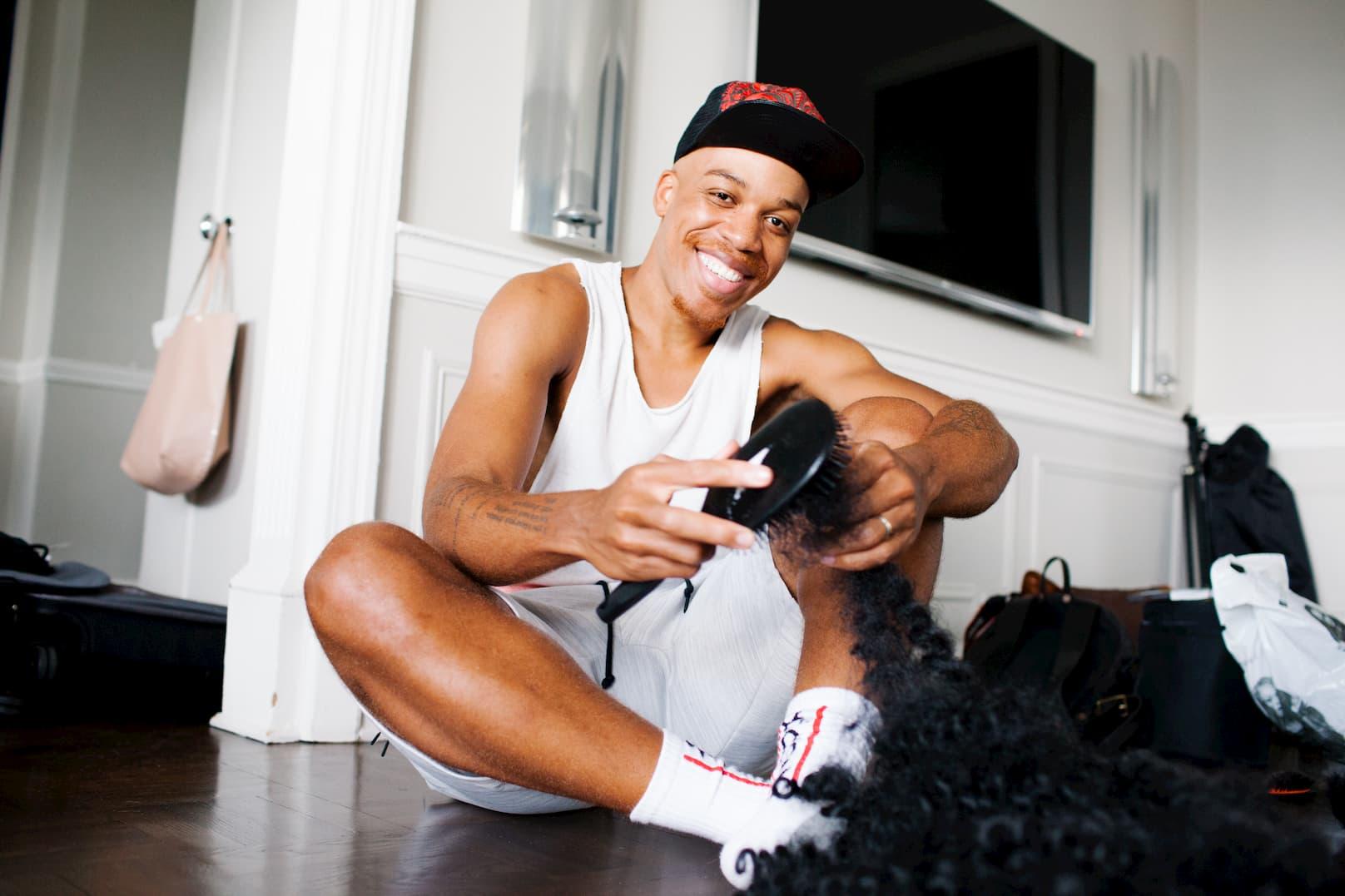 The Courageous Creative: Vernon François
If you're attuned to Hollywood's elite creatives gracing the silver screens, parading the red carpets, then you should know Vernon Françios.

By Cataanda James

Dec. 1 2020, Published 1:17 p.m. ET
If you are attuned to Hollywood's most elite creatives gracing the silver screens, parading the red carpets and delivering heart felt acceptance speeches, then you should know the texture king himself, Vernon François – Celebrity hairstylist, educator, groomer, founder and creative director of the Vernon François Collection, a prestige brand of all-inclusive hair care and styling products. As a creative in the beauty space myself, I was stoked at the opportunity to chat with someone whose work inspires art from the tube to these textured filled streets.
Creative: (noun) One who is creative.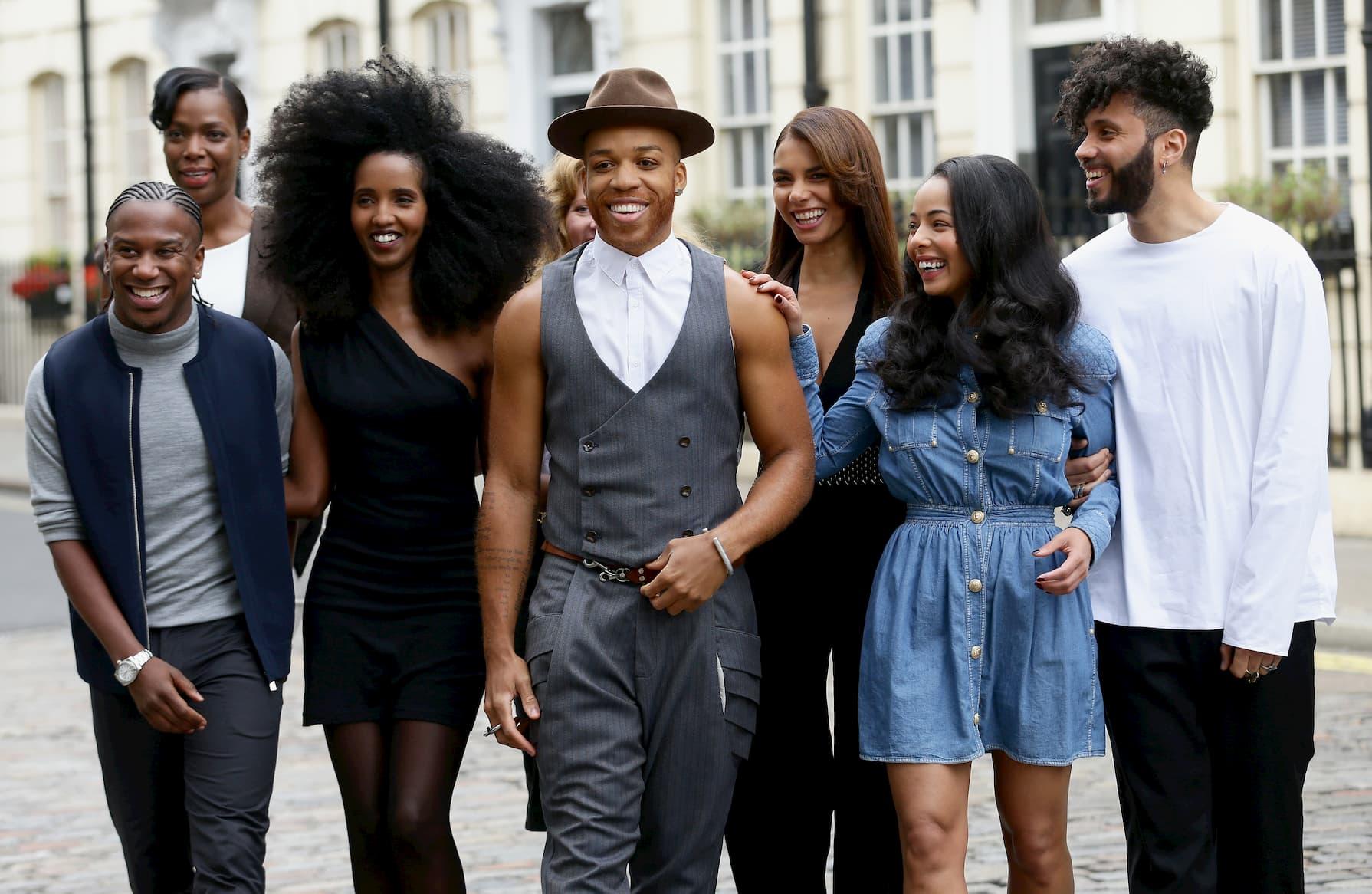 Vernon François is not only one who is creative but imaginative. Growing up in Huddersfield, England in a Rastafarian household is where he began his journey to becoming one of the most sought after hairstylists, internationally. Young Vernon taught himself to braid hair on a mop. This boss move undoubtedly dots the "i" in creative. When asked to share what sparked his interest in learning to braid hair, François explained that some of his earliest memories involving hair are of his mum doing Sunday hair maintenance rituals. "I was never excited by this because of the level of pain involved, which didn't make sense to me" said Vernon.
He describes himself as a curious problem-solver. Finding a way to make the process more comfortable was something he aspired to do. I'm sure many of us with curls, coils and kinks can contest the dreadful Sunday hair rituals with our mum, auntie, sister-cousin or whomever was at the helm of the family comb and brush on Sunday wash day. Vernon used both his curiosity and desire not only to problem-solve, but to birth a celebrated, lifelong career in the beauty industry.
Article continues below advertisement
"Being a hairstylist was most definitely my calling."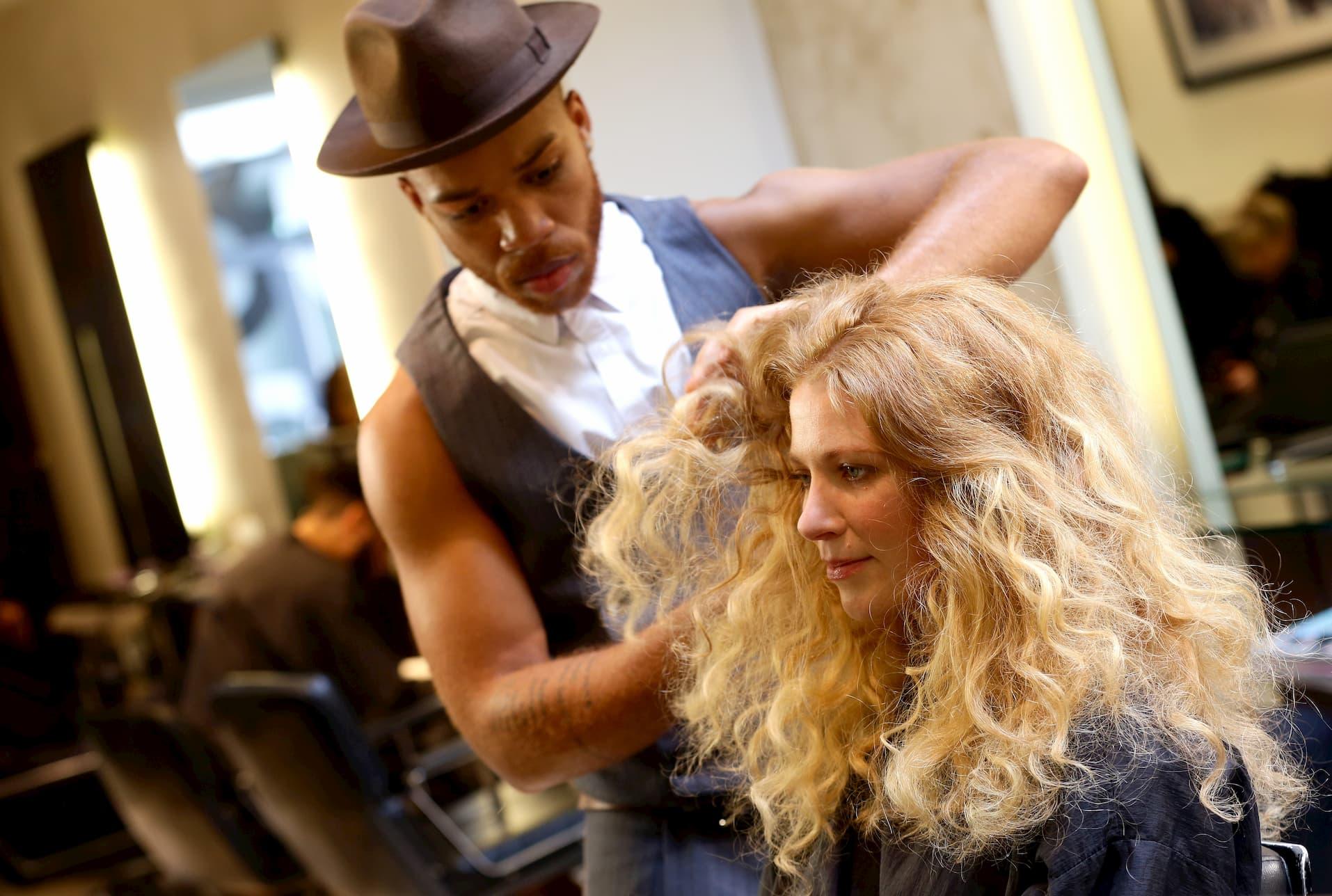 Vernon François is both a dreamer and a do'er. Intrigued by the art, he found himself practicing on anything around the house that replicated strands of hair, including his grandma's beaded curtains. Consequently, when asked if he always knew that he wanted to be a hairstylist, he recounted "hair has always been my obsession and as a young child I may not have exactly known what I wanted to be in life, but would always fully investigate things that I was interested in." With the success of his career, one may think it was always his dream to one day move to the U.S. to style hair for all of Black Hollywood, but Vernon said, "never in my wildest dreams! I still have to check myself because the idea that I'm working with some of the most powerful and recognizable people in the world is often still baffling to me." Not only is he sensational – yes, he won the Sensationnel Hair Awards at only 17 – but he is humble about his stature as one of the industry's most requested architects of hair.
Creative: (adjective) Having the quality of something created rather than imitated.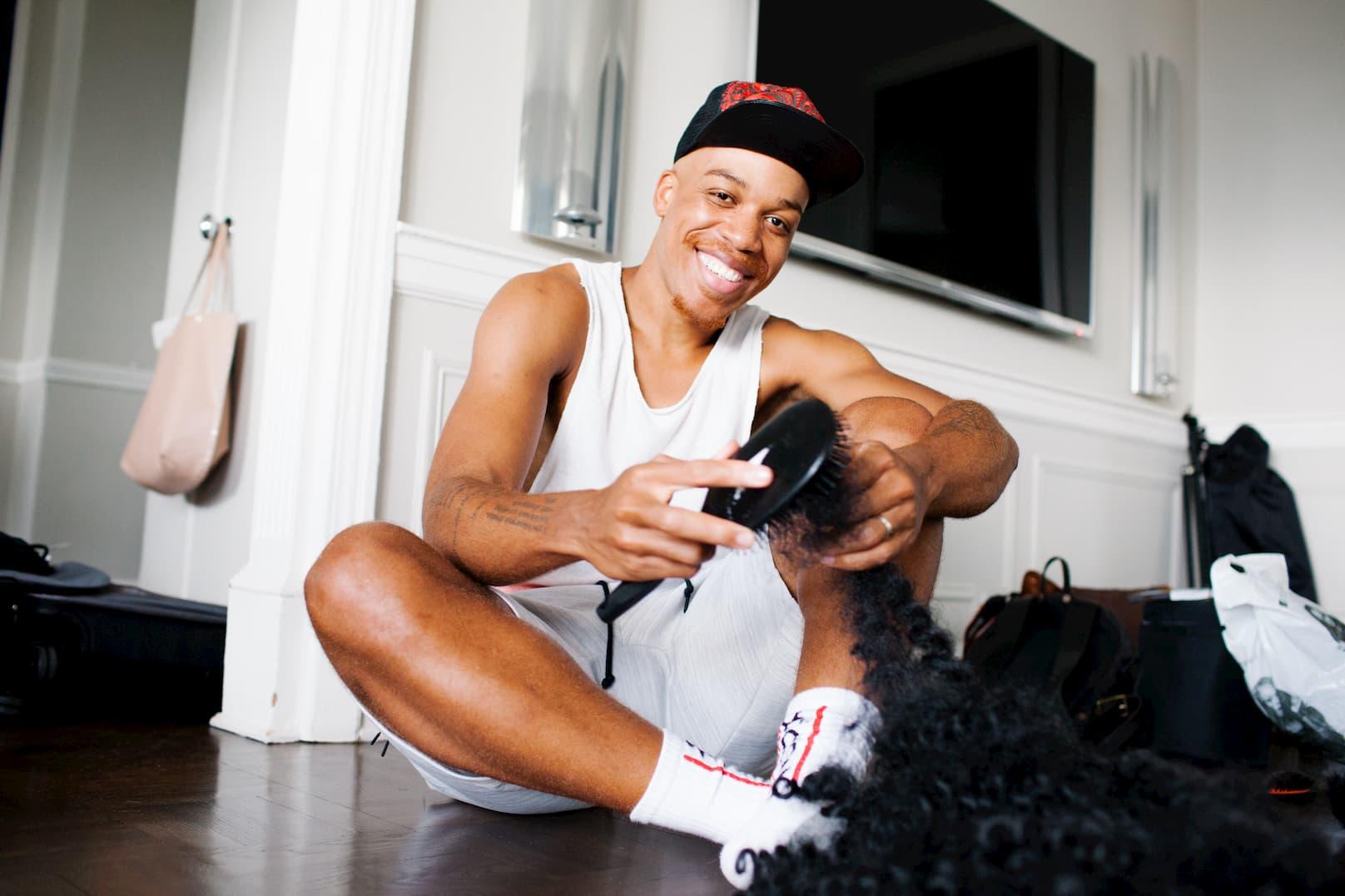 Academy Award Winner Lupita Nyong'o, the iconic Angela Bassett, and the queen of the U.S. Open Serena Williams are just a few who are a part of Vernon François' powerful femme squad that he's created jaw-dropping coifs for. He has also designed looks for some of our favorite refined gents like Jaden Smith for Louis Vuitton, Stevie Wonders' sons Kailand and Mandla Morris, and the incredible music artist SaintJhn. François is multifaceted and gifted. He cuts, colors, and styles every hair type and all textures for men and women alike.
Article continues below advertisement
He has proven to be the cream of the crop in the hair game, so we would be remiss if we didn't ask him to drop some knowledge:
Vernon François 101 
Article continues below advertisement
What's the one biggest tip you would give for growing and maintaining a healthy head of hair? 
Learn to respect what you have. From there you can love, cherish, grow and do anything with your hair!
It is pretty common for men to begin losing their hair at a tender age, would you recommend a man-weave or is there a style/cut you suggest that may help to conceal a receding hairline/hair loss? 
I'd recommend exploring all of the above. Women have been exploring hair expression for so long, while men have often sat behind for fear of being judged and embarrassed, for too long. It's beautiful to see men exploring opportunities to provide them with what they would believe to be a healthy head of hair and I encourage any experience that will allow that to come true for them. I encourage them to explore what that looks like and live it to its fullest.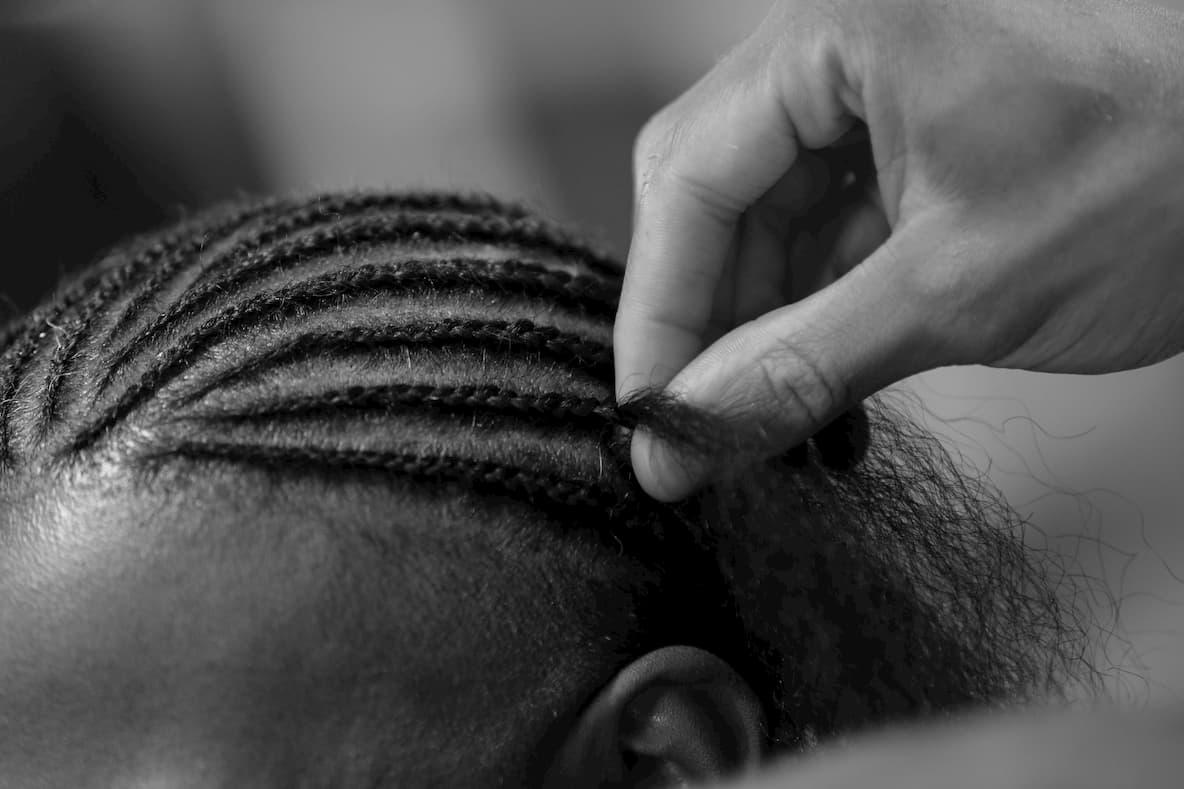 Article continues below advertisement
What products within the Vernon François Collection are most common among men and why? Can you give us insight into the fragrance? Is it unisex friendly? 
A lot of guys over here in the USA buy and use the Scalp Nourishment Braids and Locs Spray, Mist Nourishing Water and Styling Cream. The fragrances are bright, clean, fresh, uplifting, all-gender friendly.
What are three of your top grooming tips for the beard?
Before any form of shaving or cutting, use a hot flannel on your face to cleanse and relax the outside surface of the hair, which is called the cuticle. Doing this will allow your hair to sit more comfortably and aligned, as well as soften your skin so there's less chance of cutting yourself.
Applying a little leave-in conditioner is good for helping to add shine and definition for beards and moustaches of all hair densities. You can also get a round ceramic brush and gently blow dry your beard to leave it silky soft. For dense, tight, coily hair it can help it to appear shinier and thicker, which a lot of men like to try and achieve.
Article continues below advertisement
Another tip is to gently pat it dry using a microfibre towel in a downward motion to help stop the hair from breaking, frizzing, standing on edge and this is kind to your skin too.
If you could leave us with one word that embodies your innermost feeling as a Black man living in America during superfluous times of unjust killings of Black men (and women) by cops and white supremacists and a heightened rallying of the Black Lives Matters movement, what would it be?