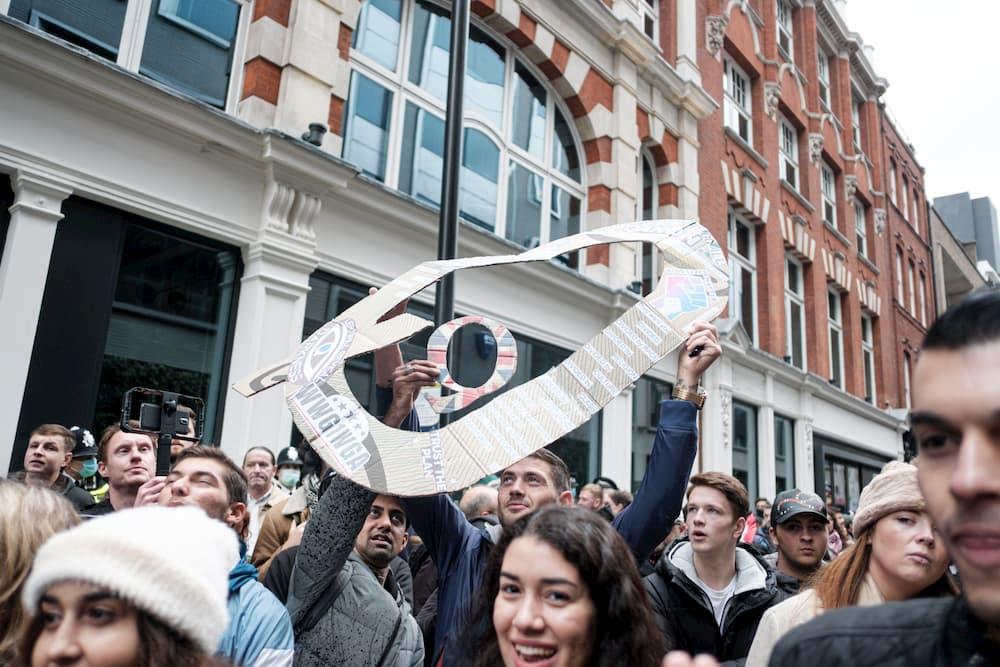 Twitter bans over 70,000 QAnon Accounts and Tightens Guidelines
Twitter Inc. has had a busy weekend purging thousands of QAnon-related accounts following the attack at the U.S Capitol building.

By Jamie Rollo

Jan. 12 2021, Published 2:57 p.m. ET
Twitter Inc. has had a busy weekend purging thousands of QAnon-related accountsfollowing the attack at the U.S Capitol building. In a statement released on Tuesday, January 12, the social media company shared the steps they have taken to "protect the conversation on our service from attempts to incite violence, organize attacks, and share deliberately misleading information about the election outcome." Along with banning over 70,000 Twitter accounts, the company has upped its Civic Integrity Policy, tightening the site's security through warning labels, suspensions, and human review.
"We've been clear that we will take strong enforcement action on behavior that has the potential to lead to offline harm," Twitter said in a blog post. "Given the violent events in Washington, D.C, and increased risk of harm, we began permanently suspending thousands of accounts that were primarily dedicated to sharing QAnon content on Friday afternoon."
QAnon first surfaced in October of 2017, when an anonymous user named "Q" uploaded a series of posts onto 4chan. "Q" is said to have secured government approval known as "Q clearance." QAnon has become a wide-spread conspiracy theory among far-right groups that believe the global elites of government, media, and business are a web of Satan-worshipping pedophiles. They believe that Donald Trump is trying to fight and expose these rumored Satanists and that there is an underground plot to get rid of him.
Article continues below advertisement
QAnon, however, is so far-reaching that it has become a culmination of different far-right conspiracies, some that even contradict each other, according to BBC. But one thing they all agreed upon is that the 2020 Presidential Election was fraudulent, despite countless court decisions and evidence confirming the results.
Following the events of January 6, Twitter thought it'd be best if they no longer allowed these harmful conspiracies to circulate on their site. Along with the 70,000 plus accounts being banned, Twitter also plans on tightening its community guidelines and enforcement. In the updated Civic Integrity Policy, Twitter will continue to use its false information warning labels but will crack down on those who share flagged posts. For example, if a user continues to post multiple tweets that have a warning label, they risk permanent suspension. Twitter will also limit engagement on Tweets with warning labels, which means users can no longer reply, like or retweet said posts. They can, however, still quote tweets to add context or share their perspective.
Article continues below advertisement
Under these new regulations, Twitter will also "aggressively deploy technology to surface potentially harmful Tweets for human review in an effort to take action as quickly as possible on violative content." They continued, "Using this combination of technology and human review helps our teams work at scale during this critical time. We continue to update these tools as terminology and behaviors evolve on Twitter."
Because of these large scale social media rule changes, Trump's permanent suspension from numerous social sites, and the ongoing lawsuit between right-wing app Parlor and its web service provider Amazon, many are concerned with censorship as it pertains to the First Amendment. If these tech giants can silence the president, their power knows no bounds. However, things aren't so black and white. These companies issuing bans over QAnon accounts and 2020 Election conspiracy are well within their rights to do so. When users create accounts, they sign Terms and Agreements. They agree, whether absent-mindedly or not, to follow the community guidelines set forth by each site. And companies like Amazon, Google, and Apple are also well within their rights to ban certain applications or websites from their servers and app stores.