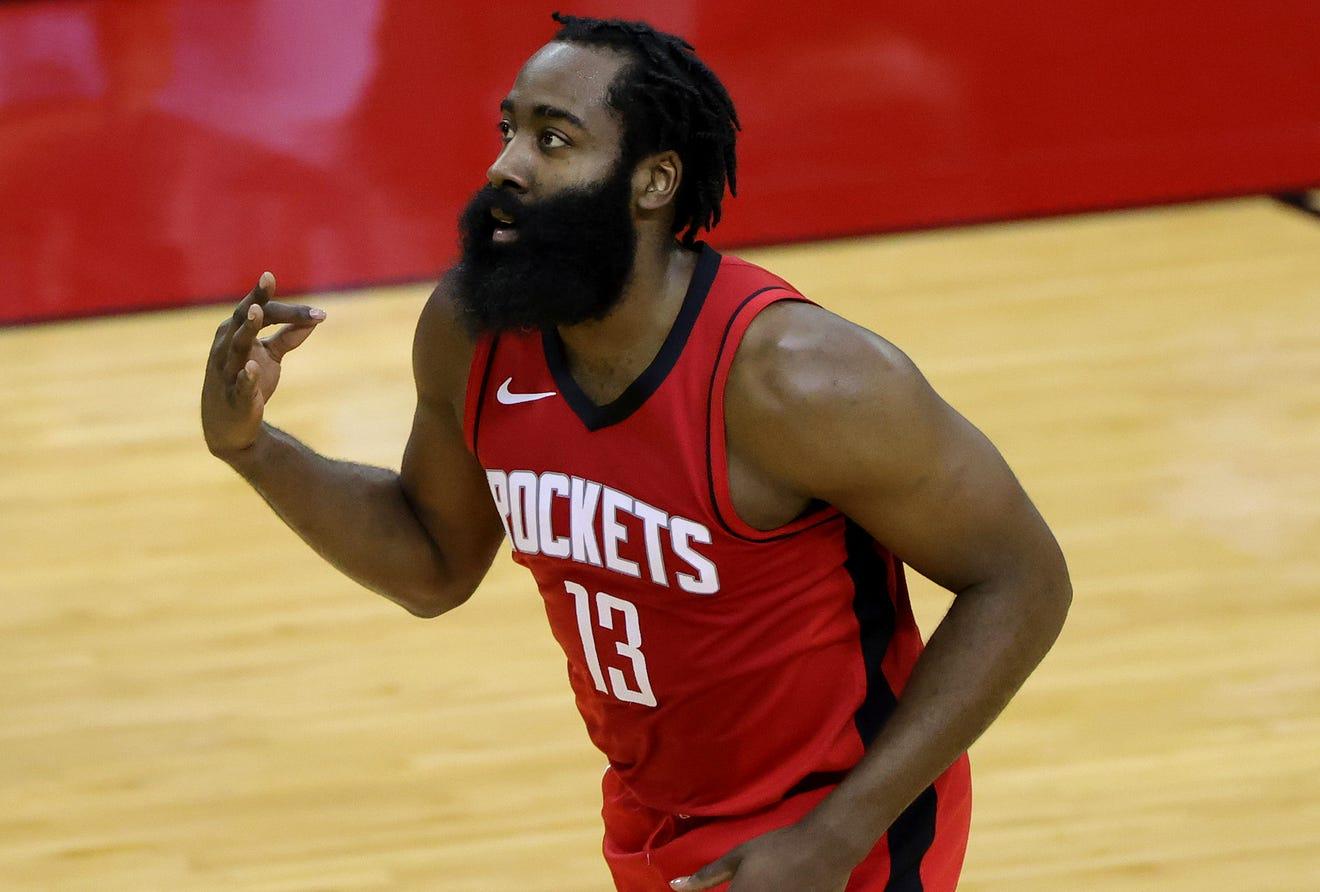 James Harden to Join Kyrie Irving, Kevin Durant in Brooklyn
In perhaps the biggest blockbuster trade in NBA history, four teams have agreed on a trade that will send James Harden to the Brooklyn Nets.

By Tommy Rodriguez

Jan. 15 2021, Published 9:40 a.m. ET
In perhaps the biggest blockbuster trade in NBAhistory, four teams have agreed on a trade that will send former MVP James Harden to the Brooklyn Nets and rising star Caris LeVert to the IndianaPacers. The mega-trade sent shockwaves throughout the league and will unite three of basketball's biggest superstars in the BarclaysCenter.
Per ESPN's Adrian Wojnarowski and Ramona Shelburne, the deal will send James Harden and the 2024 second-round pick from the Cleveland Cavaliers to the Nets; Caris LeVert and the 2023 second-round pick from the Houston Rockets to the IndianaPacers; and Jarrett Allen and Taurean Prince to the Cavaliers. The Rockets will receive VictorOladipo, Dante Exum, Rodions Kurucs, the Nets' three unprotected first-round draft picks (2022, 2024, and 2026), pick swaps in 2021, 2023, 2025, and 2027, and Milwaukee's 2022 first-round pick. Quite the haul considering the little leverage they had with James Harden publicly demanding a trade.
Just the night before, James Harden'scomments during his postgame interview indicated what was likely the last straw of Harden's drama in Houston. The superstar guard had made it clear before the season even started that he wanted out of Houston, but he confirmed his frustrations after their loss to the Lakers.
"We're just not good enough," Harden said. "We don't, obviously chemistry, talent-wise, just everything — and it was clear these last few games … I love this city. I literally have done everything that I can." He continued, "I mean, this situation is crazy. It's something that I don't think can be fixed."
In a league stacked with superstar duos, KyrieIrving, JamesHarden, and Kevin Durant will form the only true Big Three in Brooklyn. While they have lost much of their depth and defensive prowess, a starting lineup of KyrieIrving, JamesHarden, JoeHarris, KevinDurant, and DeAndre Jordan has the potential to be unstoppable on the offensive end. It is clear that the Nets' front office wants to win now with the trading of their picks, shooting this team's expectations to championship or bust.
Perhaps the biggest question mark on this roster is whether or not three ball-dominant superstars will be able to gel together and sacrifice for the sake of their team. Will lockerroom distractions and lack of chemistry be the downfall of Brooklyn's new Big Three?