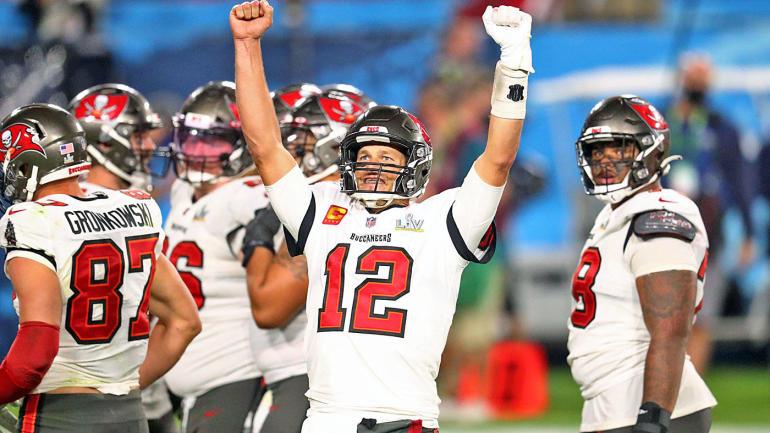 Buccaneers win the Super Bowl and Spark Conversation
On Sunday the Tampa Bay Buccaneers won the 2021 Super Bowl. The win sparked a debate about who the greatest athlete of all time is.

By Elysia Tanswell

Feb. 8 2021, Published 5:42 p.m. ET
On Sunday the Tampa Bay Buccaneers won the 2021 Super Bowl, beating the Kansas City Chiefs 31 to 9.
The victory brings Tom Brady's total Super Bowl wins to an impressive seven, more than any other NFL player. At age 43 he is also the oldest player currently in the sport, and one of only two players to win the Super Bowl with two different teams. He has 10 Super Bowl appearances under his belt. His impressive career spans over two decades and he is widely regarded as the greatest NFL player of all time.
After the Buccaneers took the trophy, people on social media started referring to Brady as the greatest athlete of all time. This sparked a massive social media debate about who really deserves that title.
Many people put forward Serena Williams as the GOAT.
In fact her name was mentioned so many times that she was (and still is at time of writing) trending on Twitter and with good reason.
Williams has been playing pro tennis since 1995. She has 23 Grand Slam titles and four Olympic Gold medals. She won one of her many titles whilst pregnant. Even despite her status she has had to endure racism and sexism in the sport, all of which she has overcome.
Article continues below advertisement
Of course there is no objective way to measure the best athlete out of all of them, because sports aren't all measured the same way. Not every sport is included in the Olympics. Matches and games are played on different schedules. Different skills are needed. How do you compare an individual athlete's performance to someone who plays on a team? Brady is an excellent player and there is no beef between him and Williams. She has publicly praised him as a champion. But when it comes to discussions of sport as a whole there is a tendency to think of men's sports as the default, which means the amazing accomplishments of female athletes are often overlooked.
The win also brought up breakthrough in representation for the Buccaneers.
The team is host to the very first all Black team of officials in the NFL. When it comes to conversations of diversity in sport, the focus is often on the players. Officials, management, and non-playing roles are often overlooked, making the move by the Buccaneers an impressive and positive step.