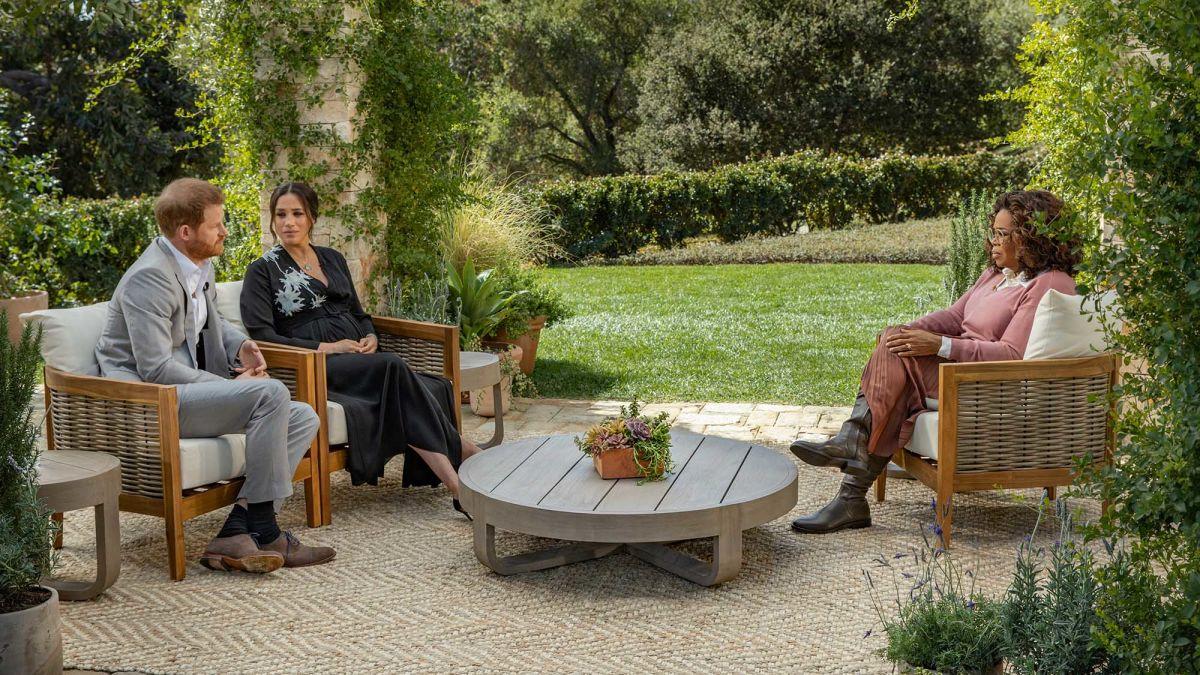 The Response to the Oprah Interview Shows Everything Wrong with the British Press
At 8pm EST "CBS Presents Oprah With Meghan and Harry" aired in the US. A Day later it aired in the UK. The British Press have since responded

By Elysia Tanswell

Mar. 9 2021, Published 4:12 p.m. ET
At 8 p.m EST "CBS Presents Oprah With Meghan and Harry" aired in the United States. A Day later, British audiences watched the bombshell interview. The program covered the racism and mistreatment experienced by Meghan at the hands of both the monarchy and the British press, the latter of which has started responding. What they've said tells you everything you need to know about the fundamental problems at the heart of the British psyche.
The British are fundamentally more offended by the accusation of racism than they are by racism itself.
Following the interview, a U.K media organization the Society of Editors released a statement. Almost 400 people are part of the organization. Their ranks include editors, editorial directors, editors-in-chief and deputy editors across national, regional, and local media.
You may expect that this organization took the time to do some solemn reflection on the mistakes they had made in this situation, but no. The statement was nothing but outrage that anyone dares call a spade a spade. "It is not acceptable for the Duke and Duchess to make such claims without providing any supporting evidence. If it is simply the case the Sussexes feel that the press by questioning their actions and commenting on their roles when working as Royals funded by the taxpayer were being racist then they are mistaken."
The head of the organization appeared on a TV interview not long after it was released.
Article continues below advertisement
He does not believe he has to answer for a single headline. His problem is that someone dared to question them. The ethos of the British press is that they can be as racist as they like and no one is allowed to call it racism. This attitude is pervasive throughout British society up to the level of government policy. Calling out bigotry is a much worse offense than being bigoted.
Article continues below advertisement
British news channels love to bring Black people on to "debate" racism.
The press can often fall into a bad habit of needing to hear "both sides" of an issue, even when the issue is cut and dry. That's why American news shows platformed so many climate change deniers. The British press is no different and racism is no exception. When a race-related story hits the headlines, there is a standard procedure for news shows. A debate between a person who is not white and believes the racist thing was racist and bad, and a white person who believes that the racist thing was neither.
There are two key problems with this approach.
The first is that it frames racism as up for debate and as an issue where we have to consider both sides points carefully. Is racism bad? Who knows. Does racism exist? Who knows. We never actually get to talking about how to tackle the problem because we're still at the stage of deciding if the problem exists. It should be noted that there are some issues where we know the answer is obvious and treat it as such. There's never a debate on whether pedophilia is actually bad or if rape even exists. But somehow British press deems it acceptable to treat racism as a matter of personal opinion.
The second problem is that debating if racism exists is often the only offer Black journalists get to make public appearances.
Article continues below advertisement
Many Black media figures have expressed frustration that though they report on everything from the economy, to conspiracy theories, to government corruption, they only get called onto shows to be the Black person arguing that racism is bad. Not only does this pigeonhole these figures, but it also means that the only time they are invited to speak is when what they say is most likely to bring targeted harassment their way.
We are in a period of "backlash"
In 1981 Susan Faludi published her book Backlash: The Undeclared War Against Women. The book details the media-driven backlash against the feminist advances of the 70s and pinpoints backlash as a historical trend of push back following recent advances in women's rights. One tactic that was often used by the media was blaming the victim by saying that feminism was the real cause of women's grievances.
Article continues below advertisement
The trend can apply to many progressive movements, from anti-racism to trans rights. Progress is made, it makes the establishment panicky, backlash happens. Britain is in an undeniable stage of backlash against the very idea of fighting bigotry. The word "woke" has become a catch-all term for anti-bigotry that is overwhelmingly used as a negative. There are constant articles about the horrors of woke culture, mainly using woke as an insult. Complains about cancel culture come in response to any mention of injustice. The overwhelming priority of the British press, and indeed government, is to make it socially unacceptable to stand up for marginalized groups.
The problem with the press is not that they were racist towards Meghan. It's that Britain is deep in backlash and getting out of it will be hard work, years in the making.