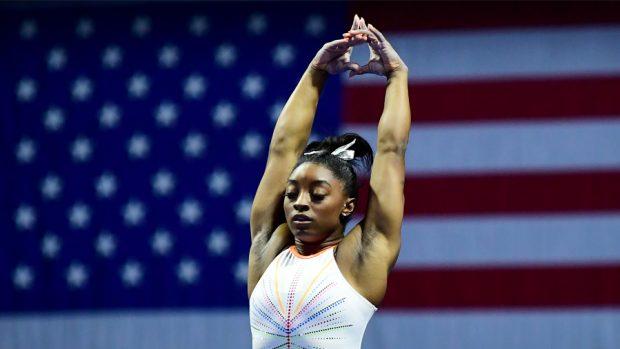 Simone Biles, Black Involvement and The Rise Of Mental Health At The Tokyo Olympics
As we progress in society, the Olympics look different, there are much more Black athletes competing than before.

By Ebony Allison

Jul. 28 2021, Published 5:31 p.m. ET
As we progress in society, the Olympics look different, there are much more Black athletes competing than before.
Not only is there more participation, but Black athletes have been dominating the Olympics in various categories. One of the sports that is one of the most popular amongst watchers is Gymnastics. You can't hear the word Gymnastics and not immediately think of Simone Biles, Biles dominated the Olympics in 2016. Biles has gone on to win 4 Olympic gold medals and 19 world championship medals. Many have called her the greatest athlete ever.
When Black viewers saw Olympic gold medalist Gabby Douglas placing first in 2012, it struck a rise of participation amongst Black athletes. This increase of participation was amplified thanks to Biles. Out of the 18 women invited to the Olympic Trials in St. Louis last month more than half of them were women of color. Black women received 10% of the scholarship athletes at the NCAA Division I level, which is an increase compared to 2012 where it was just 7%. Out of the USA Gymnastics membership, more than 10% self-identify as Black.
Black women dominating gymnastics and Black-owned gyms, and instructors, have greatly attracted more members of the Black community to get involved. Unfortunately, as involvement rises so does restriction on what Black athletes can and can't do. 2021 has been quite an eye-opening year regarding the Olympics. We've seen Black athletes restricted on protective caps for their hair and Black athletes punished for things white athletes get a slap on the wrist for.
The latest controversy revolves around Simone Biles.
Article continues below advertisement
Biles withdrew from the Olympics on July 27, 2021, due to mental health-related issues. However, shortly before Simone's withdrawal, the Olympics were unfairly scoring Biles. Biles did some difficult moves that many gymnasts if any, including male colleagues, could pull off. The higher difficulty of the move, the higher the score should be, however this has not been the case with Biles. Although many are sad to hear Biles won't be competing, mental health should be taken seriously. Regardless if she is participating or not Biles and so many other Black athletes have inspired millions all over the world.
In a recent interview, Biles openly talks about how the Olympics have been stressful.
"It's been a long week, it's been a long Olympic process, it's been a long year, so just a lot of different variables and I think we're just a little bit too stressed out but we should be out there having fun and sometimes that's not the case." She went on to say, "I've just never felt like this going into a competition before, and I tried to go out there and have fun. Warmup in the back went a little better, but then once I came out here, I was like, 'No, mental's not there. I just need to let the girls do it and focus on myself.' "