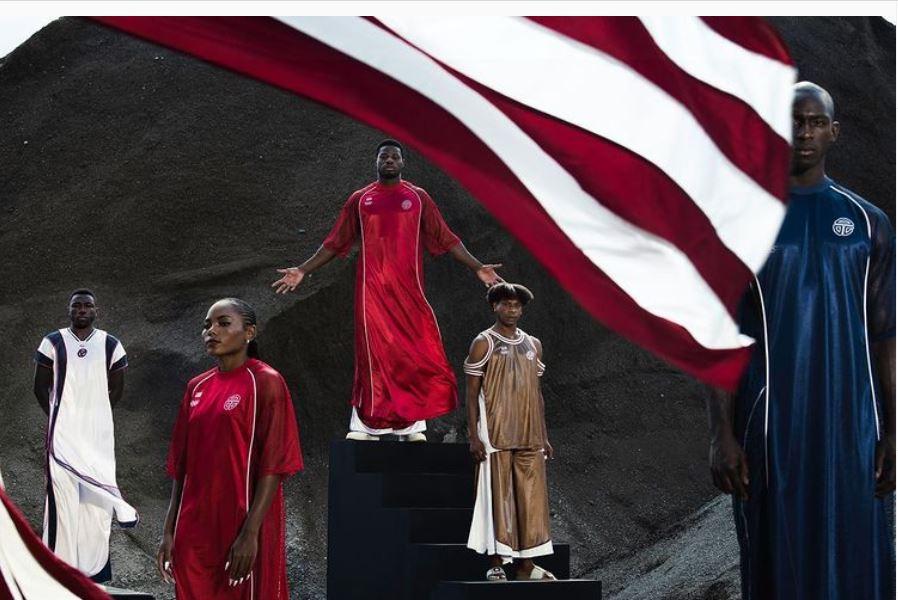 Telfar Designs For the Liberian team at the Olympics
Designer Telfar Clemens joined the Liberian team at the belated 2020 Tokyo Olympics. The collaboration between Telfar and the team […]

By Elysia Tanswell

Jul. 27 2021, Published 9:38 p.m. ET
Designer Telfar Clemens joined the Liberian team at the belated 2020 Tokyo Olympics.
The collaboration between Telfar and the team should not have come as a surprise. The team announced that he would be their sponsor last month. His work was finally revealed at the opening ceremony on Friday, July 23rd.
During the opening, Telfar walked with the three athletes that qualified to compete for the nation. Ebony Morrison, Joseph Fahnbulleh, and Emmanuel Matadi. The athletes were each wearing gender-neutral full-length hybrids between tunics and basketball jerseys.
The full collection is comprised of approximately 70 pieces. All of which are gender-neutral. There are re-imagines of classic Telfar designs, including an asymmetrical, shoulder-baring running top, and tiny "what!" shorts.
Article continues below advertisement
The Telfar collection will be made available to the public.
The Olympic collection is set to be released to the public in an upcoming drop. The demand is expected to be just as high, if not higher than it was for the iconic shopping bags.
The collaboration also means that the Liberian team will have their first sponsor since the year 2000. The team has regularly attended games since way back in 1956. However they have yet to take home a gold.
This is perhaps why Emmanuel Matadi reached out to the designer in the first place.
The Liberian sprinter appears very happy that he did so. He commented that this games is the first time he feels that the Liberian team is getting a similar opportunity to that of the US or Canadian teams. Both of which have long had the help of high-profile designers when it comes to their kit
Matdai also added that he Telfar kit gives the athletes "a psychological boost […] if you feel like you look good, you perform well."