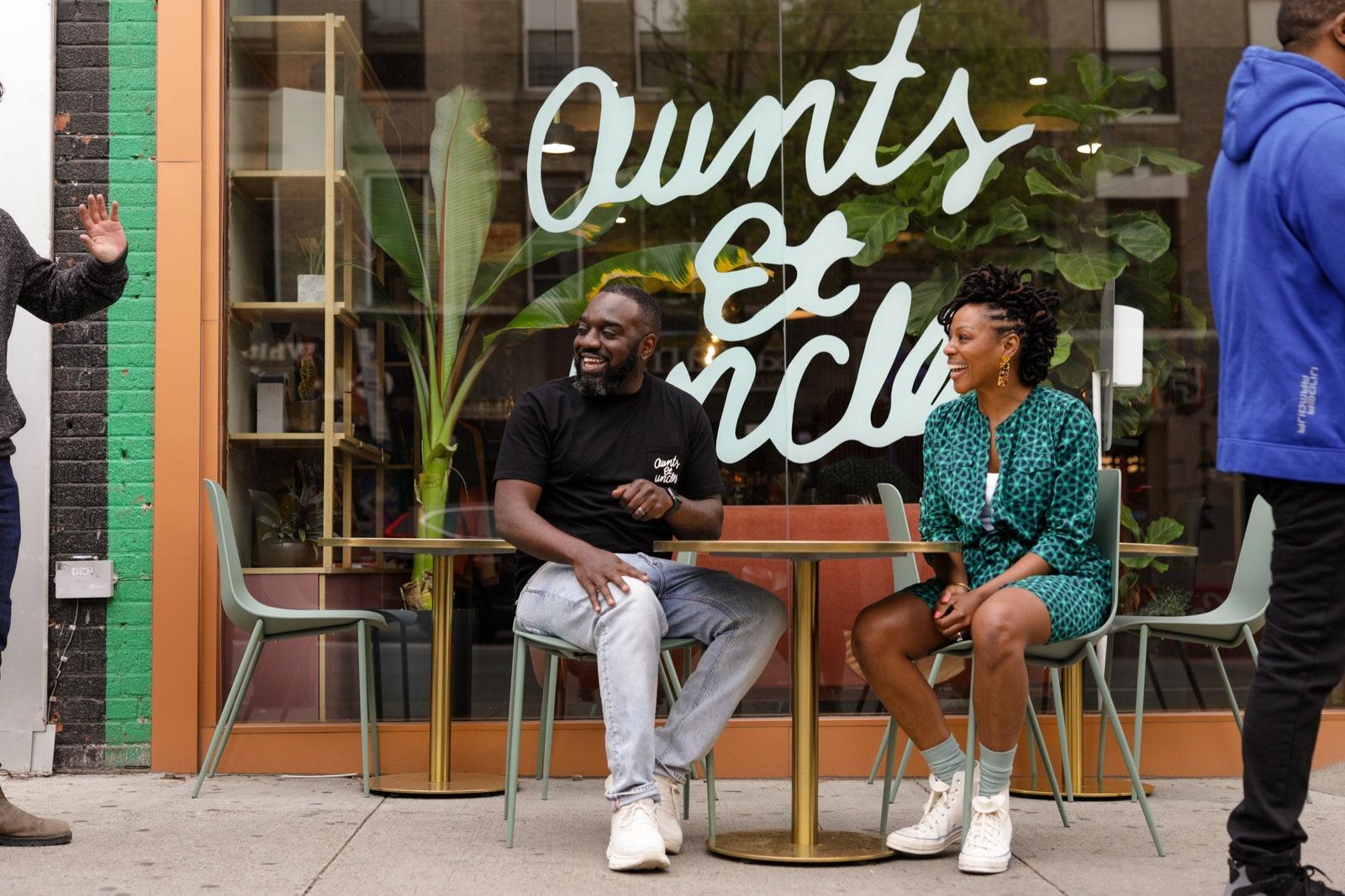 Aunts et Uncles: Brooklyn-Based Vegan Cafe Marries Family & Flavor
Aunts et Uncles is a Brooklyn-based vegan cafe that marries family and flavor in the bed of the New York borough with plant-based bites.

By Truth Hawkins

Dec. 3 2021, Published 12:55 a.m. ET
Nestled in Brooklyn's Little Caribbean neighborhood, this Black-owned, plant-based cafe – boasting an abundance of vegan delights – is much more than meets the eye.
"It behooves a small business to be not merely a new entrant into a neighborhood community but instead a continuation of an existing narrative. A continuation that gives permission to the neighbors as a collective to collectively enter a new chapter. This is what AU (Aunts et Uncles) is doing." writes Aunts et Uncles of their mission, via Instagram. A narrative, husband-wife owners, Michael and Nicole Nicholas, aka, auntie and uncle of the establishment make certain is weaved into each and every detail.
Upon entry, you're greeted with a celebration of color. Pink shelving units line the walls, while turquoise seating, modern, gold cafe tables, grand greenery, and warm wood tones shape a vibrant experience – not to mention a millennials Instagram post paradise. Tying it all together, is a plethora of retail items ranging in price from $10 to $175, including merch designed for Juneteenth, must-read books that salute Black culture, luxury home items such as coconut-soy wax candles and hand sanitizers by Tribe & Oak, and artwork by Michael. One eye-catching piece, in particular, is titled "Sekou."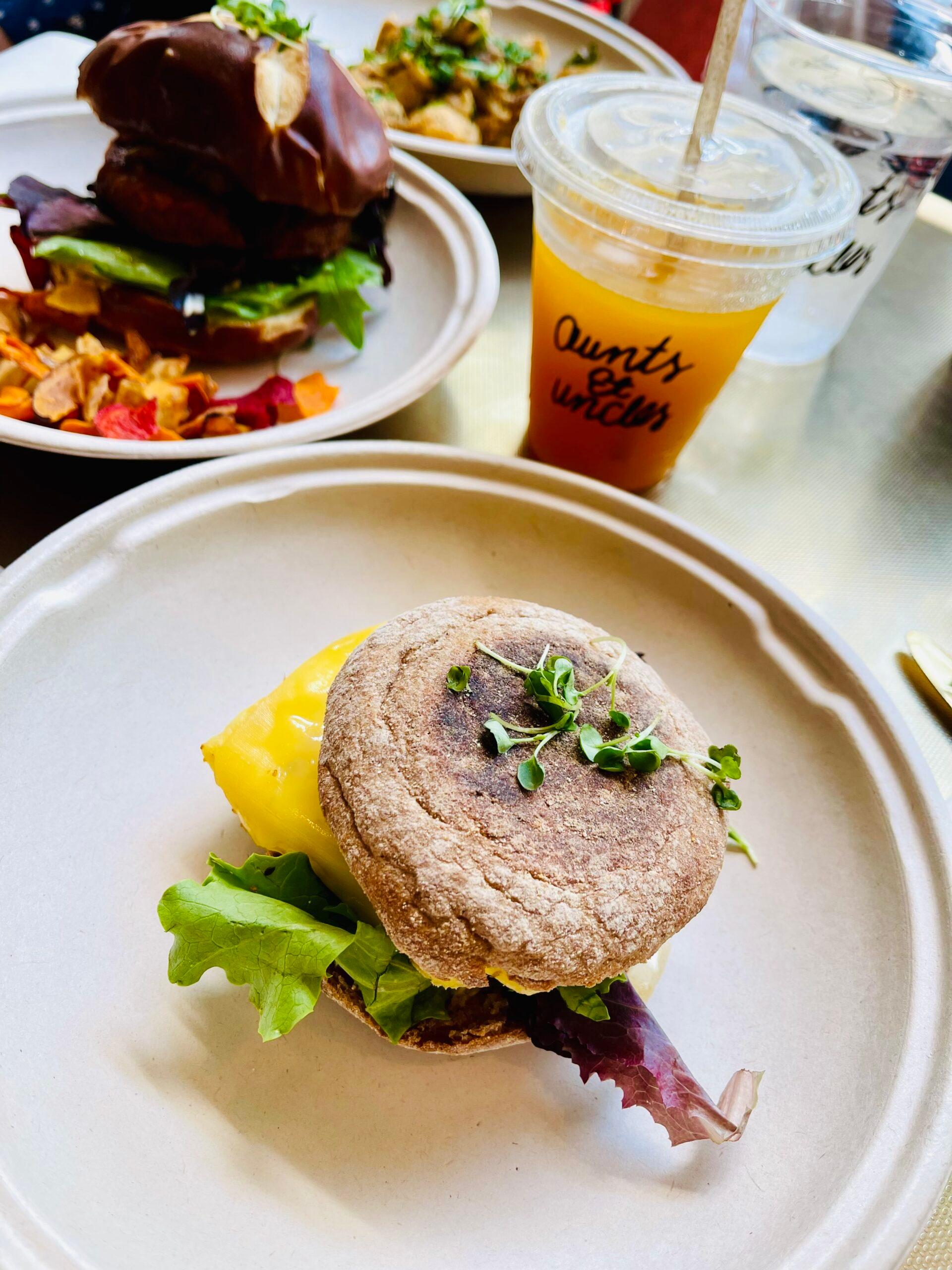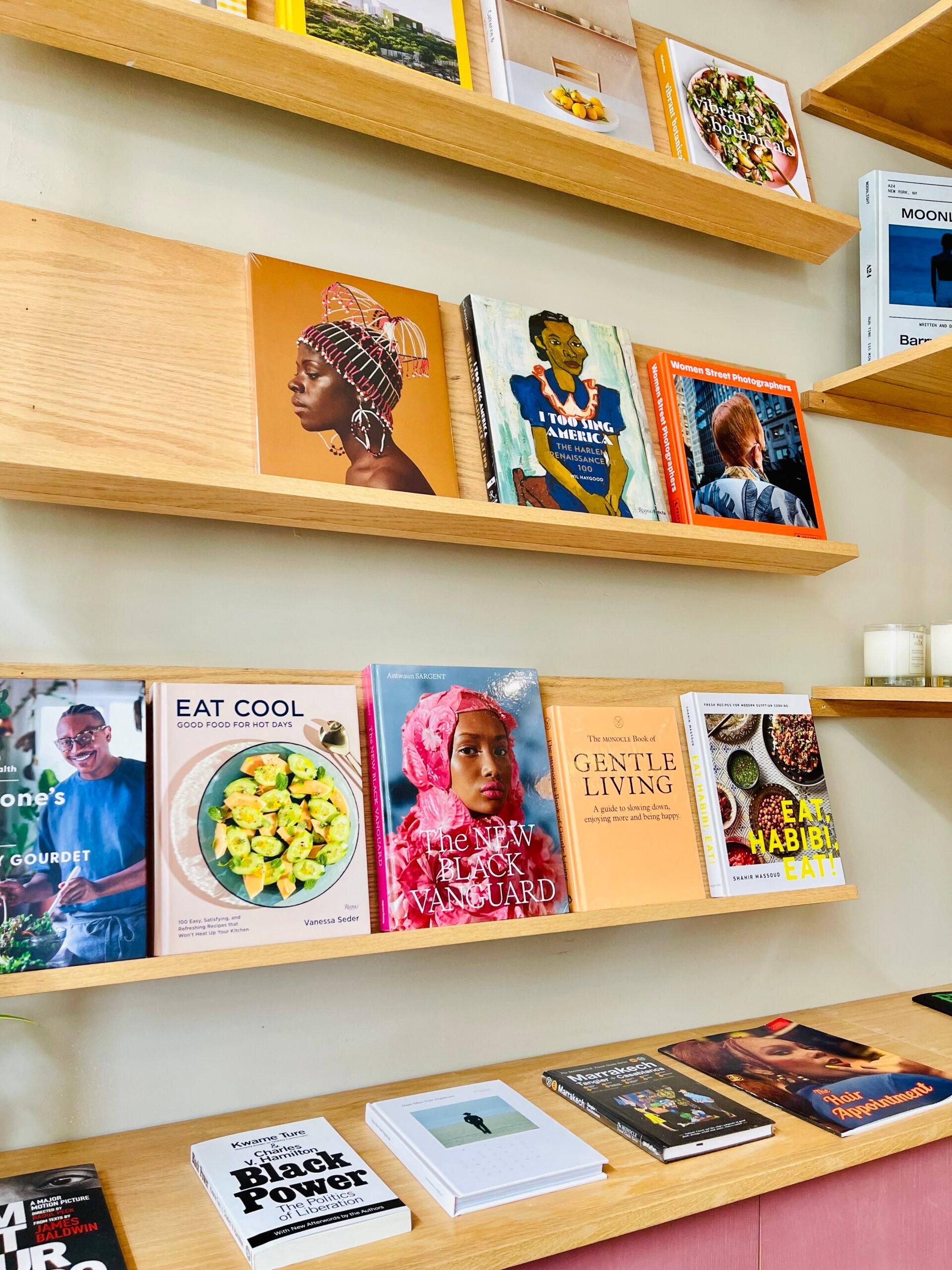 Article continues below advertisement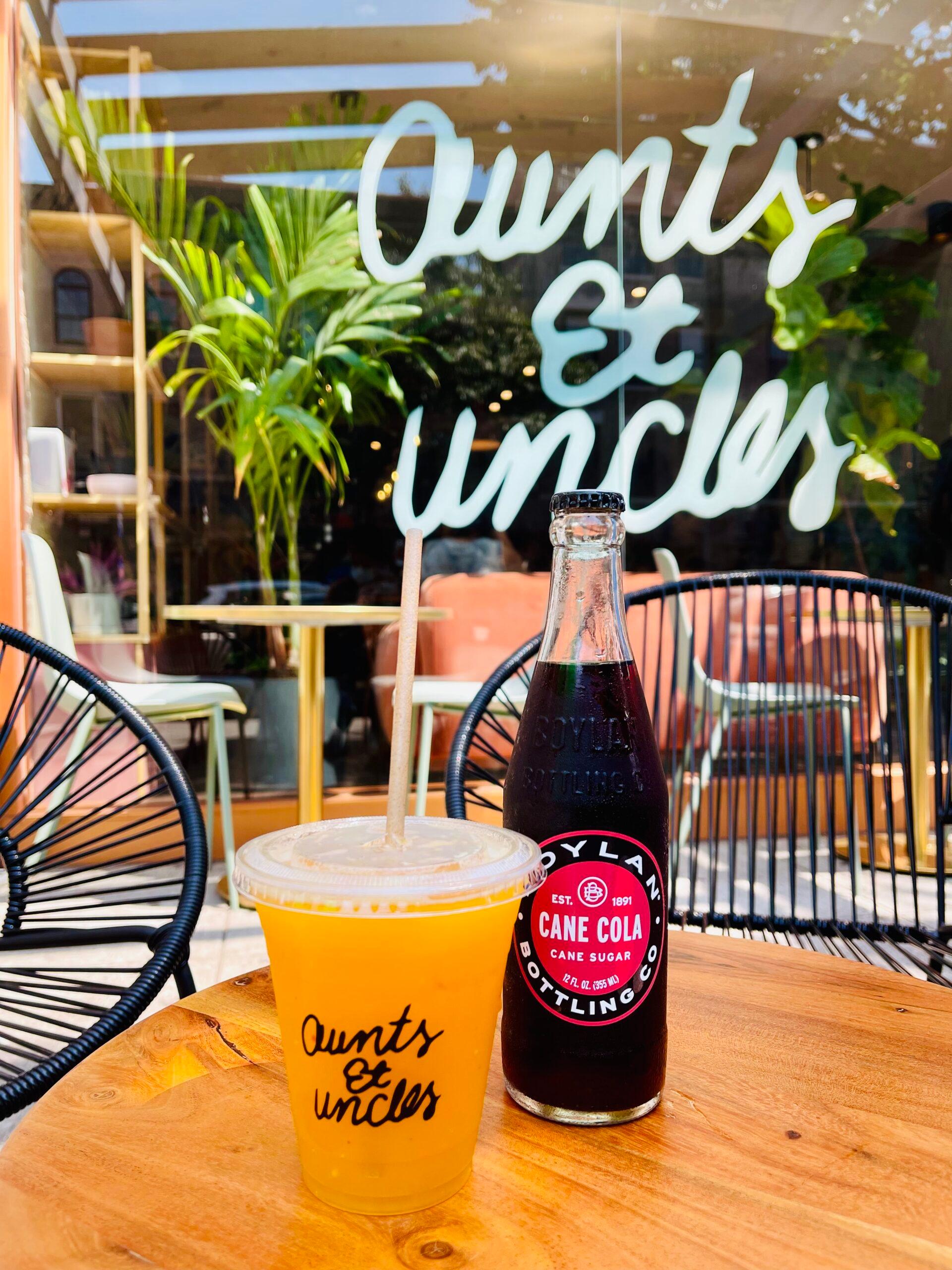 "This piece we call "Sekou" (the name means WARRIOR) is YOU! He's resilient, strong, patient, curious, driven, creative, proud, fearless, optimistic, to name a few traits," the designer shares of his work, a humble nod to his time in The Magic City – Miami. Adding, "Sometimes we feel we lack most of those traits but they already exist in us. We just have to tap in!" According to their website, only 305 prints will ever see the light of day; with each donning the artist's hand signature.
Now, let's talk about the grub. Racking up an impressive 5-stars on Yelp, it was no surprise to see the summer hot spot buzzing with excitement. Apparent besties sipped on menu favorites like Sunday's Best – a spicy concoction of Sauvignon Blanc, passion fruit, chili peppers, and fresh lime – while bobbing their heads to a Tik Tok dance-worthy playlist. Meanwhile, younger patrons gleefully grasped long-neck embossed glass bottles filled to the brim with Cane Cola, by New York's very own Boylan Bottling Co. With drinks (a standard coffee and wine list included) ranging from a moderate $4 to $14, there's a little something for everyone itching to beat the heat.
Article continues below advertisement
But, what's a refreshing cocktail without the perfect pairing – a Caribbean-infused menu with an emphasis on meat substitutes, grains, and veggies? Take, for example, the Au Burger featuring a thick and juicy Beyond Meat patty topped with caramelized onions, spicy mayonnaise, bbq sauce, and fresh arugula, sandwiched between a soft pretzel bun. A theme that alluded my guests, who if I hadn't had mentioned "would have never known" of its plant-based origin. "When we get someone to come in here that's not vegan, and they've got to taste something on the menu, we've got to make sure that we're showing up for their taste buds," Nicole, who has a background in hospitality once told CBS New York of their desire to cater to a diverse palette.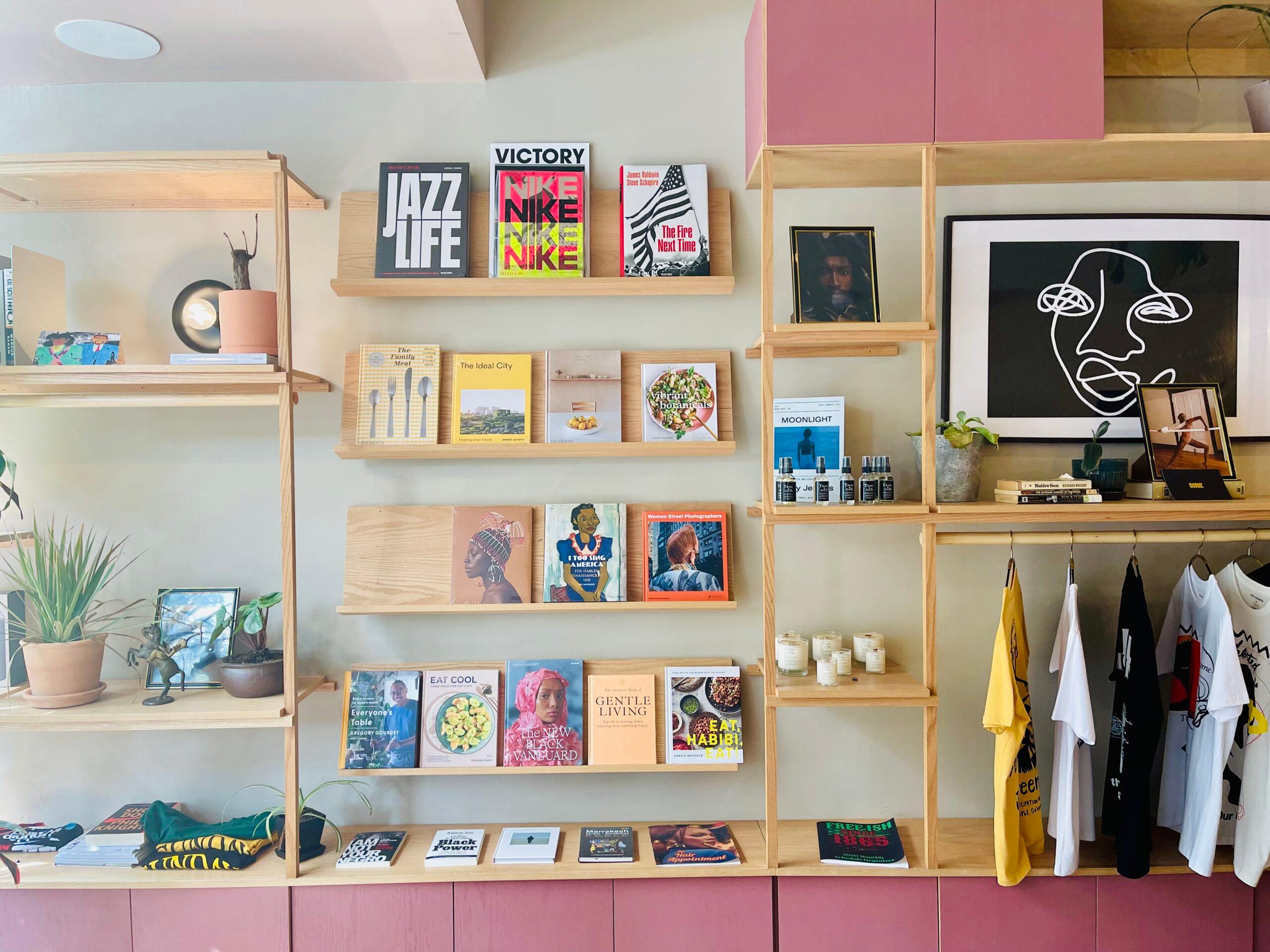 Additional signature selections include popular finger food, the Tivoli Taco (born in the summer of 2020), and a cruelty-free take on an American breakfast staple – the E Classic, featuring Beyond Breakfast Sausage, Just Egg, and sweet and creamy vegan-smoked gouda cheese, served on a toasted English muffin. Meanwhile, those on the fence about indulging the not so novel concept of processed patties are not left without a wide variety of alternatives. Hearts of palm – sustainably sourced – are sautéed with ripe tomatoes and peppers and stuffed in a fresh bake, a traditional Caribbean fried dough. The "Lobster Roll," also a season favorite, boasts rich notes of dill and features a toasted bun slathered in Rosemary Butter. "It was one of the first dishes we learned how to create in plant-based form." AU's Facebook reads. Concluding it "came out so good we had to share it with you guys."
Article continues below advertisement
Rounding out the menu is a handful of hearty, healthy vegetables such as the All Green Everything, a summer salad chock full of sautéed okra, asparagus and Brussels sprouts with a hint of homemade pesto and the Wild Flower Salad riddled with roasted purple cauliflower, wild rice, and sautéed greens. (Meals, $8-$16)
Prior to exiting we had the pleasure of bumping into Taylor Tankson, Co-Founder of Tribe & Oak – a current retailer at Aunts et Uncles – who shared with us the significance of the thriving hub for the community, culture, and commerce. "We need more places like this," she shared, noting that her dream which was realized during the height of the pandemic "just took off," thanks to the support of community-centric businesses like AU, among others.
"We want to give people good food, good vibrations, good reads, good music, good drinks. It's just a cool space to converse and build, learn, educate," Michael elaborated to CBS New York, of ushering AU, a marriage of family, food, culture, and flavor into a new era and we are here for it.