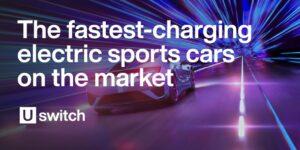 The Top 10 Fastest Electric Sports Cars on the Market, Data Reveals
Electric sports cars are accelerating worldwide, as searches for 'Sports EVs' increased by 400% in the past year.

By Justin Wallace

Jun. 21 2022, Published 10:50 a.m. ET
Electric sports cars are accelerating worldwide, as searches for 'Sports EVs' increased by 400% in the past year.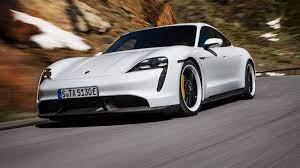 But what is the fastest electric sports car on the market? The Porsche Taycan Turbo S has been revealed as the speediest electric sports car, scoring 9.64 out of 10 in the Uswitch.com/ev-charging speed index.
This study by Uswitch.com/ev-charging created a points-based index that determined the top 10 fastest electric sports cars on the market by evaluating two main factors, the acceleration speed (0-100 km/h seconds) and top speed of 55 sports EVs, resulting in a final speed score.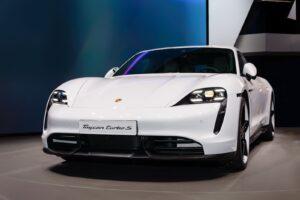 Article continues below advertisement
Porsche hits number one, with the Taycan Turbo S achieving an overall speed score of 9.64 out of 10. Taking just 2.8 seconds to reach 62 mph, the German Taycan Turbo S has the highest acceleration speed of all the cars analysed. Its top speed is 162 mph, matching the Tesla Model 3 Performance, but a 0.5 second difference in acceleration time (2.8 seconds for the Porsche and 3.3 for the Tesla) places this model in the top spot with the highest overall speed score.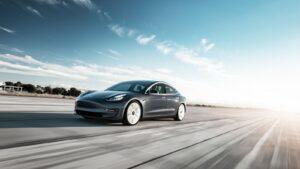 Article continues below advertisement
Tesla's Model 3 Performance follows behind as the second-fastest electric sports car, with an overall speed score of 9.55 out of 10. This EV has a top speed of 162 mph, equal to the Kia EV6 GT (fourth place), and has the ability to go from 0-100 km/h (62 mph) in 3.3 seconds. The Tesla Model 3 performance has a 78% increase in acceleration to its sister model, the Tesla Model Y, which places eighth.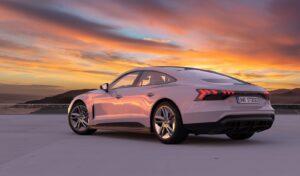 The Audi E-tron GT RS comes in third spot, with an overall speed score of 9.38 out of 10. When it comes to acceleration speed, the Audi matches the Tesla Model 3, taking 3.3 seconds to reach 62 mph. However, with a top speed of 155mph, the E-tron GT RS (155mph) falls into third as it's nearly 5% slower than the Model 3 Performance (162mph).
If you wish to read the rest of the study, please kindly go this link: www.uswitch.com/electric-car/ev-charging/fastest-charging-ev-sports-cars/