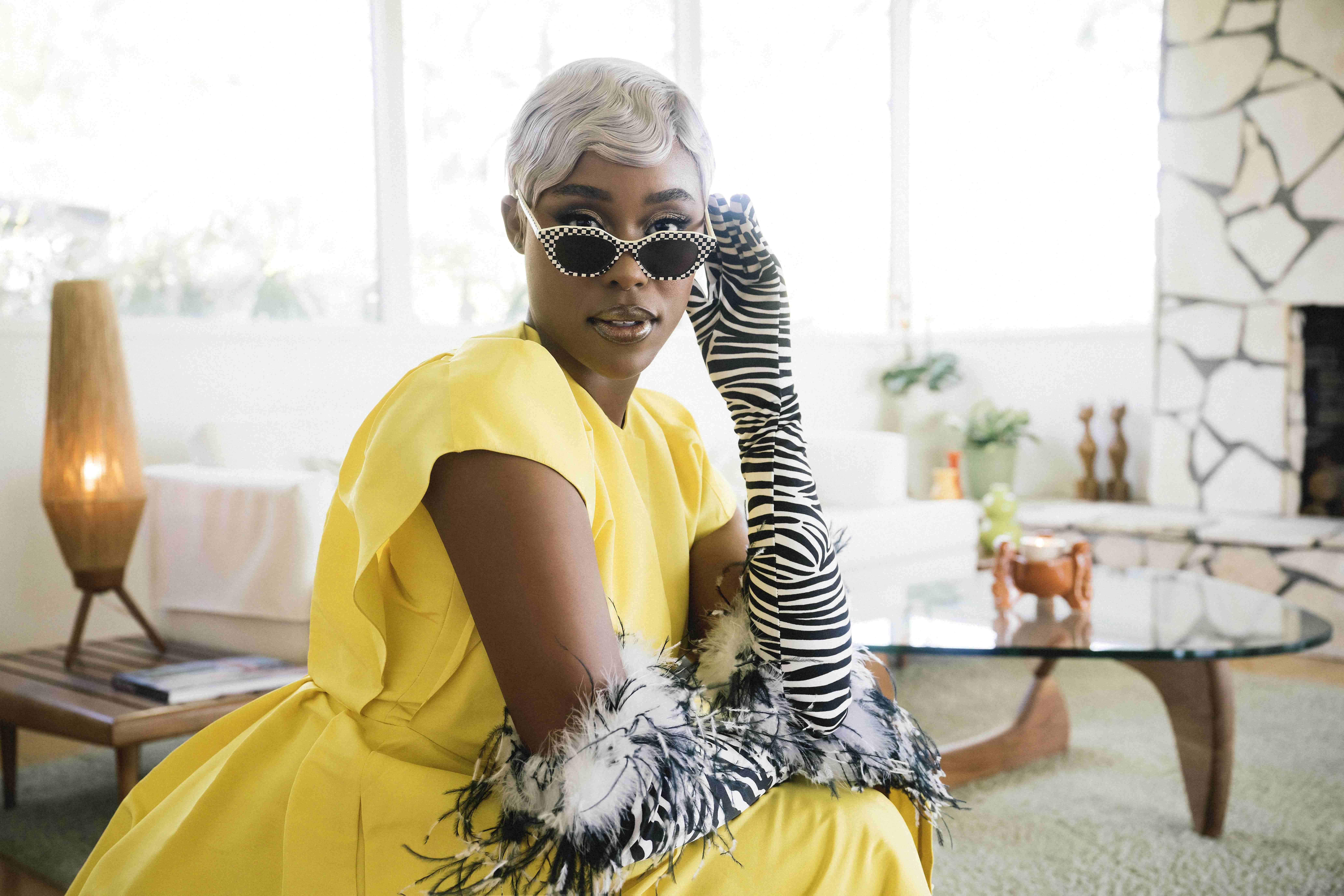 Jerrie Johnson: A Class Act
From the first sibling to graduate college to being the first one cast in the series Harlem, the actress and creative speaks on manifestation, creating her own lane and how their career is just getting started.

By Chris Lawrence

Jul. 11 2023, Published 3:00 p.m. ET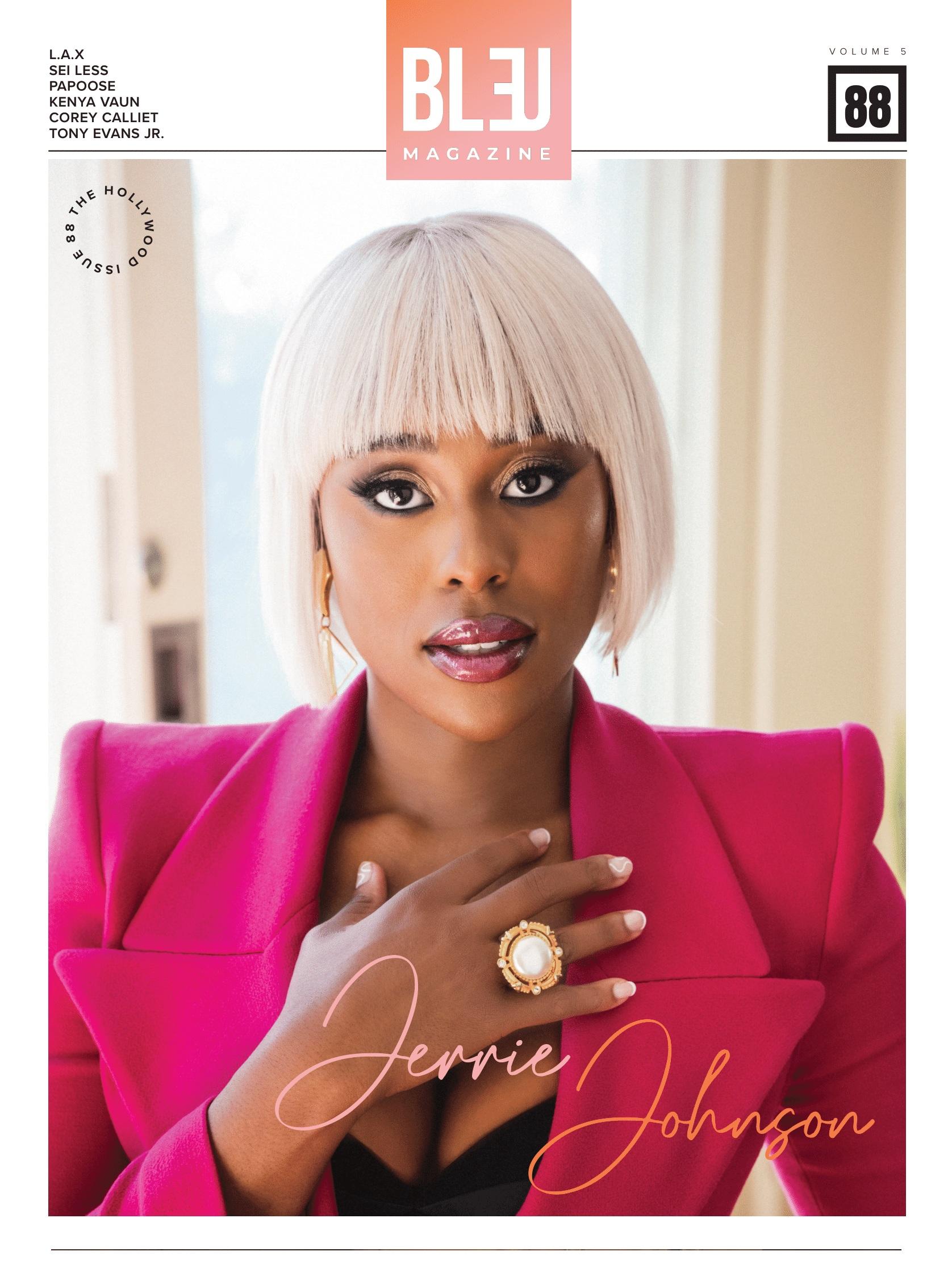 "So I can still eat a little bit," Jerrie Johnson asks innocently.
Our interview has just begun, and I'm alerting them to the fact that I'm recording our Zoom call, but only for transcribing purposes. Though to be honest, I wish you all could see the video and what I was able to witness.
Johnson is stunning. She's wearing makeup, but it enhances, not erases her natural beauty. Her signature short blonde haircut pops against a wall of art, thriving plants and houndstooth chair. In short, she's embodying the phrase "I'm ready for my close up." And we all can't wait to watch.
Johnson's been "centering themselves and blossoming creatively" after a much-needed vacation in Jamaica for Carnival. There she spent time with a who's who of Black Hollywood and if her Instagram feed is any indication, big fun was had indeed.
"After press and award season, it was giving like ok, you need a break. As soon as I got to New York, I got this new creative energy. Things I want to write, things I want to create, just getting them down on paper," Johnson explains.
Article continues below advertisement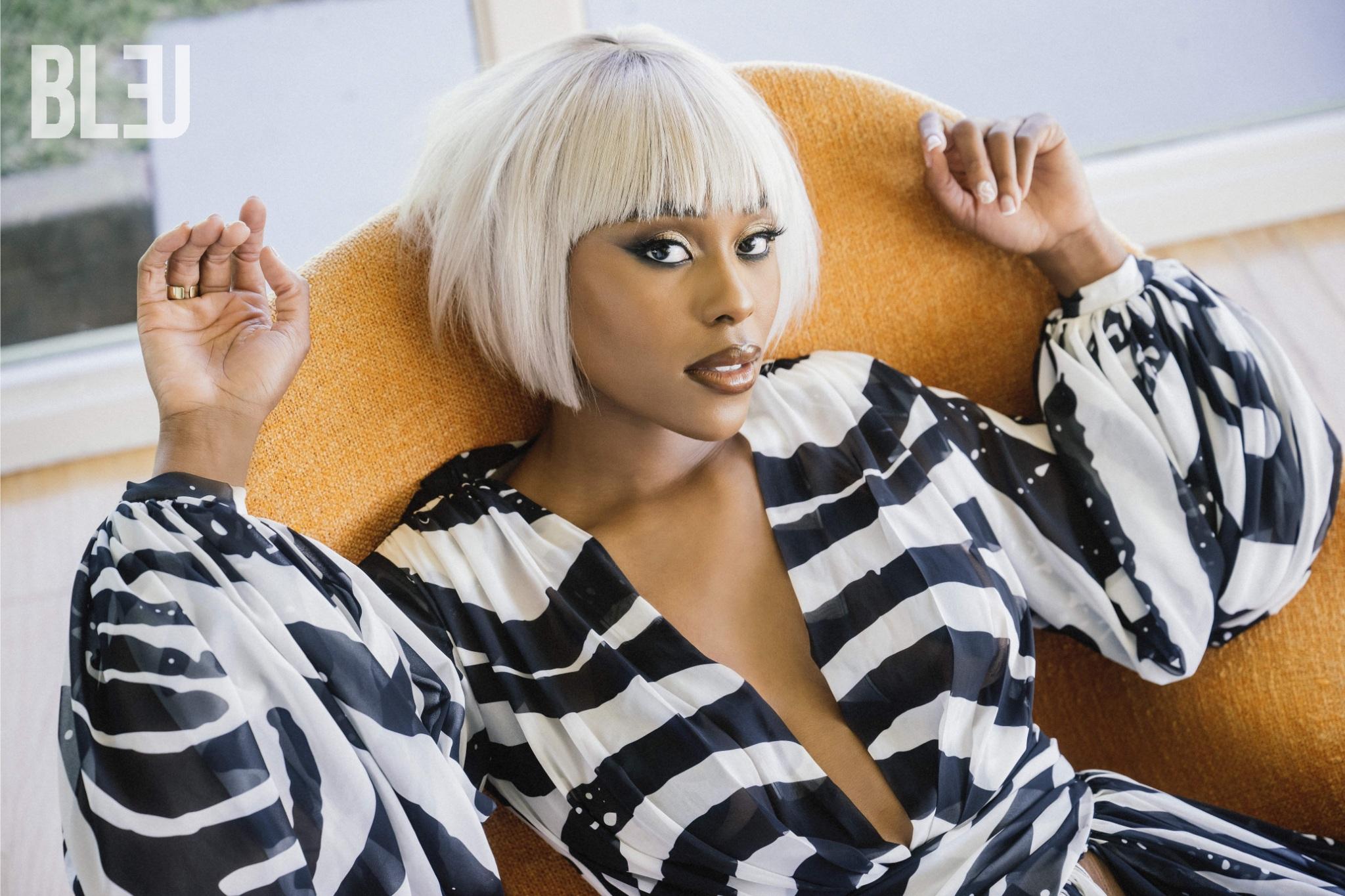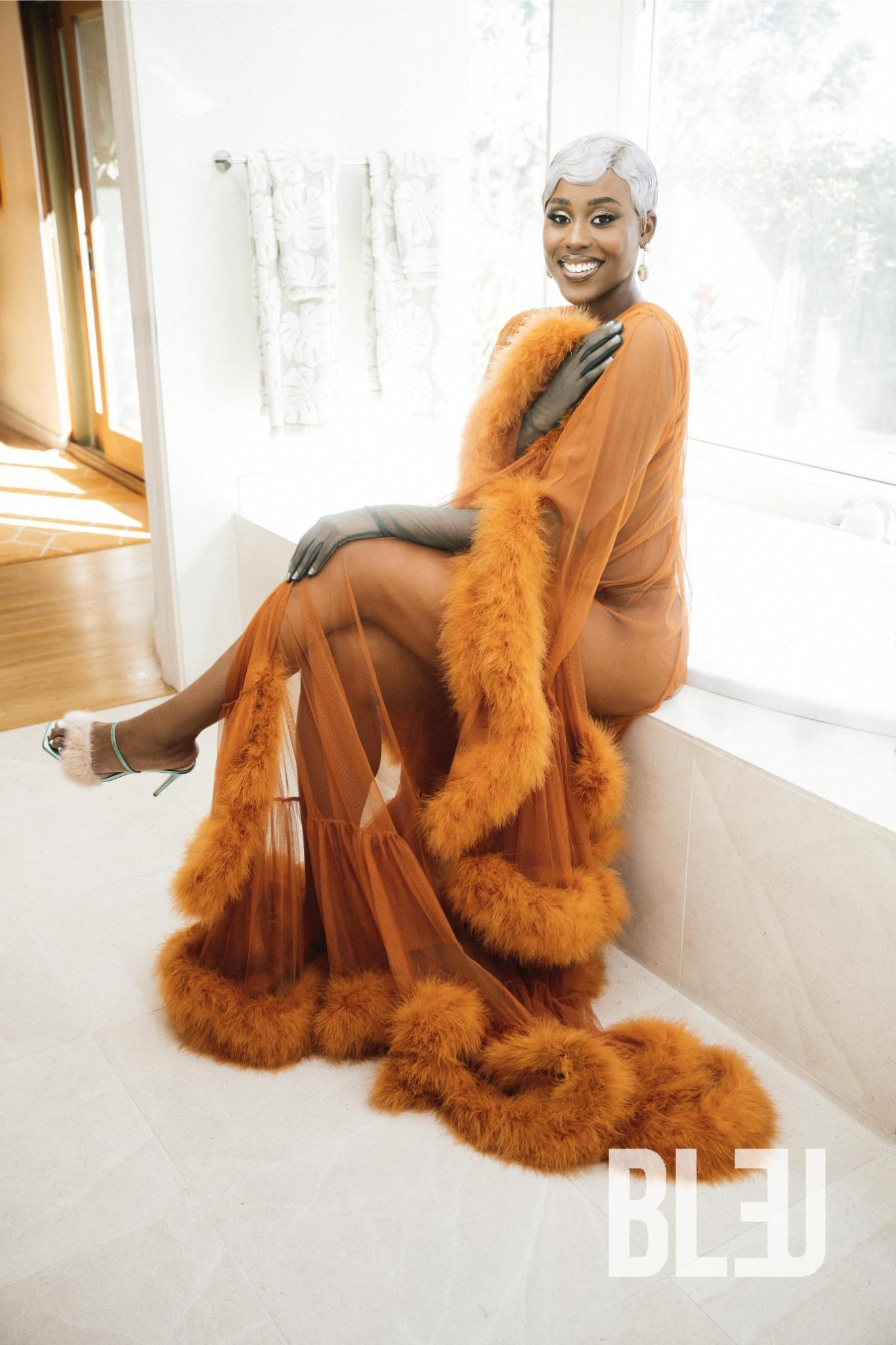 Article continues below advertisement
As a Philadelphia native, Johnson's love of the arts started in middle school.
"I was a very outgoing child, I would do all the talent shows and assemblies. I also was a mentally gifted student, but my mom never signed the papers for me to get skipped—so I would just be in the back of class, reading books, writing poetry and writing book reports because they [her teachers] didn't know what to do with me," Johnson says.
It was a particular assembly where a last-minute switch from singing to reciting a monologue from For Colored Girls Who Have Considered Suicide / When The Rainbow Is Enuf by Ntozake Shange.
"I did The Lady In Brown. I remember reading the book and how transformative it was. I had never read my experience — the experience of my family members — articulated the way Ntozake articulated it in For Colored Girls. I was moved by this," Johnson says.
Inspired by this performance and encouragement from her school and her family (mainly an aunt who also was an actress), Johnson auditioned for the High School for Creatives and Performing Arts and of course she got in.
"It just changed me," Johnson declares. It was the birth of my art activism. It was the birth of Jerrie the actress and performer. It was the birth of Jerrie the host. I was able to transmute the energy of my poetry, I was writing a lot. It was such a creative center and it truly saved my life. I think if I went to a different high school in Philly, I would have been a different person. I would have had to guard myself in a way I had to at this school."
Like most creatives, Johnson dreamed of moving to Los Angeles to become an actress, but at the urging of her drama teacher she went to college at Penn State University instead. Where in most households, college is a concerted effort, Jerrie admits it's something she did without much help.
"My mom doesn't know anything about school. My four eldest siblings didn't go to school[college] and half of them didn't even finish high school. I'm doing something really new, even graduating from high school was really new," Johnson explains.
At Penn State, Jerrie studied Theater and African American Women's Studies with a minor in Arts Entrepreneurship.
"I was everywhere, I was doing all the things. When I think back to my time in college, I don't know how I had time to do half the shit I did," Johnson exclaims.
Article continues below advertisement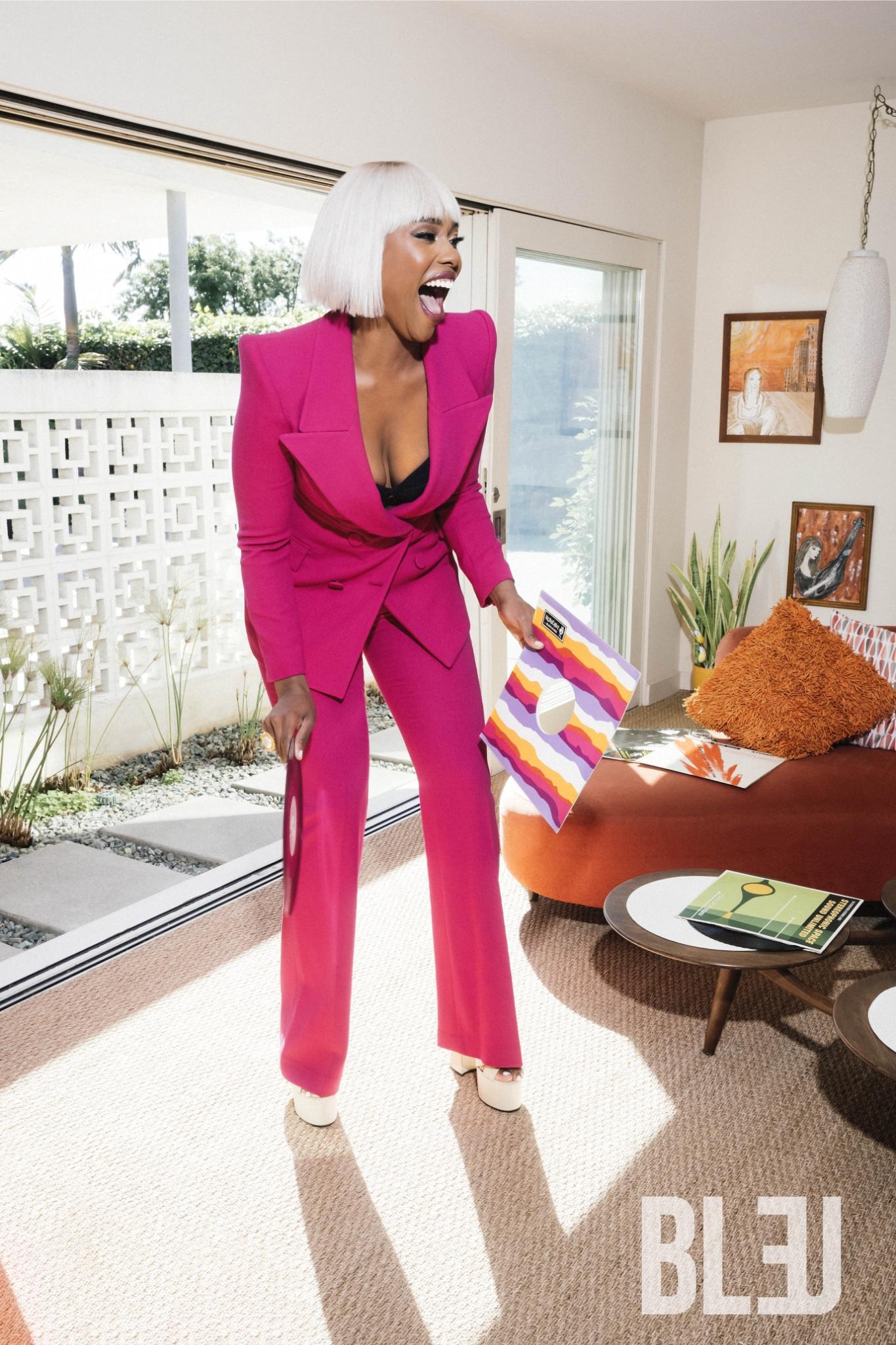 It could be said that her ability to be creative and multitask was honed here, but perhaps her full on chops were developed in grad school where she performed at American Conservatory Theatre which serves such alumni as Denzel Washington and Anika Noni Rose.
"I remember standing on the roof after my audition looking at The Bay, and I'm like I'm going to go to school here. I ended up getting in and going to school here. After that, I said, I'm finally going to move to LA and become a star. And I did… in six months after that declaration," Johnson says with a smile.
Her journey to stardom has been a wild one, and it's just getting started. Let's see how Jerrie Johnson's career as a multi hyphenate creative has come from her humble beginnings.
Article continues below advertisement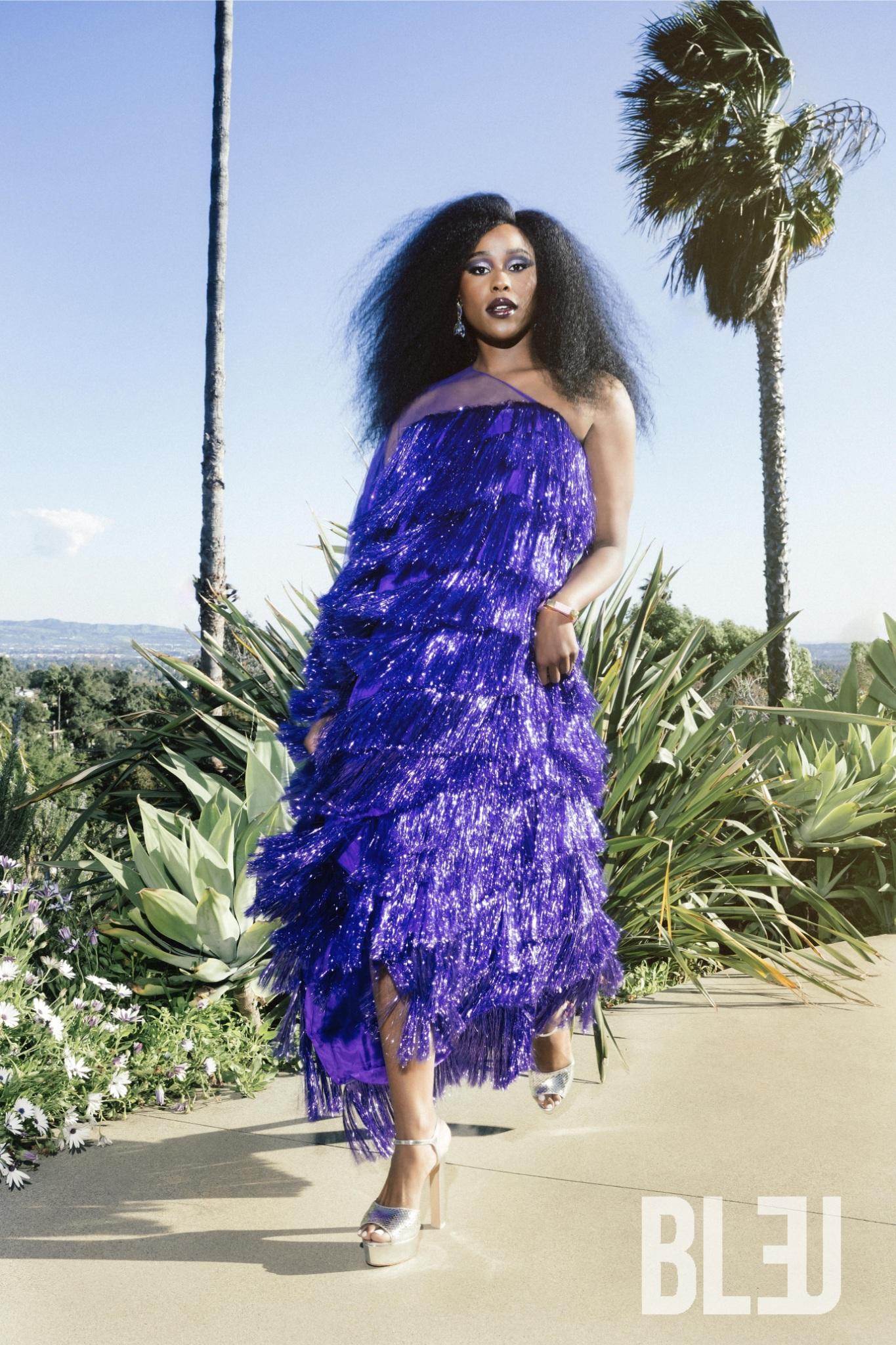 Bleu: What's the best thing that's happened since you booked Harlem?
Johnson: The best thing that has happened is the family that I gained — which didn't go without intention. Like when I manifested this show, I specifically talked about the goodness of the people I wanted to work with. I was intentional about attracting and manifesting people who are in alignment [with her values]. I developed sisters but deep mentorship. For this to be the first big thing I'm doing in the industry and for me to be ushered in by these angels, it feels like Oh yeah, you're good, this is right where you are supposed to be. I know that no matter what project I do next, I have a built-in community of what I want to achieve and beyond and who I hope to create bigger things in the future.
Bleu: What's been the most challenging?
Johnson: Being a first generation person coming into money and not having people have real technical conversations with you. People are always like "Save your money". But save my money? I don't have experience saving money. Money was always complicated growing up. My mom was a drug dealer, okay? She also worked at a bar and was a bouncer and bartender. People in my family have done some questionable things for money.
I wished there were like these old Black actresses that were like (does impersonation) "We heard that you booked a series regular…come meet us at this address" and they would tell me do this, do this, don't do this. The first year of my success was a struggle. There was the pandemic, my first experience with taxes, and it's like damn. But then I'm traveling all over the country with Amazon, I have a styling budget—and people are making assumptions about what my finances are and how I'm doing. I want to ask for help when people assume you're doing well. I'm trying to do something I've never seen anybody do. It's difficult for me to be in a nice ass hotel in LA and people are asking me to come out, and I can't afford an Uber to go see them.
I now have a business manager and I still have anxiety about things, but [having a business manager] allows me to have a little distance.
Article continues below advertisement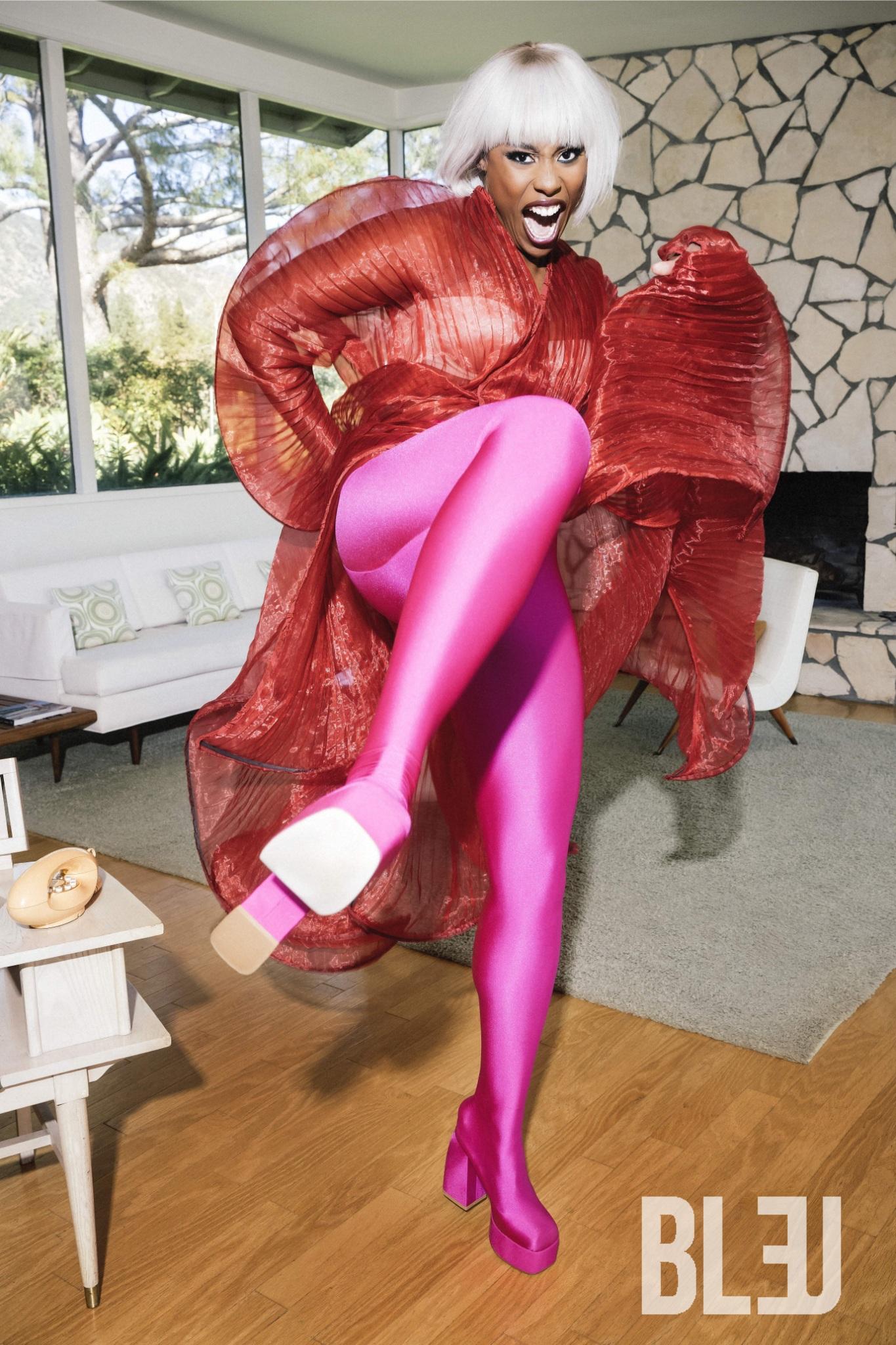 Bleu: What's the most important thing you want to accomplish as an actress?
Johnson: I want my people to have creative equity in our own creative space. A dream of mine is to buy a farm and have an artist commune on the farm where people can come and create art sans the commercialism. To create a safe space which encourages autonomy in people where you can do weird shit, you can throw some paint at the wall and watch it stick or not. I think Black people need the space to create without always having to feel like it has to be perfect or sellable. On a bigger scale, I want to be known for artistic healing— as a joy specialist. Sometimes it comes through the work that I do. I can heal people because I have this platform, based on the characters I play or the conversations they are having.
Bleu: As an actress who has some similarities to your character, how do you bring truth to her world and that character without typecasting yourself or bringing that with you post filming?
Johnson: When I'm playing Tye, I do feel myself being more like her than Jerrie.I'm a bit harder. When I was in grad school, we would do this exercise where we would metaphorically unzip from the character and come out of the character at the end of the day, so we aren't taking them home. The week or so after filming is really precious for me, that I have to go away somewhere, regroup and recenter. Tye is a little bit more masculine presenting than I am —although I do have an equally lit masculine and feminine energy. For Tye, I did have some internal struggle at first because I didn't want her to be girly as well. That's a thing we do in the Queer community, especially like Lesbian women, you want to go so far to the other side, but it robs you off that balance. I wanted Tye to have some softness, some fluidity, some androgyny. She loves being a woman—but she's gained this masculine energy through her work. For me, I don't always identify with being a woman, but Tye would probably be like… What the fuck is a pronoun… I'm she/her. I'm not going to police myself, and that's how I stay away from stereotypes. If I bring my authenticity to it, I bring my ancestors and my hood niggas to it, then it's always going to be authentic, it's always going to be real and never a recreation of something harmful.
Article continues below advertisement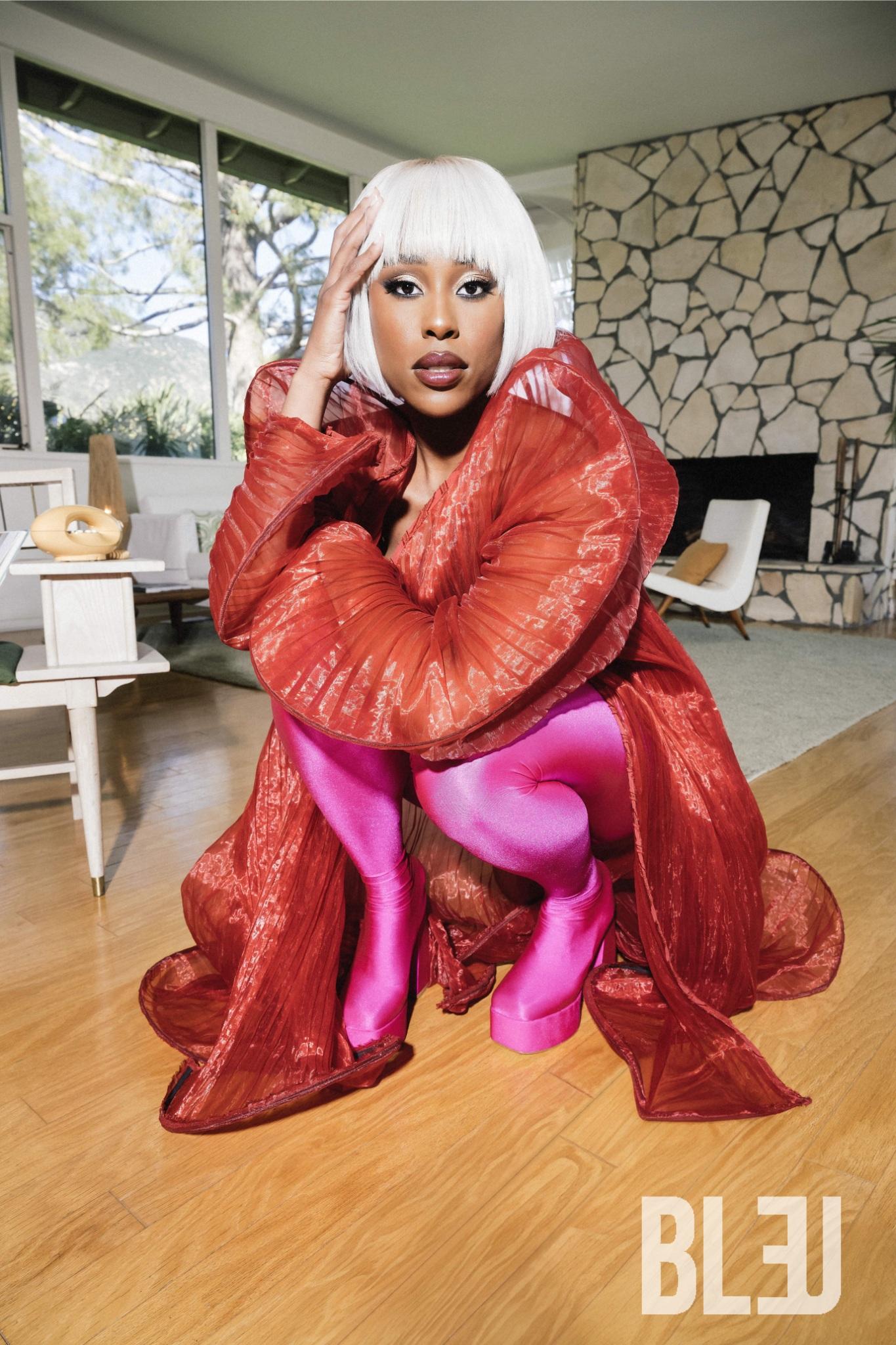 Bleu: Fashion is a big part of Tye's character and clearly yours. What's your relationship with fashion?
Johnson: Let me tell you, when I was in high school, I couldn't really afford the styles I wanted. I have an eye for aesthetics, and I'm really particular about it, and that's my Virgo moon. I would find different ways to get creative with being broke and wanting to be fashionable. I would buy these $5 dresses from H&M in every color, and then I would thrift bomb-ass blazers and jackets and put them together. After high school, I was living with my aunt and for whatever reason she wouldn't let me get my clothes to go to college. I went to college with a pair of jeans, a pair of shorts and two shirts. I was devastated, but it allowed me to not be attached to material things. I like things with sentimental value. I sew, so I like to edit things and create new looks. Now I get to collaborate with somebody else and play dress up. It's really about how I feel, and I never want to be in uncomfortable pieces.
Bleu: You talk about manifesting often? What have you been manifesting lately in your life?
Johnson: I'm manifesting a movie. I'm manifesting an unscripted series. What I'm learning is people think I'm not available during my hiatus. But I like working and want to continue to expand the work that I've done. After I booked Harlem, it was a bit jarring to my agency at the time (which is why I'm no longer with them), I was like ok now we can find my movie, and they were hesitating. Sometimes the feedback is like You're young, you're a series regular, just be happy with that. I'm like, but you wouldn't tell Kaley Cuocoo that. So yeah I want to be on film, I want to reprise my solo show, and I'm in a creative space. At the larger level, I'm manifesting ownership. I wanna be on my farm and drive a van across the country, but I don't have my license!
Bleu: That's next!
Johnson: That's actually the first manifestation.
Pre-order a copy of our latest issue featuring Harlem's own Jerrie Johnson here.