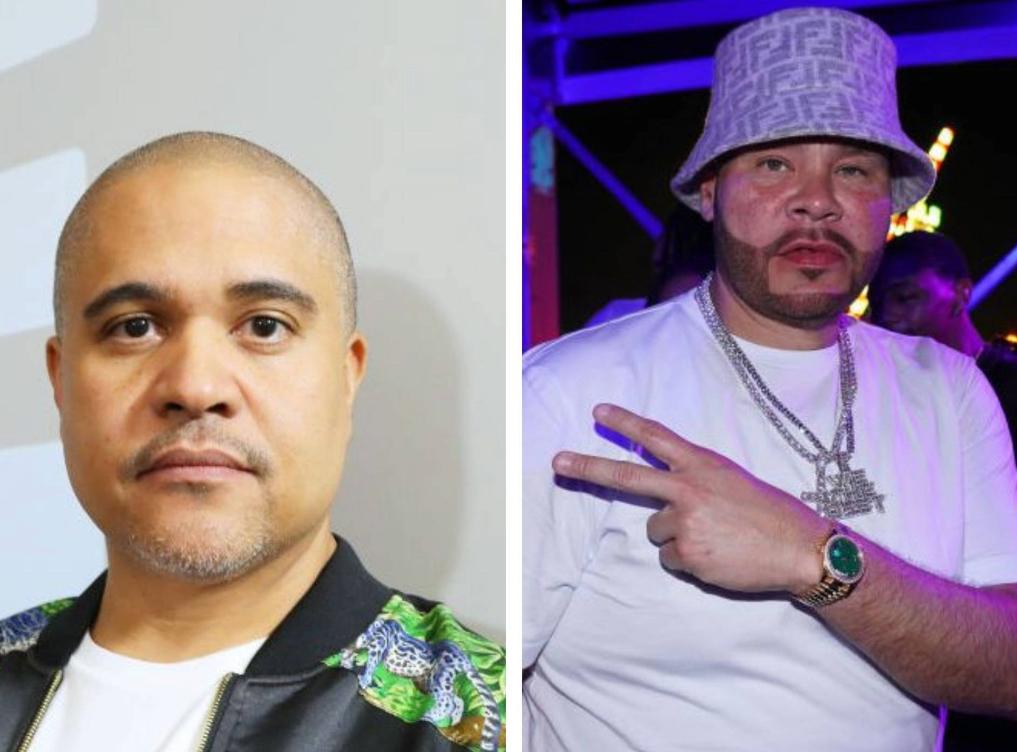 Irv Gotti & Fat Joe Have Beef— And It's for a Shockingly Predictable Reason
Irv Gotti and Fat Joe are both veterans in the music industry, as well as long time pals, but it seems like the two are at odds. Here's what happened.

By Sughnen Yongo

Aug. 31 2023, Published 2:34 p.m. ET
The internet went into a frenzy after Irving Domingo Lorenzo Jr., popularly known as Irv Gotti, shared that he and veteran rapper Fat Joe are at odds. The announcement came during a recent episode of the culturally renowned YouTube show Drink Champs. In the conversation, Irv mentioned being upset with the Bronx native for calling him out online and seemingly taking sides after Irv revealed his past situationship with R&B icon Ashanti.
The interview took a turn when, reportedly under the influence, Irv began to divulge intimate details about his once-private romantic involvement with Ashanti. Until then, these aspects of his life had remained partly shielded from public view. Unsurprisingly, the internet went into an uproar, with many people calling out the music executive and others poking fun at the entire fiasco. He went into other explicit details that left many fans stunned.
Many fans were not pleased with the revelation and even took to social media to voice their annoyance.
"Irv Gotti chatted himself right into sexual harassment allegations. All he had to do was not say s**t, and Ashanti was probably never going to address him again," an annoyed fan tweeted. Among the people who were annoyed with Irv Gotti, was Joseph Antonio Cartanega, also known as Fat Joe, and he did not hold back when he publicly addressed Irv's comments.
Article continues below advertisement
After the Fat Joe's clip went viral, Irv addressed the issue during an interview with Houston's 97.9 The Box.
"I feel like [Fat Joe] fooled me. He's not my friend. I was fooled, but in life, you get fooled," Irv explained during an interview with Houston's 97.9 The Box. "Forget Joe 'cause they don't want me to talk about Joe, so I won't talk about Joe; I'll talk about life. And in life, everyone goes through friends."
Article continues below advertisement
Fat Joe saw things differently and responded to the veteran executive's comments shortly after, saying,
"Irv Gotti said I'm no longer his friend. And he's correct because I'm his brother," Joe explained in the livestream. "And I love him, I love his entire family, I love his mother, I love his sisters, I love his brothers, I love his sons. I love them all. And so sometimes, brothers check each other. That's the furthest I'm a go."
How did the Irv Gotti and Fat Joe beef get started?
The initial debacle started a year earlier when Irv appeared alongside hosts N.O.R.E. and DJ EFN on Drink Champs. During that appearance, he delved into his upcoming documentary and the trajectory that positioned him as a driving force behind Murder Inc., explored his varied business ventures, and offered insights into his formative years in Queens.
Article continues below advertisement
Other fans were less forgiving with their feedback and did not mince words when detailing how they felt about the music executive's actions.
Article continues below advertisement
Article continues below advertisement
It now seems as though Irv is still holding on to the grudge against Fat Joe because, in the recent Drink Champs interview, he stated:
"Fat Joe was my brother; I do not feel Fat Joe is my brother anymore," the veteran record executive said. "I guess it's a Cancer trait because once you show me who you are or speak negatively about me, it's over. His defense and [Ja Rule's] defense is they do shows with Ashanti … but Rule would never come out and say Gotti's a sucka."
Article continues below advertisement
He did not stop there; he went on to share that although JaRule was in on what happened behind the scenes, he never came out to bash him.
"...But my thing is like, 'N*gga, you don't even know what went on with me and Ashanti.' So, for you to say anything is crazy because you don't know what the hell went on with me and her. Rule knew he was there. That's why all my n*ggas never said nothing."
After the initial interview aired a year prior, Ashanti did a sit-down interview with Angie Martinez, where she shared her side of the story about what happened.
"It's very unfortunate how Irv decided to handle his documentary. It's a little sad to see a grown man conduct himself in that manner. I feel like the Murder, Inc. legacy is so much bigger," she said. "The way he handled it tarnished and cheapened the brand…that's so selfish and so degrading."
Fans who kept up with the interview once again turned to social media to express their support for the singer. Rumors have since circulated that she has reunited with her former flame, Nelly, adding to the buzz surrounding her elegant handling of the issue. It is unclear if Irv and Fat Joe will make amends, but from what we know, it appears that love has got everything to do with this situation — well, at least for Irv.