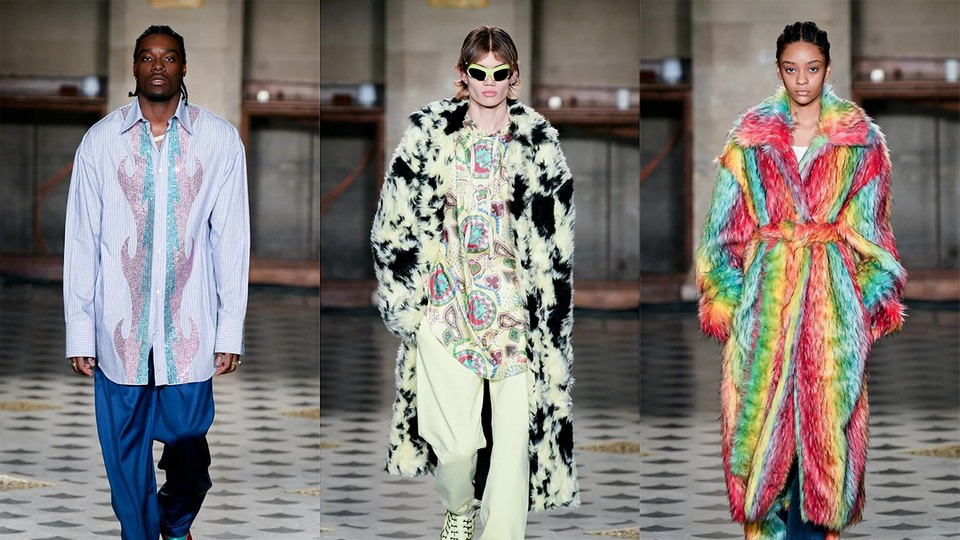 Paris Fashion Week Round-Up 23'
Men's Fashion week in Paris officially went down this January - and the forecasts for the Autumn/Winter 23 season are in.

By Jason Kwame

Feb. 2 2023, Published 10:15 a.m. ET
Men's Fashion week in Paris officially went down this January - and the forecasts for the Autumn/Winter 23 season are in. You didn't make it? Don't fret. Here's a picture-perfect rundown, and play by play of the heavy-hitting shows and styles of the season, to help you make the best style picks for this winter.
Article continues below advertisement
Sacai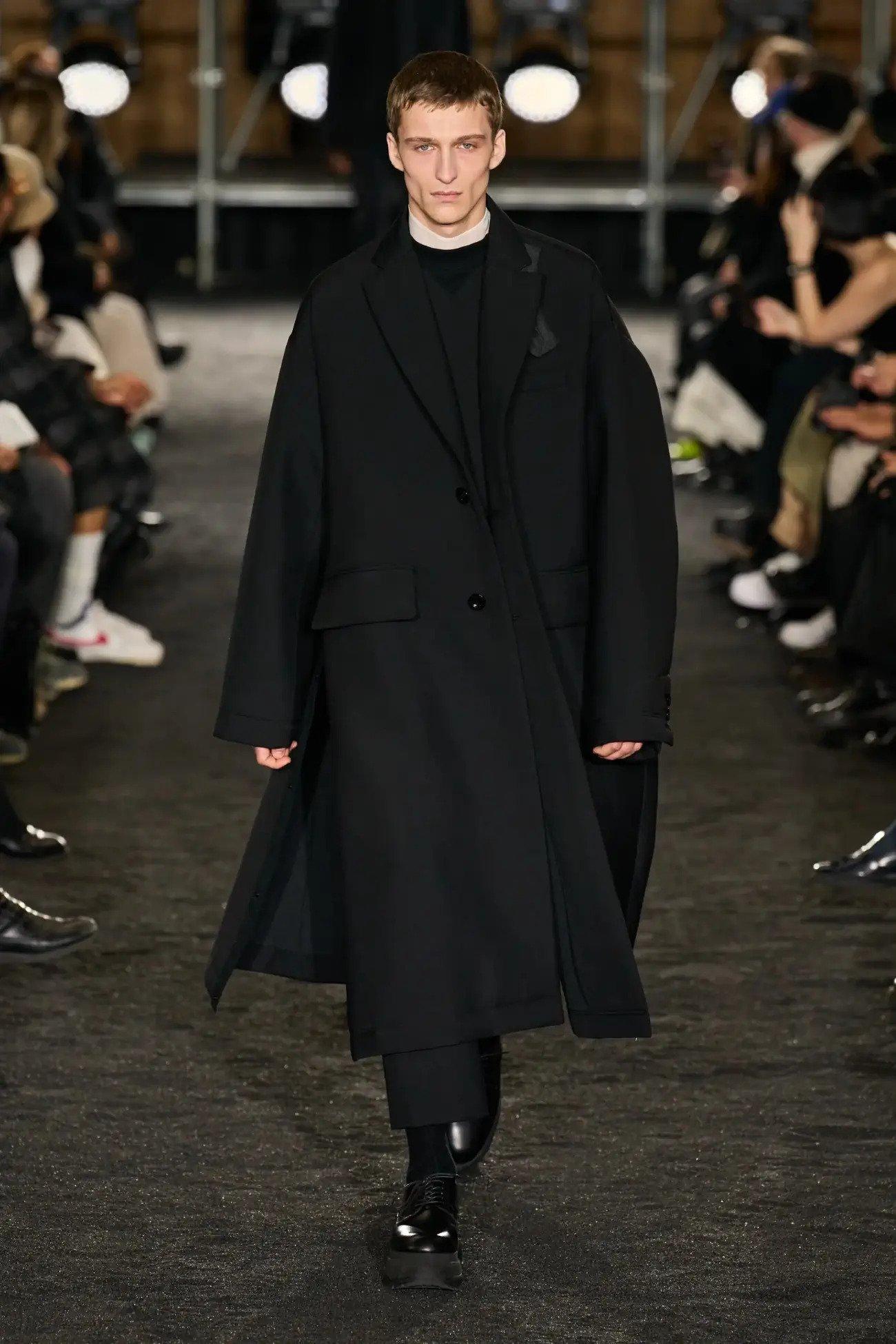 Sacai came strong, bringing a joint mens & womens show offering to Paris this Autumn/Winter season. The eclectic Japanese brand - most commonly known for its highly coveted, deconstructed Nike Vapor waffle & Blazer collaborations that almost always sell out instantly - this season informed newer fans that designer Chitose Abe really is and has always been about her fashion since 1999. Collaborating with Carhatt on some of this collection's pieces, the brand presented a perfect blend of classy, luxury simplicity and expressive, complex streetstyle. Only a brand like Sacai can effortlessly blend upscale tweed with winter puffer jacket fabric to make a coherent outfit!
The show reminded us that you do not have to freeze in the name of being fashionable. Winter sensibility was on full display with a strong focus on statement jackets: puffers, bombers, long length parka jackets with asymmetric openings, peacoats and more. A lot of the collection relied on office-friendly deep and dark navy tones, with focus on the slacked, oversized yet practical tailoring and silhouettes. Despite the designs being monochromatic and uniformly layered, nothing about the collection was ordinary. Each style had multiple ways of being worn, with some even zipping up to make backpacks or a whole new outfit completely. Designs open to interpretation never flop.
Most definitely, the standout pieces were the multi-color gradient cardigans, shifting the somber dark blues into warmer greys, reds and pinks. Almost resembling the vertically striped test pattern of a tv with no signal; it gave a refreshing intermission between the collection.
As expected, Carhatt brought a perfect touch of workwear-chic to the collaboration, with outdoorsy denim sets, brown hunter style jackets, deep blue utility jackets with endless pockets and forest green knitwear bodywarmers. The fun was added with wooly jackets, pops of orange bombers layered with matching trousers, and icy grey and white ski fits too. Sacai did not disappoint!
Louis Vuitton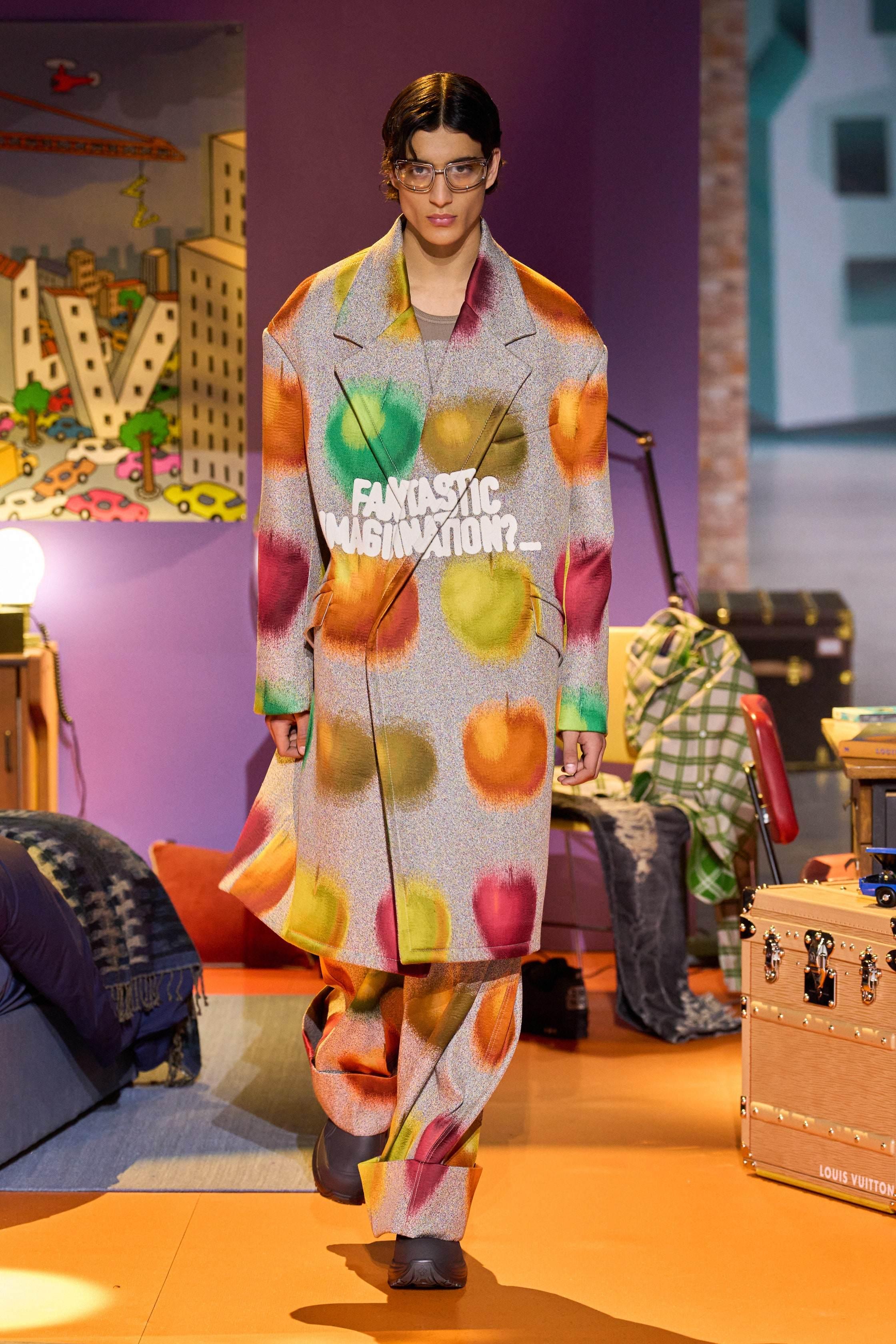 Louis Vuitton continued on in honoring the late-great Virgil Abloh's legacy, paying homage to his boundless, youthful creativity and imagination. With a mesmerising and unpredictable live performance from the Motomami herself Rosalia, and a host of other hit making front row guests - the likes of Roddy Rich, Tyga, Usher and an overly excited Kodak Black - LV gave us a full experience. On a runway set recreated to resemble multiple playrooms, models played and walked wearing looks curated by Virgil's original team with the help of rising New York based cult brand Kidsuper. With over 70 looks, designs included Kidsuper's signature mosaic patchwork face silhouette merged with the Louis Vuitton monogram to make coats and duffle bags. Also, a statement grey optical illusion dotted overcoat & trousers, sparkly sequined LV monogram denim, starry sequined varsity fits, and a metallic-effect airbrushed leather bomber jacket. A crimson red puffer jacket and tracksuit sets too. What remained a constant was Virgil Abloh's reinterpretation of formal suit tailoring, blending the oversized skater & streetwear DNA to fits and finishes of each look.
All gave subtle reminders of Virgil's immense impact on luxury fashion and almost never-ending archive of ideas. In true Abloh form, hope was the message, especially with designs emblazoned with the words "blurry vision with a bright future".
Article continues below advertisement
YSL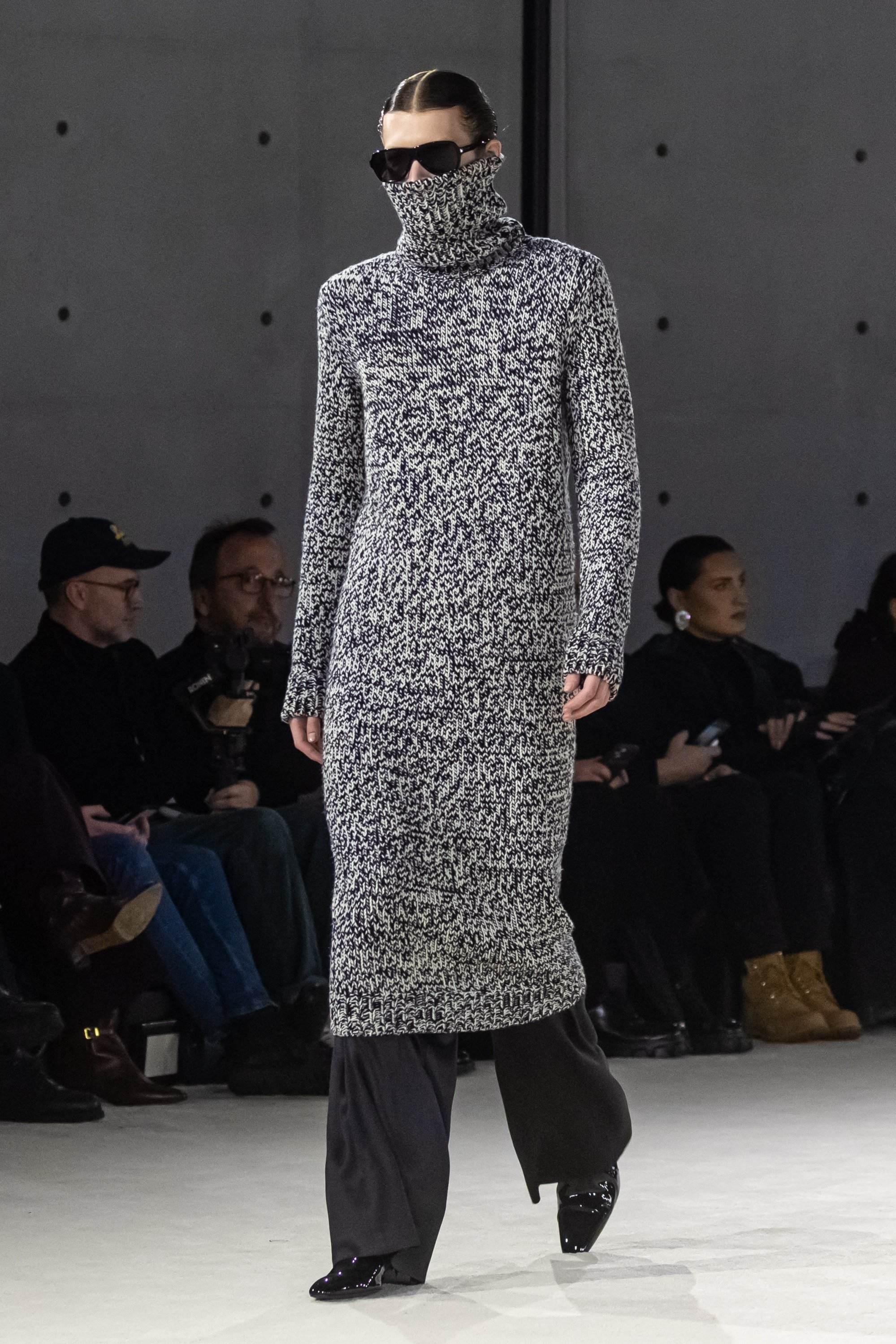 YSL's sleek, sexy and luxurious evening show brought out fashion's cool kids - from musician Steve Lacy's to Coi Leray and Wednesday Addams herself Jenna Ortega all front row. The runway featured a classical pianist surrounded by a circle of spotlights, a dramatic renaissance art filled ceiling; making everything about this show tastefully over the top and powerful.
Designer Anthony Vaccarello's winter offering was a masterclass in luxury fashion, surprisingly borrowing a lot of inspiration from womenswear motifs and styles, reinterpreted for a masculine feel. For example, take the male models wearing oversized pussy bows. The romantically blouse-like tailored shirts were featured as if from a whole different era where men still wrote love letters and poems. Then there were the hooded shawl tops draped on the remaining models. Not forgetting the pointy & heeled leather boots, leather pants and wide buckle belts. This collection was for sure made for the confident men unafraid of making an entrance at an upscale dinner party or mixer. This one was for the Lenny Kravitzes or Futures of the friendship group.
The floor length pea coats and shearling jackets with striking power shoulders were spectacular. No coin was spared: each look was heavy on the richest of materials: patent leather, silks, sequins and velvets, furry turtle necks. When a collection is this good, there's no need for extras. All pieces in the collection kept to a brown, black and white color scheme.
Article continues below advertisement
Casablanca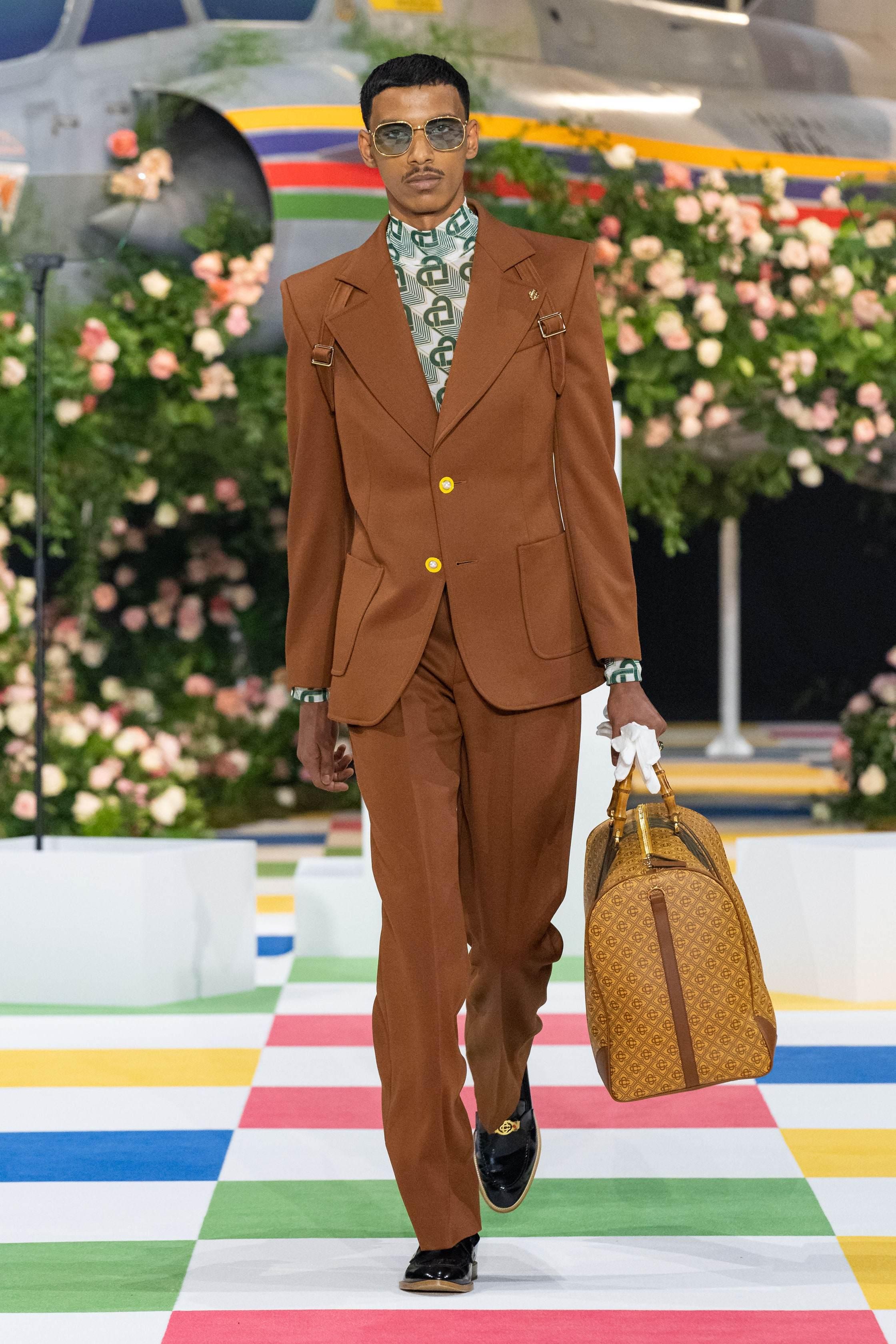 Keeping in line with its namesake city, Casablanca, without fail, brings color and culture to the fashion scene. Without a doubt, the AW23 "For the peace" show kept to that agenda too. With Naomi Campbell and Skepta in the audience, the show was preceded by a presidential-level speech by Moroccan-French designer Charaf Tajer, using his platform to bring awareness to the global refugee crises. Fittingly, the runway backdrop featured a fighter jet covered in a rosy flower arrangement, surrounded by flags emblazoned with Casablanca's signature graphic designs. All were placed on top of a multicolored checkerboard floor: a testament to the beauty of diversity, especially in the case of migrants.
What better way than to start the show with the legendary Arabic song Batwanes Beek by Warda, the same song sampled by Timbaland for Aaliyah's hit "Don't Know What To Tell Ya". The collection again celebrated the glory days of the 60s-80s style in the Middle East, Africa, Paris, and the rest of the world. Take the extravagant monogram prints on coats, the bold colored & large lapel suits with gold finishes. Or the flashy aviators with a light tint, white suits inspired by high-ranking army officials, religious-inspired capes, sporty striped tracksuits, flared trousers, sparkly jackets with a cropped cut & finish that match a matador outfit, and funky ski wear, perfect for ski season. As always, Casablanca delivered an abundance of colors: snowy whites, baby blues, reds, yellows, browns, and golds. Casablanca has become a dependable favorite in the fashion week roster.
Article continues below advertisement
Notable mention: Bluemarble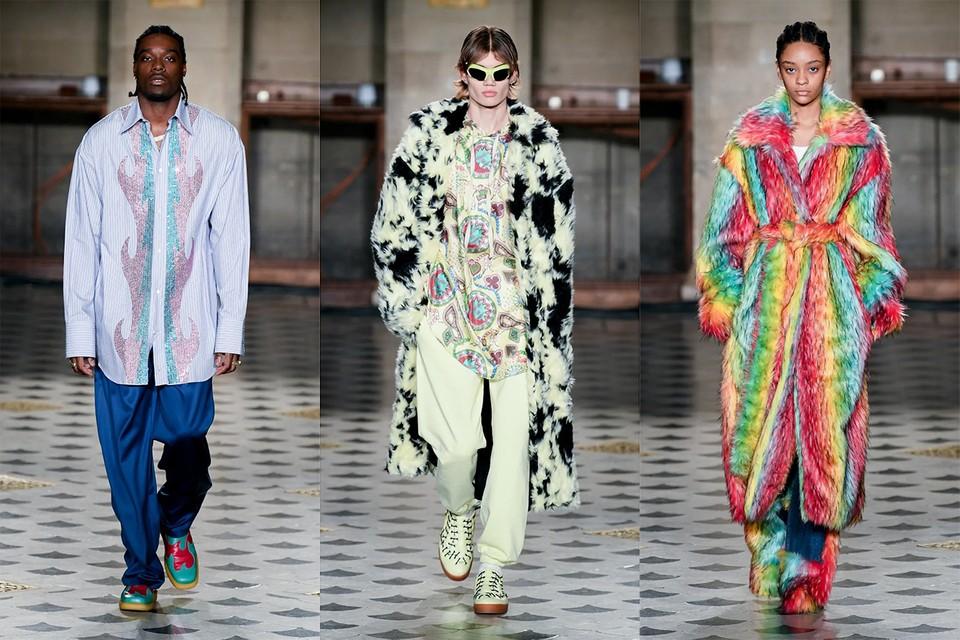 Having just won the prestigious ANDAM fashion award in 2022, Anthony Alvarez' Bluemarble brand was on every fashionheads radar. Rightly so, as the AW23 collection met these expectations. The Mardis Gras carnival inspired collection was an expression of no-holds barred creativity. From the purple bohemian shirts, oversized jumpers to the orange and furry jackets with matching boots. What stood out most is the obvious novelty, fun and free-spirited nature of Alvarez' designs, ones that do not require overthinking or an overly analytical eye.