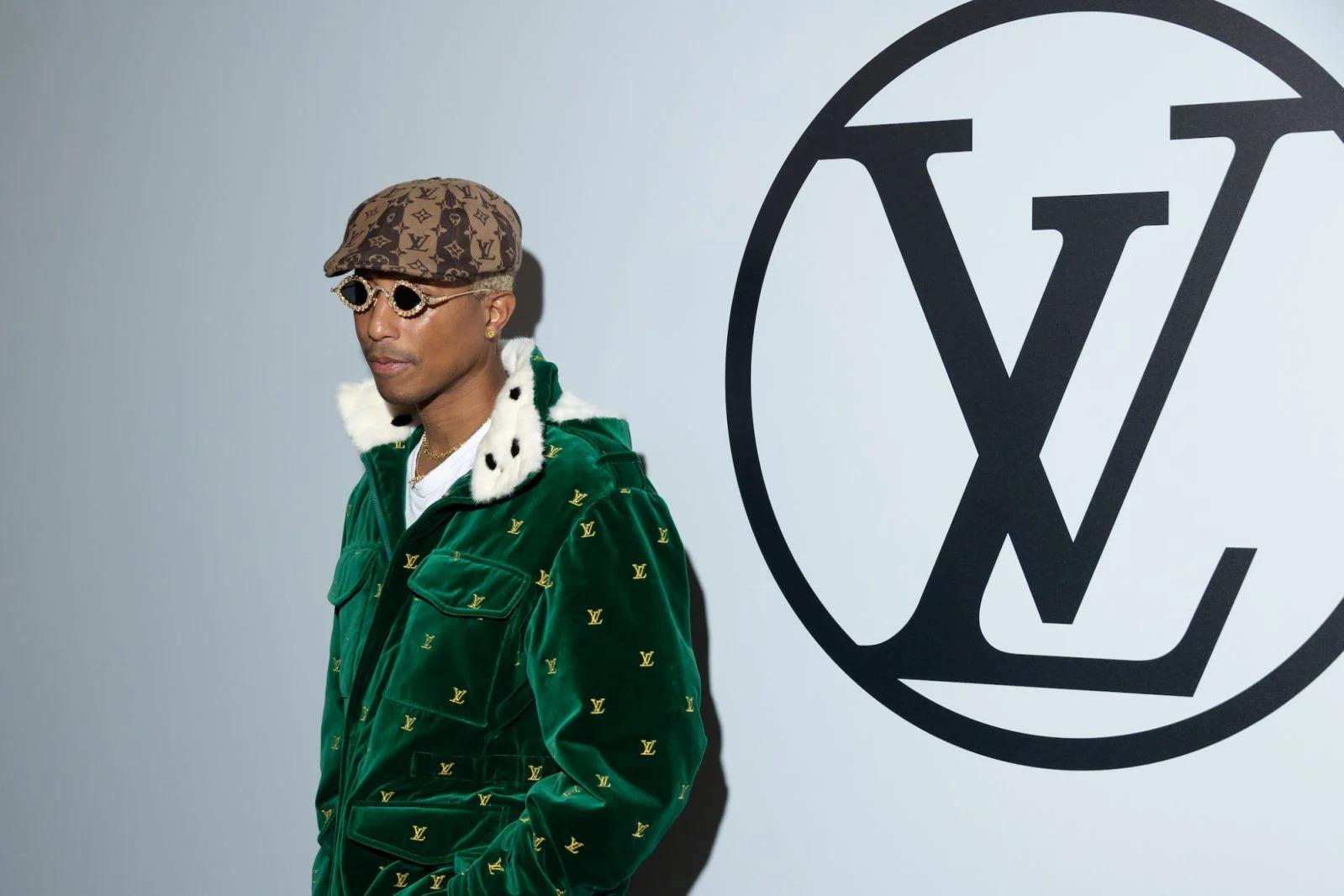 Best of Paris SS24
An inside look at our Fashion Week notes!

By Jason Kwame

Aug. 31 2023, Updated 3:48 p.m. ET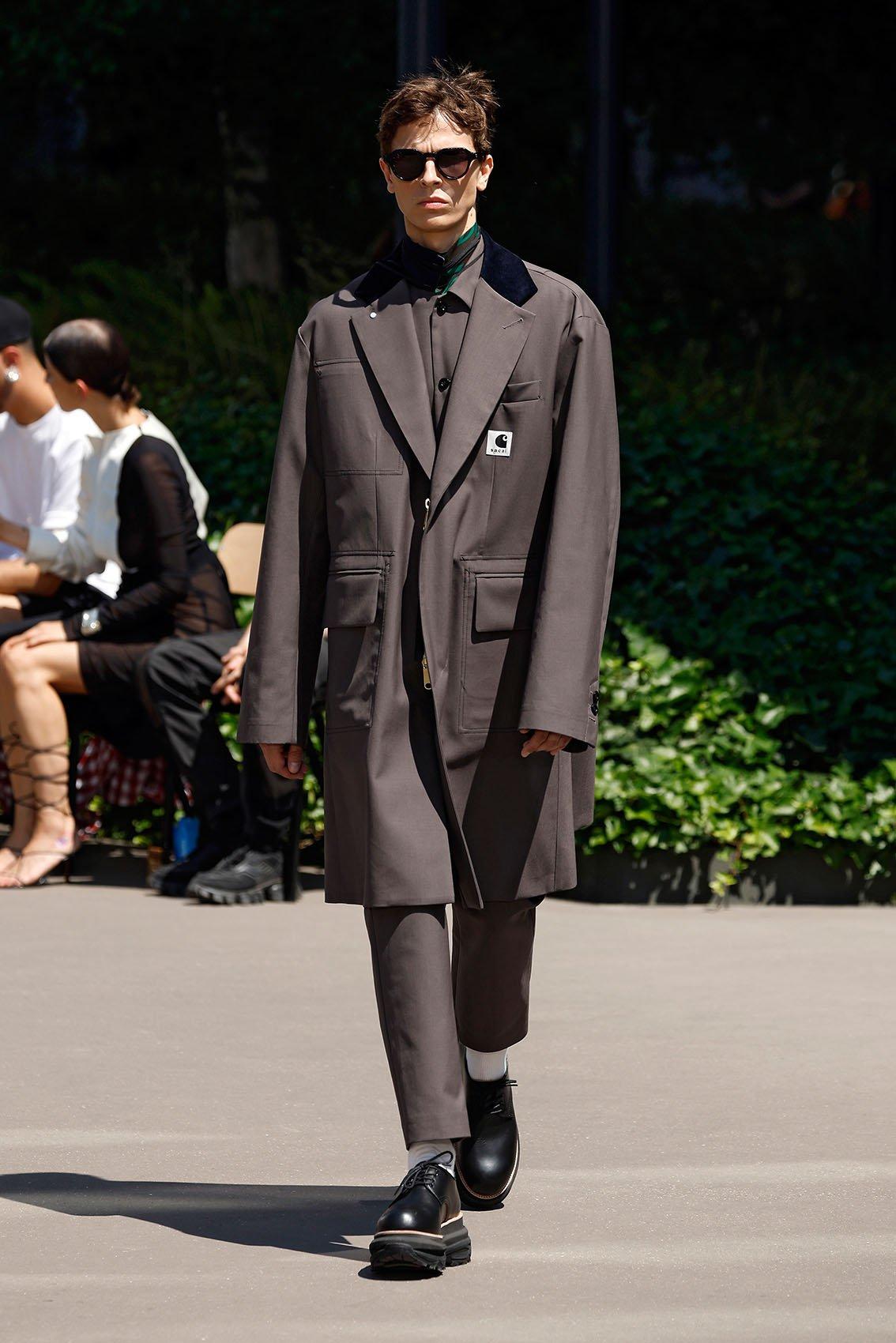 Sacai's works out a uniform for the summer
Sacai's love affair with workwear & utility brand Carhartt was further strengthened with their Spring Summer '24 collection. The show - graced and christened with the presence of front rowers like Jordyn Woods, plus global artistes Asake & Fireboy - brought summery sensibilities in the form of quirky, uniformed jackets, sets and jumpsuits. Like abstract art straight off a gallery wall, matching shirt & pant sets featured oversized embroideries of flower stems and petals to make for an unforgettable summer look. If you weren't already blown away by the stunning model choices, the new takes on traditional formalwear would've done the job. The top-notch craftsmanship of Japanese brand Sacai once again shone through with deconstructed suit textiles and tailoring, almost turning the traditional pinstripe three-piece into fire sleeveless and pleated fits that would make sense for a function this season. The highlight looks though? By far the pleated jersey sweaters, skirts and flower petaled cardigans.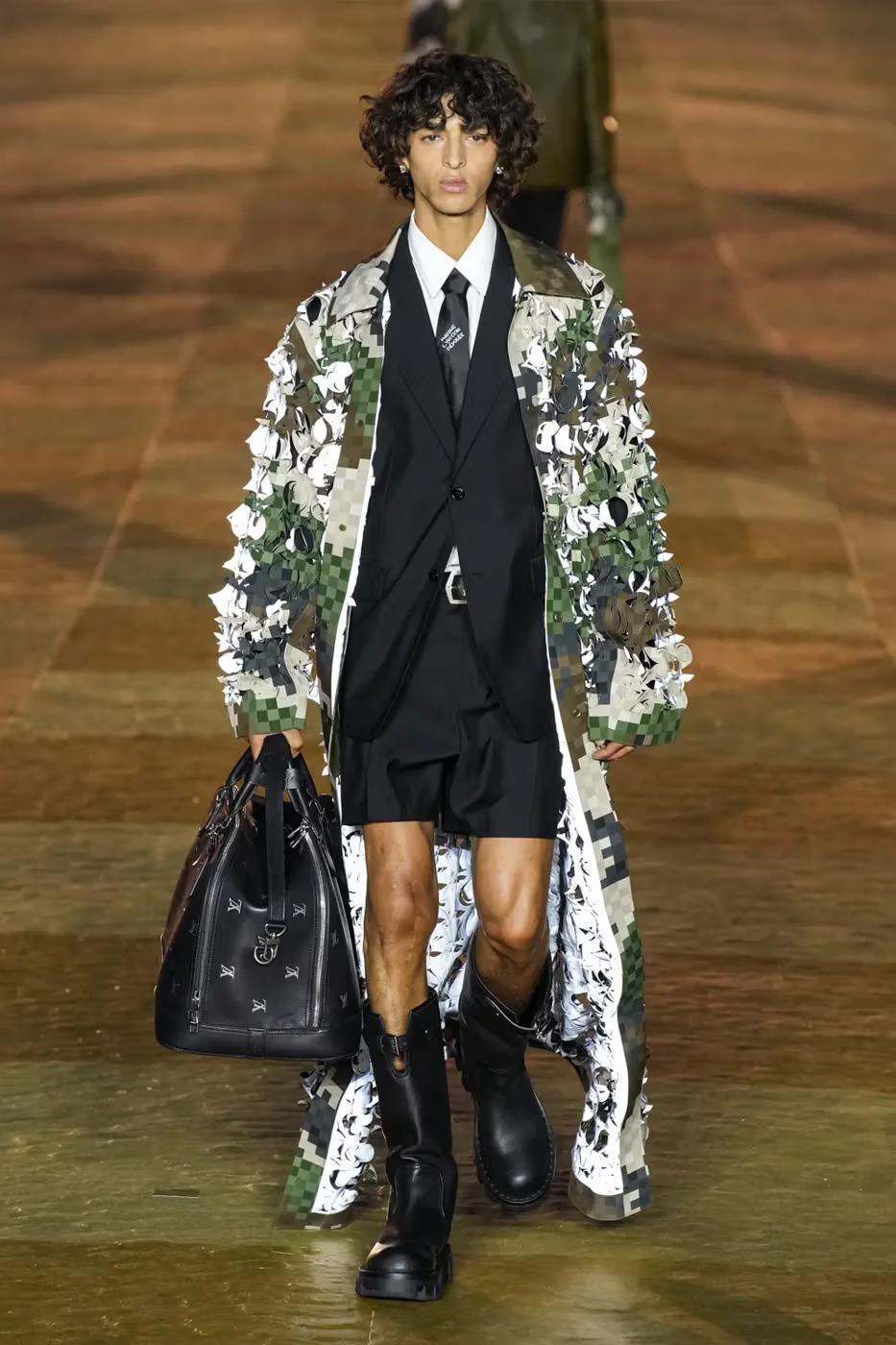 Article continues below advertisement
Unlimited Star power at Louis Vuitton
Pharrell's debut show at Louis Vuitton was nothing short of a spectacle, and the buzz was a pick me up the fashion scene needed. Nobody expected less from the trendsetter, right? The SS24 offering which brought out the biggest of stars - all decked out in new & archive LV pieces - to the Pont Neuf bridge (turned runway for the night). Beyoncé headbopped shoulder to shoulder with Zendaya, whilst lovebirds Rihanna (who of course teased the new collection as Skateboy P's chosen covergirl) and Asap Rocky pulled up fashionably late but still on point in their custom 2024 looks. Not forgetting Kim K, J Balvin and all other letters of the celebrity alphabet. Stars blessed the runway too: UK number 1 rapper Dave in a solid-looking leather jacket, comedian Jerrod Carmichael and Pharrell's long-time collaborative duo The Clipse (that's Pusha T and his brother for the kids born after 2000). What better way to end the show than with an afterparty performance from Jay-Z himself?! It's hard to believe anyone else but Pharrell could convince Jigga to do the same.
The show - rich in color and abundant in design - featured Pharrell-inspired designs to a tee…literally. Take the pearly jackets & accessories, hella tailored shorts, slightly flared denims, to new "buttery leather" speedy bags in a Starburst-like variety. It wouldn't be hard to imagine Pharrell in any one of these 50+ pieces. The timeless creative genius tapped into his Gen-Z bag, reinterpreting the famous Louis Vuitton Damier print, to create a new pixelated "Damouflage" print for suits, classy briefcases and jackets. The smart & safe bet from LVMH paid off, as Pharrell maintains the exciting creativity that the late Virgil Abloh brought to the fashion house…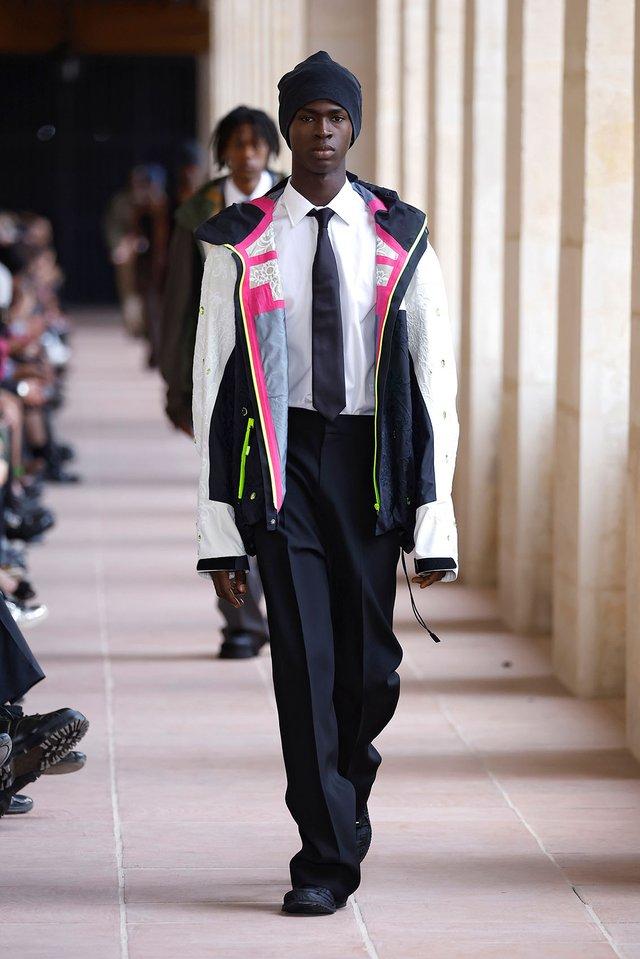 Article continues below advertisement
Sensible Streetwear at Givenchy
Givenchy's head designer Matthew M. Williams seemed to get the pearl memo too, since this season's humble yet on-trend collection still managed to feature pearl-adorned tailored trousers. It seemed the running theme was a youthful, streetsmart upgrade of formal menswear staples. The impeccable double breasted jackets and pants gave off a relaxed and easy feel, made for city run-arounds. Same can be said for shirts matched with bomber jackets, and vests with slightly sagging, baggy low-rise jeans and worker boots. Considering Hip Hop celebrates 50 years this season too, it's hard not to make comparisons between Givenchy's new beanies, yellow jackets and harness accessories and the styles of LL Cool J's vibrant fits during his glory days. Call it a new-gen comeback!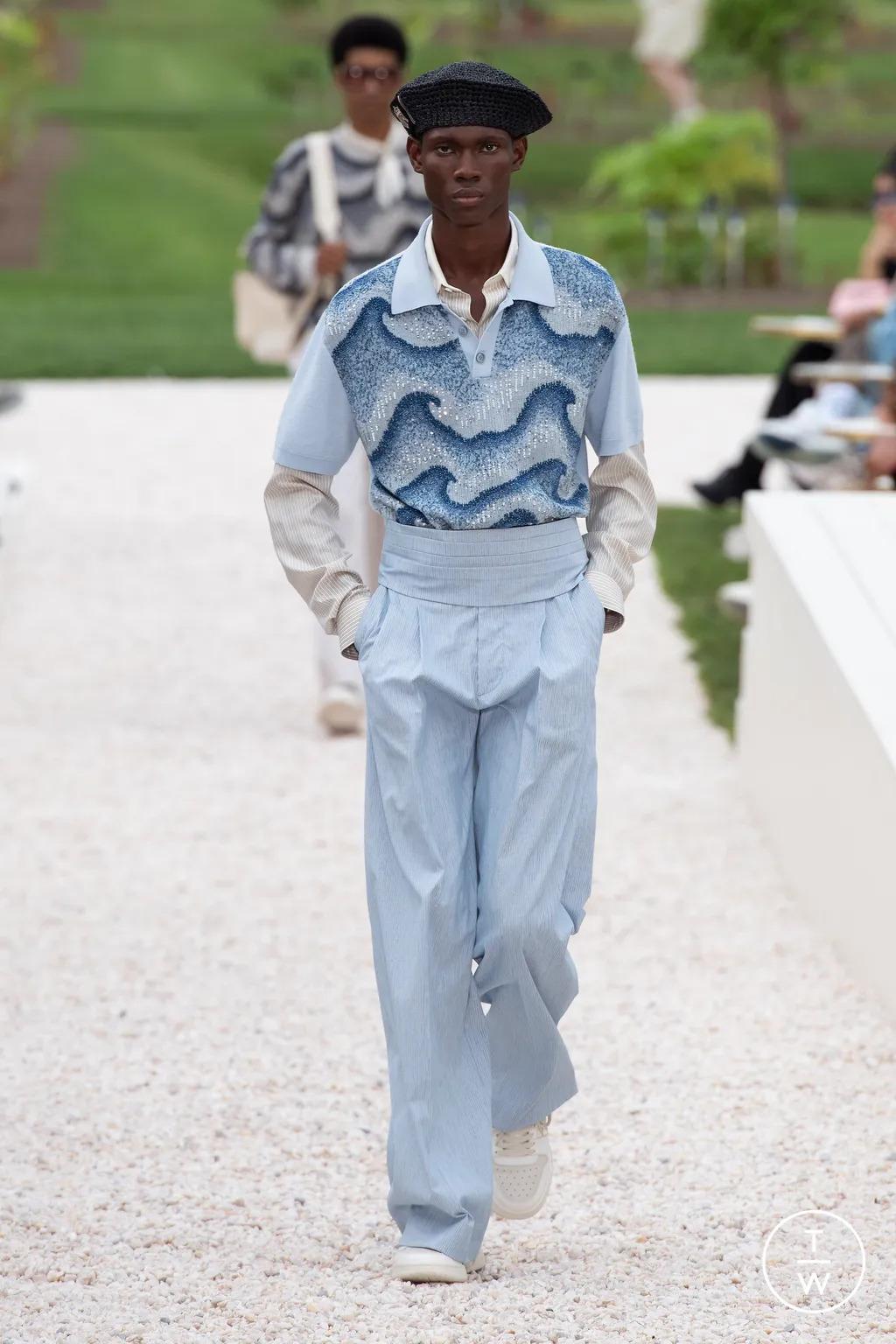 Article continues below advertisement
Amiri's Parisian poetry
LA-nutured brand Amiri's SS24 offering was like an ode to traditional Parisian mens style from the gaze of designer Mike Amiri. The gentle masculinity & ease of it all was unmistakable: from the neutral browns, soft pinks, and mint greens to the thin silk scarves blowing in the wind…no detail was overlooked creating this collection. There wasn't a single harsh silhouette, proportion or cut in sight. This show was another injection of youth into traditional mens: childlike innocence was expressed with tuxedo waistbands holding up tailored shorts (as loose as athletic boxer bottoms), baker boy caps, linen pants, cardigan shirts with 70's inspired print, tweed sets and soft-woven totes, backpacks and sidebags. As if it were youngsters setting out on a new beachside adventure, the models wandered through a clean and untouched pebbled runway…
Article continues below advertisement
Dior's trippy SS24 show gave us lightyears-ahead-luxury
Legendary Kim Jones at Dior seemed to remind everyone who creates the trends in this fashion game, by taking his SS24 runway design to a whole new level. Like something out of "I am Legend'', onlookers - including Tiwa Savage, Pharrell & legendary NY artist KAWS - were caught by surprise when the floor of the well-lit clinically metallic filled room opened up for models. The fits too were a new grade of luxury: super-feminine & opulently embellished round neck cardigans (sequins and crystal jewels), neon coloured polos, tweed jackets with matching tweed stacked loafers. Six words: Luxury fashion after a good trip…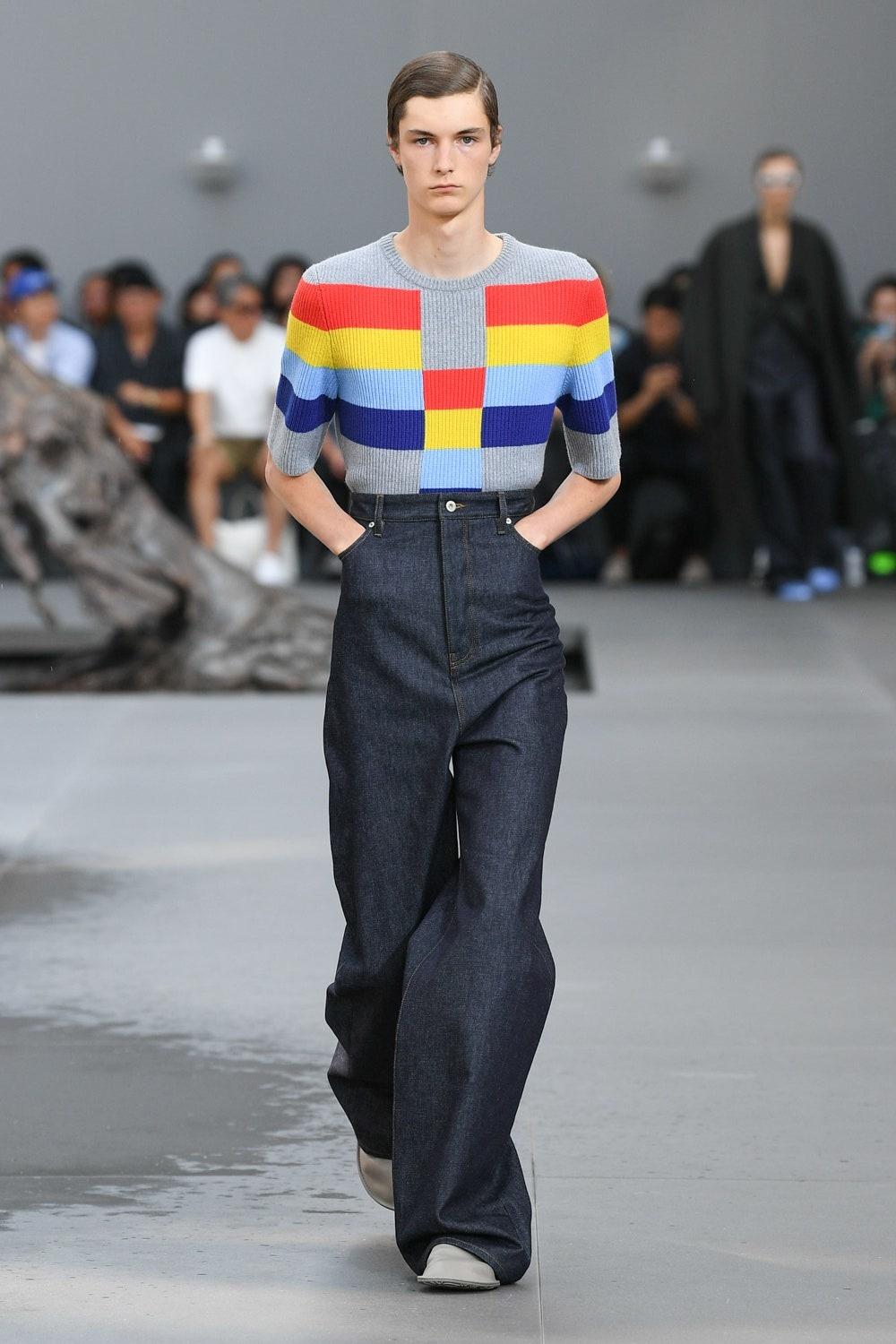 Loewe's new genes/jeans…
Loewe always brings the quirky new vibes that the streets love, and this SS24 show was nothing short of this promise. It's hard to overlook the introduction of slender high-waisted denim pants, especially when the standout pieces included sparkly MJ "Rock With You" style variation of said pants! Trust designer J.W Anderson to play with the traditional cozy sweater, by doubling up the collars and zips for some, and inventing keyhole-shaped collars for others. Nothing about these designs were conventional - proportions were pushed and challenged for sure with long rectangular leather jumpsuits that could easily pass for womenswear. Also, you can't miss the star-status vest tops with a new knotted design, plus jacket and pant sets that start out leather and fade out into suede! Nuts! As always, the chance to present quirky, never-seen-before shades was taken as this season Loewe gifts us with shimmery crystal-adorned sunglasses. The loyal Loewe shoppers will be buying these pieces up…you can bet on it!