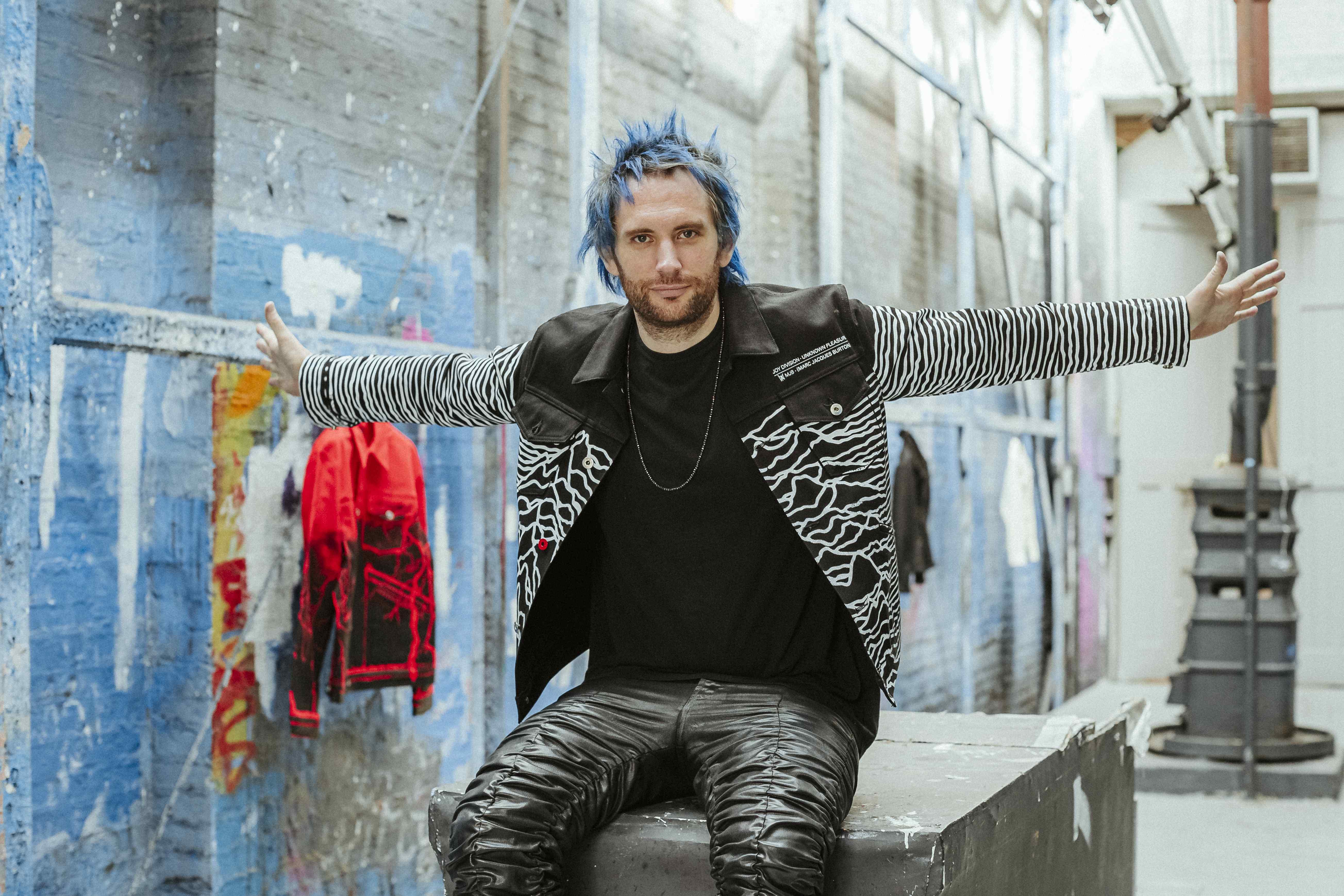 Marc Jacques Burton: The Brand That Takes Center Stage
Marc Jacques Burton's namesake brand continues to rise with a motion and energy that has the best performers and artists of our time gravitating to his unique pieces when they need that extraordinary show look.

By Jason Kwame

Jun. 1 2023, Updated 2:19 p.m. ET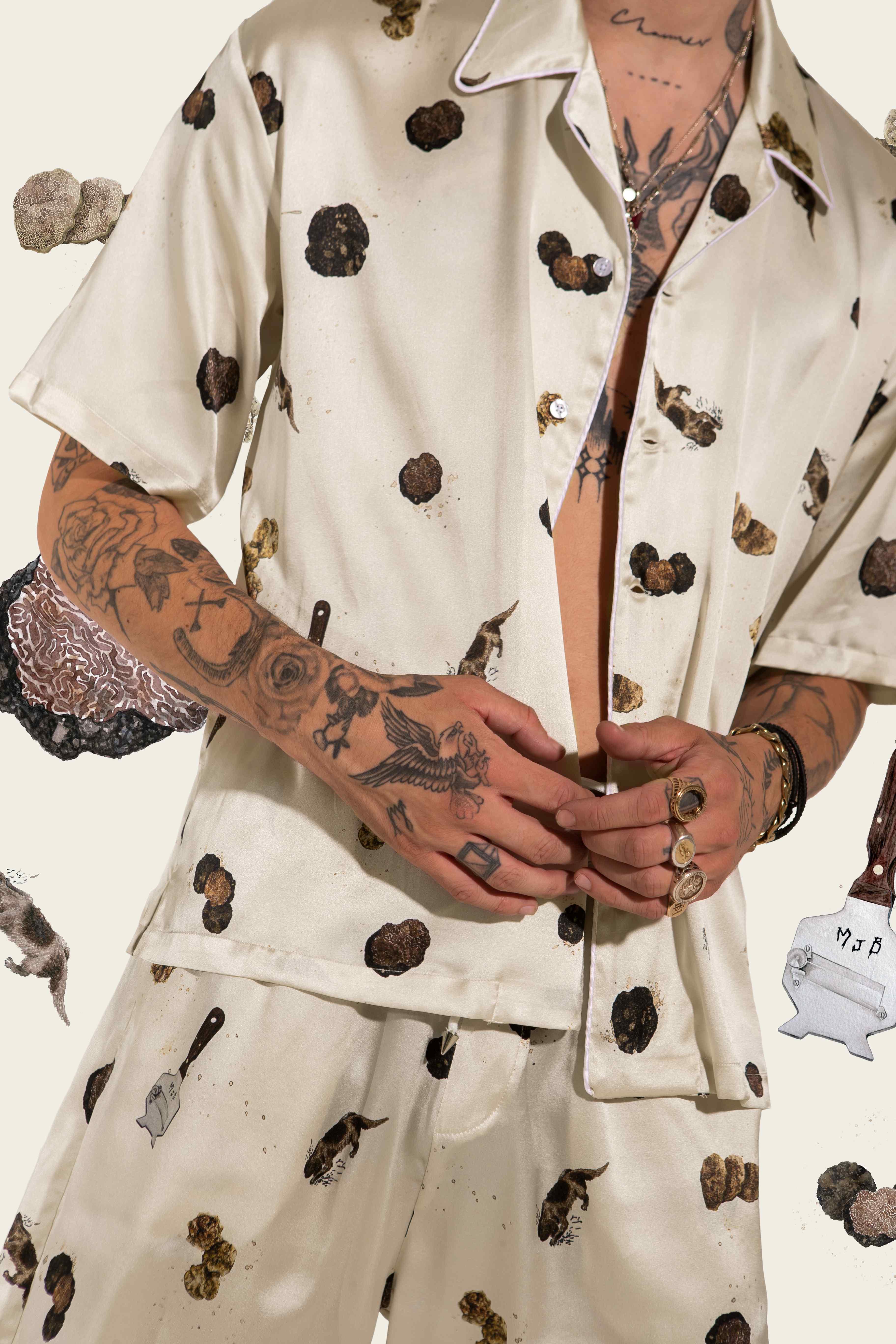 From Lil Baby, to the legendary Rolling Stones, 2 Chainz, Young Thug, African superstar Wizkid and a brand collaboration with Ciroc, Burton has organically built a wealth of social currency and influence that most brands would pay for. The wave hasn't let up either. Just this month alone, NBA All-Star Kyle Kuzma, leading Latin artist Maluma and the Prince of R&B Chris Brown both opted to rock Burton's latest, striking grenade vest and cargo pants set on stage.
He's done this in record time, too. The brand was founded in 2015, fuelled by his love for custom designs, electrifying graffiti art (which you'll notice in his most popular denim looks) and an understanding of showstopping looks and what people want via his successful background in nightlife.
Now, with the finest fabrics, ateliers and concepts out of Milan and London, Burton is now stocked in British fashion flagship Selfridges and even in stores down in the culture machine of Atlanta, where upper echelon of the rap world like Future have picked up MJB pieces. The stacked jeans, like the one recently worn by Lil Baby, have become a global bestseller for the brand.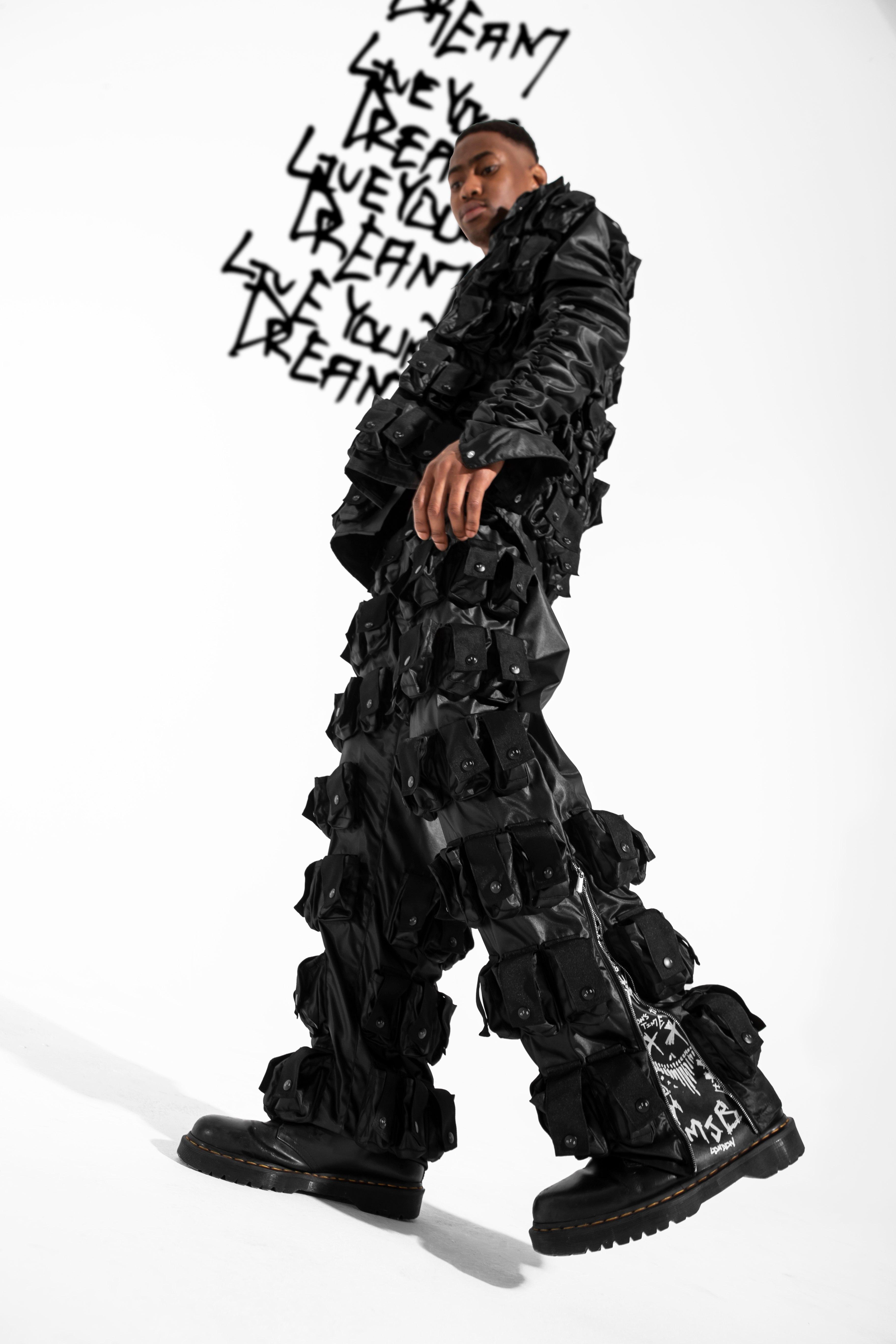 Article continues below advertisement
So when Burton agreed to speak with me on Zoom from his studio in Fulham, West London, I made it my mission to find the source of his brand's sauce. Impressed by his striking blue hair choice, I realized it was like talking to a friend or older brother, the conversation was relaxed as Burton answered straight to the point and honestly, giving nuggets of wisdom without overthinking it. By the end I had the answer as to why so many artists choose him.
Read on as we discuss in depth the meaning behind his Spring Summer 2023 truffle and trap inspired collection that already has Breezy hooked, his brand ethos made for the dreamers and all-round vision of Marc Jacques Burton.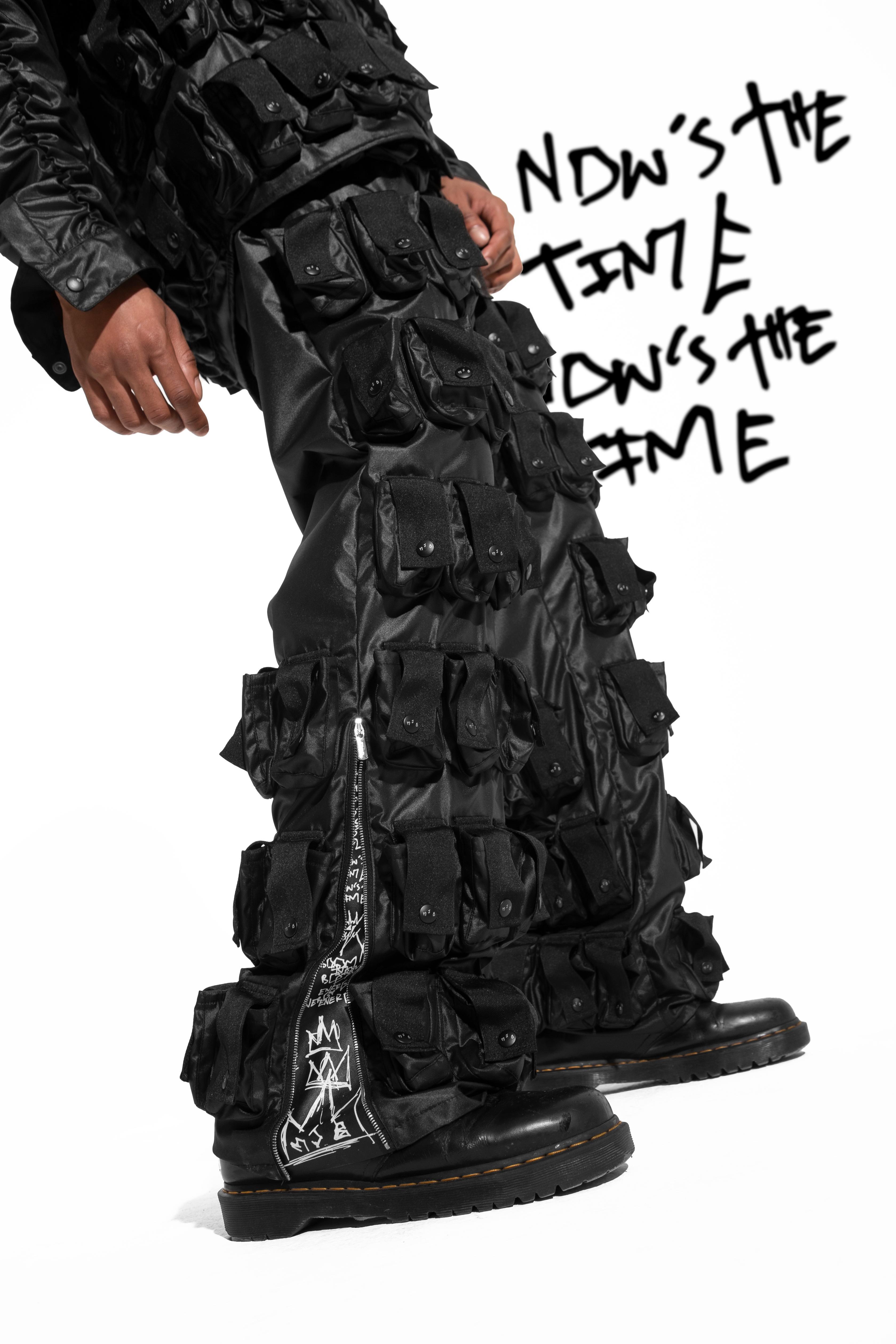 Article continues below advertisement
Marc, congrats on all the recent successes! Tell me more about this recent SS23 collection and all the love it's been getting.
Thanks for taking a look at the collection! There's always two sides to designing the collection. The first is: I always look through the lens of a musician, thinking about the stage pieces, so those are the pieces made to stand out on stage. Or be it music videos or on the front cover of magazines. So, for the Spring Summer collection the two really cool pieces that I developed were firstly the grenade pocket set. I'm really excited and proud of that piece because it's made of recycled nylon, and I'm happy we're using recycled materials. It was very intricate to make the piece. On the actual vest and the cargo pants there's over 200 pockets, and it took a lot of perseverance and back & forth to develop a way to sew each pockets on. In the end we had to sew each one individually. So it took a lot of time, and certain people advised me not to do it because they thought it'd be too complex. They thought people wouldn't get it. But, I've just had the most incredible response…
We also developed our other stage piece: the spiked organza, so a flat fabric with a slight shine to it. Then we sew it in a circular motion and it creates these spikes. It's beautiful, lightweight, it doesn't crease and it attracts attention. I love that piece and the new silver colorway. We've obviously also got new variations to our best-selling stacked jeans, with new distressing, an oil and ruche effect, which is very rock and roll.
Then our new "truffle trapper" story comes from our production in Italy, in a region famous for "the diamonds of the kitchen" truffles. One of the pleasures of designing in Italy is the great Italian food. Then of course the name is a play on words that honors how the Atlanta trap scene embraced me. I hand drew the truffles, and got an amazing artist to paint them in watercolors. Then my art is integrated into the silk sets and denim for this collection. I wear the pieces myself all the time!
How did you feel about Maluma and Chris Brown both hand-picking the new grenade pocket looks for their recent shows?
Really incredible. Maluma's stylist Ugo Mozie… he helped me from day one actually with Wale when I first started the brand and I actually remained close friends with him. So he reached out and let me know Maluma was interested in wearing some MJB. We sent him that piece, which was amazing and a huge blessing that Maluma rocked it.
Chris Brown wore it at his opening night at the O2 Arena because he brought that from Selfridges and I wasn't aware. So that was a beautiful surprise and I just love seeing the same piece reinterpreted. You've got Maluma with his South American energy, and you've got Chris with his LA energy. It was great to see the two different characters rock it on stage and they both looked great in their own ways, dancing. It's a real honor… both of them could choose any designer in the world to wear on stage and in that important moment they've chosen the design that took me so much love and pain to develop. A really special moment I must admit, I feel really blessed.
You spoke about how much effort these looks took, I was wondering how much does a collection like this take to create?
Initially, I'll draw something and sketch it and in my mind it's there ready. But, then you've got to work with the team to actually turn it into a product that works and functions. Then you have to think "How can we roll it out and produce it, so we can sell it?" So you gotta make sure it doesn't take so long that you can only make one pair everyday or something. It's a lot of trial and error. But specifically, to do the grenade set it's about 12 hours of one person sewing all the pockets… it is a long, long process.
Your ateliers are in Milan, so how do you balance designing and overseeing production?
I travel a lot back and forth from Paris, Milan and Italy. I began the moodboards in London, with the sketches. When the collections are developed, I'll do art and paintings that we can scan and turn them into digital assets so we can play around with them. Then we start to design in that way. Then we'll link the fabrics in Italy to the digital designs, and we run through with the ateliers in Italy what we're looking for, the fabric flow & form. Finally, we start making samples…
So, you've worked with a lot of big names like Tom Holland, Meek Mill, Migos, Lil Baby and the Rolling Stones. How important is that to relaying the message of your brand?
It's really important. Because the main slogan of my brand is "living your dream" and the basis of me creating the brand was that I wanted to create products for people who I felt were doing just that. With that, I was in turn living the dream myself. So an example would be an artist like Wizkid who wears me on stage. He's living his dream by expressing his music to his fans… so there's this beautiful full circle for me. Then what I hope is that by living my dream, it inspires other people in whatever it may be to live theirs. So if you're a young designer and see me doing what I do and that inspires you to design then that's my message to the world.
Is there anyone you haven't worked with that you'd like to in the future? I personally think someone like ASAP Rocky would be a good fit…
Yeah! ASAP, I have so much respect for his style, I think he's absolutely incredible. You really never know what he's gonna wear next. He has so many different styles and they always work, and he's always pushing the boundaries. I agree with you there ASAP would be perfect, he's a really special one. But I'm also pretty relaxed in the sense that I know if I'm doing good work then people will eventually hear about me and it's a beautiful part of the journey. Sometimes you have to just do the work, and know it will find the right people at the right time.
Article continues below advertisement
So going back to your own dream and the brand ethos, how did this dream start for you in 2015?
I used to work in nightlife and I had a couple of clubs and I initially wanted to wear clothes to the clubs that no one else had. That led me to buying fabrics and finding ateliers in Italy, then designing items that I would wear. So it was sort of a selfish reason at first… and then I would wear the clothes to the club and people would ask for pieces. I used to make and sell them. Eventually, some musicians started to see the clothes. Early wearers were will.i.am, Zayn Malik from One Direction, and Wale. David Guetta started to rock it too, so we started to build this following. Then I decided to go show a collection at Paris Fashion Week and we got one store to buy into us. Then H. Lorenzo in LA bought us. We also got into Jeffrey's in Atlanta which was very pivotal at the time because the Migos started wearing us… Young Thug, Lil Baby, Gunna, Future. So the Atlanta scene really embraced us. But I think if you look back at each step there was always a product that was different and we've always created statement stage pieces too. The right talent wears it, and it makes noise on social media and wider awareness to the brand.
Would you say that nightlife energy is what has attracted these artists?
Yeah, thinking about it I would say when you're in nightlife - it's similar to working in a department store like Harrods. I think you come across so many people and so many different styles. I've always been an observer. I'm naturally pretty introverted. I would rather sit in a room and watch people. Through nightlife, I've met more people than most have. On a normal night that the club was open I might talk to 200 people in a night! I'm pretty good at understanding people's energies, what they're after and what suits them. So I was blessed to work in that environment. It definitely helped build the brand MJB.
So how did you yourself grow up and develop your character and energy?
So I grew up in Wimbledon, very close to the tennis stadium. My dad's English and my mom's from Paris. There was always good buzz during the tennis championships… and of course the commons and parks so I did a lot of sport, mountain biking, football. Pretty sporty as a kid. But then, I had this artistic side where I love art and painting, drawing and designing. That kind of accumulated, and my mom was always creative. She would make sculptures out of dough and dad was in advertising and sporty too. I had this interesting dynamic. I learnt so much about teamwork, winning, losing, going through different emotions, so I think it was a good childhood that prepared me for what I do now.
Article continues below advertisement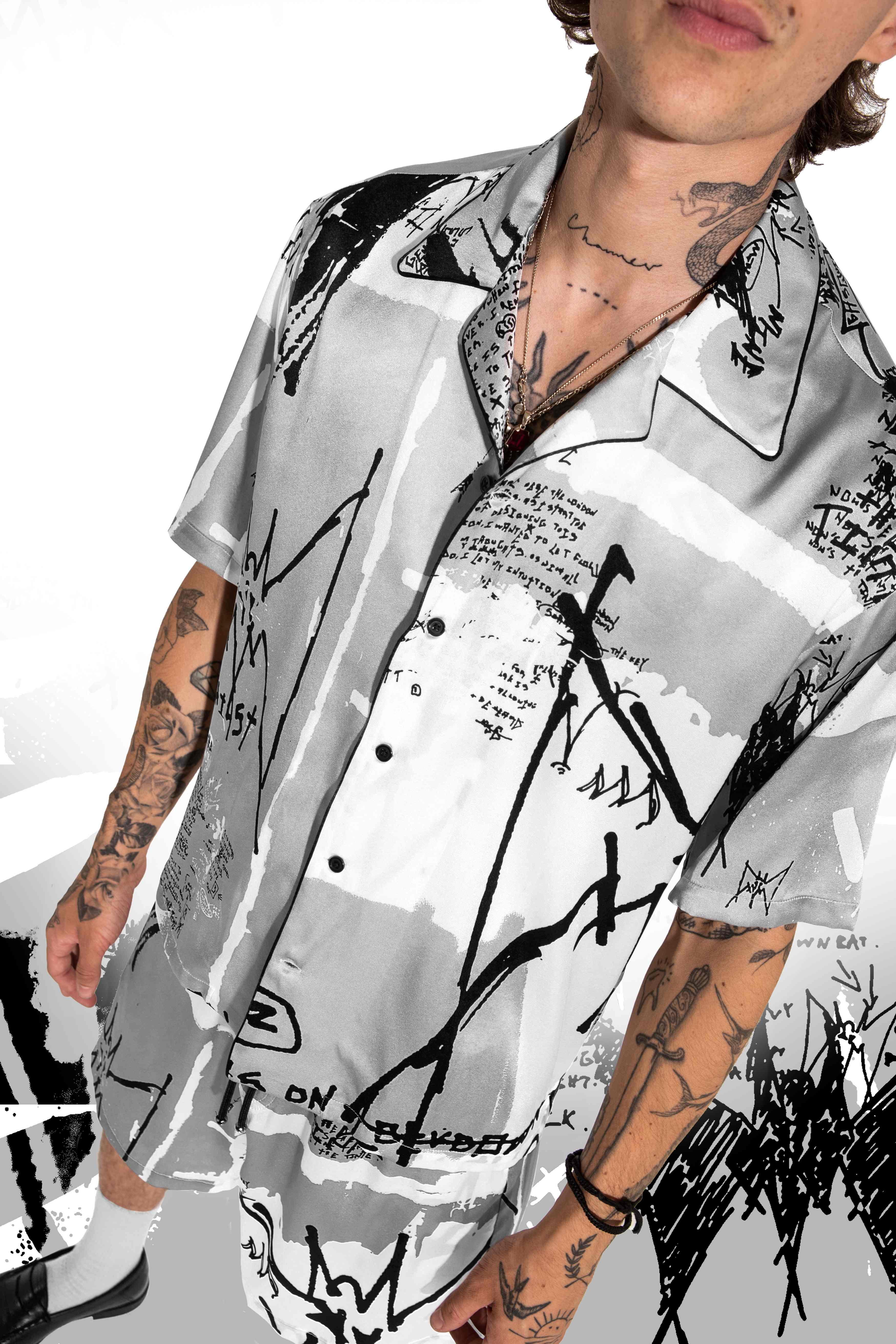 Your brand logo is also clearly inspired by the Batman symbol, so I wanted to know how that affinity came about for you?
Initially, how I started the brand is I used to draw a lot on leather jackets and denim. You have limited resources so I would differentiate my brand through drawing and painting. Quickly I realized that all the big stars had their own stylists, so I couldn't compete with Gucci on sending a beautiful plain black leather jacket for example. But I could compete by making the leather jacket personal to that celebrity. So the stylists got to know me because they knew I could make custom pieces.
From that a language started evolving where I would use the same symbols over and over, one of them was the bat. I used to do smiley faces with cross eyes, and eventually it was just the bat left and I really loved it. You get lucky…Young Thug wore it on stage where I drew a big bat and it caught on. It just felt right so I kept going with it.
Then if I look back as a kid, I was always obsessed with Batman and I had Batman skateboards and posters… and I was a big fan of Ultimate Warrior from WWE. He had bats on his outfit, too. And I've always been a Basquaiat fan and he has some bats in painting. I think subconsciously I was affected in a positive way by all these.
Have you considered selling your art separately?
I haven't, but there's signs to do that and people have been asking me. I haven't to date. I just did a collaboration with an amazing painter called Brett Crawford and just met Mr. Doodleman at Fashion Week. So I'm doing more and more with different artists, and each time they have said to me "Oh, you should do something" and I've done some stuff with Alec Monopoly. Fashion is fast-paced and needs your full attention, but I could see myself slowing down in say fashion and developing more art, so that could be a good switch and addition.
You've had great product collaborations with the likes of Overwatch and Ciroc. So when it comes to a product, how do you decide who you want to collaborate with?
I always try to work with brands that my inner child would love! I recently collaborated with The Batman movie, Sonic and Overwatch. They were all collaborations that I was really excited by, and could make really amazing clothing with. Because I respected the characters or the colors and logos. It's also the purpose of the product. For example, with Overwatch, I got to work with amazing musicians and wanted to create a powerful, world class campaign. So we did an amazing project with Giggs, Darkoo, Suki Waterhouse. So it's great to have a brand allow me to pursue my vision.
Article continues below advertisement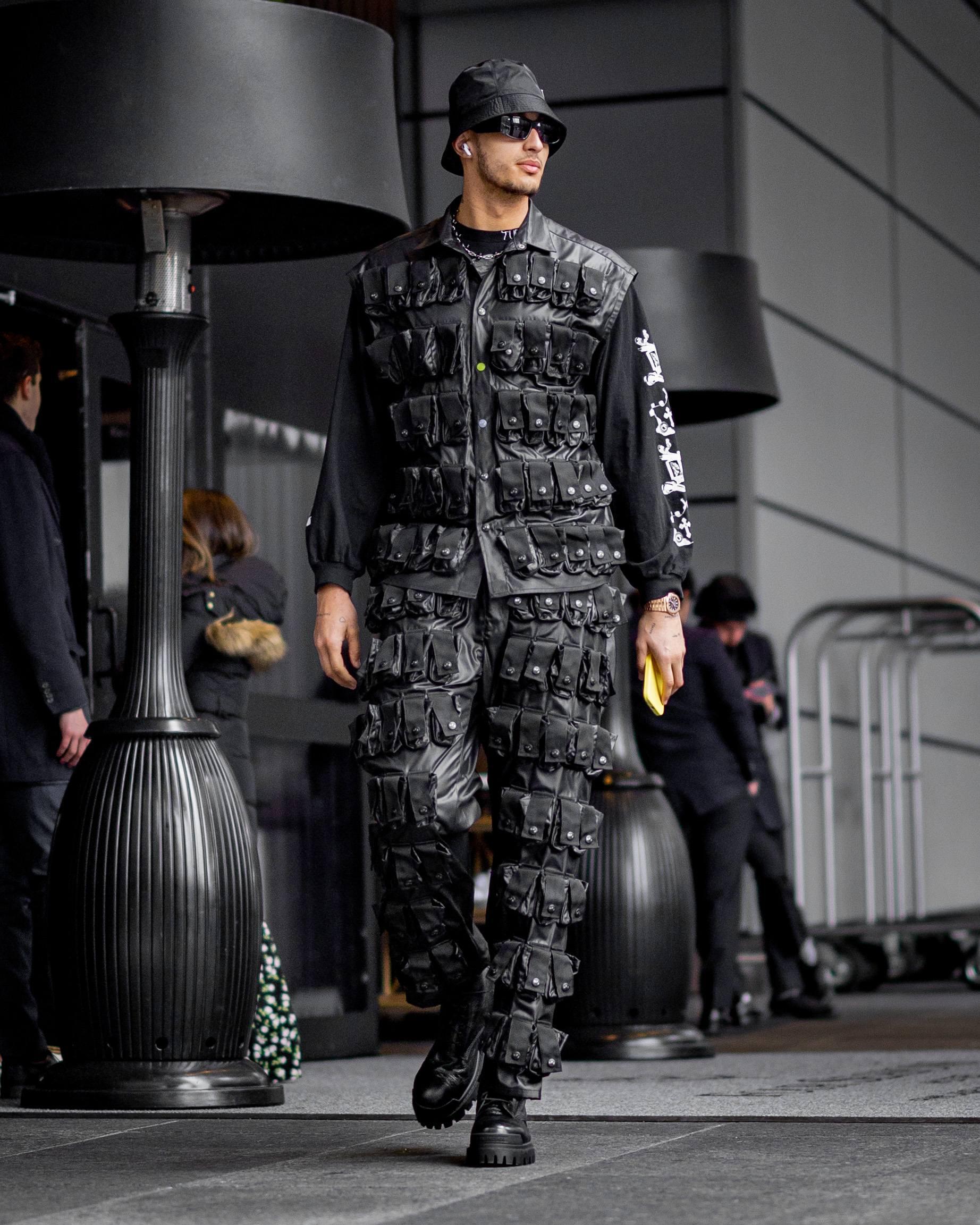 Are there any up and coming young designers you'd love to work with or mentor?
For sure, I'd definitely love to work with Reece Yeboah, the young designer who's currently at Cos. So yeah, I'm really open to working with different designers, even artists and painters, musicians. Because the beauty of collaboration is that you start to see someone else's energy vision likes dislikes, curiosity. That always opens my eyes and shows me new possibilities and new ways of looking at the world so I always love that.
With that being said, what advice would you have for a fashion creative starting now? What would you have liked to have known when you started out?
That's a really good question. I think when you start out, we're all used to seeing the big brands like Louis Vuitton, Chrome Hearts, Palm Angels or Off-White. You see they have a product for everything, from shoes to underwear to plates to bags, to backpacks and suitcases. So you might make the mistake of trying that from day one and thinking you need everything. I believe that when you look at the big brands they always start with one world-class product that's different, and there's real art to that. So my advice to young designers would be to really focus on one or two products that you genuinely believe can be better than other products out there, that you can sell over and over. Fashion is an expensive business, because you have to sample, there's negative cash flow because you have to buy the fabrics and pay the factories. You have to be very careful with your money initially…you need money left over to market the product after being creative.
What's next for Marc Jacques Burton? What's your vision for the future of the brand?
So we just finished showing the AW collection in Paris, so it was beautiful to be back in Paris. Buzzing when a lot of Americans are in town. We're working on a couple of amazing collections, so I'm looking forward to sharing those when I can. And then I showed a big collaboration with Brett Crawford who is the most incredible artist from LA. I love his paintings. They are based on a Pinocchio-style character. He makes the character really cool with sneakers and cool hats in the paintings so we collaborated on a couple of art pieces to turn into hoodies. I would love to work on my first fashion show, going off from my presentations, to also create a moment to show people what my brand stands for and build a world that people can enter and understand myself and the brand even more. That's the long term goal. I know what needs to be done, so we'll continue growing, developing and succeeding.