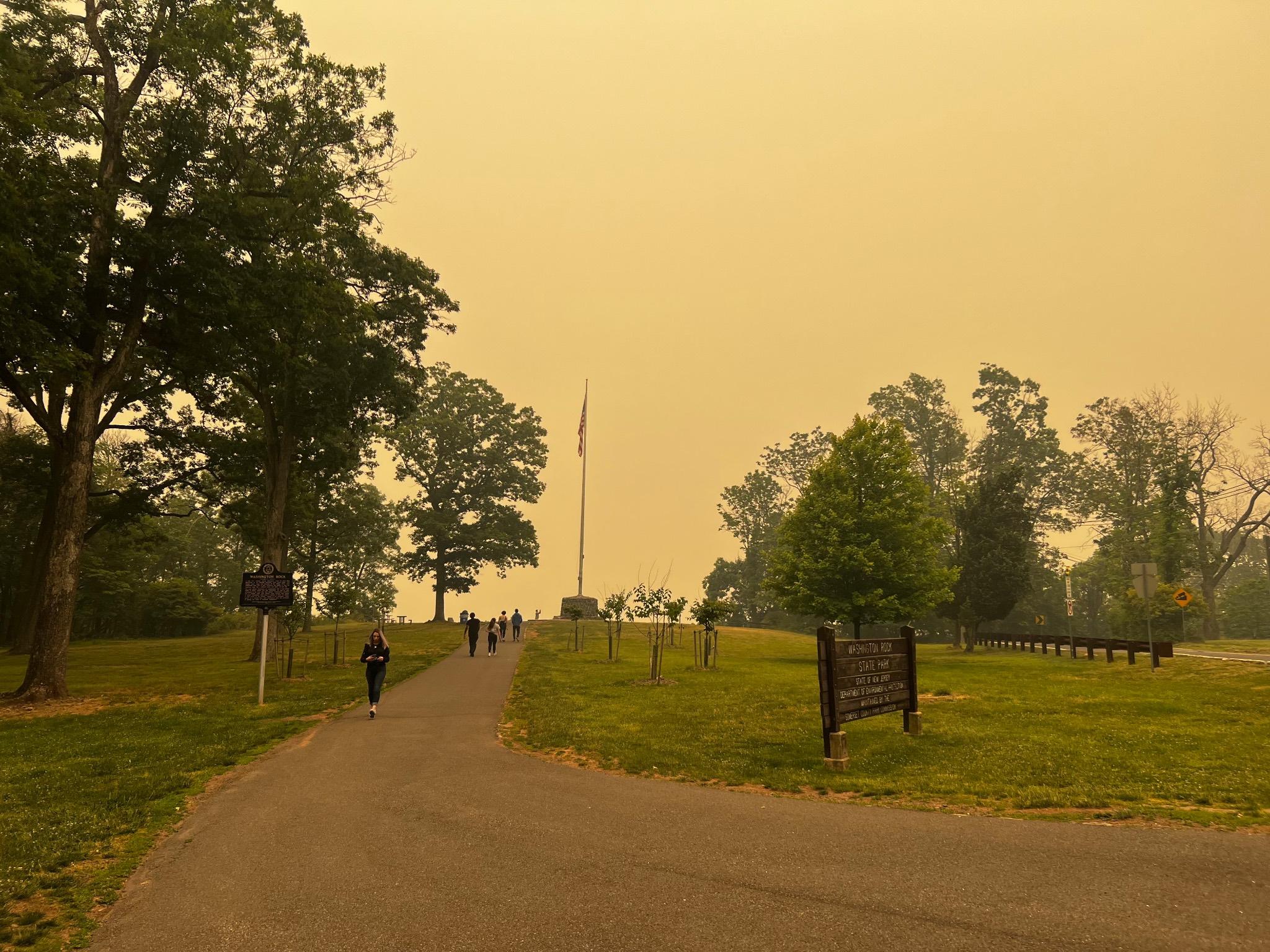 Canadian Wildfires: The Apocalypse Comes to New York
Wildfires spread across Canada and the United States

By Eric Munson

Jun. 8 2023, Published 6:10 p.m. ET
Wildfires spread across Canada and the United States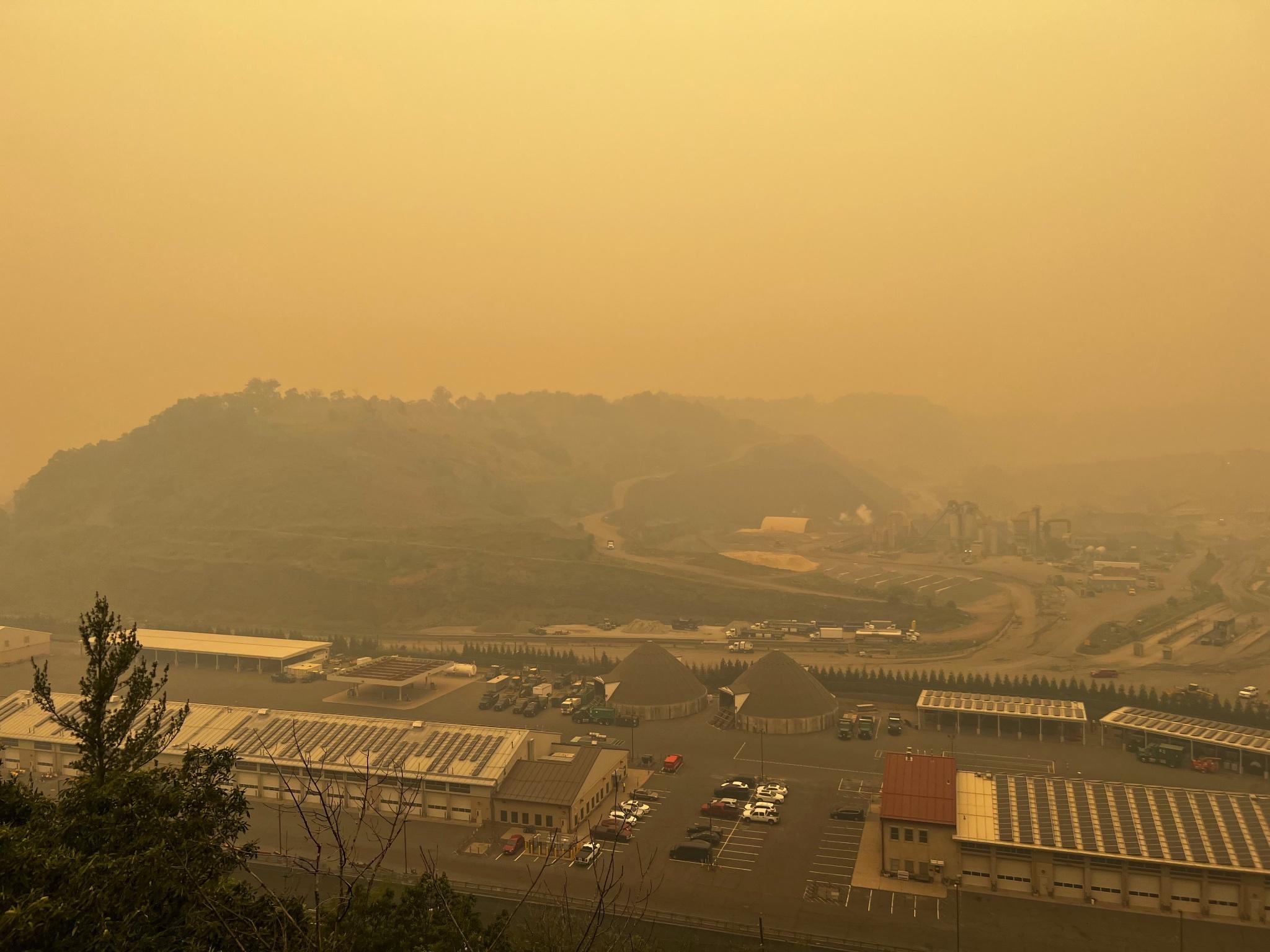 The sun turned blood red. The smog slowly turned the sky yellow and bright orange. A thick scent of smoke fills the air. There's desolation as far as the eye can see. New Jersey and New York have turned into a post-apocalyptic wasteland.
Washington Rock State Park, is a small park in Green Brook that is famous for being a strategic overlook during the American Revolution.
On clear days, it's possible to see the New York City skyline from atop the hill. However, it was just yellow as far as the eye could see. Only a faint sliver of the skyscrapers were visible through the haze.
Wildfires in Canada caused this eerie scene.
Article continues below advertisement
About 115 million people are in the path of the smoke from the Canadian wildfires. More than 400 wildfires are currently burning from Alberta all the way to Nova Scotia. 160 of the fires are in Quebec alone.
Around 20,000 people have been forced to evacuate and more than 9.4 million acres have been burned.
The wildfires from Canada are causing toxic smog to spread to the continental United States. Much of the Northeast Corridor is blanketed in thick smoke with some parts of the Midwest and South already seeing the effects.
The National Weather Service (NWS) warned major metro areas are "expected to experience unhealthy air quality levels for all age groups through Thursday."
"Hazardous air quality and widespread smoky conditions will persist through Wednesday afternoon and evening throughout the Northeast and Mid-Atlantic as smoke associated with wildfires in Canada continues to push southward into the lower 48," NWS said in a statement.
For a time, all three New York area airports were at a standstill due to poor visibility. Many planes were forced to circle in the air around LaGuardia.
The smog can be especially dangerous to the elderly, young children and people with respiratory ailments. However, experts warn that long-term exposure to the smoke can cause severe health effects due to the small microscopic particles that are easily inhaled. Officials advise wearing medical-grade masks when going outside.
New York City's air quality index hit 484 on Wednesday June 7, nearly breaking the zero to 500 measurement scale. A score of 300 or higher is considered "hazardous."
New York became the city with the worst air quality in the world, beating out historically polluted cities such as Delhi, Lahore, Jakarta, Dubai and Shanghai. Some Asian residents even commented how New York felt "dangerously like home."
During a speech, New York City Mayor Eric Adams encouraged people to stay indoors, lock their doors and windows and limit outdoor activity as much as possible.
"This is an unprecedented event in our city, and New Yorkers must take precautions," Adams said.
Adams also warned that it's difficult to forecast the path of the smoke and it's not feasible to provide updates too far in advance.
"I want to be clear, while there may be potential for significantly improved conditions by Friday morning, smoke predictability that far out is low, it is difficult to predict the movement of the smoke… this is an unpredictable series of events," Adams said.
With the ground and vegetation dried out, it gives the perfect kindling for either a lightning strike or an improperly extinguished campfire to create an inferno. Scientists are especially worried about the effects of climate change on the intensity, frequency and size of wildfires.
"Fire is a multifaceted issue that needs a multipronged approach," Mike Flannigan, a professor at Thompsons River University in British Columbia, told Al Jazeera. "There's no silver bullet or vaccine that's going to make this thing go away. We really do have to learn to live with fire."
For the sake of your own health, stay at home and wait for the smoke to pass. The last thing anybody wants is to be another casualty from this unprecedented event.