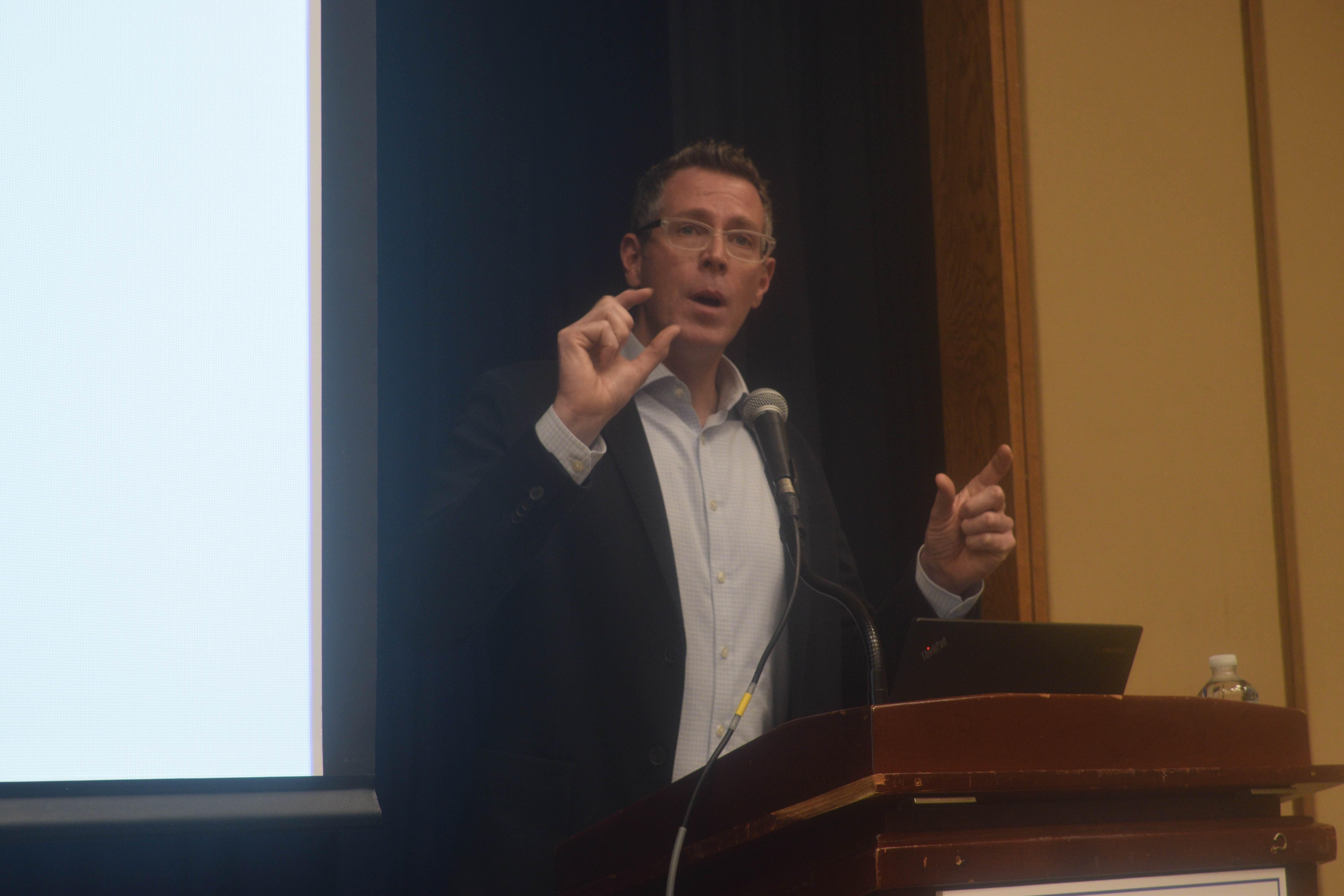 Hofstra Professor Discusses The Russian Invasion Of Ukraine
"Necessarily Incomplete": There Is Never A Single Cause Of War

By Eric Munson

Oct. 5 2022, Published 8:06 a.m. ET
"Necessarily Incomplete": There Is Never A Single Cause Of War
Tuesday October 4, Paul Fritz, a professor of political science at Hofstra University, gave a lecture about the ongoing War in Ukraine at Hofstra's Guthart Cultural Theater.
The event was titled "The Russian Invasion of Ukraine: Causes and Consequences." The event was introduced by Meena Bose, a professor of political science and the executive dean of Hofstra's Kalikow School of Government, Public Policy and International Affairs.
One of Fritz's classes and various professors from the Kalikow School were in attendance.
"The War in Ukraine has been dominating the news, rightly so and there are a lot of open questions we need to be thinking about," Fritz said.
Fritz began his lecture by explaining some context of the war. Ever since the invasion began on February 24, 2022, Ukraine has lost around 20% of its territory. Fritz also stressed the war has been "costly" including death tolls, civilian casualties and war crimes.
"The UN report, which generally tries to stay as neutral as possible does state that there are significantly larger numbers of instances that amount to war crimes on the part of the Russian Federation," Fritz said. "So we're seeing an aggressive war in this sense and we're seeing really high cost."
Article continues below advertisement
Fritz went on to say that it is important to understand the causes of the war in order to understand how it will end.
"When we're talking about the causes of war, there's never a single cause of war," Fritz said. "War is one of the most complex endeavors humans undertake. There are thousands of variables we would want to look at for the causes of war, so what I'm going to present here is necessarily incomplete."
Fitz framed his lecture around international relations theory. He broke down the causes and consequences into different categories ranging from individual, domestic and systemic levels. He said this theory is a very useful way to dissect complex international issues such as war.
Fritz talked a lot about Russian President Vladimir Putin, particularly his viewpoints and the way he runs the country. Putin called the fall of the Soviet Union "the greatest geopolitical tragedy of the 20th century."
"What [Putin] has is an extraordinarily chauvinistic of Ukrainians and Ukrainian history," Fritz said. "He, in 2008, told then President George W. Bush 'Ukraine is not a real country.'"
Even though Ukrainians and Russians are different people, they have similar languages and are both predominantly Eastern Orthodox. Putin believes that "these other people do not have a right to sovereignty."
Fritz described Putin as an "autocrat" and a "neo-imperialist." He said that Putin is a leader who has a worldview of Russian dominance in the region.
"Russian regional hegemony is another way to think about it," Fritz said. "His mission is to correct the mistakes of past Russian and Soviet leaders, to correct their errors by reclaiming dominance over the near abroad, including especially in Ukraine."
Fritz also talked about the Cold War, the Invasion of Crimea, the Russian pro-democracy protests and the Maidan protests in Ukraine as factors for the ongoing regional instability. Democracy is, to an extent, a major enemy of Putin's regime.
"This is a non-democratic, semi-authoritarian regime," Fritz said. "Democracy is what threatens this type of regime in a lot of ways. If we think about regime survival, this semi-authoritarian regime doesn't survive with a democratic movement."
Fritz also talked about regional security. He specifically mentioned how NATO was created as a way to oppose the Soviet Union during the Cold War, but has significantly expanded since then. Even historically neutral nations, such as Sweden and Finland, expressed interest in joining NATO, bringing the borders even closer to Russia.
Putin sees this expansionism as a form of aggression. By invading Crimea in 2014, Putin "effectively forestalled" Ukraine's membership into NATO. However, Ukraine is considered an aspiring member just like Sweden and Finland.
Fritz said that since NATO is an American-dominated alliance, Russia had to respond to the "expansionist policy by the West."
"The only way you can think about NATO expansion, even Ukraine joining NATO as an existential threat to Russia, is if Russia has defined its existence based upon the dominance of its neighbors," Fritz said.
Fritz said he does not fully agree with the NATO expansionism argument, but did say that the timing of the invasion raises a lot of questions.
"If we think about where Putin is, as a semi authoritarian leader, he's kind of in a real bad spot here," Fritz said. "He looks really weak right now, because he's not winning and if he doesn't get gains, he's going to look weaker."
Fritz is pessimistic that the war will end in the near future. He stressed that even he cannot explain how the war will progress, but hopes that the possible threats of nuclear violence will not come to fruition.
"If Putin was trying to destroy Western unity, he had the exact opposite effect with his invasion," Fritz said.
Two of Fritz's students, Kashmiraa Pandit and Sneha Balaji Prabhu, said the event was "interesting" and "insightful." They both thought the lecture was informative and explained a lot of historical and systemic context.
Bose said she enjoyed the event and she agrees with Fritz that it is difficult to see a "speedy conclusion" to the invasion.
"I think this was a very instructive, albeit sobering talk about explaining the multiple reasons for why Russia invaded Ukraine," Bose said.