The Great Alaskan Adventure
Riding the Rails from Anchorage to Fairbanks

By Becca Blond

Aug. 23 2023, Updated 4:00 p.m. ET
They call Alaska the Last Frontier, and the moniker fits. Everything here -- from the bears and moose to the mountains and sky -- feels larger, wilder, freer than in the Lower 48. Alaska is a land of few roads, of untouched wildernesses, and extreme seasonal changes in daylight. It is home to 20,320-foot Denali, the tallest peak in North America, to Midnight summer sunsets and in its north, winters of almost total darkness, and enough adventures to fill an entire bucket list.
To truly explore Alaska in depth you'd need months if not years. Many places are only accessible by small plane and costs can be prohibitive. But if this is your first sojourn in the 49th State, then a good way to get a taste of Alaska is book a week-long rail journey from Anchorage to Fairbanks and back with stops in Talkeetna and Denali National Park. This trip is best undertaken in summer when temperatures are comfortably warm, all businesses are open, and the sun never really sets.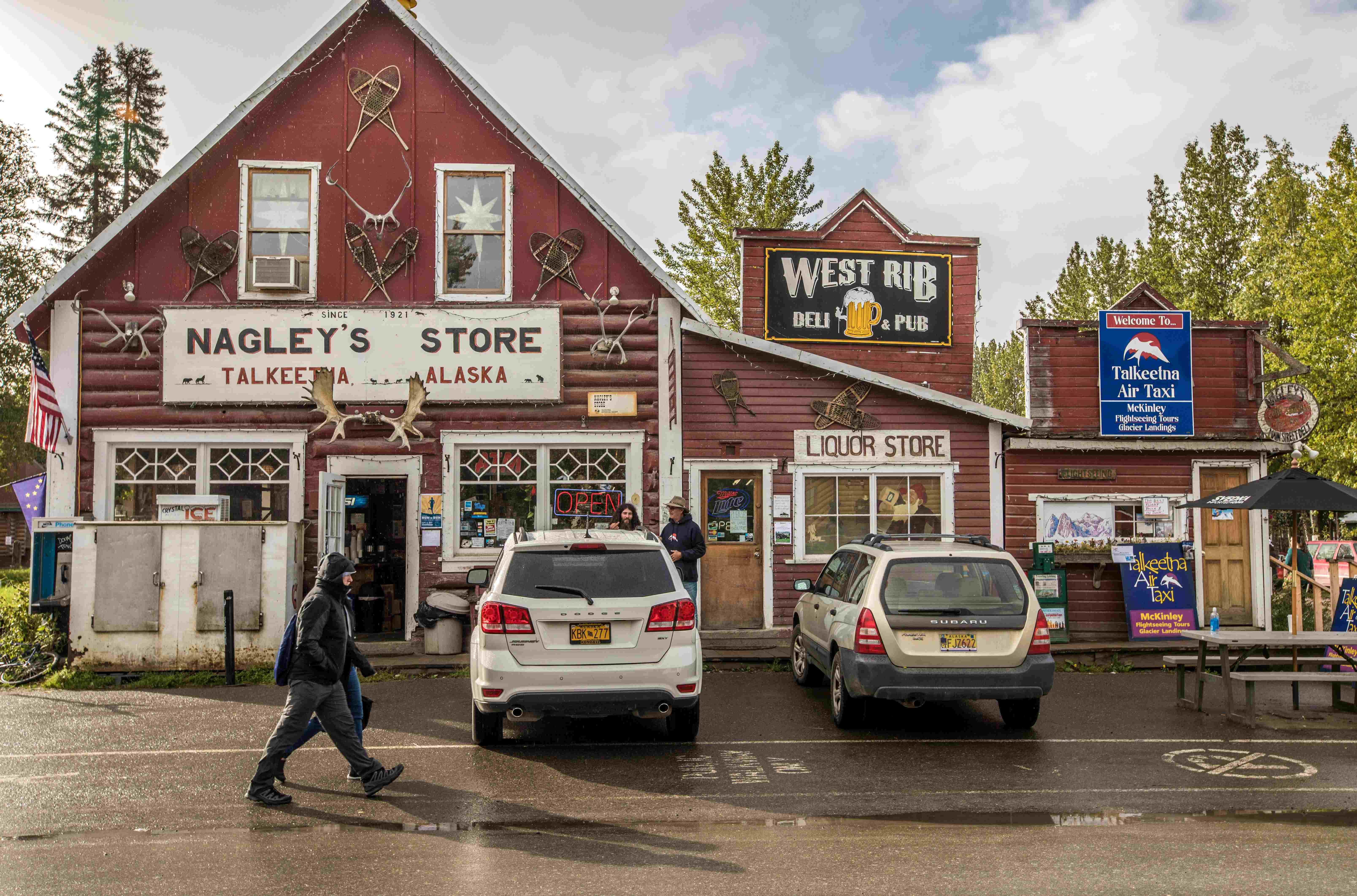 All Aboard the Alaska Railroad
The Alaska Railroad offers an easy and accessible way to see some of Alaska's top tourist attractions, including Denali National Park. The Denali Star Train, which connects Anchorage and Fairbanks in summer, is the railroad's flagship route, and the one most popular with travelers.
The Denali Star Train operates daily in both directions between the first week of May and the third week of September. If you are visiting any other time of year, you'll need to book the Aurora Winter Train. It runs the same route, but service is more limited – except for February and March, when there are midweek services, it only operates on weekends. You can check the schedule here. Winter journeys are much colder and darker, and many lodges and attractions shut down. However, traveling in winter gives the opportunity to see the Northern Lights.
The trip itself is stunning with an ever-changing landscape. The rail route winds its way past glaciers, the Alaska Range's craggy peaks, dense forests and salmon streams. And you'll often see wildlife out the large windows as you roll past. If you are lucky, you may even spot Denali. Because its massive height creates its own weather systems, it is often shrouded by clouds, and only about 30% of visitors are lucky enough to see the mountain at all.
Article continues below advertisement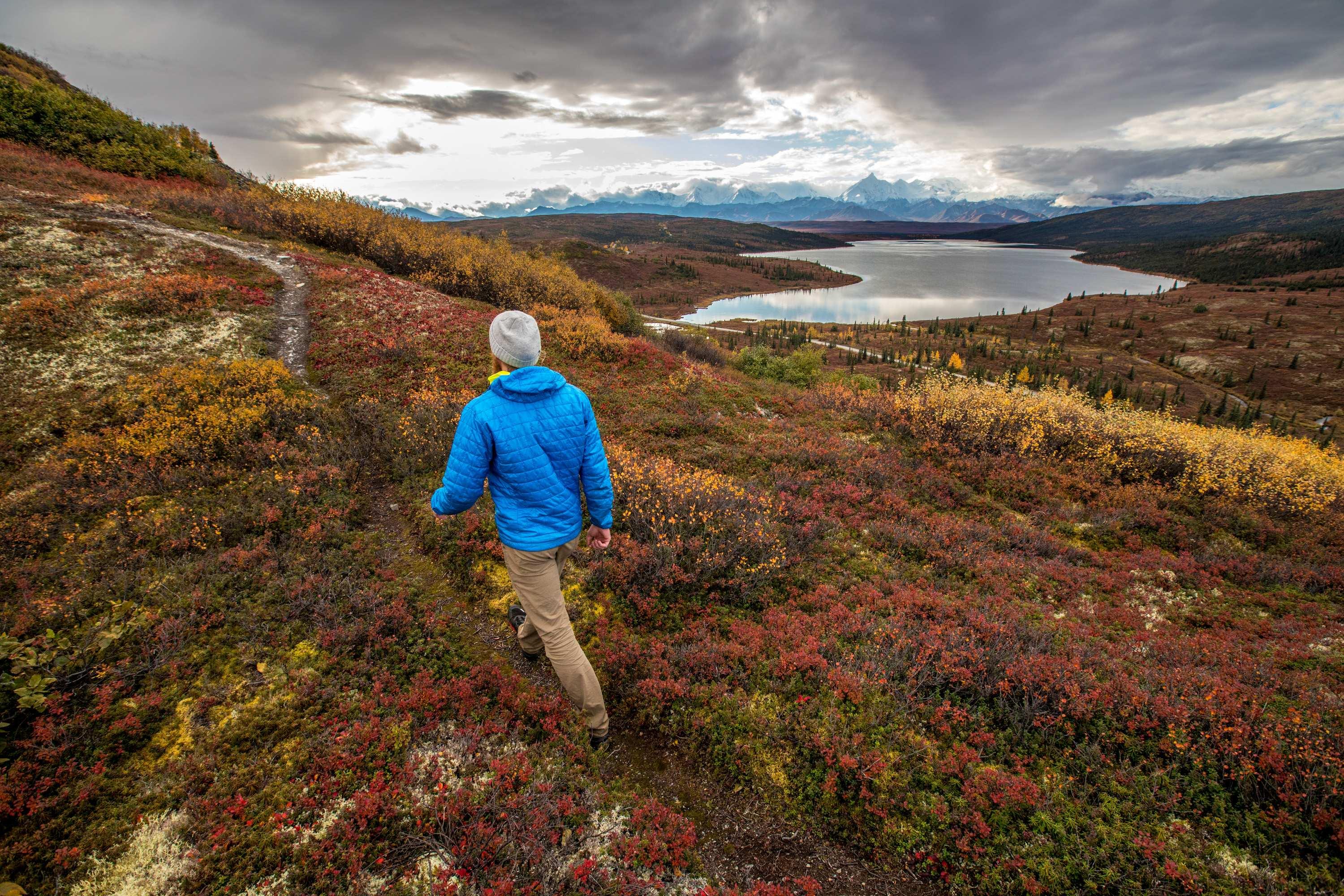 Stop #1: Denali National Park
The 356-mile journey between Anchorage and Fairbanks takes 12 hours if done directly, but this is not the point of this adventure. You'll want to make a few stops along the way. First up is Denali National Park, one of Alaska's crowning jewels. Unlike so many national parks, Denali does not require a car to access. In fact, with only one road through the entire park and only about 15 miles of that even open to anything other than park shuttle buses, it doesn't even make sense to have a vehicle here.
Book two nights at Denali Cabins, about 15 minutes outside the park entrance and accessible by a shuttle service. The self-contained, wood cabins are simple but cozy. There is an onsite restaurant, Prey, that cooks up delicious Alaskan-forward fare for breakfast, lunch and dinner. A grab-and-go coffee shop is also on the grounds. Other amenities include two outdoor hot tubs and a barrel shaped wooden sauna that can be reserved by the hour. All sorts of activities, from ATV tours to flightseeing trips over the park, can be organized.
You'll also want to explore the park itself. Head to the Denali Visitor Center first at the park entrance. Denali is home to amazing hiking, but most of it is not on marked trails. Instead, you'll check in with a ranger, then use a GPS to walk in one direction and kind of bushwhack through the wilderness. Expect to encounter wildlife at any time – everything from grizzlies to moose are prevalent. Always hike with bear spray.
If being off-trail is not exactly your style, there are also marked trails of varying length and difficulty that depart from the visitor's center. These are a more mellow introduction to Denali and still give you a good taste of the park.
Article continues below advertisement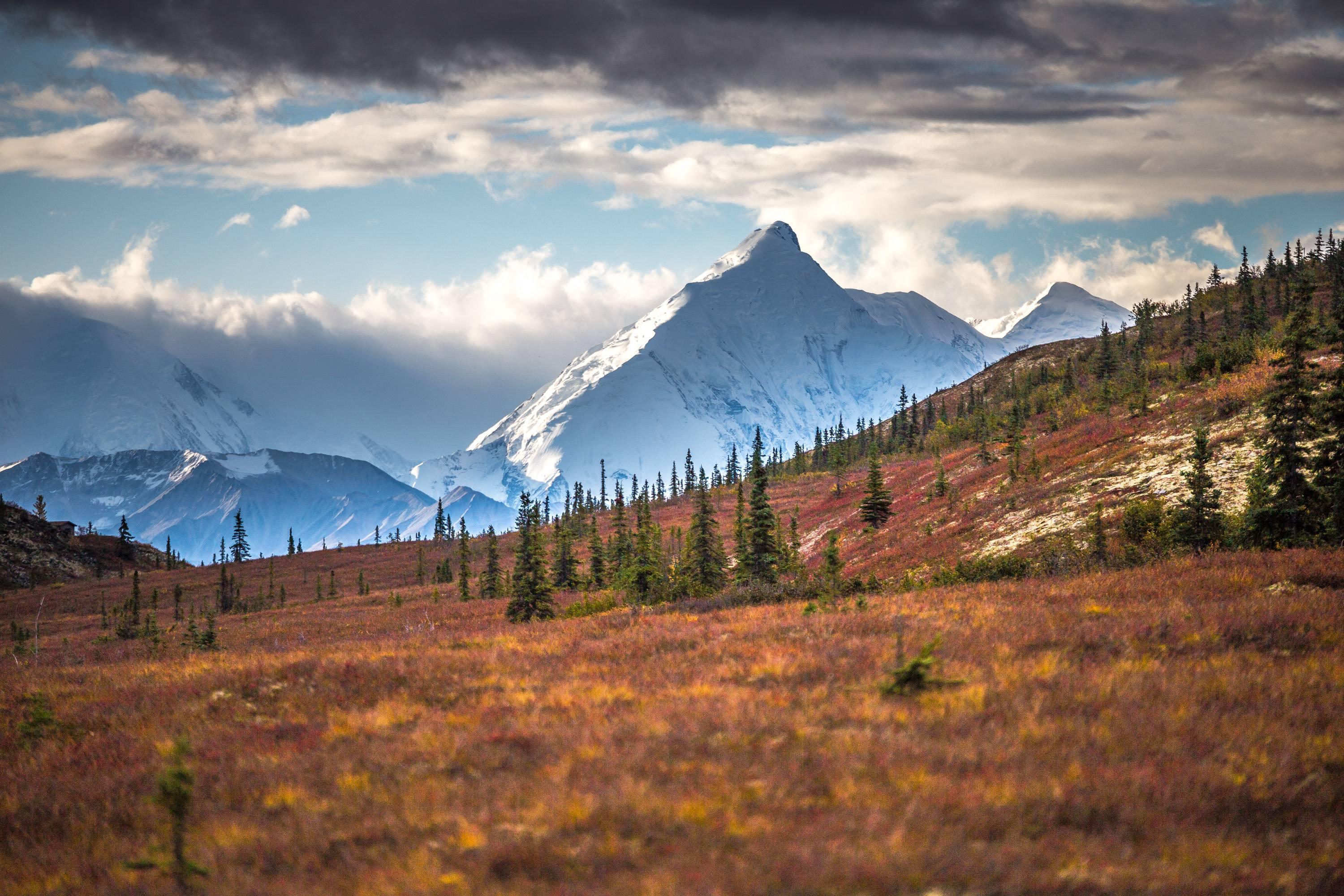 Stop #2: Fairbanks
Located just 188 miles south of the Arctic Circle, you really get sun never sets phenomenon in Fairbanks during summer. It is a strange feeling, watching a fiery sunset after Midnight only to watch a sunrise shortly afterwards. In between there is twilight.
Known as "The Golden Heart City" for its geographic locale near Alaska's center and as a reference to its gold rush roots, Fairbanks has a frontier town charm that comes alive in summer. Book two nights here as there are plenty of adventures to be had.
An Arctic Circle Air Adventure is one popular day trip. On it you'll take a scenic flight tour that takes you across the Arctic Circle and offers views of the Yukon River, the Brooks Mountain Range and the Gates of the Arctic National Park.
If you'd rather explore by foot, the Arctic Circle Drive Adventure can be booked as an add-on to your Alaska Railroad ticket. The day trip takes about 17 hours (but since it never gets dark, you don't really notice the distance).
You'll take a 25-passenger coach bus up the Dalton Highway bound for the Arctic Circle, which you'll cross in ceremonious fashion. You'll also make stops along the scenic, roundtrip route that has you walking across arctic tundra, seeing the Yukon River up close and visiting the Arctic Circle Trading Post in the remote community of Joy.
Fairbanks has a range of lodging options and dining options. Airbnb's are also available here and can be a fun alternative to a hotel.
Article continues below advertisement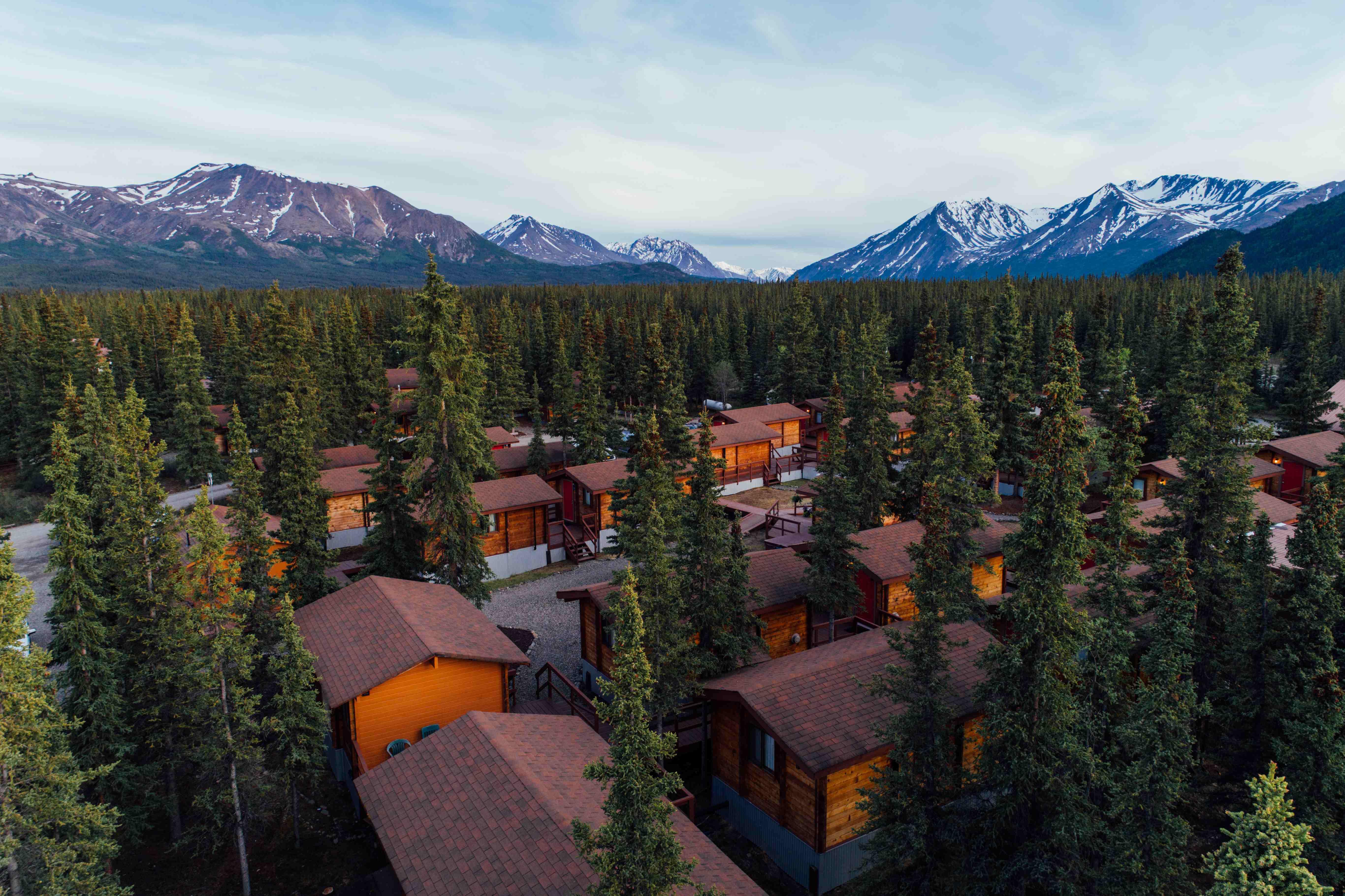 Stop #3: Talkeetna
You will pass Talkeetna before you reach Denali coming from Anchorage but leave this quirky little town for the end as it allows you to break up the journey better. If you haven't seen Denali yet, some of the best views of the mountain are found here.
Spend a night or two at the Talkeetna Alaskan Lodge. On a ridge above town, the timber and brick lodge features direct views of the Alaska Range including Mt. Denali towering behind it. The onsite restaurant, Foraker, serves a fine dining style menu with some delicious Alaskan seafood (the crab is really good) and game selections.
Make sure to wander around Talkeetna town while here. It has just two streets and supposedly inspired the 90s TV show Northern Exposure. In summer it is a super lively place, home to dozens of restaurants, bars, and even a cannabis dispensary. The town is also famous for its honorary mayor, a cat named Aurora. She lives at Nagley's General Store and is the third feline to run this town that doesn't have a human mayor equivalent.
There is good hiking around Talkeetna, and you can also book a flightseeing adventure if you haven't been on one yet. The Talkeetna Alaskan Lodge can organize trips that fly you around Denali and the national park. Some trips fly over the mountain's summit, while others land on a glacier.
From Talkeetna it is just a few hours back to Anchorage, where you can spend a final night before flying out. Alaska's largest city has a compact downtown and some great watering holes to finish out a Last Frontier adventure in. Top spots include 49th State Brewing for a tasty craft beer, sun drenched patio, and delicious pub grub and Humpy's Great Alaskan Alehouse, which is a local pick with a dive bar vibe, live music, and good food.