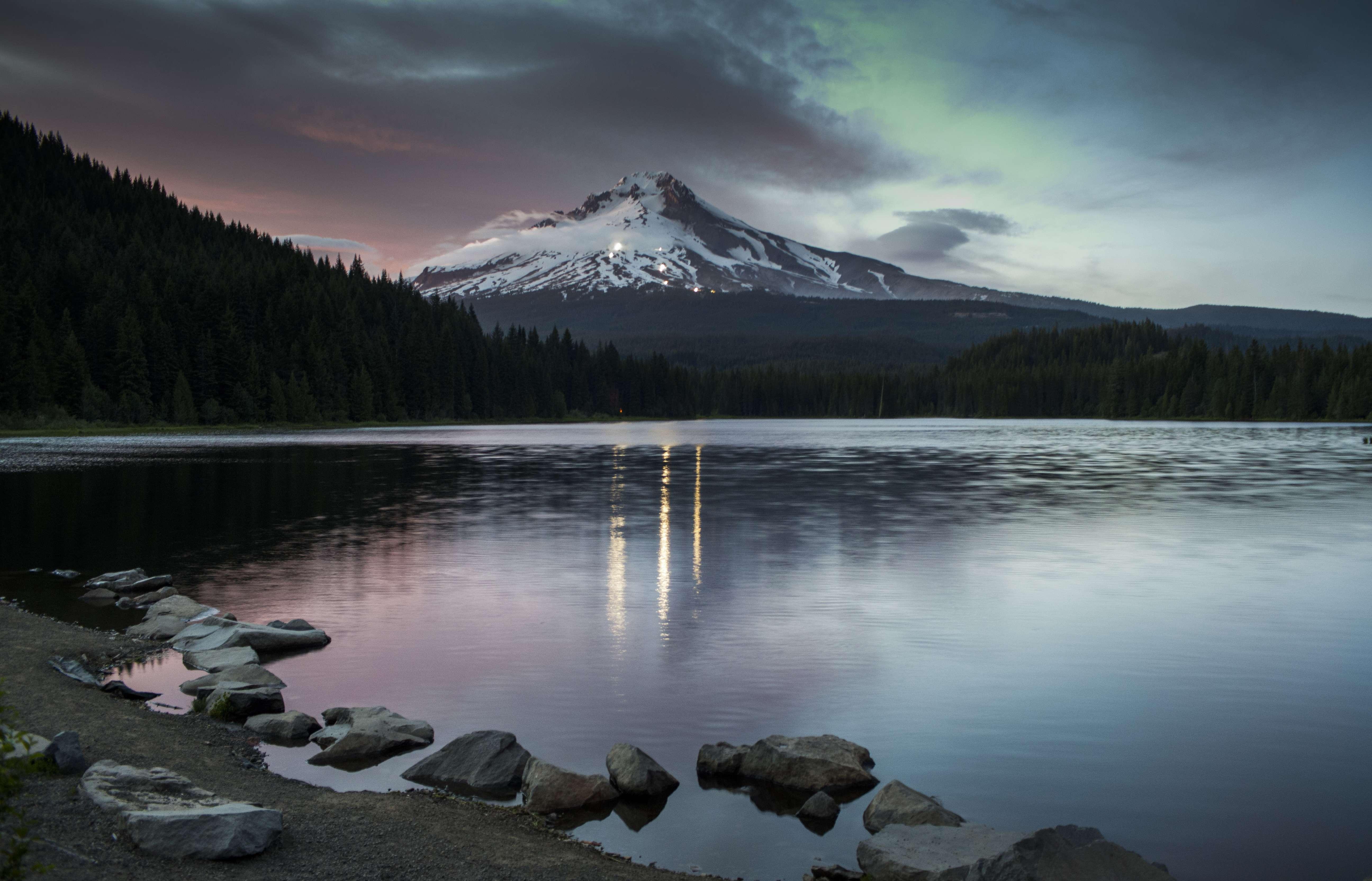 How To Spend Five Fabulous Days Around Portland, Oregon
Set against the majestic backdrop of Mt. Hood and stunning natural beauty, Portland visitors are treated to a creative journey through the city's eclectic arts, music, culinary and outdoor scenes.

By Becca Blond

Jan. 31 2023, Published 9:30 a.m. ET
Set against the majestic backdrop of Mt. Hood and stunning natural beauty, Portland visitors are treated to a creative journey through the city's eclectic arts, music, culinary and outdoor scenes.
Article continues below advertisement
Home to a thriving maker community, DIY drive and a passion for sustainability, Portland has a vibrant, urban buzz that is fun to explore in all seasons.
In this article we check out where to play, eat, drink and stay in Portland and the surrounding Mt. Hood and Columbia River Gorge region. To do this trip right, we recommend three nights in Portland and two in the surrounding countryside.
Where to Play in Portland
Portland's historic West End has emerged as a center of creativity, fashion and nightlife. Powell's City of Books is here. It is the largest used and new bookstore in the world. Occupying an entire city block, Powell's stocks more than a million volumes. It has nine color-coded rooms that house 3,500 different sections and offer a huge selection of out-of-print and rare books.
The Shops at 10Y is a full block of commercial space in the heart of downtown Portland's retail district. The tenants are a mix of owners who are local, women and from Black, Indigenous, people of color communities that have often not had access to the downtown market in the past. Here you'll find Amity Artisan Goods. More than a retail store, Amity is a center for underserved artists, women, immigrants, LGBTQ, Black, Indigenous, Latine, Asian-American, and Pacific Islander, makers of artisan goods and gifts - more than two dozen makers represented and counting.
There is more to Portland than shopping, however. The city is also home to outdoor adventures from kayaking or SUP boarding on the Willamette River to hiking and running in Forest Park. The latter has 70 miles of trails and is in the city's northwest corner. The eight-mile-long conservancy provides a great respite from urban life and is a wonderful place to just get lost in the forest for an afternoon.
Article continues below advertisement
Where to Eat in Portland
You'll want to pay a visit to The Crick PDX. It is the downtown tasting room and restaurant of Abbey Creek Winery, which was started and still owned by Bertony Faustin, Oregon's first Black winemaker. Faustin bought the vineyard in 2008 and started making wine to heal and pay respect to his late Haitian father and his "immigrant hustle."
"Wine is the vehicle for me. It is the thing that allows me to connect to the people," Faustin says. "It isn't just about the wine. It's about the moment. It's about the experience. You can look at all my reviews and no one talks about the wine, they talk about the moment."
His tasting room is usually full and jovial, with people indulging in exactly the experience he wanted to create. The food menu is Haitian-themed, staying true to Faustin's roots. And the music soundtrack is always on point and thumping. Each wine's name is a hashtag, which Faustin says he gave with the characteristics of the grape in mind.
"My malbec, she's called #Blackertheberry, because she's a little extra," he says. "It's all about the vibe."
With a speakeasy ambiance Scotch Lodge is a top dinner choice. It has a modern French menu that is well thought out. Begin with the oysters served with three types of granitas. The arancini appetizer was also mouthwatering. The spaghetti with manilla clams entrée was delicious and the duck breast pappardelle also got good reviews. The cocktail bar focuses on whisky drinks curated by Tommy Klus.
Dolly Olive is another good dinner option. Here the in-house pasta program stands out with three different rotating pastas and high-quality ingredients. The spaghetti bolognaise is one winning dish.
In the Alberta Arts District, which is also home to some fun boutique shops, Tin Shed PDX is one of the best breakfast choices around. If you are traveling with a dog, it is also super pup-friendly with a canine menu that is served on a covered patio. Vegetarians will like the faux breakfast meats and mushroom country gravy. Sweedeedee, also in the Alberta Arts District, is another top breakfast and lunch spot. It serves up a rotating menu that changes with the seasons.
Article continues below advertisement
Where to Drink in Portland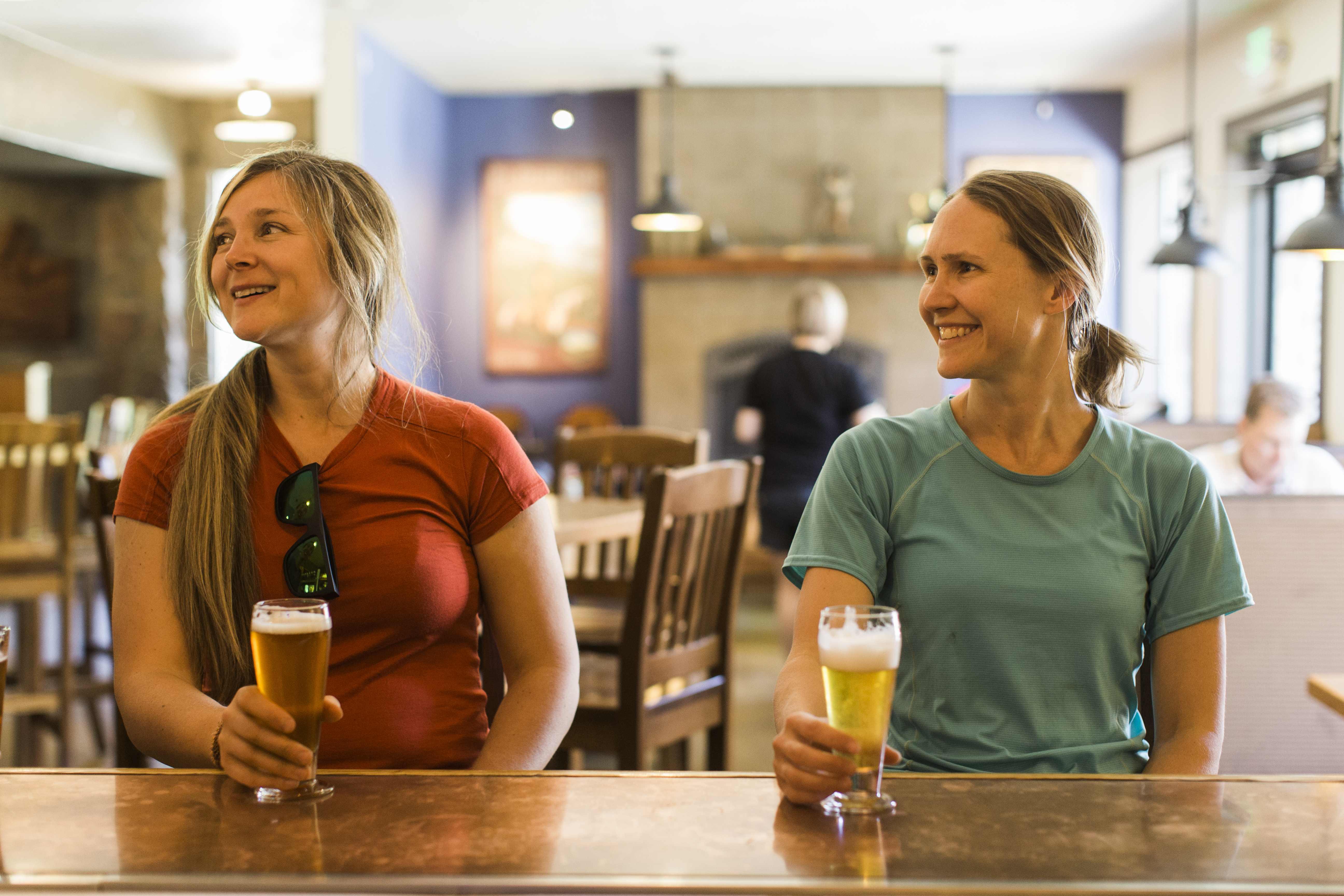 Portland has some great live music. Wilfs is an iconic spot for jazz with supper-club like performances Wednesday through Saturday. Other live music venues include the contemporary The 1905, the fiercely independent Mississippi Studios, Alberta Rose Theatre with a former movie-house design and Revolution Hall built in an old schoolhouse.
You can also pay homage to a Drag Queen Legend at Darcelle XV Showplace, the oldest continuously running cabaret in the United States. The location itself was even registered on the "Historic Places Registry" last year.
Article continues below advertisement
Where to Stay in Portland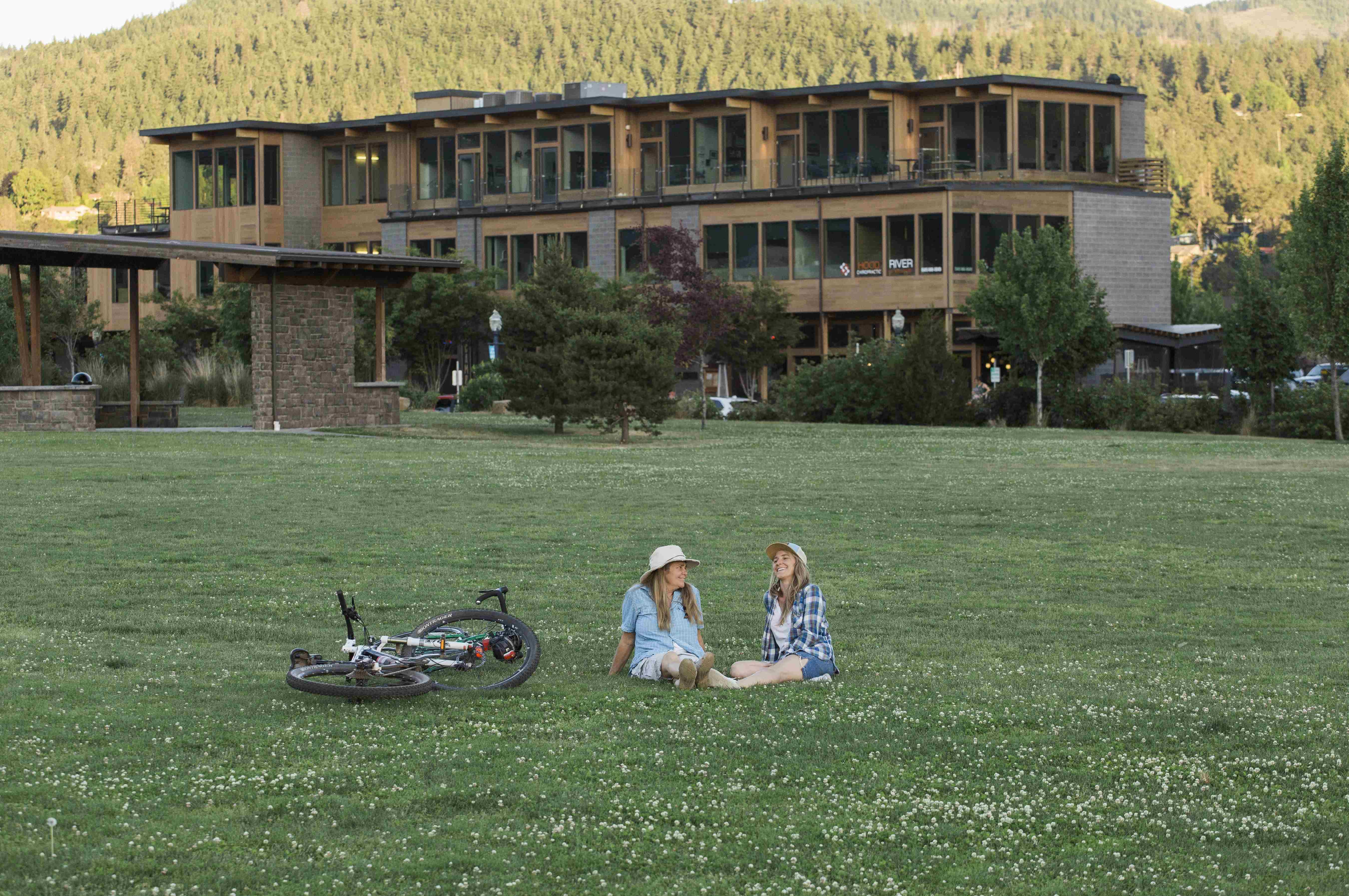 Ideally situated next to Portland's Pioneer Square and the MAX light Rail, The Nines is located on the top nine floors of the historic Meier & Frank Building. The luxury hotel features striking décor that is complimented by an impressive contemporary art collection by local artists. It is also pet-friendly if you are traveling with a dog.
There are a few onsite dining choices at The Nines. When the weather is nice, make sure to head to the rooftop for happy hour on the two outdoor decks at Departure Restaurant. Open Wednesday through Sunday, it has views of the mountains, the city and the Willamette River. There is also an indoor dining room, and the restaurant focuses on modern Asian fare with a Pacific Northwest twist.
The Woodlark Hotel is another top downtown property. The elegant, recently renovated historic hotel is housed in two early 1900s buildings and has a bright color scheme throughout.
Article continues below advertisement
Road-Trip to Mt. Hood and the Columbia River Gorge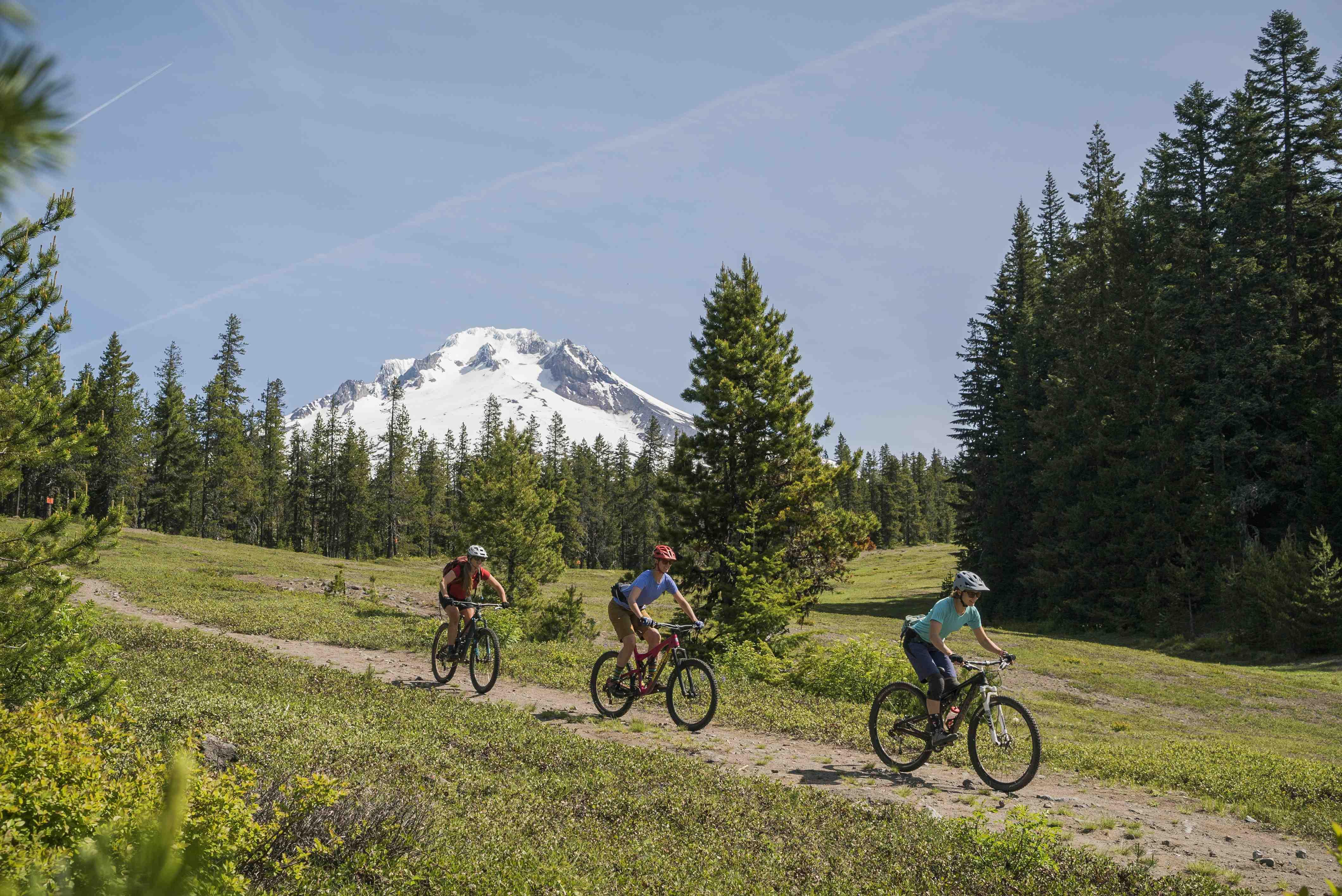 Just an hour's drive from Portland, but world's away, it is well worth devoting two nights to exploring this region that is filled with mossy green rainforests, snow-capped peaks, gushing waterfalls and lots of cideries.
Built in 1936 and declared a National Historic Landmark in 1977, Timberline Lodge is one of Oregon's most popular tourist attractions, drawing nearly two million visitors every year. Considered an architectural wonder, it's still being used for its original intent—a magnificent ski lodge and mountain retreat for all to enjoy.Timberline is home to North America's longest ski season. In the height of winter, the ground floor of the lodge is typically fully buried in snow, with entry through a snow tunnel, or directly into the second floor. The lodge, combined with its cozy rooms, pub, restaurant and resident St. Bernards (Bruno and Heidi), is a welcome relief after a full day on the slopes.
A beautiful rustic resort on the North side of Mt. Hood, offering lodging (including dog friendly cabins) and a farm to table restaurant, you can also spend the night at Cooper Spur Mountain Resort. It features a serene environment with a plethora of hiking and outdoor activities just minutes from your doorstep.
Set on 22 acres in the shadow of Mt. Hood in Hood River, Sakura Ridge is a luxury five-room bed and breakfast on a working farm and orchard. Recently purchased by Nashi Orchards, the new owners completed a full property renovation in 2022 and plan to grow and source fruit for Nashi's award-winning perries and ciders. The views are fantastic and the breakfast here is a whole different level of healthy goodness.
Also in this area is the Columbia River Gorge, which is the largest National Scenic Area in the U.S. Here you'll find dozens of awesome waterfalls tumbling off basalt cliffs including the ultra- famous Multnomah Falls, just off the highway. The area is also home to lots of hand-crafted beer, cideries and vineyards.