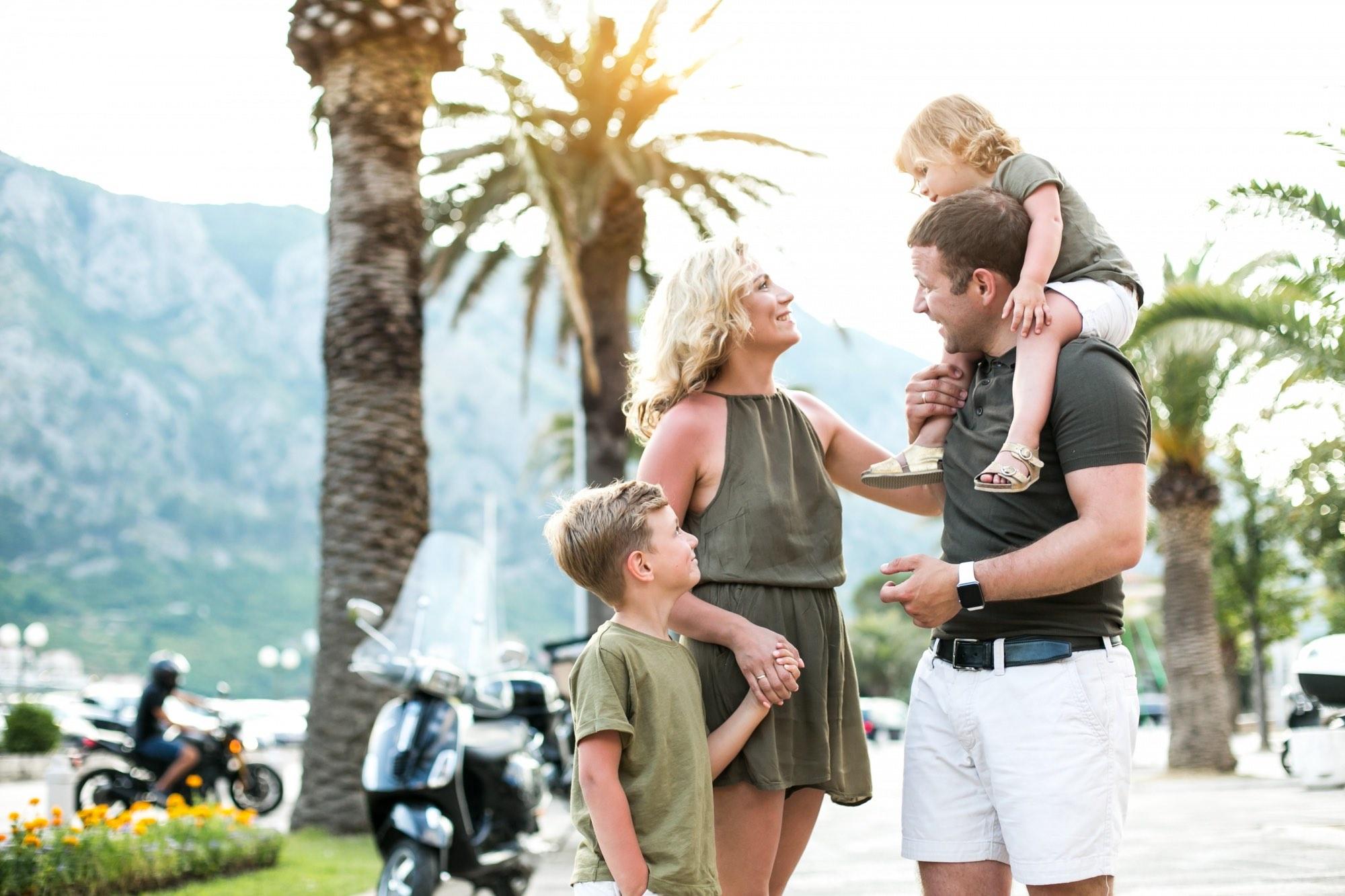 Family Travel Made Easy: A Guide to Stress-Free Vacations with Kids
Discover the ultimate guide to stress-free family travel! From efficient packing to navigating airports with ease, embrace the joy of vacationing with kids. Explore tips on choosing kid-friendly destinations, dining out, entertainment on the go, and prioritizing safety. Make every moment a cherished memory with this comprehensive family travel guide."

By Bleu Magazine

Nov. 9 2023, Published 4:15 p.m. ET
Welcome to our guide on transforming family vacations into joyful journeys! As a parent, I've had my share of travel tribulations, from packing nightmares to in-flight meltdowns. But through it all, I've gathered a treasure trove of tips and tricks that have turned our getaways into smooth sailing adventures.
Whether it's a weekend trip to the countryside or a full-fledged holiday abroad, I'm excited to share my insights to help you enjoy stress-free vacations filled with laughter and cherished memories with your kids. Let's make family travel not just easy, but a whole lot of fun!
Article continues below advertisement
Packing Perfection
Ah, packing—the bane of many family trips! I used to dread it, but now, it's become a game of efficiency. My secret weapon? Lists! One for each family member. I involve the kids too; they get a kick out of ticking off their stuffed animals and books.
We stick to essentials to keep our luggage light, and I always pack a 'just-in-case' bag for those unexpected moments. Color-coding each child's items has been a lifesaver. It turns finding a tiny sock in a mountain of clothes into child's play. Trust me, a little organization goes a long way towards a breezy departure!
Navigating Airports with Children
Airports can feel like a labyrinth, especially with kids in tow. I remember the days when the mere thought of an airport trek sent shivers down my spine. But now? It's a breeze. The game-changer was arriving early, which took off so much pressure.
Article continues below advertisement
We'd find a play area or a quiet corner where the kids could unwind. Snacks are a must—healthy ones that keep energy levels stable. I also swear by little backpacks for the kids, filled with their favorite toys and activities. And, always have a stash of gum or lollipops for those ear-popping moments during takeoff and landing. It's about creating a calm, fun experience for everyone—high fives for smooth flying!
Choosing Kid-Friendly Destinations
Selecting the right destination can make or break a family holiday. Through trial and error, I've learned to look for places with a mix of activities—beaches for play, parks for downtime, and museums for a dash of education. One of our best trips was when we decided to book a stay near Santa Ana. The area was perfect, brimming with child-friendly attractions that kept the little ones delighted.
Article continues below advertisement
Plus, staying in affordable hotels didn't just save us money; it also meant less worry about the inevitable juice spills and pillow forts. Finding spots that cater to the whims of children means everyone's happy, making for a holiday that's remembered for laughter, not logistics.
Dining Out with Young Ones
Eating out with kids doesn't have to mean fast food or facing the dreaded 'kids menu' at every turn. I've found joy in seeking out quaint cafes and family-run restaurants where the kids are greeted with crayons and their curiosity about new foods is met with smiles.
Sharing dishes is our go-to, turning meals into a culinary adventure and avoiding waste. We also aim for off-peak hours to dodge the crowds, which means the kids can be a little louder without any worry. And remember, a well-timed ice cream promise can turn even the fussiest eater into a food critic in the making!
Article continues below advertisement
Entertainment on the Go
Keeping the kids entertained during long journeys has become my superpower. I always pack a bag of tricks: a deck of cards, a few travel-sized games, and their favorite books. Audiobooks and podcasts are fantastic too—they're like magic for long car rides or flights. And I can't forget the wonder of simple games like "I Spy" or travel bingo, which can turn a mundane trip into an exciting quest.
Sometimes, the best entertainment is a good old conversation, sharing stories and planning the fun we'll have once we arrive. These moments of connection? They're the real gems of our travels.
Article continues below advertisement
Safety First
On every trip, my motto is "Safety First." Before we set off, I equip the kids with wristbands containing our contact info, just in case we get separated. I always carry a first-aid kit for scraped knees or unexpected tummy aches. And we talk about staying together and what to do if they feel lost.
It might seem a bit much, but these small steps keep my mind at ease, allowing us to explore with confidence. Plus, the kids feel like adventurers with their 'gear'—ready for anything our travels throw at us!
Embracing Each Moment
In closing, remember what Sandra Day O'Connor said: "We don't accomplish anything in this world alone." This sentiment perfectly captures the essence of family travel.
It's about togetherness, the shared snickers during a game of 'I Spy', the group huddle over a map, and the collective triumph when you find that hidden gem of a diner. Each trip cements bonds and weaves a tapelet of memories.
So pack your bags, hold hands, and venture forth. The stories you'll tell and the lessons you'll learn are the ultimate souvenirs from your travels as a family. Safe travels!