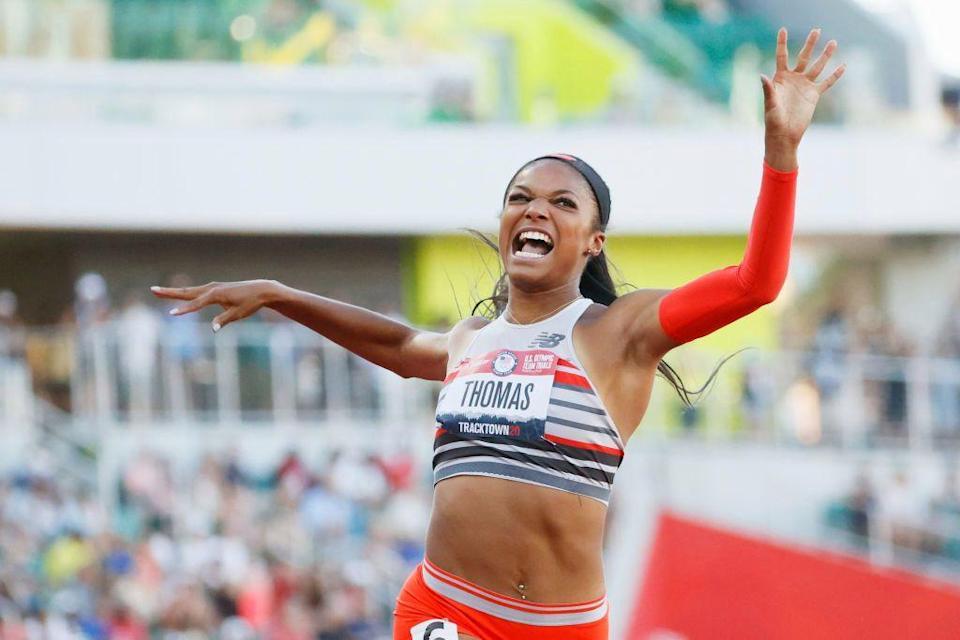 Gabby Thomas Qualifies for the Tokyo Olympics
Gabby Thomas, qualified for the Tokyo Olympics after winning the women's 200 meter at the U.S. Olympic track and field trials in Eugene,

By Ashley G

Jun. 30 2021, Published 12:01 p.m. ET
Last weekend Gabby Thomas qualified for the Tokyo Olympics after winning the women's 200 meters at the U.S. Olympic track and field trials in Eugene, Oregon. There has only ever been one woman who had an outstanding record for a 200-meter run. The legendary FloJo, also known as Florence Griffith Joyner, had the record of 21.34 seconds. Although Thomas didn't beat that record she posted a shockingly impressive time, being 21.61 seconds. Thomas is now right below Griffith Joyner in the record books.
Thomas jumped ahead 25 of the fastest women ever which includes Who's Who of American world and Olympic champions such as Marion Jones (21.62), Allyson Felix (21.69), Gwen Torrence (21.72), and Evelyn Ashford (21.83). Allyson Felix witnessed Thomas break her Olympic Trials record from 2012. "Allyson Felix was my biggest inspiration," stated Thomas. "She was the first person I remember watching on TV. Sitting at my granny's house, my mom told me to turn on the Olympic Trials because she saw someone who reminded her of me. That's the person who has been in the back of my head for so many years." Adding on to that, Thomas had also spoken out about how Felix's grace and humanity were such an inspiration to her.
Thomas took her accomplishment to Twitter and posted,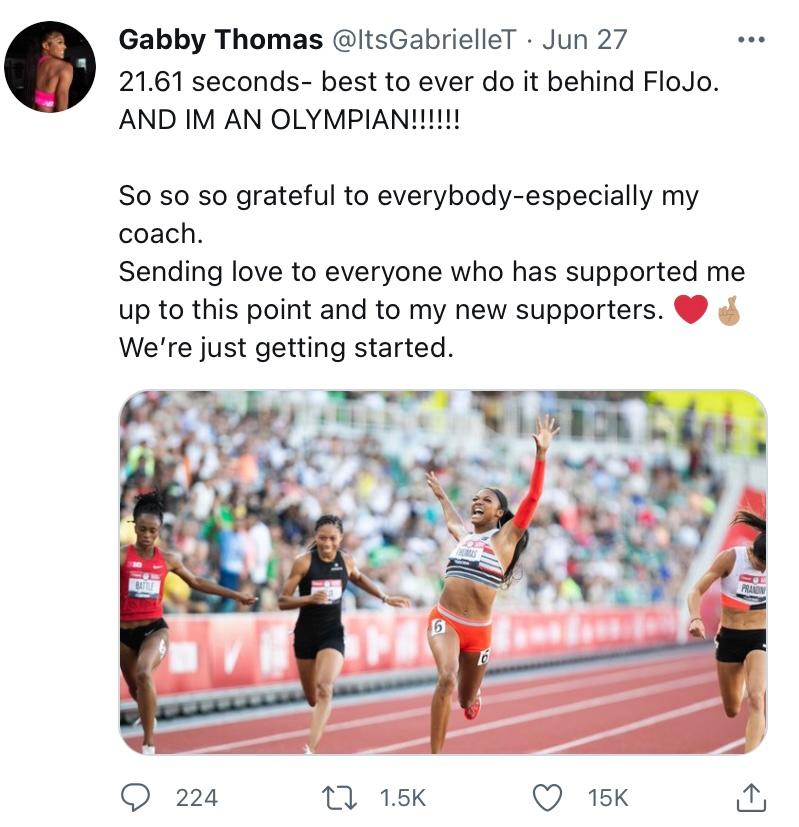 Gabby Thomas
Thomas was born in Atlanta and raised in Massachusetts and now lives as well as trains in Austin, Texas. Before leaving Austin, Texas Thomas had a health scare. In order to determine what was aggravating her hamstring, she had an MRI of her lower back to identify the problem. The doctors found that she had a tumor in her liver. "I worried I wouldn't be able to be in a good headspace here to perform just knowing that I could possibly have cancer," Thomas stated, "I remember telling God, 'If I am healthy, I'm going to go out and win Trials. If this is not cancer, I'm will make this team.' And that's exactly what I did".