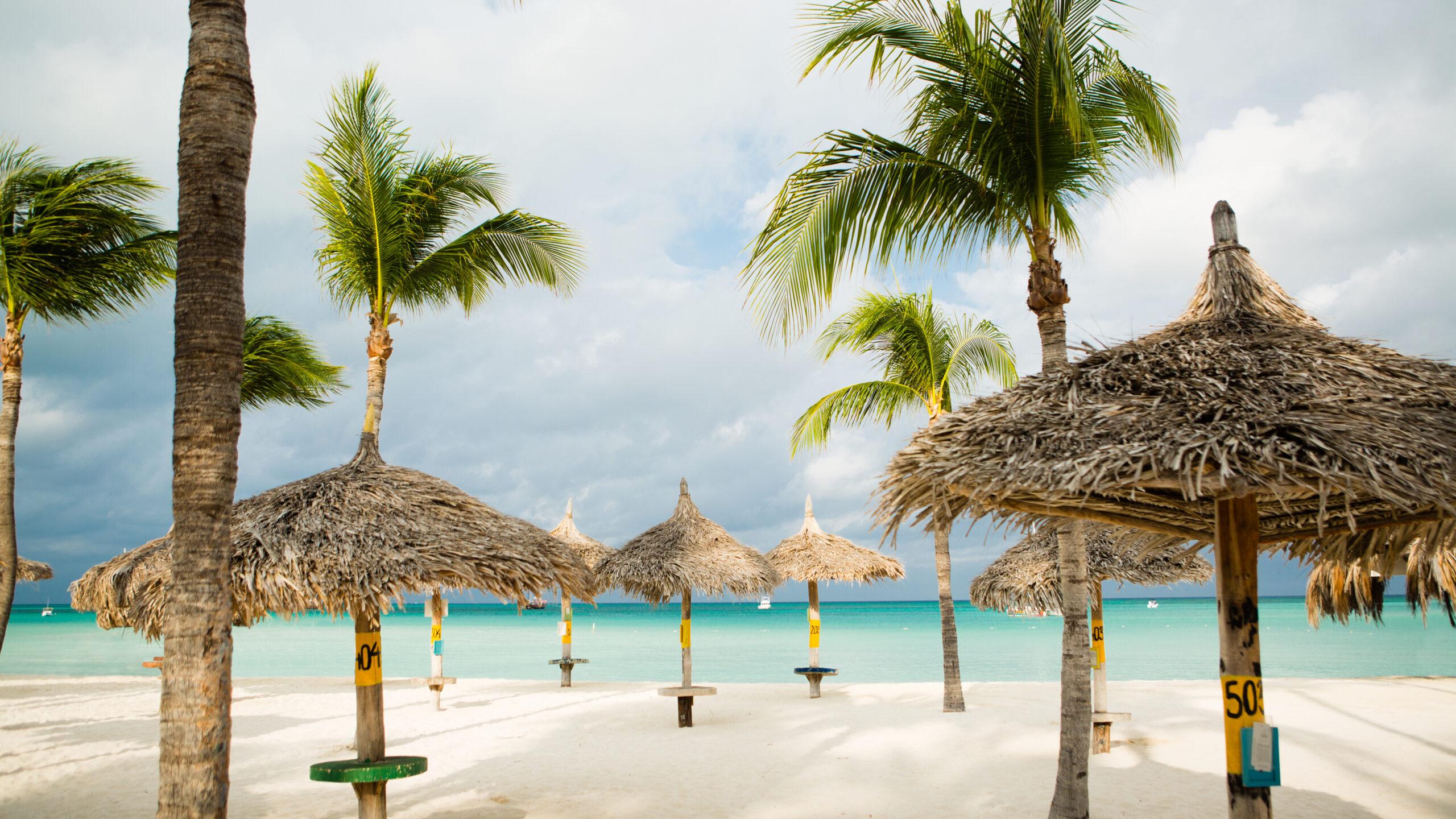 A Visit To Aruba Is All About Good Vibes and Experiential Diversity
With good vibes, good food and drinks, great adventures, and a burgeoning art scene, Aruba, the One Happy Island, has it all.

By Becca Blond

Jan. 28 2022, Published 11:31 a.m. ET
With good vibes, good food and drinks, great adventures, and a burgeoning art scene, Aruba has it all.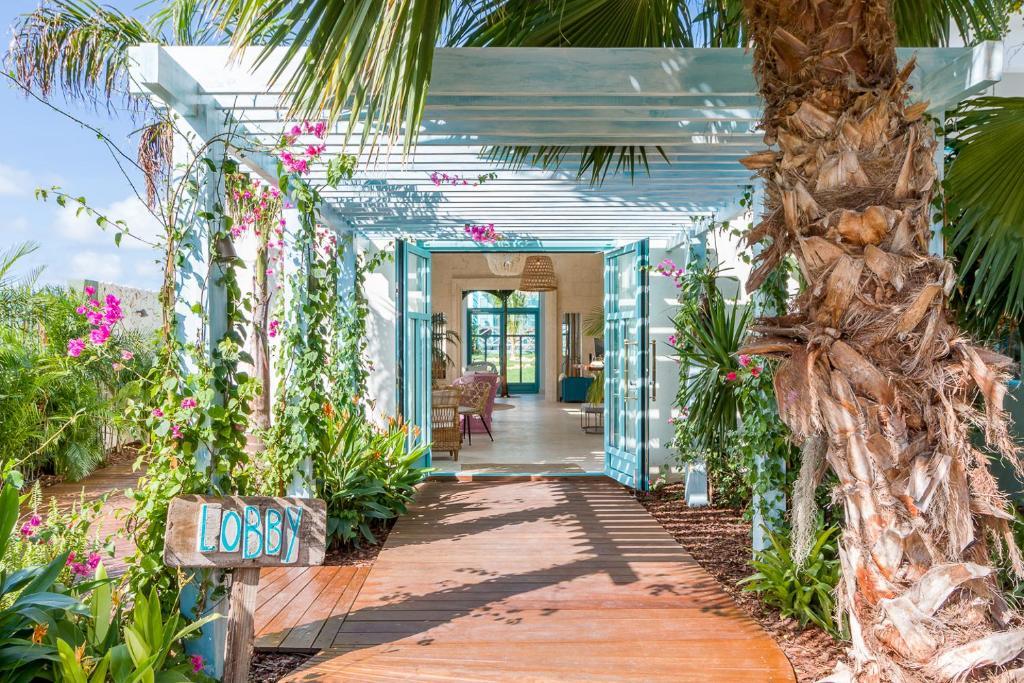 The self-described "One Happy Island" sits just 15 miles off the Venezuelan coastline outside the hurricane belt and unlike most of the Caribbean doesn't have a rainy season. Seeing just 15 inches of rain per year, Aruba has a desert landscape that's home to towering cacti, which means your holiday in paradise is unlikely to be marred by dreary days.
Aruba is also graced by near-constant trade winds that keep temps warm but not scorchingly hot and humid. With coastlines of white sand beaches and calming turquoise sea waters, Aruba is indeed "One Happy Island".
Stay
Offering good value and a great location right on gorgeous Palm Beach, theMarriott Aruba Stellaris Hotel & Casino is one of the best places to sleep on the island. The hotel has more than 400 rooms and 24 suites and caters to everyone from groups of friends, to couples and families with kids. It also offers adults a "resort within a resort" experience with its Tradewinds Club. Guests here get VIP treatment before and during their stay. The 49 rooms are located in one section of the resort and have their own private lounge where free gourmet selections for breakfast, lunch, and happy hour are served. You'll also have access to a secluded section of beach reserved for Tradewinds Club guests. As an adults-only section of the resort, you won't be bothered by the sounds of small children on your floor.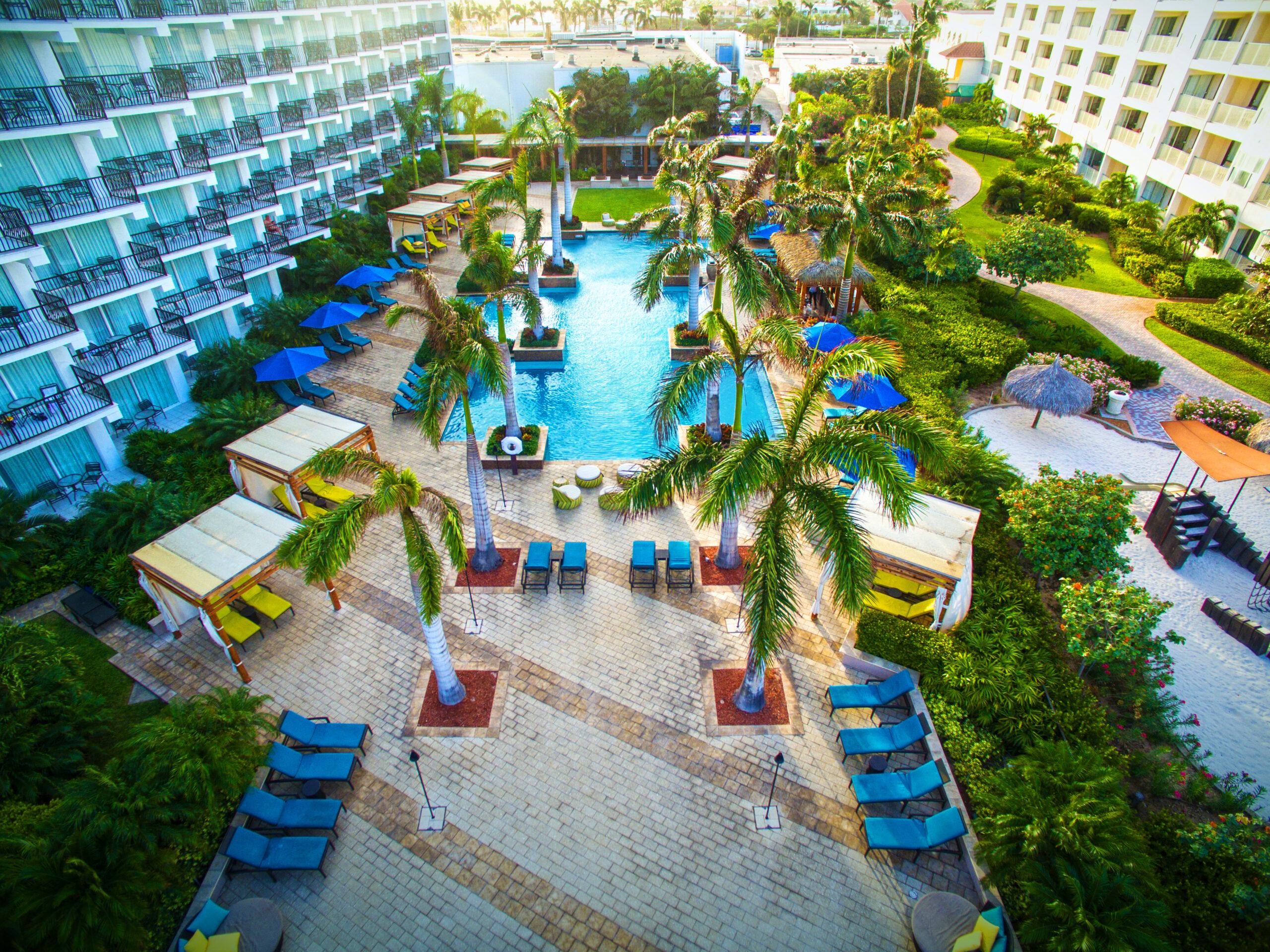 Article continues below advertisement
Regardless of whether you are staying at the Tradewinds Club, adult guests in any room category have access to the H2Oasis Adults Only Pool. The pool has its own bar and food service. If you are traveling with kids or want a swim-up bar experience head to the main pool. It is large and has a fun waterfall area. The hotel also offers sun loungers and umbrellas on the sand for guests. Guests also have the option to order food and drinks from passing wait staff.
There is no shortage of dining choices at the Marriott Aruba with 10 onsite restaurants (note this is not an all-inclusive resort) ranging from a lobby dining room serving sushi and other small plates to the romantic Atardi, the property's signature dining experience. The alfresco restaurant is dinner only and serves guests at tables set up on the sand by the sea. Book for sunset. The menu is seafood forward but there are also options for meat-eaters and vegetarians.
Article continues below advertisement
Play
Aruba offers all the usual tropical beach vacation activities and then throws in a few unusual ones. De Palm Toursis another one-stop adventure shop for island excursions offering everything from diving and snorkeling excursions to fishing and snuba. A highly recommended offering is the 3-hour Andicuri UTV Off-Road Adventure Tour. It lets you experience Aruba's wild natural beauty in a way you can't see from the paved roads around the island. You'll have the opportunity to drive your own UTV through steep terrain with loads of adrenaline-fueling obstacles. There are stops along the way to take in attractions like a black sand beach, a natural bridge formation, and a lighthouse. Dress to get really dirty — you'll be covered in red dust by the end.
Aruba also has a vibrant street art scene. In the once-abandoned town of San Nicolas on the southeast end of the island, there are now more than 50 murals and other art installations to see. Check out the scene on anArt Mural Tourrun by the enigmatic Tito who is passionate about building Aruba's reputation as an art destination. Tito's tours last about 2-hours and go over the history of the art and his vision for the future.
Additionally, theAruba Art Fair is a yearly art festival that takes place over three days in September in San Nicolas. During the festival, local and international artists perform live art and display their unique creations. There are also local food and beverages served and music, dance, and live entertainment.
Article continues below advertisement
Eat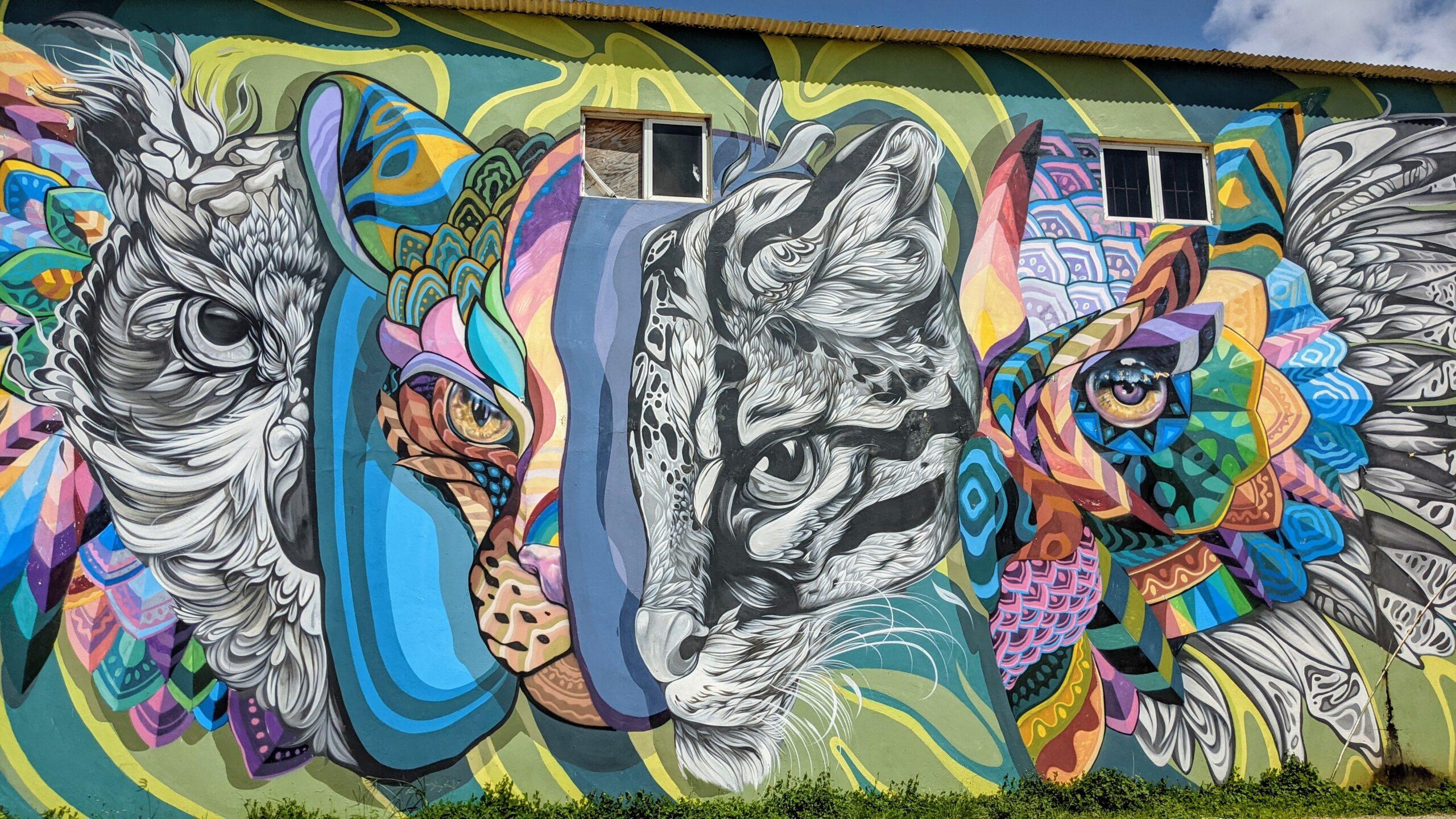 Aruba's proximity to South America influences its culinary scene and you'll find the food here is quite different from other Caribbean Islands. The capital of Oranjestad is home to numerous restaurants and bars including the new hotspot Lima Bistro at Harbor House Marina. Peruvian cooking influences the international fare served here and the food is bursting with flavor. Begin with the tuna tostada or beef anticucho and then move on to the short ribs with mushrooms and potato or the fish with black rice, calamari, and aioli lemon pepper butter. The craft cocktails are also amazing.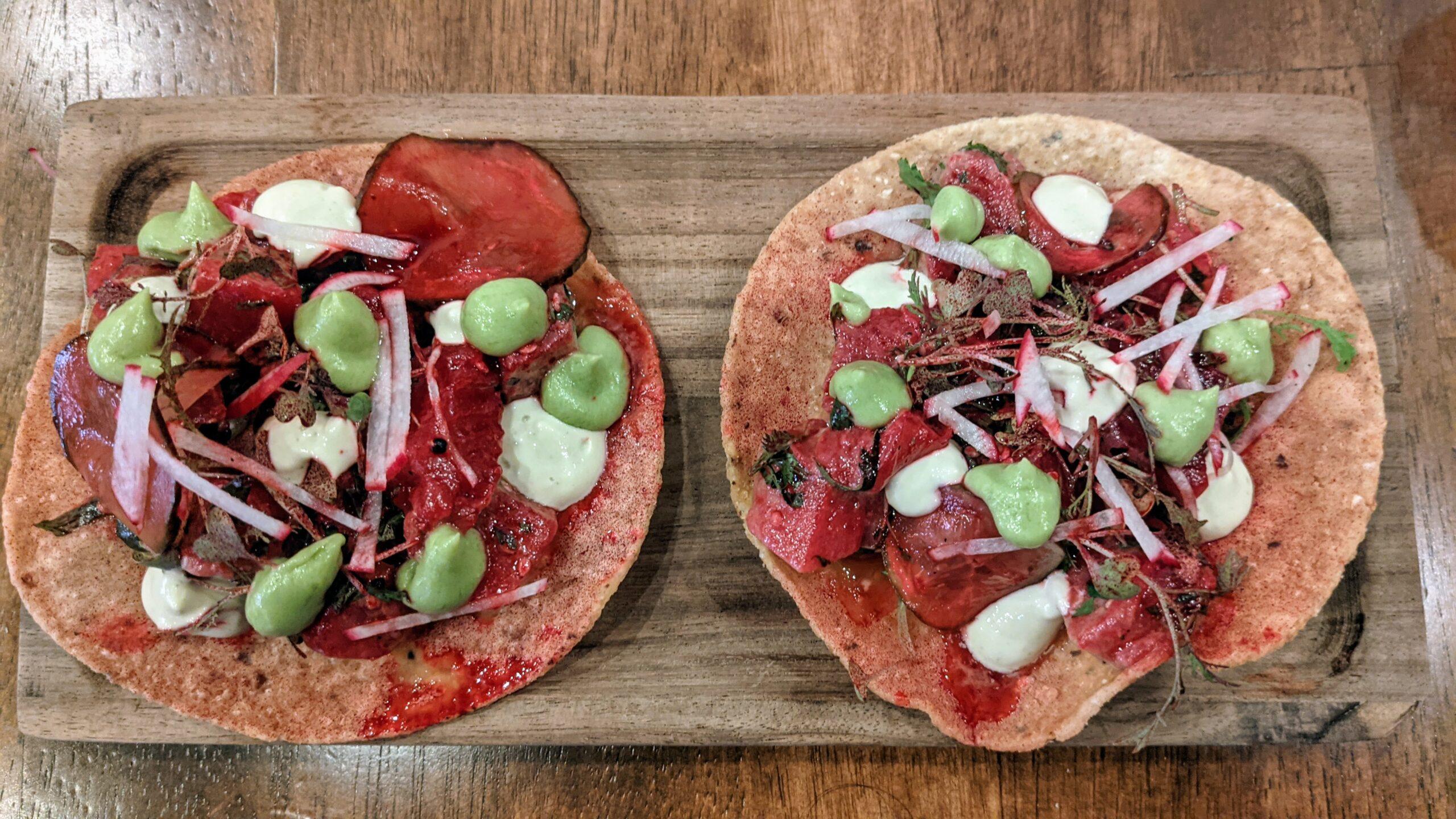 Article continues below advertisement
With strong ties to the Netherlands, Dutch fare is also present here. Linda's Dutch Pancakesis a must-visit for breakfast. Similar to a crepe, the Dutch pancakes here come sweet or savory and fill an entire plate. You can choose your own fillings or go with the house recommendations. They also offer a range of boozy breakfast cocktails and you can even pay with Bitcoin.