Rich Forever — How Rick Ross Amassed His Massive Net Worth
Rick Ross has been a boss in the industry for over a decade. Here's how much the veteran rapper worth

By Sughnen Yongo

Jul. 27 2023, Published 3:01 p.m. ET

Discover Proudly Amplifies Diverse Voices
Hip-hop icon Rick Ross (real name: William Leonard Roberts II) conquered the music industry with his distinctive voice, charismatic persona, captivating lyrics, and top-notch business savvy.
As the founder of Maybach Music Group and an esteemed rapper, Rick has achieved vast success throughout his career. Over the years, he has amassed a vast fortune through his ventures in music, entrepreneurship, and various business endeavors.
Born in Clarksdale, Miss., Rick faced many challenges and adversities growing up. However, his love for music was undeniable, and he began to pursue a career in the rap industry in the early 2000s.
His debut album, "Port of Miami," was released in 2006 — and it was an instant hit. The album's success set the foundation for a fruitful music career.
However, Rick's impressive net worth is due to more than just his music.
Rick Ross really is the biggest boss – and he has the businesses and net worth to prove it.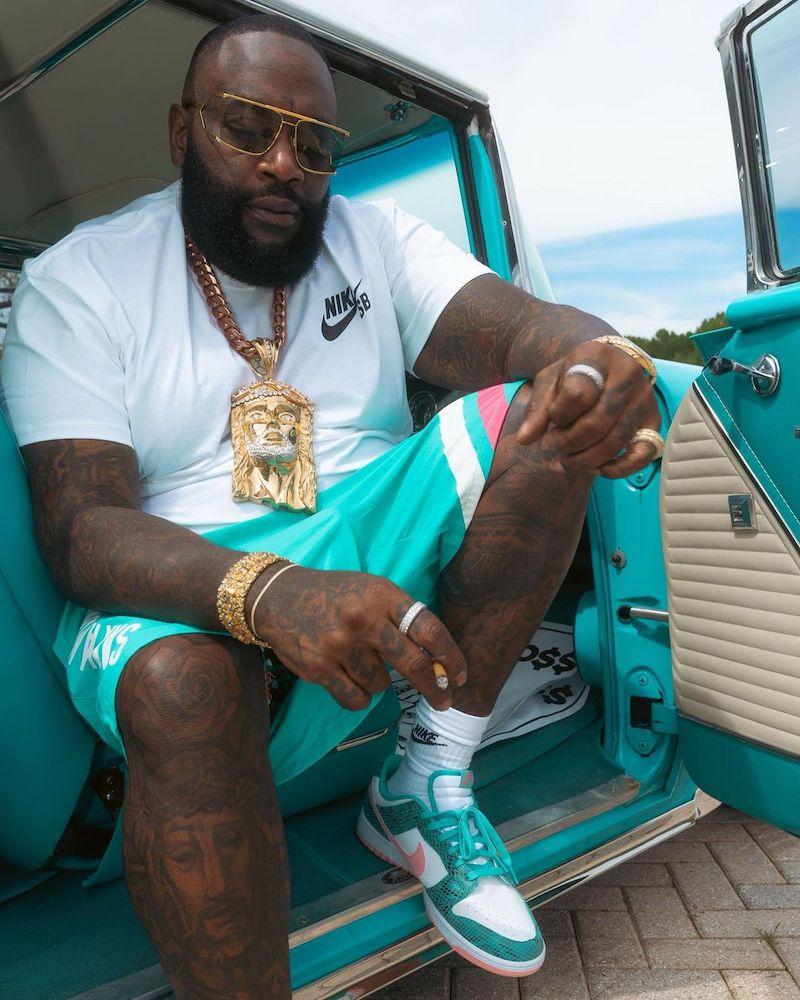 In addition to his solo success, Ross co-founded the Maybach Music Group (MMG) in 2009. The record label and management company became a haven for talented artists, with signings like Meek Mill, Wale, and French Montana, among others.
The success of MMG not only added to Rick's net worth but also showcased his prowess as an entrepreneur and talent scout.
Article continues below advertisement
Beyond the realm of music, Rick Ross has diversified his portfolio through strategic business ventures. One of his most notable ventures includes his ownership of nearly 30 Wingstop locations.
His love for lemon pepper wings translated into a lucrative investment, further enhancing his net worth, which according to CAKnowledge, is estimated to be around $60 million.
Rick Ross is an American rapper and record executive who founded Maybach Music. He is also the owner of several Wing Stop locations and Belaire Champagne.
Birthdate: January 28, 1976
Birthplace: Clarksdale, Miss.
Relationship Status: Dating Vena "Pretty Vee" Excell
Kids: 4
Article continues below advertisement
"Well, first and foremost, my personal passion for it hasn't wavered any, over all the years I've loved Wingstop," he told Complex of his investment. "And on a business side, when I went and sat down with the CEO, Charlie Morrison, he knew I had no experience being a franchisee. He knew I didn't have the time sitting in a franchise, but he saw my vision and my passion. He opened the doors for me. He didn't just let me follow my dreams. He let me go to that next level."
In addition to Wing Stop, Rick Ross is the owner of Belaire Champagne.
Endorsed by numerous celebrities and renowned for its association with opulence, Belaire Champagne has contributed significantly to Ross' financial success.
Like many successful artists, Rick Ross has invested a substantial portion of his earnings in real estate.
Article continues below advertisement
The veteran rapper currently owns multiple properties, including an opulent mansion in Georgia, famously dubbed the "Promised Land." The property boasts a staggering 45,000 square feet of living space, complete with a bowling alley, a movie theater, and a recording studio – a true testament to his love for music and luxury.
He bought the estate from fellow rapper Meek Mill in 2023 for $4.2 million cash. However, in May 2023, he wrote on Instagram, "PROMISE LAND will be worth an estimated 75 MILLION when I'm done."
We have no doubt Rick Ross will do just that.
The author's content and opinions have not been pre-reviewed, approved or endorsed by Discover.