Pharrell Williams Hits Number One with The Goodtime Hotel
The Goodtime Hotel is a must-have experience in South Beach Miami and a universal passport for rest and relaxation by Pharrell Williams.

By Taylor Edwards

Dec. 2 2021, Published 3:11 p.m. ET
Your universal passport to rest and relaxation, The Goodtime Hotel is a must-have experience. And just like the Pharrell smash hit with Kanye West, it's Number One.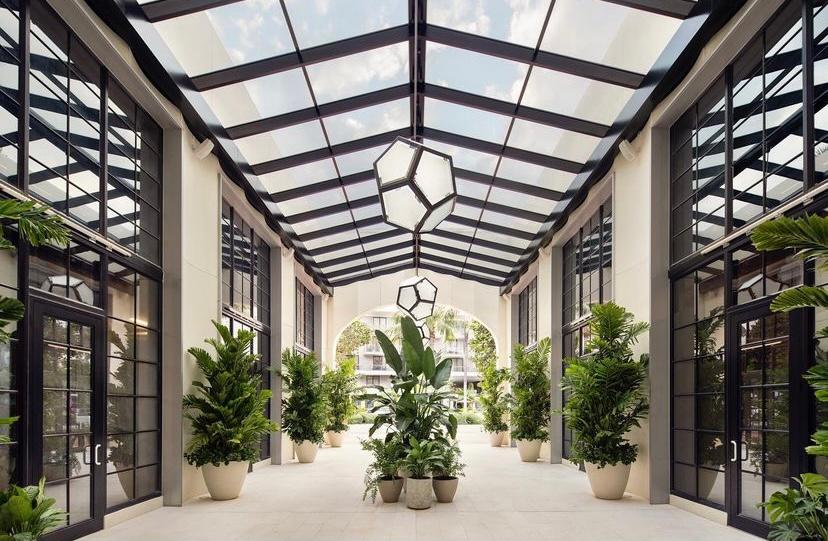 For decades The Villa Casa Casuarina, better known as the Versace Hotel, has been the go-to place for selfies in Miami, Florida – unquestionably and uncontested. The former home of the fashion icon Gianni Versace, the mansion turned boutique hotel remains the main attraction for tourists of South Beach…until now.
There are new sheriffs in town, and their names are Pharrell Williams and David Grutman. Collectively, they go by the name of The Goodtime Hotel.
Located on Washington Avenue, in the heart of South Beach, The Goodtime Hotel personifies its name.
From entrance to exit, a good time is delivered. A chic, bone-white exterior, a beautiful stone fountain still underestimates what's inside. Upon arrival, you're taken by the hits of 90s R&B and Pop music. The full interior is decked in rustic Miami Vice pink and green and tropical covered walls with Copacabana feels. Inside the elevators, an array of corals and gold trim tease the eyes until you reach your floor and your feet are met with vibrant, emerald green carpet.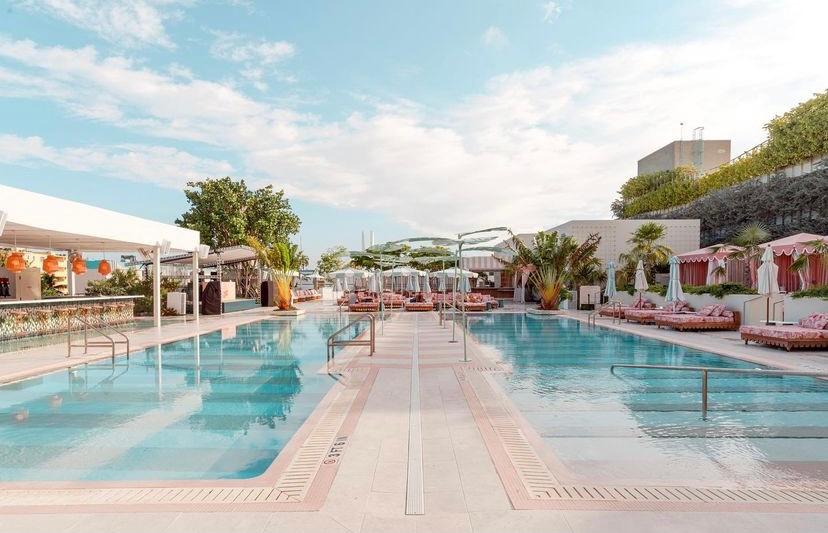 Article continues below advertisement
If you're looking for a traditional bellhop…don't hold your breath. The standard hot and heavy suits have been traded in for stylish separates; rompers for the ladies and suits for the gentlemen. The pool staff wears tennis skirts, bathing suits, and sarongs that match the hotel's color scheme. And in true Pharrell fashion, the entire staff wears Stan Smith Adidas, the official hotel shoe.
Unfolding its best offerings, the third floor is where the good time peaks with a restaurant, outdoor lounge, library, gym, and pool.
The resident restaurant, Strawberry Moon, has a Mediterranean-inspired menu with a variety of flatbreads, hummus and yogurt-based sauces, and decadent entrees. Open to the public, Strawberry Moon restaurant has indoor seating with seashell-designed bar chairs and outdoor seating that slightly overlooks the pool and leads to the outdoor lounge. Conveniently adjacent to the eatery, the lounge has assorted seating for work or relaxation.
Article continues below advertisement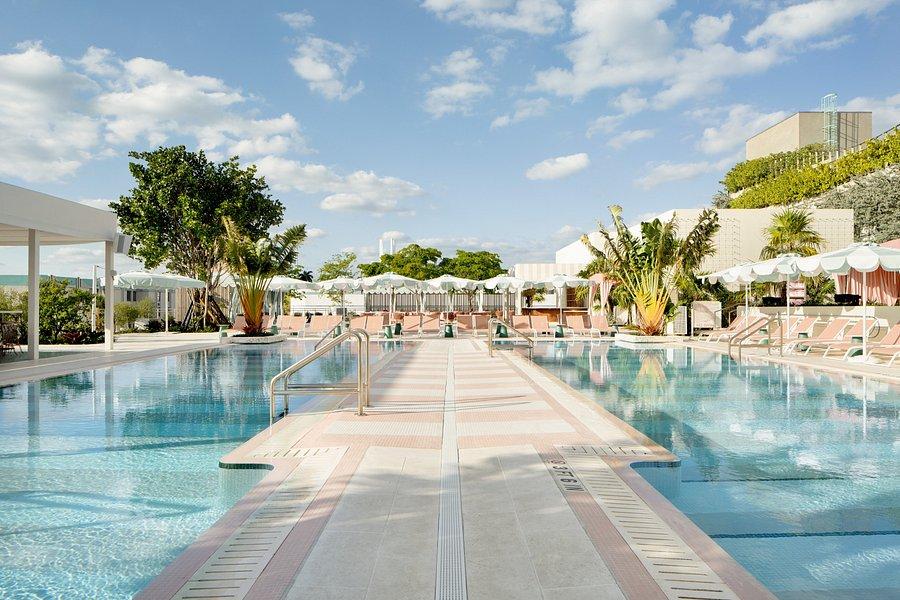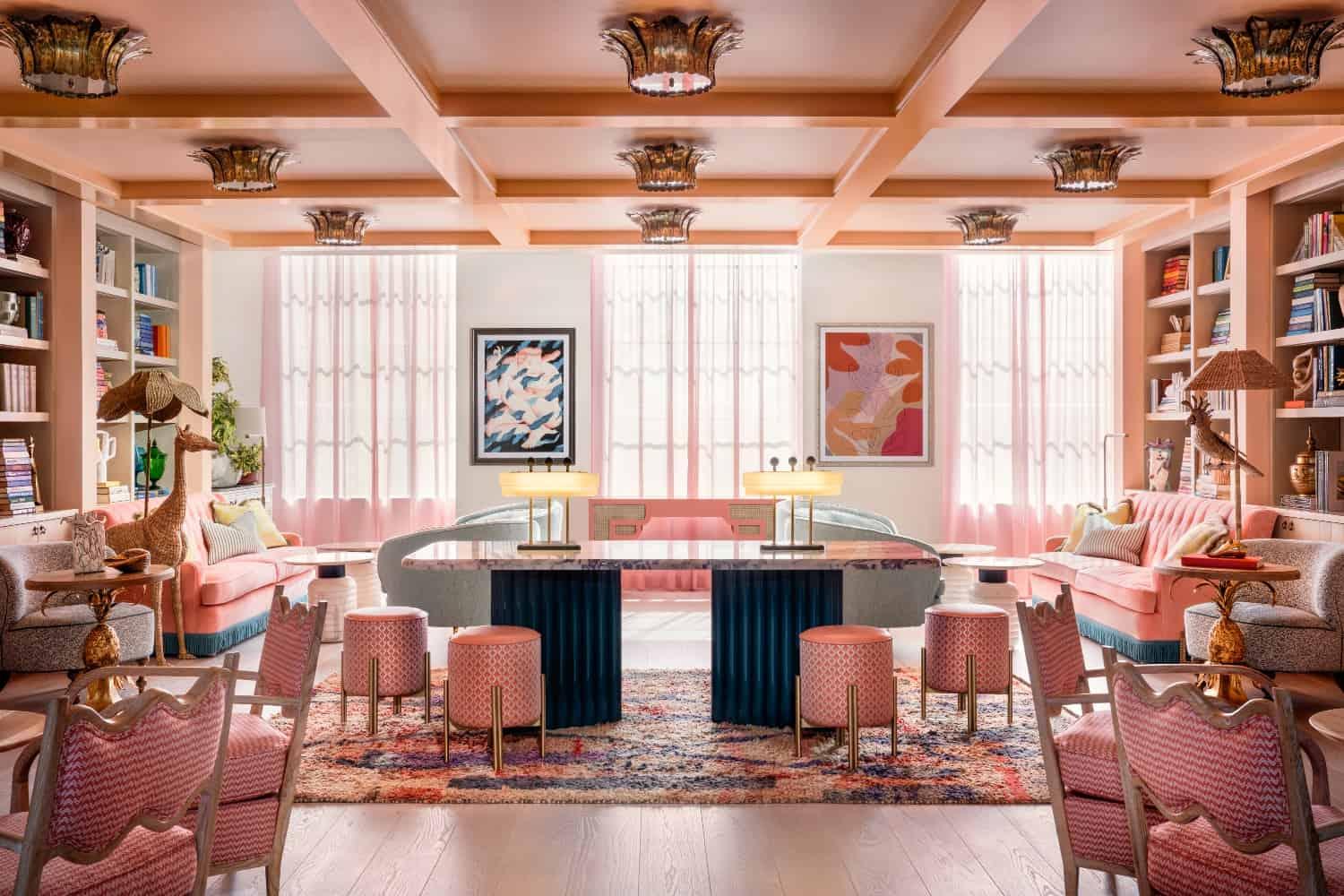 Article continues below advertisement
The library is lush, filled with shades of pink and peach – quilted sofas and cushioned seats accent the chairs so no matter your work style, you can get it done! Wicker safari animals, free Wi-Fi, and soft, yet functional lighting, the library is a hot spot for pictures.
The gym features a mini fitness center with free weights, medicine balls, a treadmill, and two Peloton bikes. Outside, a turfed area supports a stainless steel exercise complex complete with bars, handles, and ropes for a total workout.
The walking deep pool is the best view in the house. Full bar, leaf-shaped sculptures, shaded seating, and branded cabanas set the scene for ultimate entertainment – with consideration to special events on occasional weekends.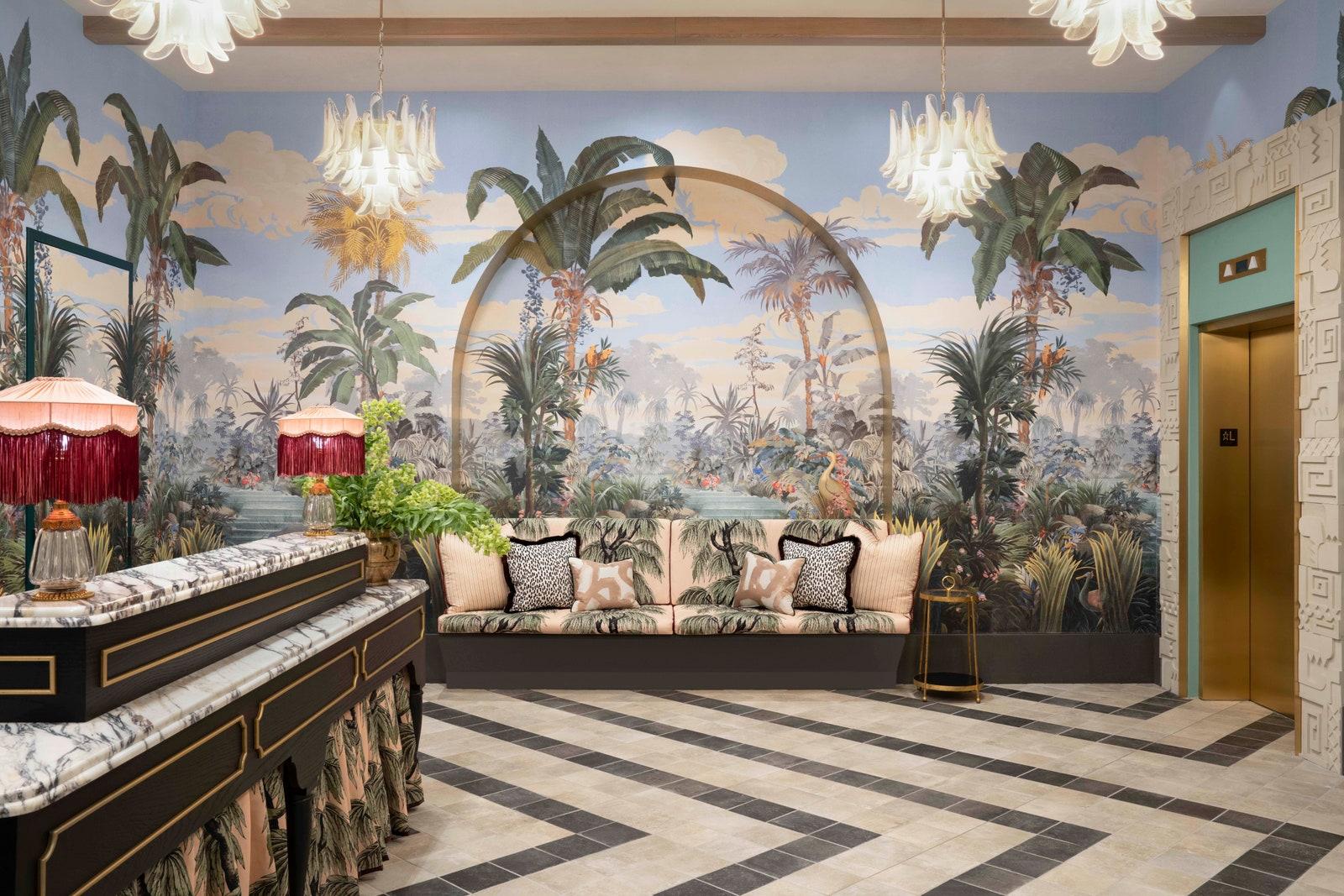 In a bed of pleasantries, the rooms are still a feat. Every suite is suited for comfort and decked with cute, quaint touches. Trendy, translucent room keys. Pink retro-rotary telephones. Vinyl roller shades patterned with everyday people. Mounted flat screens televisions. Complimentary alkaline bottled water. Pastel pink and green robes are available for purchase. A two-hour beach bike rental awaits every guest, free of charge.
A good time is inevitable at The Goodtime Hotel. Unique to the Miami Beach hospitality scene, the hotel spans a full block between Sixth and Seventh Streets. 266 rooms of rest and relaxation, Williams and Grutman's labor of love is as unique as their partnership.