Doja Cat Has a Long History of Feuding With Her Fans
Doja Cat has become a controversial figure, not just for her music, but because of her social persona. Here is why her controversies have rubbed people the wrong way.

By Sughnen Yongo

Aug. 23 2023, Published 9:05 a.m. ET
Grammy award-winning actress Doja Cat lost hundreds of thousands of followers after feuding with her fans on social media.
While many people are confused by Doja's seemingly erratic online behavior, others have chalked up her attitude to a major rebrand.
Doja (real name: Amala Ratna Zandile Dlamini), is best known for her hit songs like "Say So," "Attention," and "Streets."
However, over the course of her career, the rapper has made headlines for more than just her music — and her confrontation with fans is just her latest controversy. Here is a timeline of some of Doja's problematic moments.
2018: Doja's past homophobic tweets resurface.
In 2018, Doja was accused of homophobia after several of her Tweets surfaced online, showing her using the F-word, a word that many people in the LGBTQ community find offensive.
As soon as her comments started getting reshared, fans accused her of being homophobic and expressed their disappointment over her words.
Article continues below advertisement
The "Woman" artist defensively responded, stating that she had used the word at an earlier stage in her life and did not mean any harm by it. She later apologized, tweeting, "I apologize for the derogatory terms I've used in the past and no one should be discriminated against for their race, religion, orientaton."
Article continues below advertisement
May 2020: Doja Cat comes under fire for scandalous online chats.
In May 2020, many fans stormed social media yet again to call out the singer/rapper after one of her songs from 2015 surfaced online.
The name of the song, "Dindu Nuffin," rubbed a lot of people the wrong way, and they stated that the singer was mocking victims of police brutality.
Article continues below advertisement
The phrase "Dindu Nuffin" has become a shortened pronunciation of "didn't do nothing" and is used by racist alt-right groups to mock Black victims of police brutality.
In the same year, the "Need to Know" singer faced more backlash online after a viral video made it to the internet and suggested that Doja was involved in online chat rooms linked to white supremacist groups. Consequently, the hashtag #DojaCatIsOverParty gained traction across various online platforms.
After the public caught wind of the chat room scandal, the rapper took to social media to offer another apology, stating: "I've used public chat rooms to socialize since I was a child. I shouldn't have been on some of those chat room sites, but I personally have never been involved in any racist conversations. I'm sorry to everyone that I offended."
Article continues below advertisement
July 2022: Doja was accused of being a bully after getting into it with Noah Schnapp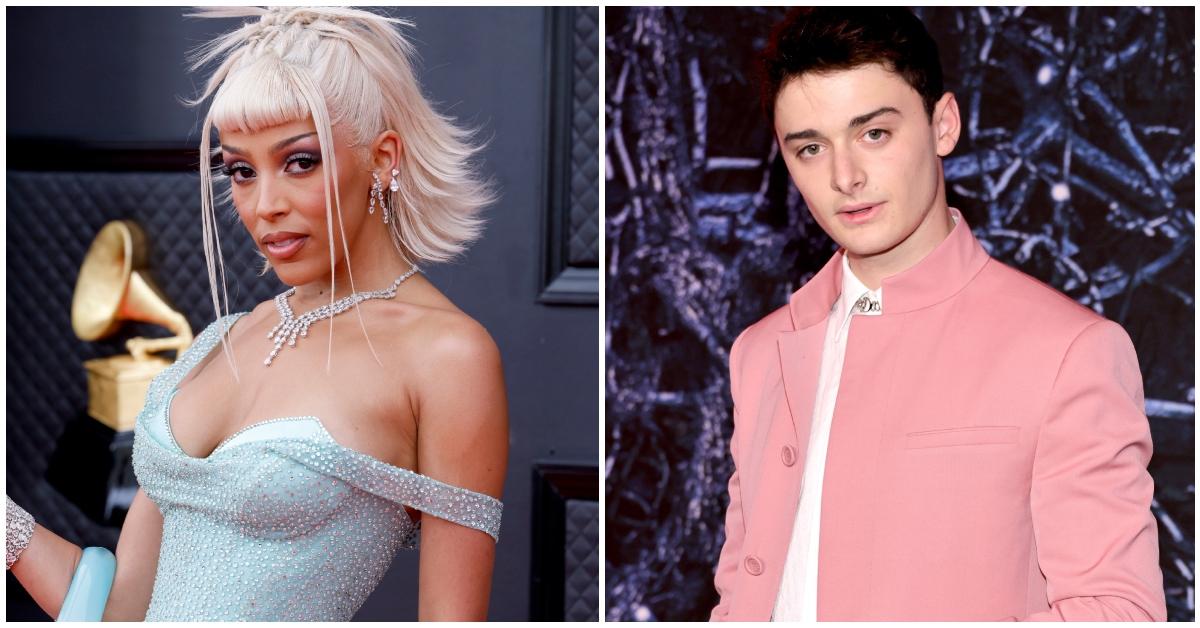 Two years later, Stranger Things star Noah Schnapp shared private screenshots that he had exchanged with Doja, where the singer was seemingly asking him to set her up with his co-star. After she caught wind of what he had done, she blasted him on social media, saying: "That's snake s--t!."
Fans were not too thrilled about her actions, and she lost well over 200,000 followers on Instagram following the incident. She went on to issue another apology to the actor, who was 17 years old at the time.
"I posted that not thinking too much of it, but obviously it hurt her feelings. So, as I should, I apologized," Noah told Variety. "She was totally OK with it, and was like, 'I'm sorry how I reacted'... It was all good. I love her."
Article continues below advertisement
August 2023: Doja Cat's rumored boyfriend J. Cyrus draws criticism from fans.
Doja has been romantically linked to comedian and Twitch streamer J. Cyrus, who has been accused of assaulting many women and abusing his staff and members of his Twitch community.
The online personality is also facing serious allegations of sexual misconduct and has been accused of grooming multiple women.
When fans shared this information on Twitter and left comments, the singer clapped back at them in Doja fashion, saying:
"I DON'T GIVE A F--K WHAT YOU THINK ABOUT MY PERSONAL LIFE I NEVER HAVE AND NEVER WILL GIVE A F--K WHAT YOU THINK ABOUT ME OR MY PERSONAL LIFE GOODBYE AND GOOD RIDDANCE MISERABLE H--S HAHA!"
Article continues below advertisement
August 2023: The singer also called out her fans dubbed "kittenz."
In these now-absent posts, she candidly voiced her reservations regarding her self-designated circle of supporters known as "Kittenz."
On her social media platform, the artist had some strong words for her fans, labeling them as "creepy." In the post, which she has deleted, she wrote:
"My fans don't name themselves s--t. If you call yourself a 'kitten' or f--king 'kittenz' that means you need to get off your phone and get a job and help your parents with the house."
In another post to a fan, she pointed out that she did not have a personal connection to many of her fans, stating, "I don't even know y'all." The incident caused many members of her fan community to question their support of her artistry. This prompted a lot of fans to promptly delete their accounts and take to social media to voice their disappointment.
Article continues below advertisement
It is unclear what triggered the singer's recent dissatisfaction with her fans, but what is clear is that several of her fans, seemingly exhausted by her antics, chose to hit the "unfollow" button on Instagram.
So far, the singer has lost over half a million followers after her recent clash with her fan base, the dejected Kittenz.
We have a feeling this won't be Doja's last "controversy."