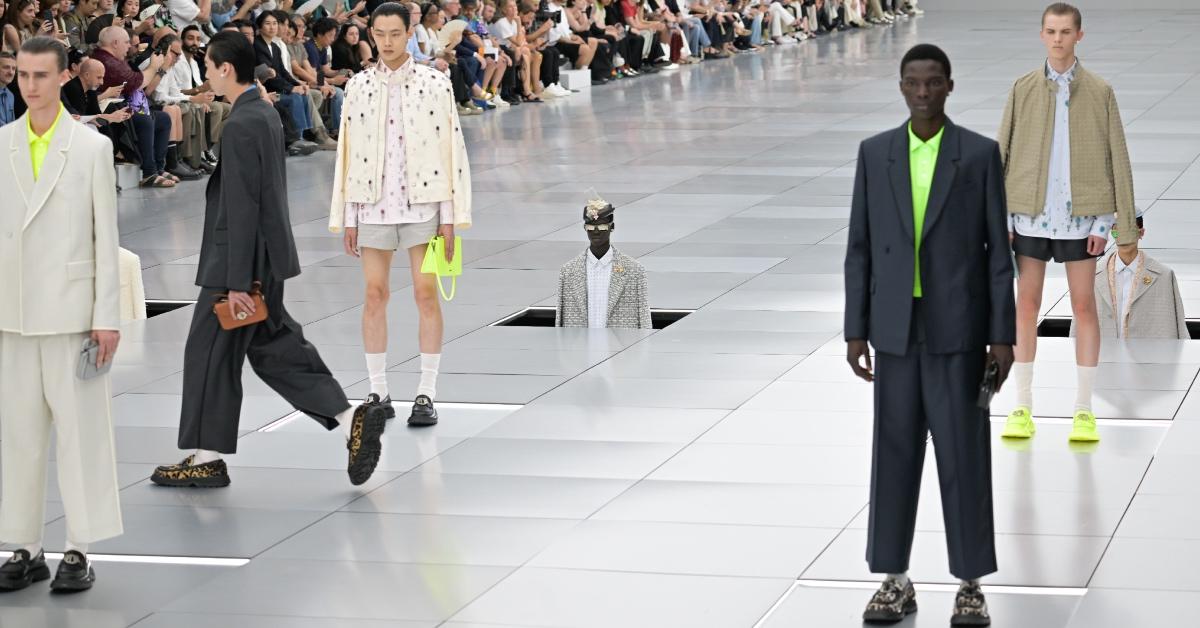 Get to Know the Six Designers Who Are Taking Over the Fashion Industry
Domonique "Domo" Wilkins, creator of Faded NYC, is among a few designers who some might say are taking over fashion. Let's meet the others.

By Bleu Magazine

Jul. 3 2023, Updated 12:50 p.m. ET
As one of the most difficult industries to break into, many designers struggle to stand out among the crowd in fashion. But, with the right drive, designs, and influence, six fashion designers have managed to push boundaries and make a name for themselves. In fact, some might even say they are taking over fashion!
Article continues below advertisement
Domonique "Domo" Wilkins, creator of Faded NYC, has built his reputation to such a high standing that he's caught the attention of stars like Ciara. In May 2023, Wilkins generously shared a sketch of the outfit he would later design for the singer via Faded NYC's official Instagram page.
Eager to know more about Wilkins and the other standouts in fashion? You'll have to keep scrolling!
Isaac Lawrence, founder of Solomon Lawrence
Established in 2013 by designer Isaac Lawrence, the Solomon Lawrence brand uses traditional silhouettes to create pieces in unconventional ways. Some of the line is very preppy and classic, like their crewnecks and shirts, while other pieces have more of an avant-garde vibe. The Mexico State University alum's pieces have since appeared on HBO MAX and Peacock TV. With a finished look, the styles are not particularly eccentric but instead, everyday-stylish and ready-to-wear.
Article continues below advertisement
Malik Mcintyre, creator of Mcintyre Online
Navy sailor and designer Malik Mcintyre, 25, started his brand in 2015 under the name Mcintyre Online, but it wasn't until 2019 when he shook up the fashion world after his "chaos" puffer went viral. Although these coats will forever remain one of the brand's staple pieces, those featured in his most recent F/W 22 collection, titled Micasso (a tribute to Picasso), carry over well from the coats to the other pieces in the collection.
Article continues below advertisement
Mcintyre's use of heavy color, pink in particular, and uber abstract designs make his Picasso inspiration quite clear. It also marks a shift in tone from his 2022 collection, which used darker colors like copper and black.
Article continues below advertisement
Romeo Hunte
A rising star in the fashion industry with impeccable attention to detail and use of bright colors, Romeo Hunte is the one to watch. His namesake lifestyle apparel brand was launched in 2014, and is a luxurious hybrid of edge and sophistication. His recent TOMMYXROMEO Collection (collaboration with Tommy Hilfiger), combines prep with street style. Despite being a protege of Tommy, Romeo's style is quite distinct and complements the classical American cool of Tommy Hilfger.
Article continues below advertisement
Against Medical Advice
Oluwole Olosunde graduated from nursing school at age 20 and decided to use his medical knowledge to start a fashion line. He cleverly titled it Against Medical Advice. The brand incorporates textbook medical imagery with contemporary streetwear fashion. For one of his more recent collections, Olosunde, aka Guacawole, designed winter pieces inspired by back-to-the-future Sci-Fi and possibly that of a 1980's Biology textbook. Olosunde was also a participant in Season 1 of The Hype on HBO Max.
Article continues below advertisement
Marquise Foster
Born in Louisiana and raised in Oakland, Calif., Season 18 Project Runway contestant Marquise Foster is a self-taught menswear designer now residing in NYC. When he's not working on his eponymous brand, you may find him in Harlem teaching aspiring high school designers the things he managed to teach himself.
Article continues below advertisement
Foster is all about feeling seen and standing out amongst the crowd. This can be seen in his latest capsule collection, Corrida, a sophisticated and innovative new bullfighting themed project which includes fiery pieces of gold, silver, and crimson.
Article continues below advertisement
Faded NYC
From an early age, Domonique "Domo" Wilkins was obsessed with drawing and cutting on clothes while growing up in the North Carolina. Therefore, it was only natural that he would found Faded, a line that incorporates bold, custom looks for celebrities, music videos, and national ad campaigns alike.
Wilkins's eye for detail and his skill of repurposing old clothing and customizing it for his clients have landed Faded on some of the biggest names in the business including Cardi B, Lil Nas X, and Juicy J. He can also be seen on season two of The Hype.
Article continues below advertisement
To keep up with each of the designers mentioned above or see which new pieces they've added to their collection, you can follow them on Instagram and other social media platforms.